Foodland Mercado Coupons, Deals & Promo Codes
Reading the Foodland Mercado weekly ad this week is unchallenging and fruitful. All of the current sales are categorized and easy to identify, so you can quickly find what you are looking for. For example, you will see the Foodland Mercado ad divided into fresh meat, seafood, pantry essentials, beverages, alcohol, pet supplies, and many more categories.
So, keep an eye out so you can save money on groceries and other items offered by Foodland Mercado. The Foodland Mercado ad has 36 exciting deals that are valid through the end of this week, starting on 05/30/2023 and ending on 06/05/2023. There are currently 36 available in the Foodland Mercado weekly ad this week, all offering great savings.
Whether you are shopping for yourself or your family, or even if it is just a special occasion gift, looking through the Foodland Mercado weekly ad this week can help you save money. In addition to providing discounts on items found in stores, there may also be coupons available that can help you save even more money. You will find an available Foodland Mercado coupon in the database, which is regularly updated with new offers and specials.
Having a look through the Foodland Mercado ad could be beneficial for anyone who wants to get their hands on great products and services without breaking their budget. Not only does it provide discounts that can lower your grocery bill significantly, but it also helps customers stay up to date with all the products available at Foodland Mercado.
Knowing what products have been discounted allows customers to ensure they are getting the best possible value when shopping at this store. Additionally, customers can find out about upcoming promotions and take advantage of all potential savings opportunities.

Modelo 12 12 12 Modelo Modelo delo Oro TRA 95 3.0 - - - - ULTRA Modelo Oro Beer 95 2.6 12 Pack, 12 Oz. Cans Michelob Ultra Beer 12 Pack, 12 Oz. Cans or Bottles +CRV ea.

30 - - 30 Budweiser - - - UINE Coors TECATE LIGHT 30 - BUD Coors LIGHT Budweiser,1 Bud Light, ATE Tecate, Tecate Light, Coors or Coors Light Beer 30 Pack, 12 Oz. Cans $2199 CRV ea.

18 Modelo Modele ESTRELLA JALISCO - CLARA - ESTRELLA Modelo Especial or Pacifico Beer 18 Pack, 12 Oz. Cans Estrella Jalisco Beer 24 Pack, 12 Oz. Cans or Bottles 24 +CRV ea.

WHITE HARD SELTEER CLAW TRULY 100 Corona SELTZER - - - White Claw, Truly, - Topo - hico HARD SELTZER Corona or ???? - - .. Chico Seltzer 12 Pack, 12 Oz. Cans +CRV ea.
Uptown Uptown COCKTAILS COCKTAILS MARCARITA MARGARITA - .. - - 750 750 - - - Uptown Cocktails 750 ml $899 ea.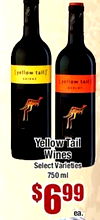 [yellow tall Yellow Tail Wines Select Varieties 750 ml $699 ea.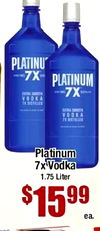 7X PLATINUM - - 7X VODKA VODKA TE DISTILLED Platinum 7x² Vodka 1.75 Liter $15.99 ea.

FIESTA COMBO 10 Lbs CARNE ASADA 10 LDI POLLO ASADO $39999 TAX 10 Lbs CARNITAS 2 Trays of Beans 2 Trays of Rice 400 Taco Tortillas 6 LDS Salsas SERVER UP TO 100 GUESIS SEE CUR KITCHEN MANAGER FOR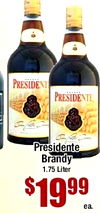 PRESIDENT ...... PRESIDENTE, Presidente Brandy 1.75 Liter ea.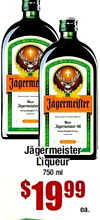 i Jagerme - - - Jägermeifter - - Jägermeister Liqueur 750 ml ea.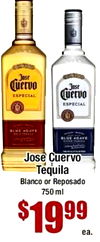 Jose Cuervo Jose ESPECIAL Cuervo ESPECIAL - - - - BLUE AGAVE - Jose Cuervo Tequila Blanco or Reposado 750 ml ea.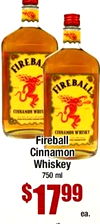 FIREBALL CINNAMON WHIS Fireball Cinnamon Whiskey 750 ml $17.99 ea.

HOMEMADE TASTE IV4 MINUTES HOMEMADE TASTE IN 4 MINUTES IDAHOAN IDAHOAN ROASTED GARLIC MASHED POTATOES MASHED POTATOIS Idahoan Mashed Potatoes 4 Oz. 3 for $5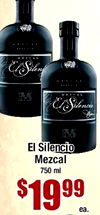 I MESCAL El Silencio Mezcal 750 ml ea.

- - - Mahatma AMERICA'S FAVORITE RICE Extra Long Enriched Rice - Mahatma AMERICA'S FAVORITE RICE Extri Long Enriched Rice Mahatma Arros de Grans Lerge Enriquecido Long Grain White Rice 3 Lb. 66Es ea.

6= MEGA 24 6= MEGA 24 Charmin essentia Charmin SC N - I - essentials strong - Charmin Bath Tissue 6 Mega Rolls s999 ea.

TACO PARTYPACK 4 (Lbs) POLLO ASADO 4 (Lbs) CARNE ASADA One pound of each One pound of each Salsa Verde Salsa Roja Pico de Gallo Pico de Gallo Guacamole Guacamole 60 Taco Tortillas 60 Taco Tortillas $5999 E RATION TIME SERVES 12 PEOPLE PLEASE ALLOW 20 MIN.

- NOT SAUCE NOT SAUCE CHILE HABANERO HOT SAUCE CHILE RABANERO El Yucateco Habanero Hot Sauce 4-5 Oz.

White Cake w/Fruit 8 Inch ea.

4-8 DOUBLES Bounty essentials - - - 4-8 DOUBLES Bounty essentials Bounty - - - - - - - Paper Towels 4 Double Rolls s999 ea.

- - febreze AIR AIR AIR Febreze Air Freshener - - 8.8 Oz. Spray $299 ea.


FRENCH - FRENCH - VANILLA VANILLA INTERNATIONAL INTERNATIONAL delight delight - - - - International - - - Delight Creamers 16 Oz. for

Coca Coca-Cola Coca-Cola Coca-Cola Products 6 Pack, 16.9 Oz. Bottles or 7.5 Oz. Cans +CRV

2007 Offer Valid from 5/30/23 Thru 6/5/23 El Pato EL PATO Tomato or Enchilada Sauce EL PATU 27-28 Oz. BRAND JALAPENO SAL TOMATO SAUCE 99c ea. Limit 1 Per 40 Loyalty Points

2014 Offer Valid from 5/30/23 Thru 6/5/23 Guerrero White Corn Totillas, 100 Ct. LALA Soft Taco Flour Tortillas 20 Ct. 20 SOFT TACO SIZE TOR GUERRERO 199 ea. Limit 1 Per 40 0 Loyalty Points Regular Ad Price $4.99 Ea.

- Nutella nutell Hazelnut Spread 7.7 Oz. - nutella 2 for $5

Hidden Hidden Valley Valley Hidden Valley Hidden Valley Ranch THE Ranch THE Hidden Valley Ranch Dressing 16 Oz. 66Es ea.

2005 Offer Valid from 5/30/23 Thru 6/5/23 Dutch Farms Cream Cheese Original 8 Oz. Bar Original 29c ea. Limit 1 Per 40 Loyalty Points Regular Ad Price 2 for $5.00.

Regular Ad Price 2 for $5.00. 2010 Offer Valid from 5/30/23 Thru 6/5/23 Zulka Pure Cane Zulka Morena Sugar PURECANE 4 Lb. SUGAR Zulka - - - - - Morena PURECANE SUGAR - ea. Limit 1 Per 40 Loyalty Points Regular Ad Price $4.79 Ea.





Related Brands to Foodland Mercado
Nothing feels better than being the first to know about you fave brand's biggest deals. With this Foodland Mercado circular, you can certainly be that as you get access to top Foodland Mercado deals by brand. Such segment includes 6 brands, including Livarno, Just Bare, Atkins, Febreze, Lindt, CeraVe. You can click on each brand to find and save great value coupons. These exclusive coupons entitle you to massive discounts and incredible savings.
This Foodland Mercado's sales flyer gets updated regularly, so make sure you visit it often. In that way, you're the first to take advantage of some limited coupons or discover big brands that just made it to the list.
Here are the popular brands we found in our database:
Foodland Mercado Weekly Ad & Preview
Wondering where to find the craziest markdowns? Only right here, with Foodland Mercado weekly ad! It takes only a few clicks and scrolls to score the most budget-friendly offers on your screen.
But you know what's crazier? You can also find future whopping bargains with Foodland Mercado ad previews! It's a limited sneak peek, so grab the chance while it's hot!
How to save at Foodland Mercado?
Do you ever wish that you could save more when shopping at Foodland Mercado? If so, then you are in luck! With a few simple strategies and the right tips, anyone can save big and find awesome discounts. Learn how to shop smarter and get amazing deals exclusively from Foodland Mercado weekly circular. All of the information on how to maximize your savings when shopping with Foodland Mercado is here. Just read on to begin saving today.
Foodland Mercado Digital Coupons
Saving at Foodland Mercado with the help of digital coupons is an appreciable way to save money. You can find digital coupons on Foodland Mercado's website, and they are often easy to use. All you need to do is open up Foodland Mercado's page and search for Foodland Mercado coupon codes or discounts. Some Foodland Mercado coupons will automatically apply your discount when something is purchased from their website.
However, others require you to type in a code before completing your purchase. Other Foodland Mercado coupons may only be applied online or in-store, so read all the terms and conditions associated with the coupon before using it. No matter what kind of Foodland Mercado coupon you have, using it can result in some nice savings.
Foodland Mercado Weekly Specials
Saving money at Foodland Mercado with the help of weekly specials or "deals of the week" is a great way to save on groceries and household supplies. To get the most out of these offers, plan and do your research.
Start by acquainting yourself with the weekly ad. Check it out every week to see what discounts and price cuts are available. Once you have a good idea of what the Foodland Mercado weekly ad offers, list items you need currently part of the deal. Make sure to check expiration dates so you don't miss out on any offers.
You should also look for coupons in the weekly deals. Most stores will accept paper coupons as well as digital ones found online. Some stores even allow you to stack digital coupons for more savings. So, if you see any weekly special coupon code, ensure you use it on time.
Finally, don't forget about weekly clearance items! Many stores mark down things that may no longer be part of their regular inventory but can still make perfect sense for you. Thus, take advantage of these discounted prices by weekly checking store websites and flyers.
By planning and taking advantage of weekly specials, deals, coupons, and clearance items at Foodland Mercado, customers can find great bargains and save a lot on their weekly purchases!
Foodland Mercado BOGO
Buying items in bulk? Don't do that without taking advantage of the biggest BOGO or buy one take one deals available only our Foodland Mercado sales flyer. These BOGO deals, which range from BOGO free to BOGO percent discounts, lets you save much and maximize your budget.
If you do bulk purchasing regularly, don't worry. The flyer gets updated often, so you'll still have tons of BOGO deals to use in the future.
Reward Programs
Saving at Foodland Mercado with their loyalty rewards program is calming and convenient. With the help of this program, customers can access exclusive discounts and promotions that are only available to members. This allows them to get the best Foodland Mercado sales ad on their purchases and save money in the process.
Members are eligible for additional discounts like coupon codes that may not be available in-store or online. They also get early access to sales events, making it unchallenging to find great deals even before they go on sale. Plus, when members make a purchase using their loyalty points, they can save even more money.
To maximize savings while shopping at Foodland Mercado, members should take advantage of special offers and flash sales that are only available through the loyalty program. Additionally, they should keep track of their rewards points so they can redeem them quickly and conveniently in-store when they need to use them.
Overall, being a member of Foodland Mercado's loyalty rewards program is an excellent way for customers to save money when shopping. With exclusive discounts, promotional offers, and other benefits, it is a perfect way for members to make their money stretch further when buying items from Foodland Mercado.
Online Exclusive Offers
If the convenience and diversity of products haven't attracted you to online shopping, here's something that would: huge, exclusive deals! With online shopping, not only can you purchase items from the comfort of your home, you might even make massive savings compared to physical shopping. Moreover, you'll save on gas and window shopping temptations, so that's another perk.
If you want to start your first online shopping spree, check out the Foodland Mercado weekly circular first. It is a digital catalog that showcases all the biggest deals and discounts. Use wisely!
Leverage Free Shipping
Shopping and saving money can go hand in hand when shopping at Foodland Mercado. Not only does the Foodland Mercado sales ad offer a wide selection of products, but it also makes saving money with their free shipping option even easier. Simply spend over the threshold, and any delivery charge is on them.
However, there are many occasions where free shipping is only sometimes possible during flash sales or on certain exclusive products. But by keeping an eye out for discounts and deals or by reaching stackable thresholds for larger orders, you will be able to use the store's free shipping offers more often to help save further.
Clearance
Shopping at Foodland Mercado doesn't have to mean breaking the bank. With the help of their clearance section, you can still buy quality items without succumbing to impulse buys. Clearance items offer a variety of products, from clothing to furniture and appliances, all at hugely discounted prices.
Shopping carefully in this section would ensure you get the best value for your money. Furthermore, don't forget about the Foodland Mercado sales flyer, which further reduces the prices for a limited time. So if you are looking for ways to save money at Foodland Mercado, take advantage of their clearance and sales.
Price Matching
Is your price-matching abilities off the game recently? That's because you're reference might not be so updated. It's time to make the switch to the Foodland Mercado weekly ad. It's updated every week, so the product prices, deals, and discounts are all recent and accurate. If you use the ad wisely, you'll go out of your house with a full idea of how much you can splurge and save.
Cashback Program
Many are familiar with Foodland Mercado discount and free shipping deals. But cashback promos? Not so much. But once you've tried availing them, you'll keep coming back for more. That's because these offers entitle you to get back a certain amount of what you've spent!
The money you got back can be used for future purchases at Foodland Mercado, or might even be returned to you as cash you can use for other purposes. If you want to try availing cashback deals, you can look for the corresponding vouchers on the Foodland Mercado coupon database.
Shop at Right Time
The holidays is an expensive season -- so many gifts to buy, so many occasions and parties to prepare for. If you want to keep your wallet from going empty, you'll have to find items at their cheapest, and one way to do that is through Foodland Mercado ad previews. These ads showcase future prices, deals, and discounts, so you know what you can get in advance. This makes planning shopping trips and maximizing budgets much easier.
Moreover, you can use the previews to know what Black Friday has to offer. This day signals the start of Christmas shopping season, and the deals are unbelievable. It's the right time to shop for the holidays, so be sure to hit the shops and see the previews.
Shopping at Foodland Mercado
In-store Shopping
Despite all the perks of digital stores, in-store shopping never gets old. You get to walk across fully-stocked aisles, feel the product, and see everything for yourself. If you're buying electronics or certain items, you can have them tested to ensure quality. Certain stalls also offer free samples or trials, especially if they're new. All these and more ensure that physical shops are here to stay.
To make the most out of your in-store shopping experience, use the Foodland Mercado sales flyer. You can find here some of the latest prices and deals, which are extremely helpful in maximizing your budget.
Curbside Pickup
Curbside pickup has become an increasingly popular way for shoppers to get their goods without leaving their homes. This simple service offers convenience, comfort, and safety all in one. Shopping curbside means not having to face the hustle and bustle of the store while searching for what you need.
It is all at your fingertips, just a phone call or click away. Additionally, you do not have to wait in checkout lines to get benefits from Foodland Mercado ad. Instead, curbside services quickly hand off bags with your purchases. During this era of social distancing, curbside pickups are especially alluring to those who want to minimize contact with others.
Delivery at Foodland Mercado
These days, whether you did your shopping in-store or online, most shops offer delivery options. Such a service allows you to buy stuff without setting foot at the store or having bulk and large purchases transported to your place without much hassle. Whichever purpose you need it for, you must check first whether your local Foodland Mercado does offer delivery. If they do, you can the check the Foodland Mercado weekly ad this week to see if they have delivery vouchers, discounts, and deals. Avail any that are applicable so you can save on the fees!
Online Shopping
If you love your local Foodland Mercado but find it too far, you can check if they have an online shop! After all, most stores have hopped on the trend, so it's highly likely it has its version on the net. Once you find it, you can add to cart and check out to your heart's desires, without setting a foot out of your home. Moreover, you can use vouchers and discounts available on the Foodland Mercado circular!
Mobile Digital App
Shopping can be a wonderful experience or an overwhelming chore, particularly if you are looking for the best deals. Finding even better deals is easier as apps allow customers to input coupons easily, making savings even more accessible. Now you do not have to clip them out of the paper carefully. Furthermore, shopping online with store apps makes budgeting easier by keeping track of spending while simultaneously finding quality deals.
How EveryPayJoy Help you Save?
Everypayjoy is a great resource that helps you save money when shopping. It allows users to access Foodland Mercado sales flyer to find the best deals and coupons for their purchases. By subscribing to the website, Everypayjoy ensures that shoppers will never miss out on discounts or offers. The website also keeps all of its information, so users can always stay informed about the latest offers.
Everypayjoy makes it easy to save money by providing convenience and accessibility when shopping. All the store] weekly ads, coupons, and discounts are saved in one place, making it effortless to find what you are looking for without manually searching through different sources. Additionally, Everypayjoy simplifies the process of finding deals and specials regularly by informing you when new promotions become available.
Using Everypayjoy saves time and money because it eliminates the need for extensive research when looking for deals. Plus, every user can search content based on their interests, which can help them find even more specific items or discounts. With this level of convenience and accessibility, Everypayjoy helps make saving money easier than ever before!
Disclaimer: Foodland Mercado is a registered trademark of Foodland Mercado and is not affiliated with our company. We are not affiliated with, endorsed by, or connected to Foodland Mercado. Our use of any trademark belonging to another company is not done with the intent to confuse consumers but is rather incidental in promoting these companies and their coupons.