Walgreens Weekly Ad (06/04/2023 - 06/10/2023)
Wondering where to find the craziest markdowns? Only right here, with Walgreens weekly ad! It takes only a few clicks and scrolls to score the most budget-friendly offers on your screen.
But you know what's crazier? You can also find future whopping bargains with Walgreens ad previews! It's a limited sneak peek, so grab the chance while it's hot!
Walgreens Ad & Preview
Walgreens Ad 06/04/2023 - 06/10/2023

Walgreens Ad 05/28/2023 - 06/24/2023
Now viewing: Walgreens Weekly Ad Preview 06/04/2023 - 06/10/2023
Scroll mouse wheel to zoom
Page 1 of 38
Click the images below to view other Walgreens Weekly Ads
Walgreens Ad
06/04 - 06/10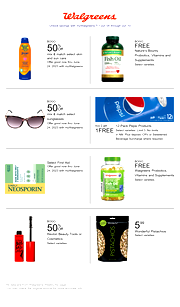 Walgreens Ad
05/28 - 06/24

Browse Deals & Coupons in this Walgreens Ad
Reading the Walgreens weekly ad this week is as effortless as a few clicks. Reading this Walgreens ad is well worth your time if you want to save money on groceries. The Walgreens grocery store offers great deals that you won't find anywhere else, so checking out the ad each week pays off.
You may save on items such as fresh produce, meats, dairy products, snacks, baking goods, beverages, and more. You can choose the category of your choice and avoid impulse purchases that can add up over time.
The current Walgreens ad begins on 06/04/2023 and ends on 06/10/2023. Throughout this period, 20 deals and different offers will be available for customers.
Not only does the Walgreens weekly ad this week list these amazing deals for customers, but it also provides coupon codes for online shoppers who are looking for additional savings. You can use Walgreens coupon at the checkout to further save your money.
No matter what kind of shopper you are, reading through the newest edition of the Walgreens ad will provide plenty of ways to save money while stocking up on your favorite items. So, make sure you do not miss the chance because once the sale is over, you won't be able to get the discount until the next sale.



Walgreens
$3 off with myWalgreens

Biotrue
$2 off with myWalgreens

Clearblue
$5 off with myWalgreens

Finishing Touch Flawless
$3 off with myWalgreens

Compound W
$5 off with myWalgreens

BENGAY®
$2 off with myWalgreens

Clear Eyes
$2 off with myWalgreens

Compeed
$2 off with myWalgreens
Popular Walgreens Brands
Are you a fan of these brands: Omron, Blink, Compeed? If you are, you'll enjoy coursing through the top Walgreens deals by brand of this Walgreens circular. It is a segment featuring big discounts and valuable vouchers, all sorted by brand for your easy perusal. Click on the "view now" button to see them!
There are 12 brands included in this weekly Walgreens sales ad. If you find some names missing from the list, that might be because they're yet to be included. But don't worrry - brand additions and voucher updates are done regularly, so we will soon cover all your favorite companies.
Expired Flyers
Walgreens Ad 05/28/2023 - 06/03/2023

Walgreens Ad 05/21/2023 - 05/27/2023

Walgreens Ad 05/14/2023 - 05/20/2023

Walgreens Ad 05/07/2023 - 05/13/2023
How to save at Walgreens?
For those looking to save while they shop, Walgreens may be the perfect place. It is a trusted shopping destination that has been offering great deals for years. Whether trending products or hard-to-find items, shoppers can save on nearly anything with the advantage of the Walgreens ad.
We have put together a comprehensive list of tips. Thus, you can make the most of your trips to Walgreens and keep up with their latest sales, special offers, and exciting deals. Start saving today and read on to learn how!
Coupons at Walgreens
Did your coupons expire already? Don't fret over spoiled milk when you can top it up! With this Walgreens coupon database, you have easy access to hundreds of new and exclusive vouchers. They entitle you to huge discounts, free shipping, and other exciting privileges you won't find with any other coupons.
This Walgreens coupon database is regularly updated, so you're sure to choose only from the most recent and credible. To effectively use each coupon, make sure to click on it and read all the terms and conditions. Take note of important details like discount caps and expiration dates. Once your done perusing it, you can either redeem it immediately or save it for future shopping sprees.
Deals of the Week
Looking for Walgreens weekly specials? Don't look too far as it's right here at the Walgreens weekly ad. It is a digital promo material that displays all the best deals and discounts right at the screen of your gadget. Thus, there's no need to head out to Walgreens itself; you can stay in your bed, just browsing and looking for your favorites.
All products are organized by collection and you can zoom in on each one of them; thus, it's more effortless to look for specific items. All the offers are good for this week only, but once those expires, the site will be updated with the newest ad containing the freshest deals.
BOGOs
Do you love free stuff? If you do, all the more reason for you to stay updated with the biggest buy one get one or BOGO free deals! You can find them on our Walgreens sales flyer, which features other BOGO deals, too, like BOGO 50% off, BOGO 20% off, and more. Flipping through those BOGO collections is real easy, so give it a try.
Membership Program
Are you a frequent shoppper at Walgreens? Are you a member of the Walgreens membership program? If the answer to those questions are yes then no, you are doing it wrong. Skipping the chance of being part of the Walgreens reward program means you miss out on many perks and benefits! For instance, members earn points every time they shop - imagine how many points you could've earned and used already if you were already a member!
So don't keep missing out! Take charge and register for the program. You may check out the Walgreens sales ad for more info on the registration process.
Online Exclusive Offers
Online shopping is taking everyone by a storm, and for good reason! It's easy, accessible, and convenient - all good things for people living in a busy world. Besides all those, there are the amazing deals and discounts that gets everyone on a hook. These offers vary per product and brand, from great steals like buy one get one free to splendid markdowns, like 50% off on an item. You can find them all on the Walgreens weekly circular, so check it out!
Leverage Free Shipping
There's nothing like the frustration of finding the perfect product online with the perfect pricetag, only to be charged with a shipping fee that will rip off your wallet. Well, that's about to change.
With the Walgreens ad, you can find the best free shipping offers at the palm of your hand. These deals are easy to avail - click on the product or voucher, read the terms and instructions, then shop to your heart's content.
Clearance
Consider stocking up on certain items when they are specially discounted, as long as you have room in your pantry or freezer. Shopping at Walgreens doesn't have to be expensive. Taking advantage of their clearance offers is an excellent way to save money and still get quality merchandise. Clearance items are constantly changing, so make sure to keep an eye out for new products that come in.
It is also important to inspect the product closely before purchase. Be sure it is not damaged and all pieces are included before bringing it home. Use the clearance offers combined with store coupons or loyalty programs to maximize savings. A little bit of research and extra effort can pay off big time!
Price Matching
Price matching is a great way to save big at the Walgreens sales ad. This useful policy allows shoppers to adjust their purchase amount based on the prices of the same item at competing stores. Meaning you never have to worry about spending too much.
To use the price matching guarantee, simply bring the current price from a competitor and inform the Walgreens staff. If their product is substantially similar, they will match it, and you can save some money on your purchase. With price matching at Walgreens, rest assured that you wouldn't have to leave empty-handed due to inflated prices.
Cashback Program
What's a cashback? It's as straightforward as it sounds - you get money or cash back to you after you purchase a certain product. It's a one-of-a-kind deal, just like buy one get one, free shipping, and big discount promos. Like the other offers, you just have to meet the terms and conditions to avail! If you want to know more about it (and discover huge promos), then check out the Walgreens coupon database. It's got all the info you need (and more!).
Shop at Right Time
Weekly deals are amazing but special, holiday deals are MUCH, MUCH better because the discounts are bigger, the deals are hotter, and the offers are plentier. Thus, knowing when to shop at the right time is crucial - you make the most of your money and you get the most savings, points, or cashbacks.
Subscribing to Walgreens ad previews allows you to be updated and get glimpses of these big holiday sales, like black friday or back-to-school. They're just as easy to use as weekly ads or flyers - course through collections, earmark your favorites, and be ready to secure them on the day.
Shopping at Walgreens
Walgreens In-store Shopping
Before going on an in-store shopping trip, make sure you have everything you need : (1) shopping bag, (2) shopping list, and (3) Walgreens sales flyer.
Wait ... what even is a sales flyer you'd ask and why is it essential? A sales flyer is a promotional resource from Walgreens, which features the latest and biggest deals, discounts, promos, and other irresistible offers. It's a great way to stay updated on item prices, too! Thus, you can use this conveniently online material to plan your shopping trip so you can maximize your savings and budget.
Curbside Pickup
Gone are the days of worrying about crowds or long checkout lines. Now you can simply order online and pick up your purchase safely outside the store. Curbside pickup means that people can stay a safe distance from each other while still benefiting from the deals in the Walgreens sales flyer.
It also allows customers to shop quickly and save time, as they won't need to wait in line or browse the store. If you need a few things or a lot of stuff, curbside pickup is a modern convenience that allows you to order items online and pick them up at the curb.
Delivery
Delivery is a service that's getting more and more popular these days, but does your local Walgreens offer it? If you want to know, check out the Walgreens weekly ad this week. It will provide information and instructions on how to avail the latest services, including delivery or pickup. Aside from that, it also features amazing and recent promos, such as discounts, vouchers, and other deals. You can use those to stretch your shopping budget or make the delivery costs more affordable!
Online Shopping at Walgreens
In-store shopping at Walgreens has its pros, but sometimes it can be a stressful experience. You'd have to walk and stand for hours, search for items in the maze of products, and discover that certain necessities aren't on stock. If you want to avoid all those, try online shopping! Check out the Walgreens circular to find out if they have an online shop you can browse, shop, and check out items from!
Mobile Digital App
Have you seen a Walgreens ad feature the Walgreens app and wonder if it's worth it? It is - aside from the online shop being one click away, you are entitled to exclusive deals, discounts, and other promo offers. The perks are many, so be sure to check your app store and install it if it's up and available!
About Walgreens
If you're from New York, you might have seen a few Duane Reade drug store signs around. Those are now Walgreens. Walgreens is the second biggest chain of pharmacies in the United States next to CVS. Aside from prescription refills, Walgreens also sells over the counter medicine. You can also get health and wellness products here. Some Walgreens locations offer photo services and a 24-hour Walgreens drive through pharmacy.
Source
How to find Walgreens sales flyer?
Walgreens FAQs

How to get Walgreens Ads Emailed to You?

Get Walgreens weekly ads sent to your inbox and never miss a deal! Head over to the Walgreens Weekly Ad page and enter your email to sign up. Make sure to change the store location to get the best deals in your area.

How long does the Walgreens Ad last?

Walgreens weekly ads run for a full week. The ads start on Saturday and end on Sunday of the same week.

When Does Walgreens release the new ad?

Walgreens sends out new ads every Saturday

How to have Walgreens weekly ad shipped to me

Unfortunately, Walgreens has completely eliminated sending out printed Circular Ads. However, you can still get the weekly ads sent to you via email. Go to the Walgreens Weekly Ad page on their website to sign up.

What day does the Walgreens Ad start and end?

Walmart ads stare every Saturday and end every Sunday of the same week.

What time does Walgreens close

While the standard closing time for most Walgreens locations is 9:00 PM, there are a few stores that close later. Some also close earlier, depending on the area. Visit the Walgreens Store Finder page and enter your ZIP code to see what time your Walgreens closes.

What time does Walgreens open

Most Walgreens locations open at 9:00 AM. There are 24-hour locations, too, that are more convenient. Some stores open earlier or later than 9:00 AM. To find out what time your local Walgreens opens, please visit the website and go to the Store Finder page.

What time does Walgreens pharmacy close

Walgreens pharmacy typically closes at 9:00 PM, but some locations close as early as 6:00 PM and as late as 10:00 PM.
What are Walgreens Hours?

Walgreens locations that don't operate on a 24-hour basis usually follow the 9:00 AM to 9:00 PM schedule. Do note, though, that some locations have different business hours.
Walgreens Near Me

There are over 9,000 Walgreens stores located across all 50 states in the US. The top 5 states with the most Walgreens locations are:
Walgreens photo

Photos are precious memories that you can touch. Drop your photos off at a Walgreens near you and have them printed and ready for pickup on the same day.
Walgreens clinic

Walgreens also has a clinic where you can book an appointment. They also accept walk-ins, so feel free to drop by anytime when you're feeling under the weather.
Walgreens pharmacy

Need a new pair of contact lens? How about some food supplements to boost your health? At Walgreens, your health and wellness needs are covered. Walgreens specializes in refilling prescriptions. They have a wide range of over the counter medicine, too. Walgreens pharmacy is also available for pickup and delivery.
Walgreens rewards

Taking care of your health has never been more rewarding. Sign up for MyWalgreens, Walgreens' new loyalty reward program, and get awesome perks! Get Walgreens cash rewards for every purchase and enjoy awesome deals from time to time. MyWalgreens makes shopping online and in-store more enjoyable.
Walgreens Black Friday

Enjoy unbeatable deals from Walgreens' annual Black Friday sale! Save up on your holiday shopping with exclusive sales and rack up points for even more savings. Clip paperless coupons from the Walgreens website and use them for online purchases. In-store shoppers are sure to enjoy discounts and other perks, too.
How EveryPayJoy Help you Save?
Store and brand deals are great, but they can be so hard to find. You'd have to visit individual shop websites to find the most updated offers. But I've got great news - you can finally stop searching high and low for these discounts around the Internet because all of them are right here in EveryPayJoy!
EveryPayJoy is an easy-to-use website that compiles an abundance of weekly ads, coupons, and tips from many shops. You can easily browse their collections to find deals or coupons that suit your needs and shopping habits.
To use EveryPayJoy, just click on the "view now" button for the Walgreens weekly ads. You'll be directed to a page full of links to the Walgreens sales flyer, current weekly specials, ad previews, and other resources you can use to score the hottest promos. Click on whichever link you need and feel free to explore the deals within it. You can also read the FAQs portion to learn about the store's system for deals and promos.
Disclaimer: Walgreens is a registered trademark of Walgreens and is not affiliated with our company. We are not affiliated with, endorsed by, or connected to Walgreens. Our use of any trademark belonging to another company is not done with the intent to confuse consumers but is rather incidental in promoting these companies and their coupons.