ALDI Weekly Ad (06/04/2023 - 06/10/2023)
Shopping smart and getting the most out of your budget is a goal many people strive for, so why not take advantage of the convenience and savings offered by the ALDI ad? With our ALDI ad page, you can keep up with all the latest deals and offers on products ranging from groceries to electronics - all at competitive prices. Start browsing today and enjoy the unbeatable value of shopping with ALDI weekly ad. With our ever-changing selection of great deals, there's something new every time, so don't miss out on your chance to save big!
ALDI Ad & Preview
ALDI Ad 06/11/2023 - 06/18/2023

ALDI Ad 06/07/2023 - 06/14/2023

ALDI Ad 06/04/2023 - 06/10/2023

ALDI Ad 06/04/2023 - 06/11/2023

ALDI Ad 05/31/2023 - 06/06/2023

ALDI Ad 05/31/2023 - 06/06/2023
Now viewing: ALDI Weekly Ad Preview 06/04/2023 - 06/10/2023
Scroll mouse wheel to zoom
Page 1 of 8
Click the images below to view other ALDI Weekly Ads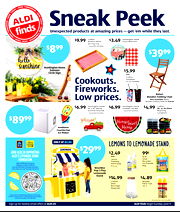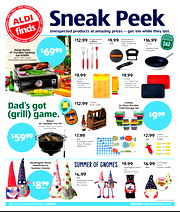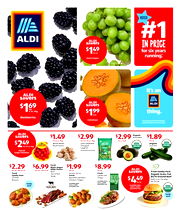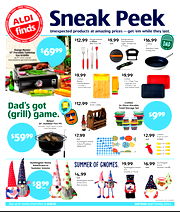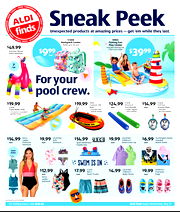 Browse Deals & Coupons in this ALDI Ad
The ALDI ad, from 06/04/2023 to 06/10/2023, is full of incredible savings on a wide range of products and items. There are categories for all kinds of groceries and other things. Choose easily among frozen goods, deli, breakfast, cereal, pet supplies, pharmacy, produce, and many more.
You will see 17 astonishing deals that will help you find the items you need at the best prices available. The ALDI weekly ad this week also includes a ALDI coupon for additional savings, so you can save even more money when shopping at ALDI.
Furthermore, the ALDI Weekly Ad This Week has a plethora of great deals that customers won't want to miss out on! For those who prefer not to visit the Store, the ALDI ad can also be found online, making it even easier for shoppers to see what kind of savings are available without leaving home. You can browse through different categories without leaving your house or office and take advantage of discounts whenever they are offered.
This is especially helpful when looking for something specific, as it allows customers access to all kinds of products, no matter where they live or work. Shoppers who want to maximize their savings when shopping at ALDI should definitely keep an eye out for their favorite ALDI coupon.
Coupons often provide additional offers such as a buy one get one free promotion or a percentage off orders over a certain amount. Thus, you can end up saving twice as much as they would have without them!

Today's Kitchen Fresh Bacon Cheddar Patties
$7.49

Fresh Texas Style BBQ Rub Brisket
$5.49


Fresh Orange Ginger Atlantic Salmon on a Cedar Plank
$10.99






ALDI Small Recycled Eco Friendly Bag
$0.99
Popular ALDI Brands
Is there a branded item you've been saving up for lately but still can quite get the amount? Well, all is not lost and you won't have to wait any longer. You can take advantage of this top ALDI deals by brand from ALDI circular.
All the biggest deals and amazing coupons found in one place, truly a great hack to save money and bring down prices. Everything is organized by brand to make browsing easier. There are 12 brands features in this ALDI sales flyer, including Belavi, Crane, Simply Nature, RANGE MASTER. The list grows by the day, so make sure to stay updated.
Expired Flyers
ALDI Ad 05/28/2023 - 06/03/2023

ALDI Ad 05/28/2023 - 06/03/2023

ALDI Ad 05/24/2023 - 05/30/2023

ALDI Ad 05/24/2023 - 05/30/2023
How to save at ALDI?
Have you been spending more and saving less when shopping at ALDI? Well, that needs to be changed - you should spend more AND save more! You can do that using coupons, discounts, weekly ad specials, and many more deals. Keep updated with these promos and learn how to save at ALDI using our ALDI weekly circular!
Coupons at ALDI
Coupons are a must-have for your shopping sprees. They let you extend your budget or go under it; either way, they make the whole trip much more enjoyable. Unlike before, though, you can't cut out a ton of them from the newspapers or magazines. So where can you find these simple treasures these days?
They are all right there in this ALDI coupon database. As the world transitioned to the digital landscape, so did your beloved vouchers. Not only are they now easier to find and carry, they're also easy to save and redeem. Just click on each coupon for more info and instructions.
ALDI Weekly Specials
Saving with the help of weekly specials at ALDI is a great way to stretch your budget and save money. Here are some tips on how to get the most out of their weekly specials:
1. Review the ALDI weekly circular each week. This way, you will be aware of any sales or discounts that may not have been advertised elsewhere. Another advantage to this is that you can compare prices over different stores to find the best deal.
2. Take advantage of online coupons and promo codes every week. Many stores offer online coupons that you can apply for additional savings on items you purchase through their website or app.
3. Look for weekly "buy one, get one" deals where you can purchase two items for a lower price than buying them separately. This is a great way to stock up on products while saving money.
4. Check expiration dates carefully when shopping with weekly ads, as some promotions might expire before the sale ends. Moreover, it is vital to take note of end dates to maximize savings on items you are planning to buy anyway.
5. Combine weekly deals with other promotions like rewards programs or discounts from loyalty cards so that you can maximize your savings potential even more.
By following these tips, you can maximize your utility or grocery bill savings.
BOGOs
Why get one when you can have two? Make the most out of your money by being the first to know and take advantage of ALDI buy one get one (BOGO) free deals! Besides BOGO free, there's also a shot at BOGO 50%, BOGO 30%, BOGO 20%, and many other juicy offers.
You can use these BOGO deals to stock up on necessities and wants while spending the least amount possible. Stay updated and look out for these promos on the ALDI sales flyer. The flyer is updated regular, so make sure to view it often.
Reward Programs
Did you know ALDI has a reward program? If you didn't, now you do and you should be a part of it. Members of the program are entitlted to the most exclusive deals and earn hundreds of points just by shopping. All these points can be used for future shopping trips, for even bigger savings.
So, what are you wating for? Find the registration details in our ALDI sales ad!
Exclusive Online
Don't have the energy to get out and buy what you need? That's alright - you can still buy stuff without going out or even getting up! With the ALDI online store, you can shop from the convenience of your own bed and Internet. Add to cart all you need and before you check them out, make sure to check out the ALDI weekly circular - it has all the best online deals and biggest discounts you can use to maximize your budget and make savings.
Free Shipping
Splurge all you want online because there are no shipping fees to stop you. That's right, you can buy online with free shipping fees and that's possible if you regularly check the ALDI ad! You can find there all the most exclusive and biggest free shipping deals and vouchers for you to enjoy. Follow the detailed instructions on redeeming the deal or voucher to enjoy this perk.
Find Clearance Items
Shopping at ALDI doesn't have to blow your budget. In fact, you can save money with the help of their clearance offers. With a little bit of planning and knowledge, shoppers can stay within their budgets while enjoying fantastic deals on ALDI sales flyer.
First, make sure you know when clearance items are offered, as this is often when the best discounts are available. Second, ask customer service associates for any additional discounts or special offers that may help bring down the cost of your purchase. Finally, sign up for ALDI's email list to ensure you stay up-to-date on new clearance offerings. With these tips in mind, shopping at ALDI can become both enjoyable and affordable!
Price Matching
Taking advantage of price matching at ALDI is a great way to save money when you shop there. Price matching involves looking at competitors' prices and adjusting the cost of your item so that it is equal to or lower than the competitor's price.
To do this, all you have to do is bring proof of competitive pricing, such as ALDI ad, sell sheet, or even a screenshot from a website before checking out. With price matching at ALDI, saving money on your purchases can be quick and easy.
Cashback Program
Now and then, ALDI would offer cashback promos or coupons. Availing these offers mean would you get back a certain portion of your purchase, either as cash or store credit. Fantastic, right? However, you'll have to meet the terms and conditions, so make sure you know of those before using your coupon. You can find the coupons, along with their terms and conditions, on the ALDI coupon database. Just scroll through the collections, find the voucher, click on it, and avail when you can, but make sure to do so before the expiration date.
Shop at Right Time
Weekly deals are amazing but special, holiday deals are MUCH, MUCH better because the discounts are bigger, the deals are hotter, and the offers are plentier. Thus, knowing when to shop at the right time is crucial - you make the most of your money and you get the most savings, points, or cashbacks.
Subscribing to ALDI ad previews allows you to be updated and get glimpses of these big holiday sales, like black friday or back-to-school. They're just as easy to use as weekly ads or flyers - course through collections, earmark your favorites, and be ready to secure them on the day.
Shopping at ALDI
ALDI In-store Shopping
Shopping in-store can be a great way to save money. Stores often feature extended discounts with their ads, and the ALDI weekly ad this week is no exception! Taking advantage of these sales can help savvy shoppers keep their budgets under control while still buying the items they need and want.
Shopping in-store allows customers to browse the products they are considering. Furthermore, they can make more informed and balanced choices than could be made by ordering online. Additionally, in-store shopping is ideal for those who hate the time an online order requires for delivery.
Curbside Pickup
Gone are the days of worrying about crowds or long checkout lines. Now you can simply order online and pick up your purchase safely outside the store. Curbside pickup means that people can stay a safe distance from each other while still benefiting from the deals in the ALDI sales flyer.
It also allows customers to shop quickly and save time, as they won't need to wait in line or browse the store. If you need a few things or a lot of stuff, curbside pickup is a modern convenience that allows you to order items online and pick them up at the curb.
Delivery at ALDI
Time is money, and sometimes spending hours walking through grocery and store aisles can lead you to wasting a lot of money. Not only do you spend when you shop, you also sacrifice hours you could have been earning or relaxing. Thus, it's time for some change! Use the ALDI weekly ad this week to check if your local ALDI allows delivery. Once you got that clarified, start doing your groceries at home and having them delivered. You save so much time, plus you're less likely to get tempted by random items you see on store aisles.
Online Shopping
Shopping online can provide several benefits to consumers that traditional shopping may not. You can compare prices across retailers for the best deal on any item. Moreover, you can access the ALDI circular to look at the current deals and discounts. Not only that, but by taking advantage of ALDI's online shopping system, you will save time and money by avoiding long lines at check-out. In short, ALDI's online shopping service is a handy tool for shoppers looking to save time and money.
ALDI App
Her are two shopping tips: check your fave app store and see if the ALDI app is already availble AND subscribe to the ALDI ad. The app allows you to buy things wherever and whenever, in the most effortless way possible. Meanwhile, an ad subscription makes sure you don't miss out on the biggest and most exclusive deals and promos.
About ALDI
Aldi is the common brand of two German family-owned discount supermarket chains with over 10,000 stores in 20 countries. Based in Germany, the chain was founded by brothers Karl and Theo Albrecht in 1946 when they took over their mother's store in Essen. The business was split into two separate groups in 1960. Aldi is now a household name in the US. The supermarket chain offers high quality products without the hefty price tag. Headquartered in Batavia, Illinois, Aldi operates with over 2000 stores in 36 states in the US.
Source
How to find ALDI sales flyer?
Aldi FAQs

How to get Aldi Ads Emailed to You?

Discover new Aldi finds and get alerts for exclusive offers and discounts every week! Sign up for the Aldi weekly newsletter by visiting https://www.aldi.us/en/about-aldi/email-sign-up/. You'll also get notifications for seasonal products and produce so you don't miss out on the best. Visit the Aldi website now to see the July specials!

How long does the Aldi Ad last?

The Aldi ad lasts for seven days or a full week.

When Does Aldi release the new ad?

A new Aldi weekly ad is released every Wednesday. Aldi Finds, though, are advertised online a week in advance.

How to have Aldi weekly ad shipped to me

Aldi doesn't ship their weekly ads directly to customers. Depending on your ZIP code, you may receive the current Aldi weekly ad from local newspapers. In case your area isn't in the distribution area, you may view the Aldi weekly ad online instead.

What day does the Aldi Ad start and end?

The Aldi weekly ad ends every Tuesday of the same week of its release.
What are Aldi Hours?

Most Aldi stores open between 8:30 and 9:00 AM and close between 8:00 and 9:00 PM. During holidays, most Aldi locations close earlier, at around 4:00 PM. To know your local Aldi's store hours, go to the Aldi Store Locator page. Enter your ZIP code and choose a store to see details including their business hours.
Aldi Locations

Aldi has over 2,000 locations in the United States, most of them are located in the Midwest. The top 5 cities with the most number of Aldis are as follows:
Aldi coupons

Unlike most stores, Aldi doesn't rely on coupons to lure customers into their stores. Aldi prices are tough to beat, even without coupons. For this reason, Aldi doesn't always offer coupons, except for special events. Despite this, customers still love to shop at Aldi, thanks to their Double Guarantee and full refund policy.
Aldi grocery pickup & delivery

To make your shopping experience even better, Aldi offers grocery pickup and delivery. For as low as $1.99, you can have your grocery run done by an Instacart shopper and ready for pickup at your preferred time. Can't leave the house? Get your goods delivered for as low as $5.99. Learn more here https://www.aldi.us/en/about-aldi/faqs/grocery-delivery-pickup/.
Aldi gift card

Need gift cards? Drop by your local Aldi and get one for as low as $5. Aldi gift cards are reloadable, so there are plenty of other ways to use them too.
Aldi bakery

In 2018, select Aldi stores started having dedicated in-store bakeries. Here, you can get freshly baked breads and pastries every day. However, not all Aldi locations have a dedicated bakery. They have yet to release an official list of store locations with dedicated bakeries.
Aldi coffee

If you're in the market for delicious coffee, drop by Aldi. Take your pick from a wide range of delicious organic beans that are also Fair Trade Certified. From strong and full-bodied coffees to mild and mellow ones, Aldi has options that you won't get enough of.
Aldi grocery

Aldi believes that high quality goods don't always have to come with a hefty price tag. That's why people love going to the Aldi grocery. Stock up on your favorites without blowing your budget. Get Aldi's signature meats, pantry staples, and more for your kitchen and your home at the Aldi grocery.
Aldi wine

Aldi carries award-winning wine brands that everyone, from enthusiasts to experts, will love. Try the Italian Soave or the Central Otago New Zealand Pinot Noir. You can also visit your nearest Aldi to discover more great wine finds.
Aldi online

Shopping is fast and easy at Aldi online. Do your shopping at home and pick up your groceries at your preferred time or have them delivered to your door. Visit the Aldi website and start shopping now!
How EveryPayJoy Help you Save?
Everypayjoy is a great platform to help you save money on your shopping trips. Not only does the website provide access to the latest ALDI sales flyer and weekly ads, but it also offers coupons and deals that can save you big each time you shop.
Shoppers can easily find incredible discounts on products they are looking for by subscribing to Everypayjoy's website. With just one click, users can instantly access all of the latest ALDI weekly ads in one place. This eliminates the need to search through individual stores or websites and helps shoppers save time while looking for the best deals possible.
Additionally, Everypayjoy makes it easy for shoppers to stay up to date with new promotions and sales. The website allows customers to subscribe for notifications about new offers. Thus, you will never miss out on an opportunity to save money at your favorite stores.
The convenience of Everypayjoy is why so many shoppers trust this platform when planning their shopping trips. By taking advantage of the deals and coupons available on this site, customers can enjoy substantial discounts without spending hours searching around online or in-store.
Disclaimer: ALDI is a registered trademark of ALDI and is not affiliated with our company. We are not affiliated with, endorsed by, or connected to ALDI. Our use of any trademark belonging to another company is not done with the intent to confuse consumers but is rather incidental in promoting these companies and their coupons.