Winn Dixie Weekly Ad (03/15/2023 - 03/21/2023)
Got only five minutes to scope out the best offers? Not a problem! With Winn Dixie weekly ad, you can blitz through the biggest promo collections by clicking on the arrow buttons. Zooming in on each item is quick and easy, too! It takes a few minutes to check out all of this week's deals, you might even have time left to check out Winn Dixie ad previews for future deals.
Winn Dixie Ad & Preview
Winn Dixie Ad 03/15/2023 - 03/21/2023

Winn Dixie Ad 03/15/2023 - 03/28/2023

Winn Dixie Ad 02/27/2023 - 03/26/2023
Now viewing: Winn Dixie Weekly Ad Preview 03/15/2023 - 03/21/2023
Scroll mouse wheel to zoom
Page 1 of 9
Click the images below to view other Winn Dixie Weekly Ads
Winn Dixie Ad
03/15 - 03/21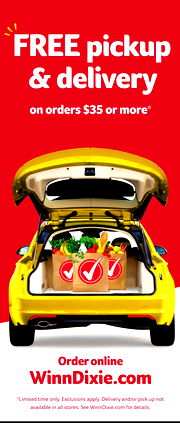 Winn Dixie Ad
03/15 - 03/28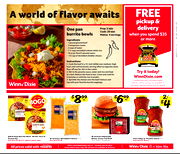 Winn Dixie Ad
02/27 - 03/26
Browse Deals & Coupons in this Winn Dixie Ad
Reading the Winn Dixie weekly ad this week is as effortless as a few clicks. Reading this Winn Dixie ad is well worth your time if you want to save money on groceries. The Winn Dixie grocery store offers great deals that you won't find anywhere else, so checking out the ad each week pays off.
You may save on items such as fresh produce, meats, dairy products, snacks, baking goods, beverages, and more. You can choose the category of your choice and avoid impulse purchases that can add up over time.
The current Winn Dixie ad begins on 03/15/2023 and ends on 03/21/2023. Throughout this period, 22 deals and different offers will be available for customers.
Not only does the Winn Dixie weekly ad this week list these amazing deals for customers, but it also provides coupon codes for online shoppers who are looking for additional savings. You can use Winn Dixie coupon at the checkout to further save your money.
No matter what kind of shopper you are, reading through the newest edition of the Winn Dixie ad will provide plenty of ways to save money while stocking up on your favorite items. So, make sure you do not miss the chance because once the sale is over, you won't be able to get the discount until the next sale.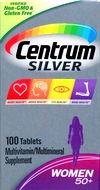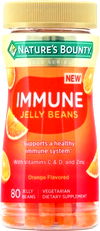 Nature's Bounty
Save up to $49.99 on 2
OCuSOFT Allergy Lid Scrub Pads & Retaine Eye Relief
$2.0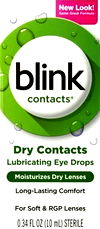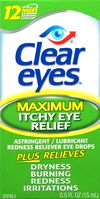 Vick's
Save up to $1.70. MFR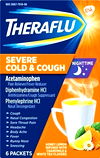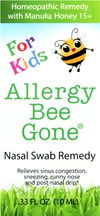 Cold & Allergy Bee Gone Kids & Adults
Save up to $2
Popular Winn Dixie Brands
Can't find your fave brand among the medley of similar items? Flip through the top Winn Dixie deals by brand instead. It's a segment of the Winn Dixie circular wherein product discounts are organized by brand for those who have specific tastes or just want to explore offers from big names.
To see such offers, click on the brand icon or "view now" button to open into a page full of exclusive deals. Like the Winn Dixie sales flyer, these brand discounts pages are updated regularly, so keep an eye out for new additions. For example, this circular covers only 12 brands, but you can expect another name or two to be added next week.
Expired Flyers
Winn Dixie Ad 03/08/2023 - 03/14/2023

Winn Dixie Ad 03/01/2023 - 03/07/2023

Winn Dixie Ad 03/01/2023 - 03/14/2023

Winn Dixie Ad 02/22/2023 - 02/28/2023
How to save at Winn Dixie?
Heading out? Don't forget to check out (or at least bookmark) this Winn Dixie weekly circular. As the most updated collection of promo offers and discount products, you'll find it invaluable for maximizing your shopping trip. You can use it to compare prices with actual mall displays, find coupons you can redeem, learn how to join rewards programs, and other fantastic opportunities you wouldn't want to miss.
Winn Dixie Digital Coupons
Coupons are an underrated shopping hack. When used correctly, they can save you a lot of money, especially over the long term. But many find them frivolous, elusive, and a hassle to carry around and use. But this Winn Dixie coupon database is here to change the game.
This database gathers the most recent and exclusive vouchers in one digital resource so you won't have the hassle of carrying or losing them. To avail the coupons, open the database, scroll through, and find the ones you need. Click on them individually to find terms and conditions, expiration dates, and instructions on how to save or redeem them.
Deals of the Week
Back then, flipping through product magazines and catalogs were a subtly fun way to pass time. You see amazing products, fantastic discounts, and even buy one get one deals. This time, though, most such catalogs are elusive to find or you must pay a subscription to use them.
With the Winn Dixie weekly ad, you can replicate that nostalgia of browsing through weekly specials and product collections. But this ad is much better than the catalogs of the olden days. Firstly, it's digital, so you can access it anytime, anywhere, which makes price comparisons easier. Secondly, it's easy to use - just click on a few buttons to browse. Lastly, it's free!
Winn Dixie BOGO
Saving money at Winn Dixie with the help of BOGO's (Buy One, Get One) offers is a great way to get more for your money. To take advantage of these offers, shoppers should understand what deals BOGOs offer and how to get the most out of them.
First, shoppers should check out Winn Dixie's current BOGO specials. These are usually advertised in newspapers, on the store's website, or even on social media platforms such as Twitter and Facebook. Once you have identified which items are part of a BOGO offer, read the fine print before purchasing to ensure that you will get both items at the discounted price.
Another great way to save at Winn Dixie with BOGOs is through couponing. Shoppers can find coupons online or in newspapers that can be used with BOGO offers for even more savings. Not all stores accept coupons along with their Buy One Get One offer, so it is essential to check the store's policies beforehand.
Finally, keep an eye out for special promotional days on the Winn Dixie sales flyer. Many stores have a day throughout the year when customers can purchase one item at full price and get another item from select departments for free! This is often an excellent time to stock up on seasonal goods or everyday staples and try something new without breaking the bank!
By taking advantage of these tips and understanding how Buy One Get One promotion works, shoppers can maximize their savings when shopping at Winn Dixie.
Membership Program
Did you know Winn Dixie has a reward program? If you didn't, now you do and you should be a part of it. Members of the program are entitlted to the most exclusive deals and earn hundreds of points just by shopping. All these points can be used for future shopping trips, for even bigger savings.
So, what are you wating for? Find the registration details in our Winn Dixie sales ad!
Online Exclusive Offers
Shopping at Winn Dixie doesn't have to be expensive. With the help of Online Exclusive Offers, it's easy to save big on your favorite items. All you need to do is check the store's website regularly for exclusive online offers and promotional codes, allowing you to enjoy discounts on select purchases. If you're a regular customer at Winn Dixie, signing up for their rewards program is also a great way to save money in the long run. With just a few simple steps, saving money while shopping through the Winn Dixie sales ad has never been more accessible.
Leverage Free Shipping
Here's a sound online shopping advice you can follow - don't check out anything without making sure you aren't missing any discounts or free shipping deals! After all, you wouldn't want to pass on the chance to save money, right?
To find those free shipping offers, use the Winn Dixie ad. You can flip through it anytime, anywhere to find fantastic promos you can use to waive online shipping charges or slash down prices.
Find Clearance Items
In case you want to save as much as you can on your grocery bill with the help of Winn Dixie ad? Look no further than the store's clearance section! Clearance items are often significantly marked down in price, so you can save lots of money.
Additionally, since these items are on clearance, it is a great chance to buy higher-end items for less. The excitement of finding something fantastic and unique at a fraction of the cost can be quite motivating! Take the time to browse through the store's clearance section and experience how much money one can save. You might find some hidden gem you have been searching for!
Price Matching
Shopping for sometimes expensive items can be daunting, especially if you don't want to pay the full price due to limited funds. Price matching is a great tool that shoppers at Winn Dixie can use to save money while buying their desired items. Nearly every major retailer offers price matching, and Winn Dixie is no exception.
Simply by showing proof of the lowest price on an item elsewhere, customers can get a discounted rate for the same item at Winn Dixie. So why not take advantage of this fantastic deal in the Winn Dixie weekly ad and find everything you need while saving money?
Cashback Program
Shopping at Winn Dixie just got more accessible and more rewarding! With Cash Back, you can save on all your purchases. All it takes is a few minutes online to join the program, and from then on, every dollar you spend earns you rewards that you can quickly redeem for incredible discounts and savings. The Winn Dixie ad Cash Back program is designed to help shoppers maximize their money without compromising quality. So why wait? Join today to enjoy effortless savings while shopping at Winn Dixie!
Shop at Right Time
Saving money at Winn Dixie will be a piece of cake if you shop at the right time. To maximize savings and get the most bang for your buck, take advantage of two key seasonal opportunities: Black Friday and Back to School season.
Black Friday is an annual event filled with deep discounts on items ranging from apparel to electronics, making it a great opportunity to save big on products you have had your eye on. Many retailers also offer special online deals exclusive to their online stores, so be sure to check those out too.
Back to School season is also another great chance to save big and stock up on essential items like clothes, shoes, and school supplies. Retailers often offer discounts on bulk orders or bundle packages, so it's a good idea to plan ahead and purchase what you need in advance.
By taking advantage of these two seasonal shopping opportunities, savvy shoppers can save big at Winn Dixie. By doing your research online and planning ahead of time, you can ensure that you find amazing deals available for the items you need.
Shopping at Winn Dixie
In-store Shopping
This week, shoppers at Winn Dixie can get amazing deals on an exciting array of items. We proudly offer weekly ads that feature savings on some of our most popular products. Whether you are looking for snacks, household items, or special treats for the kids, you can always find something new and exciting in our Winn Dixie weekly ad this week.
Our knowledgeable staff is here to help make sure you get the best deals available. With Winn Dixie, shopping is easy and fun. Whether looking for fresh produce, everyday necessities, or the latest tech gadgets, you will find something suitable. So visit the Winn Dixie and start saving today.
Curbside Pickup
What if you can buy all your groceries just sitting down then get up once it's packed and ready? That doesn't just sound like a dream - it can actually happen when you avail of the curbside pickup order service at your local Winn Dixie! Through this service, you can choose everything you need online, place an order, and schedule the pickup at a time and location nearest to you. It's extra convenient, plus much more affordable than delivery, especially if you took advantage of applicable deals and promos featured in the Winn Dixie flyer!
Delivery at Winn Dixie
Why go to the local Winn Dixie, when the local Winn Dixie can come to you? More stores are offering delivery services, and of course, Winn Dixie isn't late to the trend. A delivery option is convenient for many who can't leave their home, or purchased items that are too difficult to transport. If you're interested, check out if you're local Winn Dixie is offering delivery through the Winn Dixie weekly ad this week. You'll also find there instructions and it may also direct you to credible delivery apps, like instacart. It's regularly updated, so you're sure that the info provided is accurate.
Online Shopping at Winn Dixie
Online shops are popular for a reason. Firstly, they're convenient and easy, as everything is organized by collection. Unlike in-store shopping, you won't have to scramble to find stuff on your shopping list. Secondly, and best of all, it's cheap, mainly because of the dozens of deals and discounts, which you can find on the Winn Dixie circular. Lastly, everything is delivered to your home. So, if you want to enjoy all those, see if your local Winn Dixie is online!
Winn Dixie App
What if your local Winn Dixie is one tap away? That's totally possible if you have the Winn Dixie app installed in your fave gadget! To find this app, check out the Winn Dixie ad - it usually features the app ready for download. Once it's installed, you can add to cart and check out items right away!
About Winn Dixie
Winn-Dixie was listed in the S&P 500 and had been traded on the New York Stock Exchange under the ticker symbol "WIN" since February 18, 1952, prior to filing for Chapter 11 bankruptcy in 2005. The company was traded under the symbol "WINN" on the NASDAQ before its purchase. The bankruptcy left the chain with fewer stores than it had in the late 1960s.
Source
How to find Winn Dixie sales flyer?
Winn Dixie FAQs

How to get Winn Dixie Ads Emailed to You?

Winn Dixie customers who have an online account can receive email alerts for the Winn Dixie weekly ads. To get started, visit the Winn Dixie website and click on "Sign Up" then fill the form in with your information. This also gives you access to the Winn Dixie ad preview.

How long does the Winn Dixie Ad last?

The Winn Dixie ad lasts a full week. You can see the Winn Dixie weekly ad by visiting the website or by downloading the Winn Dixie app.

When Does Winn Dixie release the new ad?

The Winn Dixie ad starts every Wednesday. However, this schedule may vary from time to time so it's best to check the app or the Winn Dixie website to check for a new ad.

how to have Winn Dixie weekly ad shipped to me

Winn Dixie ads are sent via direct mail to some customers, depending on which area you live in and the nearby Winn Dixie's marketing strategy. Some stores send out weekly ads to nearby areas, others have them printed in the local paper, while some don't do it at all. Check-in with your local Winn Dixie to see your options.

What day does the Winn Dixie Ad start and end?

The WinnDixie ad starts every Wednesday and ends every Tuesday of the next week. However, the schedule sometimes varies. Please check the Winn Dixie website for the latest weekly ad.
What are Winn Dixie Hours?

Most Winn Dixie stores open at 7:00 AM and close at 9:00 PM. Most locations also reserve 8:00 AM to 9:00 AM for senior shoppers. Some stores operate an hour later or earlier so be sure to check with your preferred store before going.
Winn Dixie Locations

The following cities in Florida have the most number of Winn Dixie locations:

Although widely and most popularly known as a grocery store from Florida, Winn Dixie also has stores in Alabama, Florida, Georgia, Louisiana, Mississippi.
Winn Dixie coupons

Tight budget? At Winn Dixie, stretching every dollar is easy. Use coupons from the local paper or get digital coupons online from the Winn Dixie website. Using coupons is the best way to make sure you're getting the best deals and the best prices for your groceries and other needs. Check out their coupon policy for a smooth and hassle-free transaction
Winn Dixie grocery pickup & delivery

Can't come to the store? Have your groceries from Winn Dixie delivered straight to your door! Winn Dixie also offers pickup with the option to pick up your order in as little as one hour. You save time and money when you shop at Winn Dixie.
Winn Dixie bakery

Freshly baked treats are always available at Winn Dixie. Cakes and cupcakes, pastries, bread -- you name it and you'll find it at the Winn Dixie bakery. Pop by your local Winn Dixie and find something to take home to make your family smile today.
Winn Dixie grocery

Aside from fresh meat and top-quality beef, the Winn Dixie grocery aisles are also well-stocked with products for your personal, home, and pantry needs. Get the best deals on your everyday essentials and more when you use coupons with your grocery purchase. You can also opt to have your groceries delivered or prepared by Winn Dixie and ready for pickup on your preferred schedule.
Winn Dixie liquor

Winn Dixie is not just a grocery store, the brand also runs a liquor store that sells a wide range of alcoholic beverages for your every need. Need something fancy to impress a date? Or something cheap for your everyday drink? Check out your nearest Winn Dixie liquor store for an amazing selection to choose from.
Winn Dixie pharmacy

Winn Dixie has made staying healthy so much easier. Aside from offering affordable health and wellness products, they also have a Winn Dixie RX app. This allows you to shop and manage your prescriptions and more on your phone. You can also get your immunization and vaccination shots at the Winn Dixie pharmacy.
How EveryPayJoy Help you Save?
Everypayjoy is a great platform for those who want to save money when they go shopping. The website has everything from coupons to Winn Dixie weekly ads, making it a one-stop shop for savings. You don't have to be a frequent shopper to see the value of using Everypayjoy, as it provides both immediate and long-term savings opportunities.
Everypayjoy helps you save money through its array of deals and coupon promotions. With access to the Winn Dixie sales flyer and Winn Dixie weekly ads, shoppers can easily find discounts on their favorite items. Plus, these savings are offered at all times, no matter what time of year or season it is. This makes Everypayjoy an excellent choice for anyone looking to save money on their shopping trips.
Another way that Everypayjoy helps you save is by providing access to exclusive offers that may not be available elsewhere. These special promotions can provide big savings on items like groceries and clothing and other items such as electronics and home goods.
In addition, subscribing to the Everypayjoy website provides shoppers regular notifications about upcoming store sales flyers and weekly ads. That's why subscribing to Everypayjoy is such a great idea if you're looking for ways to save money while shopping at your favorite stores.
Disclaimer: Winn Dixie is a registered trademark of Winn Dixie and is not affiliated with our company. We are not affiliated with, endorsed by, or connected to Winn Dixie. Our use of any trademark belonging to another company is not done with the intent to confuse consumers but is rather incidental in promoting these companies and their coupons.