Lidl Weekly Ad (05/31/2023 - 06/06/2023)
Want to keep up with the hottest deals for this week? With Lidl weekly ad, the most amazing offers are right at your fingertips - just a click, scroll, and zoom away.
But you know what's better than being updated? Being ahead! With Lidl ad previews, you get a headstart on incredible offers for the next weeks!
Lidl Ad & Preview
Lidl Ad 06/07/2023 - 06/13/2023

Lidl Ad 05/31/2023 - 06/06/2023

Lidl Ad 05/31/2023 - 07/04/2023
Now viewing: Lidl Weekly Ad Preview 05/31/2023 - 06/06/2023
Scroll mouse wheel to zoom
Page 1 of 6
Click the images below to view other Lidl Weekly Ads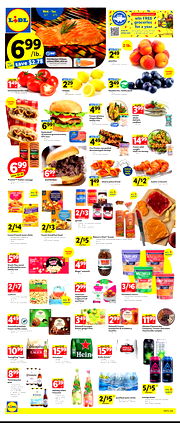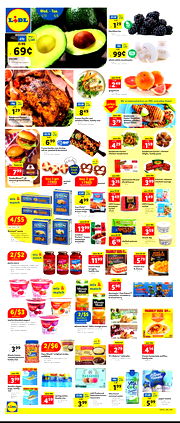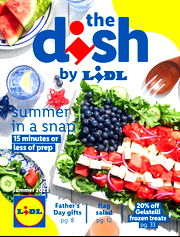 Browse Deals & Coupons in this Lidl Ad
Start your shopping spree at home using the Lidl weekly ad this week. It features the most exclusive and biggest promo deals from 05/31/2023 to 06/06/2023.
All items on sale are organized by collection, such as household items, toys, fashion products, and more. Thus, if you know what you need already, just flip through the collection pages using the arrows or "next" button until you find your product or its corresponding collection.
Then, use your scroller or the plus button on the side to zoom in on the discounted product. Not only will you see the item more clearly, you also get a better look at the price markdown.
Once you've earmarked your chosen deals and products, get the Lidl coupon from the database! Follow instructions to redeem the offer and avail your items at the discounted price.
You don't have to claim the coupons right away, but remember they're a limited offer, so hurry if you can! Once the week's done or the coupon has expired, you've missed your chance.
If you somehow did miss your chance, don't fret! There are still Lidl ad previews, which lets you sneak a peek into the next weeks' deals and discounts. It's like a movie premier ticket - you get first dibs on the most amazing experience!



cookie butter speculoos spread
$3.98







Popular Lidl Brands
Shopping for the best deals has never been easier. Whether grocery shopping or just looking for that perfect item - find top deals by brand quickly and painlessly at Lidl. With the Lidl circular, you can take advantage of the 12 brands and their sales flyers to see what each has to offer.
The Lidl sales flyer offers some great deals that can save you from paying extra. Whether you are looking for the top value from brands like Eridanous, Livarno, Livergy, Parkside, SILVERCREST or quality products from one of their top suppliers - Lidl provides it with all. Check out the website today to begin planning your next shopping trip - you won't regret it!
Expired Flyers
Lidl Ad 05/24/2023 - 05/30/2023

Lidl Ad 05/17/2023 - 05/23/2023

Lidl Ad 05/10/2023 - 05/16/2023

Lidl Ad 05/03/2023 - 05/09/2023
How to save at Lidl?
At Lidl, shopping is enjoyable because of the hundreds of deals, discounts, coupons, and other exciting promos. A variety of offers are available everyday and, unlike before, you won't have to hunt and scour to find them. All are available in this Lidl weekly circular - an easy to use sales tool that's regular updated for your convenience.
Lidl Digital Coupons
Saving money at Lidl with the help of digital coupons can be an easy, rewarding process. First and foremost, knowing how to find the right Lidl coupon for your needs is essential. Searching online and subscribing to coupon websites are great ways to locate coupons that can be used at Lidl. Additionally, many stores offer their own loyalty programs that frequently include discounts and special deals exclusive to members. Joining a loyalty program will also give you access to email notifications whenever new coupons become available so that you can take advantage of all savings opportunities.
When you have found the perfect coupon for your purchase, it is time to redeem them during checkout. Most retailers allow customers to apply digital coupons directly at the checkout page by entering a promotional code or clicking a link attached to the offer.If people have already signed up for an account or a loyalty program, their coupons might already be applied at checkout. If you need help with how the coupon should be redeemed, simply contact customer service for guidance on how best to take advantage of the offer.
Using digital coupons can be extremely beneficial when shopping at Lidl, as they provide even more discounts than what would typically be available without them. It is also important to remember that retailers often limit how many coupon codes you can use per transaction. Thus, read all instructions carefully before entering any promotional codes during checkout.
Lidl Weekly Specials
Saving with the help of weekly specials at Lidl is a great way to stretch your budget and save money. Here are some tips on how to get the most out of their weekly specials:
1. Review the Lidl weekly circular each week. This way, you will be aware of any sales or discounts that may not have been advertised elsewhere. Another advantage to this is that you can compare prices over different stores to find the best deal.
2. Take advantage of online coupons and promo codes every week. Many stores offer online coupons that you can apply for additional savings on items you purchase through their website or app.
3. Look for weekly "buy one, get one" deals where you can purchase two items for a lower price than buying them separately. This is a great way to stock up on products while saving money.
4. Check expiration dates carefully when shopping with weekly ads, as some promotions might expire before the sale ends. Moreover, it is vital to take note of end dates to maximize savings on items you are planning to buy anyway.
5. Combine weekly deals with other promotions like rewards programs or discounts from loyalty cards so that you can maximize your savings potential even more.
By following these tips, you can maximize your utility or grocery bill savings.
Lidl BOGO
Get your shopping gals and guys ready because all of you are about to discover one of the greatest shopping hacks - this Lidl sales flyer containing the most exclusive and recent BOGO or buy one get one deals, from BOGO free to BOGO discounts. This flyer is updated regularly, so before you go on shopping sprees, check it out so you don't miss on such amazing steals.
Membership Program
Although many find it frivolous and indulgent, being a part of store membership programs, like Lidl reward program is so worth it. The key is in making the full use of the perks - from the exclusive discounts to the points you can earn.
Use the program to your advantage and you won't even feel the small membership fee you paid, just the big savings. Want to experience that? Learn how through our Lidl sales ad.
Online Exclusive Offers
If the convenience and diversity of products haven't attracted you to online shopping, here's something that would: huge, exclusive deals! With online shopping, not only can you purchase items from the comfort of your home, you might even make massive savings compared to physical shopping. Moreover, you'll save on gas and window shopping temptations, so that's another perk.
If you want to start your first online shopping spree, check out the Lidl weekly circular first. It is a digital catalog that showcases all the biggest deals and discounts. Use wisely!
Free Shipping
Shopping with Lidl can be a great way to save on your home or office needs. However, you can maximize your savings by taking advantage of free shipping offers. There are two main tactics that can help. First, when you sign up for the Lidl email newsletter, you will regularly receive updates about their promotions. These promotions include free shipping deals.
Second, many sites offer free shipping if you reach a certain minimum order amount. So, if you are already planning to purchase several items through the Lidl ad, it is easy to get extras and qualify for the offer. With these strategies in mind, your shopping trips to Lidl will get bigger and better savings every time.
Clearance
Consider stocking up on certain items when they are specially discounted, as long as you have room in your pantry or freezer. Shopping at Lidl doesn't have to be expensive. Taking advantage of their clearance offers is an excellent way to save money and still get quality merchandise. Clearance items are constantly changing, so make sure to keep an eye out for new products that come in.
It is also important to inspect the product closely before purchase. Be sure it is not damaged and all pieces are included before bringing it home. Use the clearance offers combined with store coupons or loyalty programs to maximize savings. A little bit of research and extra effort can pay off big time!
Price Matching
Price Matching is a great way to save money while shopping at Lidl. It allows customers to compare prices and get the lowest cost for the same items they want. Here's how it works:
Before you shop, do some research and take note of which stores have lower prices for the products you're interested in buying. Ensure these prices are still active when you are ready to purchase.
Price matching isn't limited to just one item. By taking advantage of Price Match policies, customers can save time and money by receiving guaranteed low prices on their purchases from Lidl sales flyer.
Cashback Program
Shopping at Lidl just got more accessible and more rewarding! With Cash Back, you can save on all your purchases. All it takes is a few minutes online to join the program, and from then on, every dollar you spend earns you rewards that you can quickly redeem for incredible discounts and savings. The Lidl ad Cash Back program is designed to help shoppers maximize their money without compromising quality. So why wait? Join today to enjoy effortless savings while shopping at Lidl!
Shop at Right Time
Is there a right time to shop? Expert shoppers know there is! The best time to spend money is when the biggest deals and discounts are on - think Black Friday and back-to-school. During such seasons, certain items are priced at their lowest, and that's the best time to get them! Moreover, there are a ton of vouchers and coupons being offered during that time, and you can take advantage of them to bring your shopping total even lower than before!
You can subscribe to Lidl ad previews to find announcement of black friday, back-to-school, christmas, and other amazing holiday deals. The preview gives you a peek at future prices, discounts, and promos, so you can make the most out of your budget and plan your shopping spree ASAP.
Shopping at Lidl
Lidl In-store Shopping
Shopping in-store has its advantages, especially with the Lidl weekly ad this week. Whether it is groceries or self-care products, Lidl is sure to have what you need at low prices. It is ideal for grabbing items off the shelf and taking them home without waiting for delivery when you buy things that will go bad or need them immediately. Not to mention the shopping atmosphere allows patrons to discover unexpected items they may not find online browsing retailers. With Lidl, you can rest assured that you will accomplish your shopping goals in one place.
Curbside Pickup
Gone are the days of worrying about crowds or long checkout lines. Now you can simply order online and pick up your purchase safely outside the store. Curbside pickup means that people can stay a safe distance from each other while still benefiting from the deals in the Lidl sales flyer.
It also allows customers to shop quickly and save time, as they won't need to wait in line or browse the store. If you need a few things or a lot of stuff, curbside pickup is a modern convenience that allows you to order items online and pick them up at the curb.
Delivery at Lidl
Shopping from the convenience of the home has always been a piece of cake with the Lidl ad and fast delivery. Benefiting from these services can give shoppers access to an abundance of products, more options and better deals. Delivery services eliminate the time wasted visiting multiple stores to search for a perfect product for the desired need.
Shopping with Lidl ads and delivery is all about getting what you need without compromising exactly when you want it. With quick delivery and excellent products, shopping has just gotten so much better!
Online Shopping
Online shopping has revolutionized the way we shop. Shopping online is convenient and comes with a plethora of benefits. With just a few clicks, you can access the Lidl circular from the comfort of your home. Thus, you do not have to make an extra trip to the store.
Shopping online also allows shoppers to compare prices between multiple stores quickly, giving them even more ways to save. Online retailers often offer special sales and exclusive discounts that you won't find in stores.
Mobile Digital App
Have you seen a Lidl ad feature the Lidl app and wonder if it's worth it? It is - aside from the online shop being one click away, you are entitled to exclusive deals, discounts, and other promo offers. The perks are many, so be sure to check your app store and install it if it's up and available!
About Lidl
Lidl is a German-owned chain of discount retail stores that operate in the US and other parts of the world. Despite being smaller and having fewer store locations than its competitors, Lidl has a pretty good following. People love Lidl because of the wide variety of products they offer at very affordable prices. Lidl is the chief competitor of a similar German discount chain Aldi in several markets, including the United States.
Source
How to find Lidl sales flyer?
Lidle FAQs

How to get Lidl Ads Emailed to You?

Lidl's weekly ad is filled with amazing offers and discounts! You can view the current ad on the Lidl website or you can opt to have them sent straight to your inbox. All you need to do is sign up for a Lidl account at https://www.lidl.com/register and opt in for the weekly ad.

How long does the Lidl Ad last?

You can enjoy discounted prices on your favorites from the Aldi weekly ad for a full week. Exclusive offers from the weekly ad are also valid for the whole weekly ad duration period.

When does Lidl release the new ad?

Lidl weekly ads are released weekly. If you'd like to stay up-to-date on the latest weekly ad, you can expect a new Lidl ad every Wednesday.

How to have Lidl weekly ad shipped to me

Lidl is committed to maintaining its localized image in the areas/communities it serves. Some stores send out their weekly ads via direct mail to households in the surrounding area of their store location. If you're not within the target area, you can view the Lidl weekly ad online instead.

What day does the Lidl Ad start and end?

A new Lidl weekly ad starts every Wednesday and ends on Tuesday of the following week. Planning ahead for your next grocery run? Check out the early Lidl weekly ad preview on the website. This will give you a sneak peek of the deals and offers to come for the next week.
What are Lidl Hours?

Lidl store hours vary per location. To see what time your local Lidl opens/closes, visit the Lidl website. Click on "Find Stores" and enter your zip code then choose your preferred store and click on "Store Info." This will show you the chosen store's business hours, address, and directions.
Lidl Locations

Lidl stores can be found in 9 states across the US. Virginia has the most number of Lidl stores per state at 32 stores. Following Virginia is North Carolina with 27 and then New York with 19. More stores are located around Delaware, Georgia, Maryland, New Jersey, Pennsylvania, and South Carolina.
Lidl coupons

Want even bigger savings on Lidl's already low prices? Sign up for a myLidl account and download the Lidl Plus app to get exclusive Lidl coupons and the best deals. Coupons from your myLidl account are automatically applied to your purchase so you never miss out on a good deal. Check out https://www.lidl.com/mylidl for more info.
Lidl grocery pickup & delivery

Grocery shopping shouldn't be a burden. Make grocery runs quick and easy with Lidl grocery delivery. There are three ways to get your goods delivered at home. You can shop through shopLidl or order via Shipt and Boxed. Unfortunately, Lidl has yet to offer curbside pickup in their locations.
Lidl bakery

The Lidl bakery is always a favorite among shoppers. With up to 45 types of European breads and pastries offered at affordable prices, it's not hard to see why. Whether it's breakfast bread you need or something sweet, the Lidl bakery is a great place to check for options.
Lidl grocery

Lidl is known for its vast variety of grocery items at amazingly low prices. From organic sea salt flavored popcorn to household cleaning essentials, Lidl has something to offer. Too busy to come to the store? Lidl grocery also offers delivery via their delivery partners.
Lidl coffee

Lidl is not just another discount retail store. Their commitment to pursuing sustainability is something that many shoppers appreciate and commend. If you're looking for sustainably sourced coffee that tastes great and doesn't break the bank, go to Lidl. Look forward to every morning with great tasting coffee that's also eco-friendly.
Lidl online

Lidl's online shopping platform, shopLidl, is a one-stop online shop for all your Lidl grocery needs. Everything, from clipping coupons to checking out the latest sales, can be done online when you're shopping at Lidl.
Lidl black friday

Looking to get your holiday shopping done early? Lidl's Black Friday sale is a great place to start! Get the latest giftable items at slashed down prices and save more. Enjoy week-long deals and discounts from your local Lidl store. Grocery items often go on sale during Black Friday at Lidl, too!
How EveryPayJoy Help you Save?
Store and brand deals are great, but they can be so hard to find. You'd have to visit individual shop websites to find the most updated offers. But I've got great news - you can finally stop searching high and low for these discounts around the Internet because all of them are right here in EveryPayJoy!
EveryPayJoy is an easy-to-use website that compiles an abundance of weekly ads, coupons, and tips from many shops. You can easily browse their collections to find deals or coupons that suit your needs and shopping habits.
To use EveryPayJoy, just click on the "view now" button for the Lidl weekly ads. You'll be directed to a page full of links to the Lidl sales flyer, current weekly specials, ad previews, and other resources you can use to score the hottest promos. Click on whichever link you need and feel free to explore the deals within it. You can also read the FAQs portion to learn about the store's system for deals and promos.
Disclaimer: Lidl is a registered trademark of Lidl and is not affiliated with our company. We are not affiliated with, endorsed by, or connected to Lidl. Our use of any trademark belonging to another company is not done with the intent to confuse consumers but is rather incidental in promoting these companies and their coupons.