Costco Weekly Ad (05/26/2023 - 06/02/2023)
Are you striving to keep up with the latest Costco's products and bargains? Then check out our Costco weekly ad! Our weekly ad provides an easy way to view all of our Costco's newest additions and deals. Every week, be sure to drop by and look at what's new - you might not want to miss out on whatever fantastic deals are available. Trust us, and it will be worth your while when you take advantage of Costco ad. So don't forget - come back weekly for our weekly ad!
Costco Ad & Preview
Costco Ad 06/01/2023 - 06/30/2023

Costco Ad 05/26/2023 - 06/02/2023
Now viewing: Costco Weekly Ad Preview 05/26/2023 - 06/02/2023
Scroll mouse wheel to zoom
Page 1 of 13
Click the images below to view other Costco Weekly Ads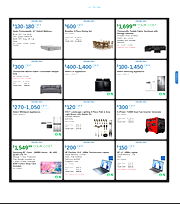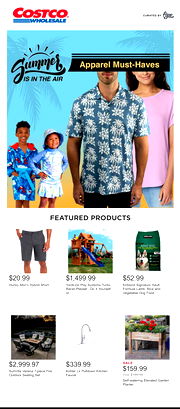 Browse Deals & Coupons in this Costco Ad
Reading the Costco weekly ad this week is a great way to save time and money. If you are looking for great deals that are easy to access, with the Costco ad, you can quickly and easily browse through all the in-store sales and specials. From discounts on groceries to savings on household items and personal care, there's something for everyone.
Reading through the Costco ad can also help you find other offers such as coupons, special contests, bonus points, or rewards programs. You can even use a Costco coupon to plan your weekly meal plan to get the most bang for your buck.
Right now, there are over 30 different deals running in the current Costco weekly ad this week! The weekly ad starts on 05/26/2023 and ends on 06/02/2023. Before making any purchases, make sure to check out any available coupons for extra savings.
Overall, reading through the Costco ads each week is a great way to stay informed about what's going on within their stores and find out about amazing deals before anyone else does! It is also important to note that some deals are only available for a limited time, so if you see something you like, take advantage of it sooner than later.
Thus, if you are looking to stretch your budget further while still enjoying a variety of products or services offered by Costco, then taking a quick peek at their latest weekly ad could be beneficial for achieving that goal!
IN-WAREHOUSE + ONLINE $5 OFF LIMIT 15 Schiff Move Free Advanced 200 ct Item 1116624 Available for delivery at a higher Move price. Free ADVANCED 5 SIGNS OF - - -

WAREHOUSE-ONLY $5 LIMIT OFF 15 Prilosec OTC 24HR 42 ct Item 945005 Available for delivery at a higher 3PACK 24 price. HR Prilosec 42

IN-WAREHOUSE + ONLINE $5 OFF LIMIT 15 Schiff Move Free Ultra 75 ct Item 1003144 Available for delivery at a higher Move price. Free - ULTRA 3X TRIPLE ACTION - - - - - - ...

IN-WAREHOUSE + ONLINE $5 OFF LIMIT 15 FOCUSFactor 180 ct Item 1282245 Available for delivery at a higher TESTE price. FOCUS factor Nitrition for the Bro's A Teral - -

IN-WAREHOUSE + ONLINE $5 OFF LIMIT 15 Kirkland Signature Krill Oil 160 ct Item 901453 Available for delivery at a higher price. KIRKLAND KRILL OIL 500 mg 160

IN-WAREHOUSE + ONLINE $4 OFF LIMIT 15 Breathe Right Nasal Strips Clear AND/OR Tan 72 ct Item 1220987, 1220988 Breathe Available for delivery at a higher Breathe N 9 Right Right price. - - - - - - - - - Breathe - - Breathe = Right -

IN-WAREHOUSE + ONLINE $5 OFF 15 LIMIT Nature Made Daily Diabetes Health Pack 60 ct Item 561734 Diabetes Available for delivery at a higher Health Pack price. - - - - - - - - - - - -

IN-WAREHOUSE + ONLINE $4 OFF LIMIT 15 One A Day Men's 50+ Multi 300 ct Item 1274751 Available for delivery at a higher ONE A DAY. price. - MEN'S 50+ 6 BENEFIT AREAS FOR HEALTHY AGING

WAREHOUSE-ONLY $350 OFF 15 LIMIT vitafusion Calcium + D3 2/100 ct Item 563031 Available for delivery at a higher vitafusion price. Calcium+D3 - - - - - -

IN-WAREHOUSE + ONLINE $5 LIMIT OFF 15 AmLactin Daily Moisturizing Lotion 20 OZ Item 657187 Available for delivery at a higher price. Daily + - - - - - - - - -
Related Brands to Costco
Nothing feels better than being the first to know about you fave brand's biggest deals. With this Costco circular, you can certainly be that as you get access to top Costco deals by brand. Such segment includes 6 brands, including COLUMBIA, Head & Shoulders, Woodbridge, Reynolds, Lugz, Folgers. You can click on each brand to find and save great value coupons. These exclusive coupons entitle you to massive discounts and incredible savings.
This Costco's sales flyer gets updated regularly, so make sure you visit it often. In that way, you're the first to take advantage of some limited coupons or discover big brands that just made it to the list.
Here are the popular brands we found in our database:
Expired Flyers
Costco Ad 05/18/2023 - 05/25/2023

Costco Ad 05/12/2023 - 05/18/2023

Costco Ad 05/05/2023 - 05/11/2023

Costco Ad 05/01/2023 - 05/31/2023
How to save at Costco?
Make the most out of your money when you shop at Costco! From buy one get one offers to price markdowns, there are many ways you can maximize your budget. Discover them all through our Costco weekly circular, a digital resource that compiles all the best deals in one place. It's easy to use and accessible anytime, anywhere.
Costco Digital Coupons
Costco is a great place to shop for all your needs, but you don't have to break the bank! With digital coupons, Costco can help customers save money. You can easily find Costco coupons online that you can use when shopping. Simply look through Costco's website or do a quick search on any search engine, and you will find digital Costco coupons you can apply at checkout.
When using these Costco coupons, pay attention to expiration dates and usage limits if they are specified. With digital Costco coupons, there is no need to worry about losing them as the website automatically applies them at checkout. All you need to do is to make sure to have the coupon code handy before you finish your order!
Deals of the Week
When do you think stores have special deals? Monthly? Seasonal? Every anniversary? Well, what if you find out that they have them EVERY WEEK!
At Costco, you get frequent, big savings when you take advantage of the weekly specials or deals. They're the best way to maximize your regular shopping trips with minimal effort. To find these deals and stay updated, you can check out the Costco weekly ad.
This weekly ad showcases hundreds of product promos, organized into collections such as household items, fashion stuff, accessories, and more. Make sure to view it regularly as the ad is updated every week, with bonuses and promos getting bigger and better with every turn.
Costco BOGO
Saving money on a Costco ad with the help of Buy One Get One (BOGO) offers is an easy and cost-effective way to stretch your budget. In addition to providing customers with a two-for-one deal, many stores also run promotional BOGO 50% sales on specific items. To maximize savings when taking advantage of a BOGO offer, it is essential to shop strategically and know how to use the promotion to its full potential.
Start by being aware of the store's BOGO policy so you can understand which deals are available and the terms and conditions for each offer. Many stores have restrictions on the types of products that qualify for their BOGOs. Additionally, some retailers limit the number of times you can use a special BOGO deal during a single shopping trip, so keeping track is essential to avoid overspending.
Consider buying non-perishable items like paper towels and canned goods when using a BOGO promotion. Such things tend to be less expensive than fresh produce or other items that may spoil before you use them. If there's a buy one get one free sale on a thing you don't need right away, such as toilet paper or laundry detergent, stock up while the prices are low and save them for later.
Reward Programs
Are you a frequent shoppper at Costco? Are you a member of the Costco membership program? If the answer to those questions are yes then no, you are doing it wrong. Skipping the chance of being part of the Costco reward program means you miss out on many perks and benefits! For instance, members earn points every time they shop - imagine how many points you could've earned and used already if you were already a member!
So don't keep missing out! Take charge and register for the program. You may check out the Costco sales ad for more info on the registration process.
Online Exclusive Offers
Ever wondered why everyone's transitioning to online shopping? That's because of the huge deals and discounts! With online shops, not only do you save on transport and physical effort, product prices are cheaper, too, especially when you use and stay updated on the Costco weekly circular! This digital resource features the most recent promos you can use to make big savings on big purchases.
Leverage Free Shipping
Shopping at Costco got more convenient and hassle-free with their free shipping policy. Free delivery for any order placed over the threshold amount is a great way to not only save the cost of shipping but make shopping easier for consumers. Plus, Costco sales flyer gives customers exclusive discounts that they can store during checkout or promotional periods.
Thus, getting discounted products delivered right to your doorstep is just a few clicks away. So what are you waiting for? Start shopping today and enjoy savings with free shipping at Costco.
Clearance
Consider stocking up on certain items when they are specially discounted, as long as you have room in your pantry or freezer. Shopping at Costco doesn't have to be expensive. Taking advantage of their clearance offers is an excellent way to save money and still get quality merchandise. Clearance items are constantly changing, so make sure to keep an eye out for new products that come in.
It is also important to inspect the product closely before purchase. Be sure it is not damaged and all pieces are included before bringing it home. Use the clearance offers combined with store coupons or loyalty programs to maximize savings. A little bit of research and extra effort can pay off big time!
Price Match at Costco
With the help of price-matching, savvy shoppers can get the best deals at Costco. This helpful tool allows customers to compare prices and save money on the items they need. All you have to do is show proof that something is being sold for a lower price somewhere else, and the store will honor it with a lower attributed cost.
Customers should pay attention to ads in newspapers, websites, and even stores close by for prices of products and compare them with what is being sold in Costco before making a purchase. Even if an online deal is less than a local dealer, you can still save something. So, customers should keep an eye out for discounts or sales at their favorite stores. With these strategies in mind, shopping through the Costco weekly circular can be simple and thrifty!
Cashback Program
What's a cashback? It's as straightforward as it sounds - you get money or cash back to you after you purchase a certain product. It's a one-of-a-kind deal, just like buy one get one, free shipping, and big discount promos. Like the other offers, you just have to meet the terms and conditions to avail! If you want to know more about it (and discover huge promos), then check out the Costco coupon database. It's got all the info you need (and more!).
Shop at Right Time
Shopping for the things you need can easily become expensive. However, with a little bit of planning and foresight, it is possible to save money at Costco by shopping at the right time. Black Friday, Back to School, and Mega Sales are great times to plan your shopping trip to Costco.
Taking advantage of these special days/events will go a long way in helping you get the items you need without breaking your budget. Thus, if it is time for you to shop around the Costco ad, keep an eye out when these special savings events take place so that you can save big.
Shopping at Costco
In-store Shopping
Is it time to stock on some groceries? Before you make that regular trip to your local Costco, add this to your routine: bookmark and check the Costco sales flyer before you leave. This promo material compiles money-saving discounts and deals, so you can make the most out of your budget and save as much as you can. It also tells you until when these promos are good for, and how you can avail them. It is a valuable resource for any pro-shopper, so don't pass on it!
Curbside Pickup
Gone are the days of worrying about crowds or long checkout lines. Now you can simply order online and pick up your purchase safely outside the store. Curbside pickup means that people can stay a safe distance from each other while still benefiting from the deals in the Costco sales flyer.
It also allows customers to shop quickly and save time, as they won't need to wait in line or browse the store. If you need a few things or a lot of stuff, curbside pickup is a modern convenience that allows you to order items online and pick them up at the curb.
Delivery
Shopping from the convenience of the home has always been a piece of cake with the Costco ad and fast delivery. Benefiting from these services can give shoppers access to an abundance of products, more options and better deals. Delivery services eliminate the time wasted visiting multiple stores to search for a perfect product for the desired need.
Shopping with Costco ads and delivery is all about getting what you need without compromising exactly when you want it. With quick delivery and excellent products, shopping has just gotten so much better!
Online Shopping at Costco
Online shopping can be a great way for shoppers to save time and money. By checking Costco weekly ad this week, shoppers can quickly identify which items are on sale and take advantage of the great deals available. Shopping online also allows people to shop virtually anywhere and anytime, so they can find the best prices without driving from store to store. So whether you want to save time or money, online shopping is incredibly convenient to help shoppers get what they need.
Mobile Digital App
Get access to an online shop, exclusive deals, and other great perks by installing the Costco app! You can check your app store if the app is ready for downloading in your area. The Costco add may also feature the app, and clicking on it will direct you to a link that allows you to easily install it.
About Costco
Source
How to find Costco sales flyer?
Costco FAQs

How long does the Costco Ad last?

The ads that Costco puts out last for a week. However, you can usually find deals for the whole month

When Does Costco release the new ad?

Costco's schedule for releasing new ads varies from time to time. Most of the time, Costco releases new ads on Saturdays.

how to have Costco weekly ad shipped to me

Costco sends a Savings Booklet monthly to its Executive, Business, and Gold Star members. The Savings Booklet is a coupon book that also shows you deals from the Costco weekly ads. The Savings Booklet is only sent to the primary cardholder in Executive, Business, or Gold Star status.

What day does the Costco Ad start and end?

Costco ad schedules often vary. However, most of the time a new ad is released on Saturday and the deals and promotions included in said ad ends on Friday of the following week. To see Costco's newest weekly ad, it's best to visit the Costco website.
What are Costco Hours?

Costco hours vary by warehouse. To see what time your nearest Costco warehouse opens and closes, go to https://www.costco.com/warehouse-locations and enter your ZIP code. This will show you a list of Costco store locations to choose from. Choose one and click on it to see its operating hours as well as a few other details about the location.
Costco Locations

Costco has locations all over the world. In the United States alone, Costco has over 500 warehouse locations. You can find Costco is major cities like New York, NY, Los Angeles, CA, and Chicago IL. Costco is also available in smaller cities like Crystal River, FL, and Essex, CT.
Costco coupons

Costco always has coupons to make your shopping experience a whole lot better. There are plenty of ways to get your hands on these coupons. Signing up for the Costco mailing list is one. You'll also get a coupon book every month if you're an Executive, Business, and Gold Star member.
costco grocery pickup & delivery

Costco's online delivery option allows you to have your order sent straight to your door. Choose between same-day and 2-day delivery. You can also shop online and have your order ready for pickup at you preferred Costco warehouse location. Delivery is $3 for orders $75 below and free for orders over $75. Pickup fee is $10 with a minimum order value of #100.
costco gift card

Know someone who would love to go all out on a Costco shopping spree? Get them a Costco shop card! Costco also carries gift cards for different brands like Nintendo, Build-A-Bear, and more. If you're looking for a practical gift, you can't go wrong with a gift card.
costco bakery

Whether it's snacks you need or something to make the party even more exciting, you're sure to find something from the Costco bakery. Aside from the widely varied Bakery and Desserts section in the grocery, Costco also has a dedicated Bakery section where shoppers can order ready-to-eat or custom cakes.
costco coffee

If you're looking for new kinds of coffee to try, head over to Costco for a wide variety of coffee choices. Costco has everything, from whole beans to ground coffee and even budget-friendly but still delicious instant coffee mixes.
costco grocery

The Costco grocery is where you can get your everyday essentials and pantry items in bulk at deeply discounted price. It's the perfect place to shop if you're looking to stock up on certain items or if you have a big family to feed.
costco wine

Anyone who's into wine will surely appreciate Costco's massive wine section. From cheap bottles that are perfect as no-guilt, everyday drinks to pricier and fancier ones that you can bring to dinner parties or date nights, Costco has it all.
costco online

Costco's online presence has made it so much easier for shoppers to plan and shop for their everyday needs. With the online delivery and curbside pickup service, you can enjoy shopping at Costco without even leaving home. Costco's website also makes it easier for members to keep track of deals and offers that will allow them to get more for their budget.
costco pharmacy

Much like shopping for groceries here, getting your health and wellness needs is cheaper at Costco. Get great deals on your health and wellness needs. The Costco pharmacy is a great place to get your prescriptions refilled. Members can also get immunization shots, OTC medications, and pet medications here.
costco black friday

Start your holiday shopping early! Costco's Black Friday sales event is one that you wouldn't want to miss. From grocery items to appliances and other giftables, you're sure to find amazing deals here. Can't go to the Black Friday sales event? Watch out for Costco's Cyber Monday deals instead! Make sure to use any applicable coupons to stretch your holiday shopping budget further.
How EveryPayJoy Help you Save?
Everypayjoy is a fantastic platform that can help you save money by providing access to the Costco sales flyer and Costco weekly ads. You don't have to be a frequent shopper to benefit. This makes it a good choice for people who want to save money when they go shopping.
Everypayjoy makes it easy to find deals and coupons that can save you big each time you shop. The convenience of the coupons and Costco weekly deals is why Everypayjoy has become a go-to source for shoppers looking to save money.
By subscribing to the website, you can keep up to date with the latest store sales flyer and weekly ads. You won't have to worry about missing a significant discount. Everything is saved in one place for easy access. Whether you shop online or in-store, Everypayjoy has everything from coupons to deals, that will help you save money. Sign up today and start saving like a pro!
Disclaimer: Costco is a registered trademark of Costco and is not affiliated with our company. We are not affiliated with, endorsed by, or connected to Costco. Our use of any trademark belonging to another company is not done with the intent to confuse consumers but is rather incidental in promoting these companies and their coupons.