Walmart Weekly Ad (05/31/2023 - 06/07/2023)
Wondering where to find the craziest markdowns? Only right here, with Walmart weekly ad! It takes only a few clicks and scrolls to score the most budget-friendly offers on your screen.
But you know what's crazier? You can also find future whopping bargains with Walmart ad previews! It's a limited sneak peek, so grab the chance while it's hot!
Walmart Ad & Preview
Walmart Ad 06/05/2023 - 06/12/2023

Walmart Ad 05/31/2023 - 06/07/2023
Now viewing: Walmart Weekly Ad Preview 05/31/2023 - 06/07/2023
Scroll mouse wheel to zoom
Page 1 of 14
Click the images below to view other Walmart Weekly Ads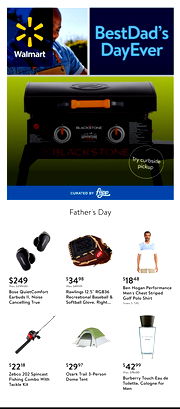 Browse Deals & Coupons in this Walmart Ad
Find everything you need using the Walmart weekly ad for this week. It contains 30 amazing deals, exclusive for 05/31/2023 to 06/07/2023 only. So don't miss out on such limited gimmicks!
To view these offers, click, scroll, and zoom in on the Walmart ad. Clicking on the arrows or "next" button lets you browse through different collections, like grocery products, household appliances, school stuff, and fashion items. Such brilliant organization lets you find your necessities much faster! Meanwhile, scrolling allows you to zoom in, so you get a better view of the item, product details, and incredible markdowns.
You can also save a Walmart coupon from the database! These coupons may be for a limited time only, so click on your screen to get a list of coupon details, which includes expiry dates and instructions for redeeming. They're a great shopping hack that lets you get more value for your money.
All these deals and coupons aren't just for this week too! Keep visiting to find more exclusive Walmart weekly ads and Walmart ad previews. The Walmart ad previews gives you a glimpse of future promos, so you'd have a headstart with your shopping spree plans!

Poise Incontinence Pads for Women, 4 Drop, Moderate Absorbency, Regular
$14.88

Assurance Women's Incontinence & Postpartum Underwear, L , Maximum Absorbency
$17.16

Equate Tampon Multi-Pack with Cardboar Applicator, Unscented, Light, Regular and Super
$7.33

Tampax Pearl Tampons Duo Pack, Regular/Super Absorbency, Unscented
$8.37

U by Kotex Click Compact Tampons, Super, Unscented
$10.47

Catan 5th Edition Strategy Board Game for Ages 10 and up, from Asmodee
$47.99

Dr Teal's Shea Sugar Body Scrub with Shea Butter, Almond Oil and Essential Oils
$7.33

LumiTEK R/C - Neon Giant Truck - Customizable LED Piping- 2.4 GHz 1:10 Scale Remote Control Car - Ages 8+
$55.83

Cortizone-10 Max Strength Anti-Itch Lotion for Diabetics' Skin
$10.11

CoComelon Carry Along Figure Case with 6 Articulated Figures - Toys for Kids, Toddlers, and Preschoolers
$15.0
Related Brands to Walmart
When it comes to Walmart deals by brand, a range of options are available. With the Walmart circular and Walmart sales flyer, customers can stay updated with the latest deals and offers. The dynamic parameters between brands vary, depending on the 6 brands present in the Walmart.
Look at our Ellio's, Folgers, Energizer, Weis, Ghirardelli, Dos Ranchitos, which features some of the biggest names in retail and offers fantastic deals. From clothing to home goods, electronics to beauty products, there is something for everyone here at Walmart. Plus, with our exclusive discounts and special offers, you can save even more when shopping with us. We strive to bring you the best promos from every brand we feature so you never miss out on significant savings.
Whether seasonal specials or year-round promotions, take advantage of all our top offers and enjoy unbeatable prices on high-quality products from leading brands.
Here are the popular brands we found in our database:




Expired Flyers
Walmart Ad 05/29/2023 - 06/05/2023

Walmart Ad 05/24/2023 - 05/31/2023

Walmart Ad 05/22/2023 - 05/29/2023

Walmart Ad 05/17/2023 - 05/24/2023
How to save at Walmart?
For those looking to save while they shop, Walmart may be the perfect place. It is a trusted shopping destination that has been offering great deals for years. Whether trending products or hard-to-find items, shoppers can save on nearly anything with the advantage of the Walmart ad.
We have put together a comprehensive list of tips. Thus, you can make the most of your trips to Walmart and keep up with their latest sales, special offers, and exciting deals. Start saving today and read on to learn how!
Coupons at Walmart
Even back then, coupons have helped many shoppers save big bucks. Indeed, people would even lug around big scrapbooks of coupons cut out from newspapers and magazines. However, nowadays, there are less phsyical coupons to cut out, which makes it may seem like there's fewer of them. But that's just because you're looking in the wrong place.
Instead of relying on physical coupons, go digital! Subscribe to Walmart coupon database to find the biggest collection of big-value vouchers. These coupons are all easy to save and redeem. Just click on the coupon, check out the details, and follow instructions for saving and redeeming. Also, make sure you note the expiration date - you wouldn't want to waste coupon, would you?
Walmart Weekly Specials
Feeling low? Get a dose of cheap thrills using the Walmart weekly ad. It features collections of jaw-dropping discounts and deals, from grocery stuff to fashion pieces. You might even find that the stuff you've been ogling for months is included in the sale. Won't that be a great steal, right?
Exploring the weekly ad is effortless. You just use the arrow buttons to flip through offers and price markdowns. You can even zoom in or out if you like. Plus, it gets updated every week; thus, you're sure you're always up to speed with the biggest offers Walmart has.
BOGOs
Shopping smart and taking advantage of BOGO offers a great way to save with the help of the Walmart ad. By understanding the terms of the BOGO, carefully calculating the cost of items, and staying flexible with what items they purchase, customers can make the most out of their money.
Firstly, when shopping at Walmart, read all terms and conditions associated with BOGO offers. This will ensure that customers take full advantage of the deals. Stores often require customers to buy one item and receive another free or at a reduced cost.
Secondly, always calculate the cost for each item you buy before diving into a BOGO deal. Don't forget to factor in taxes and other fees associated with the purchase to get an accurate estimate of how much money you'll be saving overall.
Thirdly, try to stay flexible while shopping with a BOGO offer in mind. If two different items qualify for a buy one, get one free deal, but they vary slightly in price, opt for whatever thing is cheapest for both purchases instead of just getting two identical items.
Lastly, look out for special promotions around holidays such as Black Friday or store-specific sales days where extra discounts may apply towards any BOGO deal. Combining your careful analysis and these bonus offers can help maximize your savings even more.
By following these tips on how to save at Walmart with the help of BOGOs, intelligent shoppers can enjoy additional savings while still getting access to quality merchandise. So don't miss out and start taking advantage of these deals today!
Reward Programs
Another great way to save is by signing up for newsletters or loyalty rewards programs that offer exclusive savings or special discounts.
By signing up for Walmart's loyalty program or email list, shoppers can be among the first to hear about upcoming sales and existing discounts that they may not know about.
With a paid or non-paid membership, customers can access exclusive discounts and promotions in the store. For example, members are eligible for special coupon codes providing additional savings that may not be available in-store or online. It is also easy to keep track of rewards points with the program, allowing shoppers to redeem their points quickly and conveniently in-store.
Additionally, members benefit from promotions like free shipping and early access to sales events or new products. No matter what purchase you make from the Walmart ad, the Reward program makes it easier to save money while enjoying the shopping experience.
Exclusive Online
Need to buy something? Don't get out of the house right away! Check online offers first because they're often better and cheaper. That's because stocks are more reliable, you get a lot of options, and with the right promos, they're so much more affordable. Speaking about promos, you will find the best online deals and discounts on the Walmart weekly circular, so make sure to check that out.
Leverage Free Shipping
Shopping at Walmart can be a gratifying experience, but shipping costs can often turn away potential customers. Luckily, Walmart makes shopping with them even more irresistible by offering free shipping. By taking advantage of this great offer, you can save yourself a good amount of money while still getting exactly what you need.
Depending on the item(s) and their availability, your order could be on its way within 2-3 business days without any terrifying shipping fees attached. There are also other opportunities, including the Walmart weekly ad that Walmart occasionally offers. Thus, it would be wise to take advantage of these when they arise in order to get the most out of your purchase.
Clearance
Ever shopped during clearance sales? You should - it revolutionizes the way you make purchases. Clearance racks and lineups often hide the cheapest thrills, only accessible to those who are lucky or stay constantly updated through the Walmart sales flyer. This flyer has announcements regarding clearance sales, and even sneaks in glimpses of what the rack has to offer. So, be sure to check it out so you won't miss out on the good stuff like everyone else.
Price Matching
Is your price-matching abilities off the game recently? That's because you're reference might not be so updated. It's time to make the switch to the Walmart weekly ad. It's updated every week, so the product prices, deals, and discounts are all recent and accurate. If you use the ad wisely, you'll go out of your house with a full idea of how much you can splurge and save.
Cashback Program
Shopping can be a lot of fun, especially through the Walmart weekly circular, where you can find so many amazing deals. But why should your shopping experience end there? With Cash Back at Walmart, you can save even more money on your purchases. All you have to do is sign up for an account with Cash Back and shop as usual. Then get money back into your account when you checkout.
It is really simple. Whether you are buying groceries or supplies, or just browsing the latest trends, with the help of Cash Back, making intelligent decisions regarding your spending is trouble-free.
Shop at Right Time
Weekly deals are amazing but special, holiday deals are MUCH, MUCH better because the discounts are bigger, the deals are hotter, and the offers are plentier. Thus, knowing when to shop at the right time is crucial - you make the most of your money and you get the most savings, points, or cashbacks.
Subscribing to Walmart ad previews allows you to be updated and get glimpses of these big holiday sales, like black friday or back-to-school. They're just as easy to use as weekly ads or flyers - course through collections, earmark your favorites, and be ready to secure them on the day.
Shopping at Walmart
In-store Shopping
In-store shopping is becoming increasingly popular again due to its many benefits for shoppers. One of the most appealing benefits of shopping at a physical store is the ability to access Walmart circular and other specials. Many stores will post their sales, promotions, and discounts on signs within the store, so customers can immediately take advantage of savings.
Additionally, shoppers can directly touch, feel, and explore products before purchasing them. It is better than you rely solely on photographs or 3D displays online. In-store shopping offers greater convenience if you know what you're looking for.
Curbside Picku at Walmart
Do you find delivery fees too expensive? To avoid exorbitant delivery fees, try curbside pickup orders instead! It's an offer from your local Walmart that allows you to order items online, but have them shipped to a specific location, like your local Walmart. Choose an available location nearest to you so you can just swing by when you can. Transportation fees are cheaper in this way because the order isn't especially delivered to your door. You can even make it more affordable by using promos featured on the Walmart flyer!
Delivery at Walmart
Why go to the local Walmart, when the local Walmart can come to you? More stores are offering delivery services, and of course, Walmart isn't late to the trend. A delivery option is convenient for many who can't leave their home, or purchased items that are too difficult to transport. If you're interested, check out if you're local Walmart is offering delivery through the Walmart weekly ad this week. You'll also find there instructions and it may also direct you to credible delivery apps, like instacart. It's regularly updated, so you're sure that the info provided is accurate.
Online Shopping
If you're don't want to go out but need to shop to de-stress, here's a great alternative: online shopping. With a few taps on your screen, you can browse collections, add to cart, check out, and opt for delivery! Online shops are the trend right now, and to make sure your local Walmart has one, check out the Walmart circular. It will surely link to the shop; plus, it features great deals and discounts you can use.
Mobile Digital App
Her are two shopping tips: check your fave app store and see if the Walmart app is already availble AND subscribe to the Walmart ad. The app allows you to buy things wherever and whenever, in the most effortless way possible. Meanwhile, an ad subscription makes sure you don't miss out on the biggest and most exclusive deals and promos.
About Walmart
Multinational retail company Walmart was founded in the state of Arkansas in 1962. Thanks to its $548.743 billion revenue, Walmart is hailed as the world's biggest company by revenue. It is also the world's current largest private employer with over 2 million employees. Walmart has over 11,000+ stores around the world, the majority of which can be found in the US.
Source
How to find Walmart sales flyer?
Walmart FAQs

How to get Walmart Ads Emailed to You?

Walmart does not send its weekly ad to customers via email. To access Walmart's digital ads, you can visit the Walmart website. You can also see it when you download the Walmart mobile app. Create an account to get custom deals and offers for your preferred Walmart store.

How long does the Walmart Ad last?

Walmart's weekly ads are usually published and valid anywhere from 1 to 5 weeks. The current Walmart weekly ad is always published on the website in one circular. This means that you get to plan out your shopping trip better and more efficiently, especially if you're on the hunt for the best deals and bargains.

When Does Walmart release the new ad?

Walmart's weekly ad schedules vary from time to time. Visit the Walmart website online for the most recent ads and specials from the Weekly Ad section. This is where you will see the ad's validity on the top left part of the ad section.

How to have Walmart weekly ad shipped to me

There is currently no way to have the Walmart weekly ad sent to you via direct mail. If you're looking to get a paper copy of the Walmart weekly ad, keep an eye out for the circular in your local Sunday paper

What day does the Walmart Ad start and end?

As previously mentioned, Walmart's weekly ad schedule changes from time to time. To see when the current Walmart weekly ad starts and ends, visit the Walmart website. Then, click on 'weekly ad.' The duration/validity of the ad can be found in the top left corner of the ad space.
What are Walmart Hours?

Walmart constantly updates its hours in compliance with the CDC. As of writing, Walmart is open from 06:00 AM to 11:00 PM daily, except Tuesdays. This is to give way to seniors and those most vulnerable to the virus.
Walmart Locations

Walmart is an American retailer and hypermarket chain with a strong global presence. Check out some of the most notable Walmart locations below:

Albany, NY - biggest Walmart in the world (Crossgates Commons)

Atlanta, GA - smallest Walmart in the world (Georgia Tech campus)

Mexico City, Mexico - first international Walmart location

Miami, FL - busiest Walmart (Doral)

Fayetteville, NC - first Walmart to use drones for delivery
Walmart coupons

Walmart accepts a wide variety of coupons, so you're sure to get the most bang for your buck when shopping here. Use Catalina coupons and printed coupons when shopping in-store. Placing an order online? Clip those digital coupons from the Walmart mobile app and the Walmart website, too!
Walmart grocery pickup & delivery

Shop conveniently from home using the Walmart delivery and grocery pickup service. If you're in a rush, you can also avail of Walmart's Express Delivery to get your goods in 2 hours or under. Here's how much these services will set you back:

Pickup - free for orders over $35

Delivery - no minimum, $10/delivery and free for Walmart+ members

Express Delivery - no minimum, $19.95/delivery and $10/delivery for Walmart+ members
Walmart gift card

Give the most practical and most useful gift everyone is sure to appreciate: a Walmart gift card! Walmart gift cards are reloadable, and they come in a variety of design options. Walmart also carries gift cards for other brands. These include Apple, Disney, and Google as well Visa gift cards and e-gift cards.
Walmart bakery

The Walmart bakery is known and well-loved for its delectable treats. Get cakes and cupcakes customized for any occasion or drop by and get yourself some treats to go with coffee or your afternoon tea. The Walmart bakery section is also home to various types of bread and pastries that are sure to delight your palate.
Walmart coffee

Love Coffee? Walmart has you covered! Get your beans from Walmart and have them freshly ground in-store. For busy people who don't have time to brew a fresh cup every morning, coffee pods and instant coffee mixes are available too!
Walmart grocery

The Walmart grocery store is a one-stop destination for all your home, pantry, and personal needs, and more. You can choose to have your groceries delivered straight to your home or packed and ready for pickup whenever you're free. And, with the Walmart Grocery Cash Back Rewards program, you can save a ton and stretch your budget further!
Walmart wine

Looking for top-shelf wine that won't break the bank? Head over to Walmart and drop by the Wine section for a wide selection of amazing reds and exquisite whites. Walmart's wine section is also stocked with other alcohols and spirits like rosé, whiskey, bourbon, and more.
Walmart online

If you're looking for a faster and more convenient way to do your groceries, order them via Walmart online. Visit the Walmart website or download the Walmart mobile app and start adding items to your cart. Don't forget to clip your digital coupons for bigger savings and rewards!
Walmart pharmacy

Shop all your health and beauty needs from Walmart's pharmacy. Get your prescription refilled or have your vaccines, immunizations, and boosters done before or after your shopping trip so you can stay on top of your health game while also staying within budget.
Walmart Black Friday

Walmart's Black Friday deals are always worth the wait! See what items are going to go on sale and what deals and offers are coming to your local Walmart store by visiting the Walmart website. This information and more can be seen from the Walmart Black Friday ad page that can be viewed as early as September! Can't find what you're looking for? Check out the Walmart Cyber Monday deals page here.
How EveryPayJoy Help you Save?
If you want to find the latest promo updates from Walmart, you should subscribe to the Walmart weekly ads! It features many discounted products, huge deals, and other irresistible offers. Subscription is easy as you only have to open the EveryPayJoy website, provide your email to the subscription box, and all the fresh news comes through automatically and regularly.
Also, while you're at the EveryPayJoy site, make sure to bookmark it. It's a fantastic shopping resource that is full of coupons, articles, and Walmart sales flyers. All are organized diligently, so you can easily find coupons from certain brands or access offers from a certain store. Plus, you won't have to worry about outdated deals - all the offers and promos are updated regularly, plus you can easily see the expiration dates for both the weekly ads and the coupons.
Moreover, you don't really need a specific agenda to use the EveryPayJoy site. You don't even have to pay! You can flip through collections and materials idly and if you find something you like, availing the offer is really easy.
Disclaimer: Walmart is a registered trademark of Walmart and is not affiliated with our company. We are not affiliated with, endorsed by, or connected to Walmart. Our use of any trademark belonging to another company is not done with the intent to confuse consumers but is rather incidental in promoting these companies and their coupons.