Dollar General Weekly Ad (03/19/2023 - 03/25/2023)
Are you looking for the best deals and savings on your favorite items? Look no further than Dollar General ad! Our Dollar General weekly ad is full of amazing discounts and offers so that you can get the most out of your shopping experience. We make sure to update our feed frequently and keep it up to date with all the latest sales and deals. So what are you waiting for? Head to Dollar General webpage or click next and browse the extensive list of discounted items.
Dollar General Ad & Preview
Dollar General Ad 03/19/2023 - 03/25/2023

Dollar General Ad 03/19/2023 - 03/25/2023
Now viewing: Dollar General Weekly Ad Preview 03/19/2023 - 03/25/2023
Scroll mouse wheel to zoom
Page 1 of 14
Click the images below to view other Dollar General Weekly Ads
Dollar General Ad
03/19 - 03/25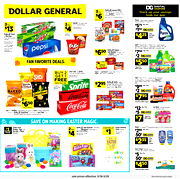 Dollar General Ad
03/19 - 03/25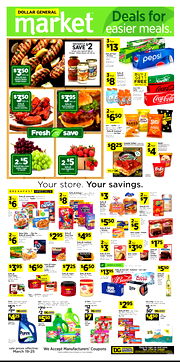 Browse Deals & Coupons in this Dollar General Ad
Reading the Dollar General weekly ad this week is as effortless as a few clicks. Reading this Dollar General ad is well worth your time if you want to save money on groceries. The Dollar General grocery store offers great deals that you won't find anywhere else, so checking out the ad each week pays off.
You may save on items such as fresh produce, meats, dairy products, snacks, baking goods, beverages, and more. You can choose the category of your choice and avoid impulse purchases that can add up over time.
The current Dollar General ad begins on 03/19/2023 and ends on 03/25/2023. Throughout this period, 27 deals and different offers will be available for customers.
Not only does the Dollar General weekly ad this week list these amazing deals for customers, but it also provides coupon codes for online shoppers who are looking for additional savings. You can use Dollar General coupon at the checkout to further save your money.
No matter what kind of shopper you are, reading through the newest edition of the Dollar General ad will provide plenty of ways to save money while stocking up on your favorite items. So, make sure you do not miss the chance because once the sale is over, you won't be able to get the discount until the next sale.

Cesar®
Save an additional $1.50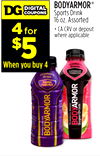 Dr Pepper®, 7Up®, Canada Dry®, RC® Cola, Sunkist® or A & W®
SALE 3 for $10.0

Washington Anjou Bagged Pears
SALE $1.95

Easter Grass, Baskets, Eggs 12 pk., Dye Kits or Plush
$1.0


Taylor Farms®, Dole® Fresh Takes™ or Ready Pac® Bistro® Salad Bowl
SALE 2 for $6.0

Individual Microwavable Russet or Sweet Potatoes
SALE $1.0

Fresh Pork Sirloin Roast
SALE $2.95
Popular Dollar General Brands
Whether looking for household items or groceries, you can find something unique with the specially curated offers in the Dollar General circular. With top deals from 12 brands and unbeatable prices, customers can trust that they will get quality products without breaking the bank.
Check out Dollar General sales flyer today and start planning your next shopping trip! With such an extensive catalog, including some famous names like , you will find all the finest deals in no time.
The Dollar General sales flyer also offers discounts on specific categories, such as clothing and electronics, so shoppers can find great bargains in whatever department they're looking for. Whether searching for quality kitchenware or fashion accessories, you won't have to worry about spending too much when shopping with the Dollar General.
Expired Flyers
Dollar General Ad 03/12/2023 - 03/18/2023

Dollar General Ad 03/12/2023 - 03/18/2023

Dollar General Ad 03/05/2023 - 03/11/2023

Dollar General Ad 03/05/2023 - 03/11/2023
How to save at Dollar General?
Heading out? Don't forget to check out (or at least bookmark) this Dollar General weekly circular. As the most updated collection of promo offers and discount products, you'll find it invaluable for maximizing your shopping trip. You can use it to compare prices with actual mall displays, find coupons you can redeem, learn how to join rewards programs, and other fantastic opportunities you wouldn't want to miss.
Dollar General Digital Coupons
Coupons are a must-have for your shopping sprees. They let you extend your budget or go under it; either way, they make the whole trip much more enjoyable. Unlike before, though, you can't cut out a ton of them from the newspapers or magazines. So where can you find these simple treasures these days?
They are all right there in this Dollar General coupon database. As the world transitioned to the digital landscape, so did your beloved vouchers. Not only are they now easier to find and carry, they're also easy to save and redeem. Just click on each coupon for more info and instructions.
Deals of the Week
Back then, flipping through product magazines and catalogs were a subtly fun way to pass time. You see amazing products, fantastic discounts, and even buy one get one deals. This time, though, most such catalogs are elusive to find or you must pay a subscription to use them.
With the Dollar General weekly ad, you can replicate that nostalgia of browsing through weekly specials and product collections. But this ad is much better than the catalogs of the olden days. Firstly, it's digital, so you can access it anytime, anywhere, which makes price comparisons easier. Secondly, it's easy to use - just click on a few buttons to browse. Lastly, it's free!
BOGOs
BOGO offers, otherwise known as "Buy One Get One" deals, can be an effective way for savvy shoppers to save money. From groceries to clothes to home decor items, BOGO deals allow customers to purchase one thing and receive another item for free. How can you get the most out of your BOGO-free savings? Read on for some tips and tricks on how to take full advantage of these cost-saving offers.
First, be sure you understand the terms of the BOGO offer. A store often states that customers can receive one item free or at a reduced cost when they purchase another item of equal or greater value. So if you are hoping to get two items for the price of one, make sure both items qualify for the promotion.
Second, carefully calculate the cost of the item you are buying. While BOGO 50% off sounds great in theory, it is essential to ensure that both items offer real savings combined. Don't be fooled by an offer that looks good on the surface. If you are paying more for two than what you normally would pay for one, you are not saving money.
So, just remember to read the fine print, calculate the cost of both items combined, and mix and match offers whenever possible. With these tips in mind, you will be able to take full advantage of BOGO savings and get the most out of your budget.
Membership Program
Saving at Dollar General with the help of their reward program and membership is easy and convenient. By signing up for their Rewards Program, customers can shop and earn points on all their purchases. You can further redeem these points for discounts on future purchases. Plus, with a membership, customers will receive exclusive deals, special discounts, early access to new products, and free shipping on certain items. Joining the Rewards Program is simple. You need to create an account online or in-store with your email address and start earning rewards immediately.
If you often shop through the Dollar General weekly circular, then becoming a member is the perfect way to save even more money. Members get exclusive access to deals that are unavailable to non-members and first notifications on upcoming sales and promotions. Members don't have to worry about shipping fees on certain items.
Overall, saving money at Dollar General using their rewards program and membership couldn't be easier! You can take advantage of amazing deals and discounts by signing up for either one or both of these programs and earning rewards today.
Online Exclusive Offers
Do you feel like there's little difference between online and physical shopping? Well, you might be doing it wrong. Expert online shoppers know that the digital world is where you can find the cheapest thrills, biggest discounts, and most fantastic deals. If you want to be in on the secret, check out the Dollar General weekly circular! It's where the find all these fantastic and updated promos, and you shouldn't miss out on those, too!
Free Shipping
Here's a sound online shopping advice you can follow - don't check out anything without making sure you aren't missing any discounts or free shipping deals! After all, you wouldn't want to pass on the chance to save money, right?
To find those free shipping offers, use the Dollar General ad. You can flip through it anytime, anywhere to find fantastic promos you can use to waive online shipping charges or slash down prices.
Find Clearance Items
No other promo deal beats clearance sales - with prices are so down, you get better than best out of your money. However, they can be so elusive because stocks are so limited and there are few announcements.
But there's a way to get a headstart, which is by regularly check out the Dollar General sales flyer to find the most recent clearance sales. This flyer is easy to use and frequently updated, so you're sure to ahead on each and every offer, including clearance sales.
Price Match at Dollar General
Price Matching is a great way to save money while shopping at Dollar General. It allows customers to compare prices and get the lowest cost for the same items they want. Here's how it works:
Before you shop, do some research and take note of which stores have lower prices for the products you're interested in buying. Ensure these prices are still active when you are ready to purchase.
Price matching isn't limited to just one item. By taking advantage of Price Match policies, customers can save time and money by receiving guaranteed low prices on their purchases from Dollar General sales flyer.
Cashback Program
Now and then, Dollar General would offer cashback promos or coupons. Availing these offers mean would you get back a certain portion of your purchase, either as cash or store credit. Fantastic, right? However, you'll have to meet the terms and conditions, so make sure you know of those before using your coupon. You can find the coupons, along with their terms and conditions, on the Dollar General coupon database. Just scroll through the collections, find the voucher, click on it, and avail when you can, but make sure to do so before the expiration date.
Shop at Right Time
Weekly deals are amazing but special, holiday deals are MUCH, MUCH better because the discounts are bigger, the deals are hotter, and the offers are plentier. Thus, knowing when to shop at the right time is crucial - you make the most of your money and you get the most savings, points, or cashbacks.
Subscribing to Dollar General ad previews allows you to be updated and get glimpses of these big holiday sales, like black friday or back-to-school. They're just as easy to use as weekly ads or flyers - course through collections, earmark your favorites, and be ready to secure them on the day.
Shopping at Dollar General
In-store Shopping
In-store shopping has so many benefits. Not only can you save money with Dollar General weekly ad this week, but you also get to experience a more convenient shopping process. You get to see and touch all the products before buying, which brings a physical shopping connection that online stores simply can't compete with. Furthermore, you can find the best deals in person compared to online retailers.
Going out into Dollar General and going through their weekly ad will help save money and give you access to a wider range of products. In-store shopping is the perfect way to find what fits your lifestyle while keeping your wallet happy.
Curbside Picku at Dollar General
Gone are the days of worrying about crowds or long checkout lines. Now you can simply order online and pick up your purchase safely outside the store. Curbside pickup means that people can stay a safe distance from each other while still benefiting from the deals in the Dollar General sales flyer.
It also allows customers to shop quickly and save time, as they won't need to wait in line or browse the store. If you need a few things or a lot of stuff, curbside pickup is a modern convenience that allows you to order items online and pick them up at the curb.
Delivery
Deivery services ensure that your purchases go from the Dollar General to your home with little to no effort on your part. Thus, if you want a stress-free shopping experience, make sure to avail it! But before you do so, ensure that your local Dollar General offers that perk. Checking is easy - you can ask the store yourself, call, or check online through the Dollar General weekly ad this week. This ad provides info on the latest services, deals, and discounts, making it a must-have for all avid shoppers like you!
Online Shopping at Dollar General
Online shops are popular for a reason. Firstly, they're convenient and easy, as everything is organized by collection. Unlike in-store shopping, you won't have to scramble to find stuff on your shopping list. Secondly, and best of all, it's cheap, mainly because of the dozens of deals and discounts, which you can find on the Dollar General circular. Lastly, everything is delivered to your home. So, if you want to enjoy all those, see if your local Dollar General is online!
Dollar General App
Dollar General understands the need for convenience in the hectic modern lifestyle, and their helpful app provides just that. With the Dollar General app, shoppers can take advantage of their Dollar General flyer, which is updated weekly with new deals and discounts on everyday needs. The Dollar General app also offers an easy-to-use interface, personalized recommendations, and real-time notifications whenever favorite items go on sale. Dollar General app simplifies shopping and lets users know they are getting the best offers available.
About Dollar General
Dollar General Corporation is an American chain of variety stores headquartered in Goodlettsville, Tennessee. As of January 2020, Dollar General operates 16,278 stores in the continental United States.
Source
How to find Dollar General sales flyer?
Dollar General FAQs

How to get Dollar General Ads Emailed to You?

On the hunt for budget-friendly finds? There's no better place to look than the Dollar General. Want to stretch your budget even further? Stay updated on Dollar General's deals and offers through their ads. Get them sent straight to your inbox when you sign up at https://www.dollargeneral.com/Promotions/dg-email-sign-up.html

How long does the Dollar General Ad last?

The Dollar General ad lasts for seven days. The ads are released and published on a weekly basis. All deals and offers included in the ad are valid for the whole week, too. Planning your shopping trip for next week? Make sure to check back online before you do. You might just get a glimpse of Dollar General ads' early previews.

When Does Dollar General release the new ad?

Dollar General releases a new ad containing exclusive deals and special offers every Sunday. To be sure, always check back on the website. This schedule may change, and they may publish an early Dollar General ad especially around the holidays.

how to have Dollar General weekly ad shipped to me

Dollar General does not do direct mail advertising. This means that you cannot sign up to receive their weekly ads via mail. However, you may be able to see their ads and coupons from your local newspaper. This is also a good way to make sure you don't miss out on a great deal.

What day does the Dollar General Ad start and end?

The Dollar General ad begins every Sunday and ends on Saturday of the same week. During holidays and other special events, the schedule might change. To make sure you're not late to the current ad, you can visit the Dollar General website as well.
What are Dollar General Hours?

Dollar General opens at 08:00 AM and closes at 9:00 PM. All Dollar General stores across the country follow the same business hours.
Dollar General Locations

Dollar General has locations all over the USA. They operate in 46 states and they have over 17,000 stores as of writing. The state with the most number of Dollar General stores is Texas with over 1,400 locations in the state. This is followed by Indiana, Oklahoma, Florida, and Tennessee.
Dollar General coupons

Who doesn't love a good coupon? Coupons are a godsend for people who want to save up a bit more. It's also a great way to get a better bang for your buck. Dollar General always has a coupon or two ready for clipping. You can print them, clip them digitally, or use them straight from your mobile phone via the Dollar General app.
Dollar General grocery pickup & delivery

Dollar General also delivers! Browse through your favorites and schedule to have them delivered at home with a few clicks. You can save as much as 5% on your order when you use Dollar General AutoDeliver. Learn more about it here. Another option is to do curbside pickup from your Dollar General store of choice. Download the app and start shopping then schedule your pickup at your most convenient time. Best of all, DG Pickup is free from the Dollar General app!
Dollar General coffee

Need a caffeine rush to wake you up in the morning? Or are you looking for something that'll give you that midday pick-me-up? Whatever it is, there's no tastier way to get a boost of energy than to sip on some coffee. Find your favorites or try something new. Get your pantry stocked up with different kinds and different flavors for different moods.
Dollar General penny list

The Dollar General Penny List is every bargain hunter's heaven. It's an unofficial list of items at various Dollar General locations that you can get for a penny. These items are clearance items that have yet to be taken down from the shelves. DG enthusiasts from around the country post their penny finds online to alert other shoppers. While there is no official Penny List, you will be able to see items listed for a penny from the Dollar General app.
Dollar General online

Yes, Dollar General is online! Browse and shop from your favorite Dollar General store from the website or through the DG App. Clip coupons for your next shopping trip or get gift cards for friends and family. You can also schedule a pickup or delivery online.
Dollar General black Friday

The Dollar General is more than just a dollar store. For many big families, it's the perfect place to get your holiday shopping done without breaking the bank. Low prices are reduced even further, especially during Black Friday. So watch out for deep discounts and make sure to clip those coupons!
How EveryPayJoy Help you Save?
Everypayjoy is a fantastic platform that can help you save money by providing access to the Dollar General sales flyer and Dollar General weekly ads. You don't have to be a frequent shopper to benefit. This makes it a good choice for people who want to save money when they go shopping.
Everypayjoy makes it easy to find deals and coupons that can save you big each time you shop. The convenience of the coupons and Dollar General weekly deals is why Everypayjoy has become a go-to source for shoppers looking to save money.
By subscribing to the website, you can keep up to date with the latest store sales flyer and weekly ads. You won't have to worry about missing a significant discount. Everything is saved in one place for easy access. Whether you shop online or in-store, Everypayjoy has everything from coupons to deals, that will help you save money. Sign up today and start saving like a pro!
Disclaimer: Dollar General is a registered trademark of Dollar General and is not affiliated with our company. We are not affiliated with, endorsed by, or connected to Dollar General. Our use of any trademark belonging to another company is not done with the intent to confuse consumers but is rather incidental in promoting these companies and their coupons.