Sam's Club Weekly Ad (05/03/2023 - 06/04/2023)
Are you striving to keep up with the latest Sam's Club's products and bargains? Then check out our Sam's Club weekly ad! Our weekly ad provides an easy way to view all of our Sam's Club's newest additions and deals. Every week, be sure to drop by and look at what's new - you might not want to miss out on whatever fantastic deals are available. Trust us, and it will be worth your while when you take advantage of Sam's Club ad. So don't forget - come back weekly for our weekly ad!
Now viewing: Sam's Club Weekly Ad Preview 05/03/2023 - 06/04/2023
Scroll mouse wheel to zoom
Page 1 of 26
Browse Deals & Coupons in this Sam's Club Ad
Reading the Sam's Club weekly ad this week, starting from 05/03/2023 to 06/04/2023, is easy and quick. All you have to do is scroll through the ad preview above, and you can quickly see all of the weekly sales available at Sam's Club. You should read this weekly ad so that you don't miss out on any of the great savings.
Looking through the Sam's Club weekly ad this week can help you save big on your grocery items or other products. It is essential to review the various categories so that you can easily pick the deals of your choice. You can see offers in seasonal products, personal care, house and essentials, frozen goods, snacks, and many more to ensure you get the best deal possible. By doing this, you can ensure that your wallet stays full and your stomach stays happy!
Don't forget to take advantage of the Sam's Club coupon selection in their database! Many of these offers come with additional coupons that can help stretch your dollar further by offering an extra discount on select items. It is always a good idea to check out what kind of coupon codes or other promotions are up for grabs before making any purchases at Sam's Club.
Every week, they release new coupons that give shoppers discounts on certain categories, such as produce or meats. In total, you will get 28 breathtaking deals. So, be sure to take advantage of these savings opportunities with the Sam's Club ad.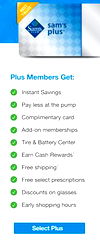 Intex 18" Queen Airbed
$79.98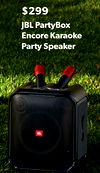 JBL PartyBox Encore Karaoke Party Speaker
$299.0


Member's Mark™ Aluminum Rolltop Camp Table
$79.98

Body Glove Retro Chair with Cooler
$59.98

Licensed Kids' Lap Desk
NOW $12.98
Popular Sam's Club Brands
When finding top deals by the VIZIO, customers can easily find great discounts on their favorite products. With the help of the Sam's Club circular and Sam's Club sales flyer, customers can quickly identify which brands offer the most deals and discounts. Dynamic parameters such as searchable categories and sorting filters make it easy for customers to sort through all the different brands that Sam's Club offers.
Currently, there are 12 available in the store's catalog with a vast selection of products. Each brand offers unique deals and discounts; some may offer weekly or even monthly specials, while others have limited-time sales events.
Amongst this array of choices, customers can compare prices between different brands to get the prime value for their budget. This way, they can save even more money when purchasing items from their favorite brands!
Expired Flyers
Sam's Club Ad 04/26/2023 - 05/02/2023
How to save at Sam's Club?
Shopping's never been more fun when you have access to the Sam's Club weekly circular. It has all the biggest and most recent deals, discounts, vouchers, and other irresistible offers. It's effortless, too, for whether you are home, on the road, at the office, or even inside Sam's Club, you can easily access the circular and flip through dozens of promo collections.
So what are you waiting for? Start browsing!
Sam's Club Digital Coupons
Saving money at Sam's Club with the help of digital coupons is easy and rewarding. To get started, customers need to search for applicable coupons from various sources, such as websites, apps, or emails. Once you find them, you can clip Sam's Club coupons to the store loyalty card or enter the corresponding code when checking out.
By using these digital coupons, customers can save big on a wide variety of items, such as groceries, beauty products, and home items. In some cases, even higher discounts may be available than what would be available if the customer simply used their store loyalty card alone.
In order to make sure customers don't miss out on any savings opportunities, they should always check online or clip from newspapers before shopping to look for a valid Sam's Club coupon. Furthermore, it is important to remember to use the coupon when purchasing to take advantage of its discounts.
Overall, digital coupons are an excellent way for customers to save money when shopping at Sam's Club. With a little bit of research and effort into finding applicable codes, customers can enjoy great deals on items purchased from this renowned store.
Sam's Club Weekly Specials
Saving money at Sam's Club with the help of weekly specials and deals of the week is easy and convenient. By taking advantage of these weekly specials, customers can get discounts on everything from self-care products to food items. To ensure that customers can take full advantage of these deals, Sam's Club weekly circular keeps their weekly specials up-to-date and highly visible. Customers can either check online or visit the store in person to find out what's available this week.
In addition to regularly checking what offers are available each week, customers should also consider signing up for a loyalty program if one is offered by Sam's Club. This way, they will receive emails with exclusive member offers and notifications when weekly deals are added. Furthermore, the loyalty program may provide additional savings opportunities, such as percentage discounts or rewards points that you can use for future purchases.
By taking advantage of all the weekly specials and loyalty programs at Sam's Club, shoppers will be sure to save money and have an enjoyable shopping experience every time they visit!
BOGOs
Savvy shoppers know the secret to saving money is to look for buy-one-get-one (BOGO) deals. At Sam's Club ad, these BOGO offers can be found in many departments and offer an excellent way to get two items for the price of one.
Customers should familiarize themselves with the store's specials to take advantage of BOGO deals at Sam's Club. You can do this by checking out the weekly circular or asking a customer service representative. BOGOs can often be found in multiple departments, such as Grocery, Shoes, Home Decor, and more. Customers should also note that some BOGOs are limited time only and are available for a few days or just one day.
Overall, finding great deals at Sam's Club with the help of BOGOs is easy if you know what to look for and how best to use them. You can maximize your savings by combining different offers and promotions along with BOGO-free offers throughout the store. This way, you will get top-notch quality products at unbeatable prices.
Membership Program
Shopping at Sam's Club is a great way to save money in more than one way. Their reward program and membership offer customers exclusive discounts, exclusive offers, and special deals. Members can get access to early sales during the holiday season and are eligible for additional discounts when they shop in-store or online.
The rewards program is easy to use. Simply log into your account on Sam's Club's website or app and enter your payment information. Start earning points for every in-store and online purchase. You can redeem your rewards points when shopping in-store or online by selecting the option to pay with a rewards point balance at checkout.
Signing up for Sam's Club's membership-based reward program is easy and incredibly rewarding. With exclusive benefits like discounted prices on all purchases and early access to sales before non-members,- it's a no-brainer way to save while shopping at Sam's Club. Take advantage of this amazing opportunity today and never miss out on the next Sam's Club ad.
Exclusive Online
Need to buy something? Don't get out of the house right away! Check online offers first because they're often better and cheaper. That's because stocks are more reliable, you get a lot of options, and with the right promos, they're so much more affordable. Speaking about promos, you will find the best online deals and discounts on the Sam's Club weekly circular, so make sure to check that out.
Free Shipping
Have you added to cart this amazing item but find the shipping fees to be unaffordable or exorbitant? Don't remove it from the cart yet!
What you can do instead is to check out the Sam's Club ad! It showcases items with recent and limited free shipping deals, and you might find your product there. If not, there are also free shipping vouchers, which you can find on the ad or coupon database.
Find Clearance Items
Expert shoppers know to always check out clearance sales. It has some of the cheapest but best quality products many people just miss out on. But if you find these sales to often elude you, you can stay updated through the Sam's Club sales flyer. Announcements of the most recent and future clearance sales (and other promos) are done through the flyer, so make sure to subscribe.
Price Match at Sam's Club
Shopping for sometimes expensive items can be daunting, especially if you don't want to pay the full price due to limited funds. Price matching is a great tool that shoppers at Sam's Club can use to save money while buying their desired items. Nearly every major retailer offers price matching, and Sam's Club is no exception.
Simply by showing proof of the lowest price on an item elsewhere, customers can get a discounted rate for the same item at Sam's Club. So why not take advantage of this fantastic deal in the Sam's Club weekly ad and find everything you need while saving money?
Cashback Program
Losing money after you spend is the norm, but why don't you turn the tables now and then by using Sam's Club cashback coupons. When you use those vouchers, you get some money back after paying for your purchase, so while you gain and save some! You can then spend that little something more on something fun, necessary, or just keep it for future rainy days.
If you're interested in finding some cashback coupons, try digging into the Sam's Club coupon database. It's the biggest collection of vouchers that allow cashbacks, discounts, and more!
Shop at Right Time
Is there a right time to shop? Expert shoppers know there is! The best time to spend money is when the biggest deals and discounts are on - think Black Friday and back-to-school. During such seasons, certain items are priced at their lowest, and that's the best time to get them! Moreover, there are a ton of vouchers and coupons being offered during that time, and you can take advantage of them to bring your shopping total even lower than before!
You can subscribe to Sam's Club ad previews to find announcement of black friday, back-to-school, christmas, and other amazing holiday deals. The preview gives you a peek at future prices, discounts, and promos, so you can make the most out of your budget and plan your shopping spree ASAP.
Shopping at Sam's Club
Sam's Club In-store Shopping
In-store shopping has advantages that online shoppers can't enjoy. For example, you can get the privilege of the Sam's Club circular with all of the upcoming sales and discounts. Thus, you will have time to prepare for bargains ahead of time. With in-store shopping, customers have access to more thorough product details, as well as personal assistance from store representatives.
Additionally, shoppers can see and feel the products for quality assurance, touch and look at various features, and compare items for sale side-by-side. By comparing prices and features side-by-side in one place, customers can make wiser purchasing decisions.
Curbside Picku at Sam's Club
Shopping can be challenging now with crowded Sam's Club aisles and limited hours. Fortunately, Sam's Club offers curbside pickup to help shoppers get what they need without risking their health. With just a few clicks on Sam's Club ad, customers can select the items they want and choose a pickup time at checkout. From there, Sam's Club will take care of the rest. Shoppers can drive up and have all their items brought out and dropped off at their car without requiring contact. This way, you can spend less time in the Sam's Club, saving both time and money.
Delivery
The Sam's Club now offers a delivery service, allowing customers to place their order online and have it waiting on the doorstep within a matter of days. Not only is this more convenient, but shoppers can take advantage of the Sam's Club weekly ad this week to save even more money.
Delivery services also save valuable time by eliminating the need for long lines at checkout or trips to multiple stores in one day. It is no wonder that more and more shoppers are turning to delivery as their primary means of purchasing Sam's Club items - the convenience and savings of Kroger delivery simply can't be beaten.
Online Shopping
If you're a prolific shopper, you should check if your local Sam's Club has an online shop! This would make grocery and other shopping trips more effortless, and save you the time it takes to get to the store, wander aisles, and get home. Moreover, it can be money-saving, especially if you use the deals, discounts, vouchers, and other applicable promos featured on the Sam's Club circular. Also, you might find items not on stock or available in-store, but are offered online!
Mobile Digital App
Have you seen a Sam's Club ad showcasing Sam's Club online store or app? If you did, that's a sign to visit your fave app store, see if the app's up for download, and install it right away! With the app on your phone, everything you need is one tap away, which will save you a lot of time, effort, and stress.
About Sam's Club
Source
How to find Sam's Club sales flyer?
Sam's Club FAQs

How to get Sam's Club Ads Emailed to You?

You can get Sam's Club weekly ads sent straight to your inbox when you register your membership for an online account. Go to the Sam's Club website and click on My Account from the top right side of your screen and click on Join Now to register your account.

How long does the Sam's Club Ad last?

Sam's Club does tons of ads. They have weekly ads that last anywhere from 7 to 10 days and monthly ads that last around 30 days. You'll also see specialized ads for holidays and special events like Black Friday and Cyber Monday. These holidays and events also often affect the duration of the ads.

When Does Sam's Club release the new ad?

As mentioned, Sam's Club ads schedule varies from time to time. Usually, Sam's Club publishes new ads (monthly and weekly) on Wednesdays. However, this can change depending on whether there's an upcoming holiday or event. To stay updated on Sam's Club ads, be sure to visit the Sam's Club website.

how to have Sam's Club weekly ad shipped to me

Sam's Club does not ship their weekly ad (or any other ad except for the Instant Savings Book). To see the latest ads from Sam's Club, you may visit their website instead. You can also visit your local Sam's Club to get a peek at the current price of your favorite items and the best deals for you.

What day does the Sam's Club Ad start and end?

The Sam's Club ads usually start every Wednesday and end on Sunday. The duration of these ads vary, depending on the type of ad (monthly, weekly) and whether there are upcoming events or holidays.
What are Sam's Club Hours?

Sam's Club store hours are as follows:

For All Members:

10:00 AM to 8:00 PM on weekdays

9:00 AM to 8:00 PM Saturdays

10:00 AM to 6:00 PM Sundays

For Plus Members

08:00 AM to 8:00 PM Monday to Saturdays

08:00 AM to 6:00 PM Sundays

Special Shopping Hours For Senior Shoppers

07:00 AM to 09:00 AM Tuesdays
Sam's Club Locations

Sam's Club operates in 44 states throughout the United States. You can also find Sam's Club locations in other countries like Brazil, Puerto Rico, Mexico, and China. Some of the most notable Sam's Club locations are:

Pineville, NC biggest Sam's Club

Dallas, TX Sam's Club's new small-format store pioneer

Midwest City, OK first Sam's Club

Houston, TX city with the most number of Sam's Club locations

Bentonville, AR home to the Sam's Club headquarters
Sam's Club coupons

Saving money is made easy at Sam's Club. No need to scour the papers for coupons to get the best deals, Sam's Club sends its members an Instant Saving booklet full of them! Your savings from deals off of the Instant Savings booklet are loaded to your membership card as well. This means they're automatically applied to your next purchase. So easy!
Sam's Club grocery pickup & delivery

Stay safe and shop conveniently for your groceries at Sam's Club. Have your essentials ready for pickup or delivered to your door. Pickup is free for all members while the following fees apply for delivery:

$8.99 for orders over $35 and $12.99 for orders under

$10.99 for one-hour delivery on orders over $35 and $14.99 for orders under
Sam's Club gift card

Sam's Club gift cards make the perfect practical gift for anyone who loves to shop. Get them for birthdays, graduations, or just because. They're reloadable and they can be used at any Sam's Club and/or Walmart locations, both online and in stores.
Sam's Club bakery

Whether you're a sweet or savory baked goods kind of gal, you're sure to find something you'll love at Sam's Club's bakery section. From cakes and pastries to flatbreads and tortillas, the Sam's Club bakery is filled with delicious treats for you, your friends, and your family.
Sam's Club coffee

If you love coffee, head over to your local Sam's Club. They have instant coffees for days when you don't have much time to prep. They also have more gourmet coffee choices if you're a self-proclaimed aficionado who likes to try different blends.
Sam's Club grocery

Sam's Club is a wonderful place to get your groceries from. Aside from the wide variety of goods and the incredibly low prices, members get to enjoy many other perks from shopping here, too. These include monthly deals and steals that you just won't find anywhere else.
Sam's Club wine

You'd think you won't find good wine in a place where everything is nice and cheap, but no. Sam's Club's wine and liquor section is ready and waiting to prove you wrong. Get top-shelf wine for those nights when you need to impress someone or try out something new and eccentric for those fun self-care sessions.
Sam's Club online

Shop and pay for whatever you need from Sam's Club without leaving your house. Register your membership card for a Sam's Club online account and enjoy the same benefits of shopping in-store without having to go out at all. It's easy and, most of all, it's free!
Sam's Club black Friday

Excited about Black Friday? Make sure your Sam's Club membership is up-to-date so you can enjoy amazing deals and big discounts. Big-ticket items like that average rating solar panel on your wishlist and smaller holiday gift items like toys get deep discounts during Black Fridays at Sam's Club.
How EveryPayJoy Help you Save?
Everypayjoy helps you save money in many different ways. It offers users access to Sam's Club sales flyers and weekly ads, as well as exclusive deals and coupons. This allows shoppers to find the best deals and save money on everyday purchases. In addition, users can easily search through the extensive range of products available in-store sales flyers and Sam's Club weekly ads, ensuring they get all the fantastic discounts and special offers.
The platform also offers several advantages over other online discount websites. Firstly, the simple design makes it easy for customers to quickly find what they need without wasting time. Secondly, Everypayjoy ensures that shoppers always get access to the most up-to-date deals and offers from retailers. It gives them an edge when it comes to maximizing their savings. Finally, Everypayjoy is free to use, so customers can start saving money immediately with no upfront costs or commitments.
Overall, Everypayjoy is a stunning way for shoppers to save money on everyday purchases while still getting quality products at an affordable price. Its user-friendly interface and wide range of discounts and coupons make it perfect for anyone looking to make their budget stretch further without sacrificing quality or convenience.
Disclaimer: Sam's Club is a registered trademark of Sam's Club and is not affiliated with our company. We are not affiliated with, endorsed by, or connected to Sam's Club. Our use of any trademark belonging to another company is not done with the intent to confuse consumers but is rather incidental in promoting these companies and their coupons.