Hy Vee Weekly Ad (03/19/2023 - 03/25/2023)
Flip through Hy Vee weekly ad and score the most incredible deals! Browse the collection by clicking on arrow buttons. Easily zoom in for a clearer view of each item using the scroller!
What's more – you can check out Hy Vee ad previews for future dates! It's a great help in planning budgets.
Hy Vee Ad & Preview
Hy Vee Ad 03/19/2023 - 03/25/2023

Hy Vee Ad 03/15/2023 - 03/21/2023

Hy Vee Ad 03/01/2023 - 03/31/2023

Hy Vee Ad 03/01/2023 - 03/31/2023

Hy Vee Ad 03/01/2023 - 03/31/2023
Now viewing: Hy Vee Weekly Ad Preview 03/19/2023 - 03/25/2023
Scroll mouse wheel to zoom
Page 1 of 57
Click the images below to view other Hy Vee Weekly Ads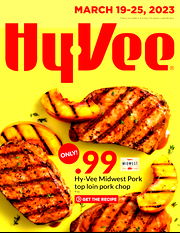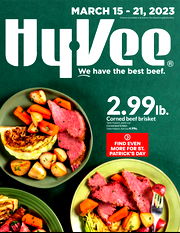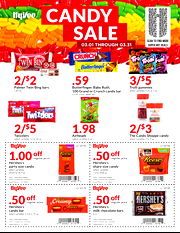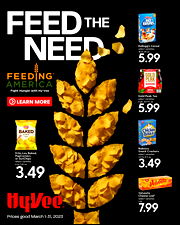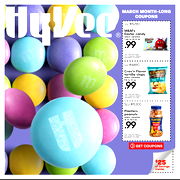 Browse Deals & Coupons in this Hy Vee Ad
Do you find shopping trips to be too much of a hassle or expense? Turn that around by using the Hy Vee weekly ad for this week to plan your purchases from 03/19/2023 to 03/25/2023. It showcases most recent and exclusive promo offers, efficiently categorized into collections for easy and quick browsing.
Besides planning this week's shopping, you can also prep for future purchases using the Hy Vee ad previews. Like the weekly ad, it also feature discounts and deals but are all set for the next few weeks. Thus, you get a headstart on the shopping bonanza.
But why should you plan shopping even? Isn't that a spontaneous thing to do? Once you've gone on prepared shopping trips, you wouldn't turn back - everything goes much more efficiently, as you know where, what, and how much you're getting.
Plus, the Hy Vee ad introduces you to mind-blowing promos and pricedrops. Why pay full prices when you can get them slashed, right? Besides the promo deals, you can also access a Hy Vee coupon database containing easy-to-use vouchers, which lowers your total even more.
Using the Hy Vee ad, previews, and coupon database is effortless. There are arrows or "next" buttoms you can click on to flip from one collection to another. Then, you can zoom in on items using the scroller. If you want to get more coupon details, click on the coupon itself!

Basket & Bushel
Get it for $1.99



That's Smart!
Get it for $0.77


Hot Pockets
Get it for $1.99


Del Monte
Get it for $1.99

Fish Market
Get it for $3.99

Popular Hy Vee Brands
Are you a fan of these brands: Nabisco, Rana, Fish Market? If you are, you'll enjoy coursing through the top Hy Vee deals by brand of this Hy Vee circular. It is a segment featuring big discounts and valuable vouchers, all sorted by brand for your easy perusal. Click on the "view now" button to see them!
There are 12 brands included in this weekly Hy Vee sales ad. If you find some names missing from the list, that might be because they're yet to be included. But don't worrry - brand additions and voucher updates are done regularly, so we will soon cover all your favorite companies.
Expired Flyers
Hy Vee Ad 03/17/2023 - 03/19/2023

Hy Vee Ad 03/17/2023 - 03/19/2023

Hy Vee Ad 03/17/2023 - 03/19/2023

Hy Vee Ad 03/14/2023 - 03/14/2023
How to save at Hy Vee?
Saving money at Hy Vee doesn't have to be complicated at all. With the proper knowledge, you can do it quickly and easily! This guide will provide all the necessary information to help you make informed decisions when shopping at Hy Vee. Thus, you can save as much money as possible!
You will learn helpful tips, such as taking advantage of discounts and promotions and finding the best deals online. We will also discuss how you can maximize savings by monitoring prices and shopping for better deals. Finally, we will look at creative ways to save even more money at Hy Vee, such as rewards programs, Hy Vee coupons, cashback offers, and more.
Coupons at Hy Vee
If you are looking to save money on your next purchase at Hy Vee? Look no further, as digital coupons are here to help! Digital coupons are a great way to save money both online and in-store. You can get discounts on groceries, clothing, electronics, and more with digital coupons. Hy Vee coupons offer a range of opportunities to get significant savings on your order.
First things first, you need to find the right Hy Vee coupon code for your purchase. To do so, check out Hy Vee's website and look through their list of available digital coupons. You may be able to find one that best matches your purchase. Before completing it, ensure that you apply this coupon code during the checkout process.
Doing so will guarantee that the discount is applied correctly and taken off of your total purchase price. Before finalizing your transaction, always take a moment to double-check if the coupon is still active and valid.
Be sure to read through the terms and conditions carefully before purchasing from any store - this way, you will know what discounts are offered and whether they're applicable or not!
Finally, remember that additional benefits may be associated with using digital coupons. Some stores may offer free shipping or cashback rewards! These deals can vary depending on the store, so always read up on them before making a purchase.
Deals of the Week
Saving money at Hy Vee is easy with the help of its weekly specials and deals. Every week, there are many different opportunities to save money on everything from frozen goods to electronics. These weekly deals give customers discounts on select items, free shipping options, bonus points, or rewards. Thus, make sure to take advantage of these fantastic offers. To ensure you get all of these great savings opportunities, it's essential to check in with Hy Vee now and then.
You can also sign up for email alerts from Hy Vee weekly ad, so you'll always be one step ahead when finding the best new savings opportunities. Additionally, if you follow Hy Vee on social media such as Facebook and Twitter, you can often find additional monthly promotions and savings. That said, it is wise to remember that many of these discounts are only available for limited periods. Thus, acting fast is essential if you want to take advantage of a particularly enticing deal.
Finally, if you are a loyal customer who shops regularly at Hy Vee, check out their loyalty program. Members receive exclusive offers and discounts throughout the year. So when it comes time for your next shopping spree, take advantage of all that Hy Vee has to offer by checking out its weekly specials and deals of the week.
Hy Vee BOGO
"Spend more, save more" becomes true with the biggest and most exclusive BOGO or buy one get one deals! Find these BOGO offers on the Hy Vee sales flyer, and you'll be entitled to a free or discounted second item. It's an opportunity to bulk buy for the future without ripping your wallet. Don't pass it up - future you will thank you!
Membership Program
Did you know Hy Vee has a reward program? If you didn't, now you do and you should be a part of it. Members of the program are entitlted to the most exclusive deals and earn hundreds of points just by shopping. All these points can be used for future shopping trips, for even bigger savings.
So, what are you wating for? Find the registration details in our Hy Vee sales ad!
Exclusive Online
Online shopping is taking everyone by a storm, and for good reason! It's easy, accessible, and convenient - all good things for people living in a busy world. Besides all those, there are the amazing deals and discounts that gets everyone on a hook. These offers vary per product and brand, from great steals like buy one get one free to splendid markdowns, like 50% off on an item. You can find them all on the Hy Vee weekly circular, so check it out!
Free Shipping
Shopping with Hy Vee can be a great way to save on your home or office needs. However, you can maximize your savings by taking advantage of free shipping offers. There are two main tactics that can help. First, when you sign up for the Hy Vee email newsletter, you will regularly receive updates about their promotions. These promotions include free shipping deals.
Second, many sites offer free shipping if you reach a certain minimum order amount. So, if you are already planning to purchase several items through the Hy Vee ad, it is easy to get extras and qualify for the offer. With these strategies in mind, your shopping trips to Hy Vee will get bigger and better savings every time.
Find Clearance Items
Shopping through the Hy Vee ad can be a delightful experience, especially when you can find great items at an even better price. One way to save money when shopping there is to take advantage of their Clearance section. The items in this section may be slightly distorted or worn, but the discounts are often unbeatable.
Checking the clearance section regularly will allow you to snatch up some stylish garments at a fraction of the cost. This can ensure that your wardrobe is always on point without breaking the bank.
Price Matching
Heading out to Hy Vee? Don't go there without checking the Hy Vee weekly ad first! This ad has all the most recent product prices, deals, and discounts. You can use such info to match prices and plan your purchases better so you can avoid going over budget and maybe even make some savings! Browsing the ad takes only a few minutes but leads to so much savings, it's worth the time.
Cashback Program
Saving at Hy Vee while enjoying cash-back benefits can be a fun and rewarding experience. Understanding how to maximize your savings is the key. To do this, start by signing up for a cash-back program so that you can begin receiving rewards on qualifying purchases from Hy Vee weekly ad.
Before making a purchase, check for any exclusive offers or other deals that could increase your overall savings. Additionally, compare prices between Hy Vee and other vendors online to ensure you get the best deal when shopping with them. By following these money-saving tips, you can shop at Hy Vee confidently, knowing that your wallet will be happier.
Shop at Right Time
Shopping at the right time can save you a lot of money, and Hy Vee is no exception. Christmas sales present a great opportunity to get big discounts, with items often discounted by up to 50%. An even better chance for huge savings is Black Friday.
Every year, Hy Vee sales flyer offers thousands of products with special deals. Such times make it especially important to keep an eye on their offers and shop only when you find the best bargains. Shopping the discounts available during these special times can help ensure you make the most out of your budget and give yourself some extra cash to treat yourself to after a successful shopping spree.
Shopping at Hy Vee
Hy Vee In-store Shopping
In-store shopping has so many benefits. Not only can you save money with Hy Vee weekly ad this week, but you also get to experience a more convenient shopping process. You get to see and touch all the products before buying, which brings a physical shopping connection that online stores simply can't compete with. Furthermore, you can find the best deals in person compared to online retailers.
Going out into Hy Vee and going through their weekly ad will help save money and give you access to a wider range of products. In-store shopping is the perfect way to find what fits your lifestyle while keeping your wallet happy.
Curbside Picku at Hy Vee
If you live far from your local Hy Vee, it can be frustrating to go there and find out that the product you need isn't on stock. To avoid such failed shopping trips, here's a simple hack: curbside pickup! Through this service, you can place an order in advance (check the Hy Vee flyer to know how), schedule it for pickup at a time and location nearest to you, and get them when they're ready and convenient for you! In this way, you're sure you get what you need without the risk of wasting transport costs and effort!
Delivery
Deivery services ensure that your purchases go from the Hy Vee to your home with little to no effort on your part. Thus, if you want a stress-free shopping experience, make sure to avail it! But before you do so, ensure that your local Hy Vee offers that perk. Checking is easy - you can ask the store yourself, call, or check online through the Hy Vee weekly ad this week. This ad provides info on the latest services, deals, and discounts, making it a must-have for all avid shoppers like you!
Online Shopping
If you love your local Hy Vee but find it too far, you can check if they have an online shop! After all, most stores have hopped on the trend, so it's highly likely it has its version on the net. Once you find it, you can add to cart and check out to your heart's desires, without setting a foot out of your home. Moreover, you can use vouchers and discounts available on the Hy Vee circular!
Mobile Digital App
Have you seen a Hy Vee ad feature the Hy Vee app and wonder if it's worth it? It is - aside from the online shop being one click away, you are entitled to exclusive deals, discounts, and other promo offers. The perks are many, so be sure to check your app store and install it if it's up and available!
About Hy Vee
Founded in the '30s by Charles Hyde and David Vredenburg, Hy-Vee is currently one of the biggest and most well-known regional supermarket chains in the US. With over 275 store locations, Hy-Vee caters to shoppers across eight states in the Midwest. Hy-Vee is known for offering a wide range of high-quality products from both mainstream and local brands.
Source
How to find Hy Vee sales flyer?
Hy-Vee FAQs

How to get Hy-Vee Ads Emailed to You?

Hy-Vee's deals and promotions are always a surefire way to get more from your grocery shopping budget! Unfortunately, Hy-Vee doesn't send out their weekly ad via email. If you're interested to see what deals Hy-Vee has going on, you may visit https://www.hy-vee.com/deals/ads.aspx.

How long does the Hy-Vee Ad last?

The Hy-Vee ads and all deals and offers included last for a whole week. A new Hy-Vee ad is published on the website every Wednesday. All deals and promotions included last until Tuesday of the following week.

When Does Hy-Vee release the new ad?

Hy-Vee releases a new ad on their website every Wednesday, on a weekly basis. Planning ahead for your grocery trip? There are tons of websites online that publish an early Hy-Vee weekly ad preview. These are published as early as 4 to 5 days before their official released on the Hy-Vee website.

How to have Hy-Vee weekly ad shipped to me

As of the moment, Hy-Vee does not print their weekly ads for shipping or delivery via mail. To see Hy-Vee's current weekly specials, you can head over to the website and go to "Deals," then click on "Ads."

What day does the Hy-Vee Ad start and end?

The Hy-Vee ad starts every Wednesday and ends every Tuesday of the following week. All deals, offers, and promotions included in the ad are valid for the said time period.
What are Hy-Vee Hours?

Business hours for Hy-Vee stores vary per location. To see what time your local Hy-Vee opens and closes, go to https://www.hy-vee.com/stores/. Enter your ZIP/city/state, choose a store and click on "Store Details." This will show you your chosen store's business hours, location, contact details, and more.
Hy-Vee Locations

Hy-Vee operates in eight states across the Midwest. They have locations in Illinois, Iowa, Kansas, Minnesota, Missouri, Nebraska, South Dakota, and Wisconsin. These are the top 5 areas with the most number of Hy-Vee stores.
Hy-Vee coupons

Saving money at Hy-Vee is as easy as 1-2-3! Don't have the time to go through your local paper for coupons! Do it online! Visit https://www.hy-vee.com/deals/coupons.aspx and log in to your account. Once you're logged in, click on which coupons you'd like to clip, and they'll be loaded onto your card right away.
Hy-Vee grocery pickup & delivery

Shopping at Hy-Vee is not only budget-friendly, it's quick and easy too. Shop from home and have your groceries delivered to your doorstep with Hy-Vee's grocery delivery service. You can also choose to pick up your goodies at your most convenient time with curbside pick-up.
Hy-Vee bakery

Whether it's cakes and desserts for a special occasion or freshly baked pastries and bread for snacks at home, you're sure to find it at the Hy-Vee bakery. This section is always a must-visit for Hy-Vee shoppers, so make sure to drop by on your next trip.
Hy-Vee grocery

The Hy-Vee grocery aisles are always stocked with a wide variety of affordable goods. From fresh produce and meats to household products and items for personal use, the Hy-Vee grocery has what you need. You can also have your groceries delivered or prepared and ready to go for curbside pickup.
Hy-Vee pharmacy

Have your health and wellness needs taken cared of by professionals at the Hy-Vee pharmacy. Get prescription refills or buy over-the-counter drugs for ailments and sores. You can also get your fill of vitamins and supplements and vaccination shots here. What's even better is that you can manage your prescription online or via the Hy-Vee mobile app.
Hy-Vee online

Hy-Vee's online presence has made the chain much more accessible to its customers. Shop for groceries online through the Hy-Vee website or download the Hy-Vee mobile app. Clip digital coupons and manage your prescription online. You can also save on fuel with the Hy-Vee Fuel Saver + Perks card, which you can also manage via the Hy-Vee website.
Hy-Vee wine

Never struggle with finding good wine to pair with your favorite dishes ever again! Take your pick from their huge selection of whites and reds, champagnes, or maybe even just a sparkling juice to jazz up your dinner parties.
Hy-Vee spirits

Aside from good wine finds, you'll also see tons of choices for spirits at the Hy-Vee wines and spirits sections. Find your favorites or browse through the shelves to discover something new. From whiskeys and bourbons to vodkas and beers, Hy-vee has you covered.
How EveryPayJoy Help you Save?
If you want to find the latest promo updates from Hy Vee, you should subscribe to the Hy Vee weekly ads! It features many discounted products, huge deals, and other irresistible offers. Subscription is easy as you only have to open the EveryPayJoy website, provide your email to the subscription box, and all the fresh news comes through automatically and regularly.
Also, while you're at the EveryPayJoy site, make sure to bookmark it. It's a fantastic shopping resource that is full of coupons, articles, and Hy Vee sales flyers. All are organized diligently, so you can easily find coupons from certain brands or access offers from a certain store. Plus, you won't have to worry about outdated deals - all the offers and promos are updated regularly, plus you can easily see the expiration dates for both the weekly ads and the coupons.
Moreover, you don't really need a specific agenda to use the EveryPayJoy site. You don't even have to pay! You can flip through collections and materials idly and if you find something you like, availing the offer is really easy.
Disclaimer: Hy Vee is a registered trademark of Hy Vee and is not affiliated with our company. We are not affiliated with, endorsed by, or connected to Hy Vee. Our use of any trademark belonging to another company is not done with the intent to confuse consumers but is rather incidental in promoting these companies and their coupons.