CVS Pharmacy Weekly Ad (03/19/2023 - 03/26/2023)
Are you looking for the best deals and savings on your favorite items? Look no further than CVS Pharmacy ad! Our CVS Pharmacy weekly ad is full of amazing discounts and offers so that you can get the most out of your shopping experience. We make sure to update our feed frequently and keep it up to date with all the latest sales and deals. So what are you waiting for? Head to CVS Pharmacy webpage or click next and browse the extensive list of discounted items.
CVS Pharmacy Ad & Preview
CVS Pharmacy Ad 03/26/2023 - 04/02/2023

CVS Pharmacy Ad 03/26/2023 - 04/01/2023

CVS Pharmacy Ad 03/19/2023 - 03/26/2023

CVS Pharmacy Ad 03/19/2023 - 03/25/2023
Now viewing: CVS Pharmacy Weekly Ad Preview 03/19/2023 - 03/26/2023
Scroll mouse wheel to zoom
Page 1 of 36
Click the images below to view other CVS Pharmacy Weekly Ads
CVS Pharmacy Ad
03/26 - 04/02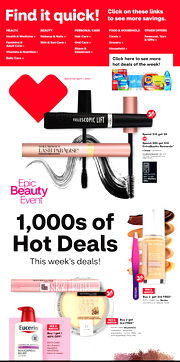 CVS Pharmacy Ad
03/26 - 04/01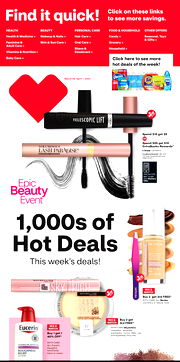 CVS Pharmacy Ad
03/19 - 03/26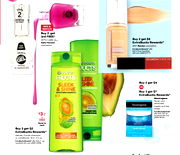 CVS Pharmacy Ad
03/19 - 03/25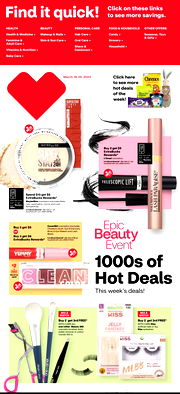 Browse Deals & Coupons in this CVS Pharmacy Ad
Reading the CVS Pharmacy ad is straightforward. All you have to do is scroll through the Ad Preview above or click on the other store links to see their weekly ads. With the help of the CVS Pharmacy weekly ad this week, it is easy to tell whether a product is on sale. You can easily search through multiple categories to find the items of your need.
Additionally, you must know that the ad will start from 03/19/2023 and last till 03/26/2023. This gives you plenty of time to enjoy 25 and keep shopping wisely. Looking through the CVS Pharmacy ad for next week is prime because plenty of great deals will save you money each week.
You should also keep an eye out for special promotions such as discounts or buy-one-get-one-free offers that will help you stretch your budget even further. Plus, some products may only be available at discounted prices during certain times of the year, which can be found by reading the CVS Pharmacy ad regularly.
When looking at the CVS Pharmacy weekly ad this week, read up on any exclusive offers listed at the top of the page. The coupon database can also help you find additional savings, so check out the CVS Pharmacy coupon section as well.
Finally, keep an eye out for any new products that have been released recently, and take advantage of those deals!


Head & Shoulders
Save $2.00






Popular CVS Pharmacy Brands
Can't find your fave brand among the medley of similar items? Flip through the top CVS Pharmacy deals by brand instead. It's a segment of the CVS Pharmacy circular wherein product discounts are organized by brand for those who have specific tastes or just want to explore offers from big names.
To see such offers, click on the brand icon or "view now" button to open into a page full of exclusive deals. Like the CVS Pharmacy sales flyer, these brand discounts pages are updated regularly, so keep an eye out for new additions. For example, this circular covers only 12 brands, but you can expect another name or two to be added next week.
Expired Flyers
CVS Pharmacy Ad 03/12/2023 - 03/19/2023

CVS Pharmacy Ad 03/12/2023 - 03/18/2023

CVS Pharmacy Ad 03/05/2023 - 03/12/2023

CVS Pharmacy Ad 03/05/2023 - 03/11/2023
How to save at CVS Pharmacy?
There are many ways to save at CVS Pharmacy that will give you a massive discount on your final bill. With a little effort, you can easily make the most of your shopping trips and cut down on your grocery bill.
Knowing the tips and tricks for saving money through CVS Pharmacy sales flyers will enable you to make intelligent decisions when shopping for groceries. By following these simple tips, you will be able to maximize your savings (and minimize stress!) the next time you shop at CVS Pharmacy.
Coupons at CVS Pharmacy
Shopping at CVS Pharmacy can be expensive, but there are plenty of ways to save money with the use of digital coupons. These coupons can provide discounts on anything from apparel to home goods, making shopping for those much-needed items a whole lot easier on the wallet.
To get the most out ofCVS Pharmacy coupons, it's essential to do your research and find the ones that are best suited for you. Start by signing up for any newsletters or loyalty programs offered by CVS Pharmacy. This informs you about upcoming sales and provides a wealth of coupons and promo codes to help you save.
Using digital coupons can help reduce your shopping bill cost at CVS Pharmacy. With just a little bit of research and preparation, you will be able to take advantage of incredible discounts explicitly tailored to your needs. So make sure to give it a try next time you shop. By following these simple steps and taking advantage of all available coupon options, shoppers can save significant amounts of money while shopping at CVS Pharmacy.
Deals of the Week
Going on a shopping trip at CVS Pharmacy this week? Check out the CVS Pharmacy weekly ad first! It helps you discover the best weekly specials, biggest product discounts, and other exclusive offers you can use to maximize your trip. You can also use it to accurately project expenses and compare prices!
To use the weekly ad, flip through the collections like you do with a physical catalog. There are arrow buttons that let you go back and forth. You can also use the magnifying glass icons or your scroller to zoom in and out. Some product details are too small to see if you don't zoom in.
BOGOs
Why get one when you can have two? Make the most out of your money by being the first to know and take advantage of CVS Pharmacy buy one get one (BOGO) free deals! Besides BOGO free, there's also a shot at BOGO 50%, BOGO 30%, BOGO 20%, and many other juicy offers.
You can use these BOGO deals to stock up on necessities and wants while spending the least amount possible. Stay updated and look out for these promos on the CVS Pharmacy sales flyer. The flyer is updated regular, so make sure to view it often.
Membership Program
Saving at CVS Pharmacy with their loyalty rewards program is calming and convenient. With the help of this program, customers can access exclusive discounts and promotions that are only available to members. This allows them to get the best CVS Pharmacy sales ad on their purchases and save money in the process.
Members are eligible for additional discounts like coupon codes that may not be available in-store or online. They also get early access to sales events, making it unchallenging to find great deals even before they go on sale. Plus, when members make a purchase using their loyalty points, they can save even more money.
To maximize savings while shopping at CVS Pharmacy, members should take advantage of special offers and flash sales that are only available through the loyalty program. Additionally, they should keep track of their rewards points so they can redeem them quickly and conveniently in-store when they need to use them.
Overall, being a member of CVS Pharmacy's loyalty rewards program is an excellent way for customers to save money when shopping. With exclusive discounts, promotional offers, and other benefits, it is a perfect way for members to make their money stretch further when buying items from CVS Pharmacy.
Online Exclusive Offers
Shopping online at CVS Pharmacy with exclusive offers can be an excellent way to save money on purchases. One of the easiest ways to find these exclusive deals is by checking out the store's website. You can often find discounts on everything from clothing and furniture to electronics and appliances.
You may also want to check out CVS Pharmacy weekly circular, which sometimes lists special deals available exclusively online. One of the best ways to keep track of CVS Pharmacy's exclusive online offers is by following them on social media platforms such as Twitter and Facebook. These accounts often feature updates about new promotions, advertising upcoming sales events, and alerting followers about any current sales going on.
Leverage Free Shipping
Shopping and saving money can go hand in hand when shopping at CVS Pharmacy. Not only does the CVS Pharmacy sales ad offer a wide selection of products, but it also makes saving money with their free shipping option even easier. Simply spend over the threshold, and any delivery charge is on them.
However, there are many occasions where free shipping is only sometimes possible during flash sales or on certain exclusive products. But by keeping an eye out for discounts and deals or by reaching stackable thresholds for larger orders, you will be able to use the store's free shipping offers more often to help save further.
Clearance
Shopping doesn't have to be expensive, especially when you take advantage of clearance offers from CVS Pharmacy weekly circular. Clearance offers are a great way to save money on items you want and need. You can find deals on clothing, shoes, furniture, and more that are marked down far below the regular price.
If you are looking to get the most for your money, make sure to check out the clearance section at CVS Pharmacy and take advantage of their incredible discounts. Don't miss out on these opportunities because you could end up saving lots of money.
Price Matching
Is your price-matching abilities off the game recently? That's because you're reference might not be so updated. It's time to make the switch to the CVS Pharmacy weekly ad. It's updated every week, so the product prices, deals, and discounts are all recent and accurate. If you use the ad wisely, you'll go out of your house with a full idea of how much you can splurge and save.
Cashback Program
Shopping at CVS Pharmacy just got even more rewarding. With the help of cashback, customers can now earn money while they shop! To get started, the customer must simply link their store account with a cashback website and shop. It is that easy.
This will add up to savings or loyalty points you can use to access exclusive CVS Pharmacy deals. As an additional benefit, cashback offers assure shoppers of additional value for every purchase made. With just a few clicks, customers can enjoy substantial savings on all their purchases with the CVS Pharmacy ad. A win-win for everyone!
Shop at Right Time
Is there a right time to shop? Expert shoppers know there is! The best time to spend money is when the biggest deals and discounts are on - think Black Friday and back-to-school. During such seasons, certain items are priced at their lowest, and that's the best time to get them! Moreover, there are a ton of vouchers and coupons being offered during that time, and you can take advantage of them to bring your shopping total even lower than before!
You can subscribe to CVS Pharmacy ad previews to find announcement of black friday, back-to-school, christmas, and other amazing holiday deals. The preview gives you a peek at future prices, discounts, and promos, so you can make the most out of your budget and plan your shopping spree ASAP.
Shopping at CVS Pharmacy
CVS Pharmacy In-store Shopping
Despite all the perks of digital stores, in-store shopping never gets old. You get to walk across fully-stocked aisles, feel the product, and see everything for yourself. If you're buying electronics or certain items, you can have them tested to ensure quality. Certain stalls also offer free samples or trials, especially if they're new. All these and more ensure that physical shops are here to stay.
To make the most out of your in-store shopping experience, use the CVS Pharmacy sales flyer. You can find here some of the latest prices and deals, which are extremely helpful in maximizing your budget.
Curbside Picku at CVS Pharmacy
Are you having an item from CVS Pharmacy delivered to your place? Why don't you try setting it for curbside pickup instead? Like delivery, the item is ordered online, but isn't delivered right at your door. Instead, it is sent to your local CVS Pharmacy or another nearby location, then you can pick it up once it arrives. It's cheaper that way, and you can get the package when you're doing another errand at CVS Pharmacy; thus, two birds with one stone! To avail of such a service, check out the CVS Pharmacy sales flyer (it also features related promo deals)!
Delivery
Shopping from the CVS Pharmacy ad and sales flyer can be even more convenient with delivery options. No longer do shoppers have to worry about fighting traffic and long lines when trying to take advantage of CVS Pharmacy's discounts. This feature makes all the difference for busy families or those who do not have access to vehicles. Instead, shoppers can use delivery services to save time, energy, and money.
Online Shopping at CVS Pharmacy
Shopping online is a great way to discover savings and discounts through weekly deals. CVS Pharmacy weekly ad this week offers many different items and services at discounted prices. Plenty of delightful discounts are available for those looking for quality goods and services from CVS Pharmacy.
By shopping online, you can avoid the hassle of trekking out to physical locations while still enjoying access to CVS Pharmacy's broad product selection. You can shop whenever convenient for you without compromising on quality or quantity.
Mobile Digital App
Have you seen a CVS Pharmacy ad feature the CVS Pharmacy app and wonder if it's worth it? It is - aside from the online shop being one click away, you are entitled to exclusive deals, discounts, and other promo offers. The perks are many, so be sure to check your app store and install it if it's up and available!
About CVS Pharmacy
Source
How to find CVS Pharmacy sales flyer?
CVS Pharmacy FAQs

How to get CVS Pharmacy Ads Emailed to You?

While there is no option to sign up for weekly ad email alerts, you can sign up for an ExtraCare card membership instead. This will give you access to some of the best CVS deals and offers, as well as perks and rewards that'll give you more bang for your buck.

How long does the CVS Pharmacy Ad last?

The CVS Pharmacy ad lasts for seven days or a full week.

When Does CVS Pharmacy release the new ad?

CVS ads are renewed every Sunday. However, if you're the type who likes to plan shopping trips early, you can also scour the internet for a CVS ad preview. The weekly ad preview is often published a few days ahead of the regular schedule, allowing you to plan better.

how to have CVS Pharmacy weekly ad shipped to me

CVS does not mail weekly ads to its customers. However, you can still view the CVS weekly ad online by going to https://www.cvs.com/weeklyad/. What you can get mailed to you, though, are ExtraCare offers if you are a CVS ExtraCare cardholder. Learn more about it here.

What day does the CVS Pharmacy Ad start and end?

The CVS weekly ad starts every Sunday and ends on the same day of the next week. Ads are renewed on a weekly basis so make sure to keep checking so you don't miss out on awesome deals and discounts from CVS.
What are CVS Pharmacy Hours?

CVS hours vary from store to store. Some CVS stores operate on a 24-hour basis while other stores follow the regular 12-hour schedule from 8:00 AM to 10:00 PM Due to the current pandemic, most CVS stores also allot special hours for seniors and shoppers who are most vulnerable to the virus. Learn more about it here.
CVS Pharmacy Locations

CVS has close to 10,000 locations all over the United States. The top five cities with the most CVS pharmacy locations are:

To see where the nearest CVS pharmacy store near you is, you can go here.
CVS Pharmacy coupons

There are tons of ways to save money at CVS; one of these is by using coupons! Coupons are pretty easy to come by at CVS. You can get them in-store and you can also get them online. ExtraCare members can also get exclusive coupons and promo codes for bigger savings. Another way to get coupons is by checking the CVS weekly circular.
cvs grocery pickup & delivery

Need your daily essentials quickly, but don't have the time to shop in-store? CVS has made it easier for shoppers to get their shopping done by introducing BOPIS or Buy Online Pickup In-Store. They also offer delivery for items like groceries, food and non-food items, and non-prescription drugs.
cvs gift card

Need a gift that's practical and convenient? Whether it's for a special event or to commemorate reaching a certain milestone, you can never go wrong with giving out gift cards. Get gift cards for different retailers to fit your giftee's taste. If you know they love shopping at CVS (and who doesn't?) you can get them a CVS gift card as well!
cvs grocery

Despite being known as a pharmacy chain, most CVS stores have a decent selection of grocery items as well. Stay fit and healthy with their amazing spread of healthy snacks and fresh produce. You'll also find tons of non-food items here that you can use for your home.
cvs wine

Another thing you'd be surprised to see at most CVS stores is wine. They have great bottles and labels that you can enjoy for a casual, laid-back dinner at home and some that are a bit more impressive to bring to parties. The CVS wine section is proof that inexpensive doesn't always mean cheap.
cvs online

These days, you can do most of your errands online. That includes buying groceries and staying on top of your health and wellness needs. With the CVS website and mobile app being so accessible for everyone, it's easy to stay healthy and save money all at the same time!
cvs pharmacy

CVS is best known as a pharmacy chain with amazing prices and unmatched service. Whether it's for a prescription refill, a health screening, immunization, or vaccination shots, CVS is sure to be able to help you out. CVS is also known for MinuteClinic, a walk-in clinic that serves as a more affordable alternative to urgent care.
cvs photo

Whatever you need to print and personalize, you can get it done at CVS Photo! Get government-compliant photos taken for passports and other legal documents or bring your own pictures to print on cards, posters, and more! Store them in your USB, drive over to your local CVS and it'll be ready for pickup on the same day!
cvs black friday

Does a pharmacy like CVS participate in Black Friday sales events? The answer is a resounding yes! Get the best deals on toys, candies, and other giftable items in preparation for the holidays. Every year, CVS does insane discounts on appliances and personal care gadgets so you can finally get them as a gift for yourself or for friends and family.
How EveryPayJoy Help you Save?
If you want to find the latest promo updates from CVS Pharmacy, you should subscribe to the CVS Pharmacy weekly ads! It features many discounted products, huge deals, and other irresistible offers. Subscription is easy as you only have to open the EveryPayJoy website, provide your email to the subscription box, and all the fresh news comes through automatically and regularly.
Also, while you're at the EveryPayJoy site, make sure to bookmark it. It's a fantastic shopping resource that is full of coupons, articles, and CVS Pharmacy sales flyers. All are organized diligently, so you can easily find coupons from certain brands or access offers from a certain store. Plus, you won't have to worry about outdated deals - all the offers and promos are updated regularly, plus you can easily see the expiration dates for both the weekly ads and the coupons.
Moreover, you don't really need a specific agenda to use the EveryPayJoy site. You don't even have to pay! You can flip through collections and materials idly and if you find something you like, availing the offer is really easy.
Disclaimer: CVS Pharmacy is a registered trademark of CVS Pharmacy and is not affiliated with our company. We are not affiliated with, endorsed by, or connected to CVS Pharmacy. Our use of any trademark belonging to another company is not done with the intent to confuse consumers but is rather incidental in promoting these companies and their coupons.