Kroger Weekly Ad (05/31/2023 - 06/06/2023)
You don't need to leave your home to find the best promo deals. In fact, you don't even have to stand up! With Kroger weekly ad, you only have to click, scroll, or zoom in to check out every promo deal of every collection for this week. You can also look into next week's offers through Kroger ad previews.
Kroger Ad & Preview
Kroger Ad 05/31/2023 - 06/06/2023

Kroger Ad 05/31/2023 - 06/06/2023

Kroger Ad 05/31/2023 - 06/06/2023
Now viewing: Kroger Weekly Ad Preview 05/31/2023 - 06/06/2023
Scroll mouse wheel to zoom
Page 1 of 22
Click the images below to view other Kroger Weekly Ads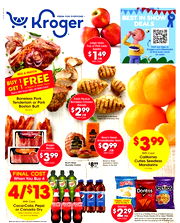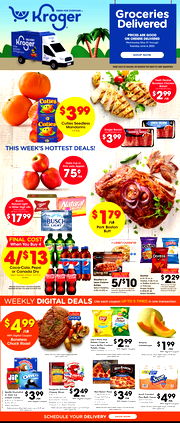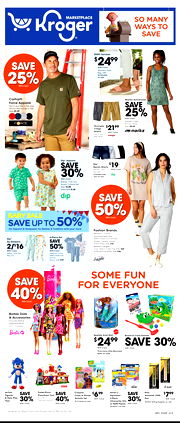 Browse Deals & Coupons in this Kroger Ad
Avoid putting back things on the shelf because you ran out of budget! The Kroger weekly ad for this week keeps you posted on the most recent deals and discounts, so it's easier to track prices and maximize your budget. This one, in particular, covers 27 promos from 05/31/2023 to 06/06/2023.
Once the week ends, the weekly ad gets updated so you get access to a fresh, complete set of jaw-dropping discounts. Of course, you can sneak a peek by using the Kroger ad previews, but the deals there are limited only. If you want to see the whole array, visit this site regularly so you'd have first access to offers you wouldn't want to miss.
To use these weekly ad specials, you can click on the arrows, plus, and minus buttons. The arrows get you from one collection to the other, so you can browse through all the deals in an organized manner. Meanwhile, the plus and minus buttons are for zooming in and out - if you want, you can use your scroller instead too.
Besides the Kroger weekly ad, you can also visit the Kroger coupon database. It has hundreds of vouchers from various brands and products. Click on the coupons to view details, see expiration dates, and then save them for near-future use!


Dash of That®
SAVE 40% With Card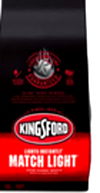 Kids' Resin Stacking Chair
$5.99

HD Designs Outdoor®
$749.99
Popular Kroger Brands
Have you been eyeing this certain brand at the mall lately, fervently hoping it'll announce some big sale? Well, you don't have to wait anymore! This Kroger circular contains all the top Kroger deals by brand. It's like a digital coupon book where you can flip through the biggest discounts and with everything organized by brand, exploring deals becomes much easier and convenient.
Although the actual offers are for a limited time only, this Kroger sales flyer isn't - it gets updated regularly, so you need to keep an eye out for new promo deals or brand additions. Currently, it includes 12 brands, such as Simple Truth, Classico, Handi-Foil. If you're fave brand isn't there yet, don't worry; the list only keeps growing.
Expired Flyers
Kroger Ad 05/24/2023 - 05/30/2023

Kroger Ad 05/24/2023 - 05/30/2023

Kroger Ad 05/24/2023 - 05/30/2023

Kroger Ad 05/17/2023 - 05/23/2023
How to save at Kroger?
Shopping can be expensive, especially when there is no way to get a discount. Fortunately, if you know what you are doing, it is possible to save a great deal of money with the help of Kroger sales ad!
Here you will find helpful tips on how to save your hard-earned cash while shopping at this popular retail destination. We will look at strategies like signing up for emails and taking advantage of coupon codes, plus a few more lesser-known tactics. Reap the rewards of sizable savings today by following these simple steps and learning how to save money effectively.
Coupons at Kroger
Even back then, coupons have helped many shoppers save big bucks. Indeed, people would even lug around big scrapbooks of coupons cut out from newspapers and magazines. However, nowadays, there are less phsyical coupons to cut out, which makes it may seem like there's fewer of them. But that's just because you're looking in the wrong place.
Instead of relying on physical coupons, go digital! Subscribe to Kroger coupon database to find the biggest collection of big-value vouchers. These coupons are all easy to save and redeem. Just click on the coupon, check out the details, and follow instructions for saving and redeeming. Also, make sure you note the expiration date - you wouldn't want to waste coupon, would you?
Kroger Weekly Specials
Saving money at Kroger can be made accessible when you take advantage of the weekly specials and deals. Shopping around for these great offers is a great way to get the best deals on items you need or have been wanting. Before heading to the store, you should always check out the weekly ads online or in-store so you can plan ahead and get exactly what's on sale that week.
When planning your shopping trip, try to maximize your savings by only buying items on sale to save as much as possible. Additionally, look for coupons and discounts in the Kroger weekly ad. This could mean even more savings! Consider signing up for a loyalty program to receive additional discounts and rewards points each time you shop at Kroger.
By taking advantage of all these different methods, you can maximize your savings at Kroger while still getting what you need!
BOGOs
We all know that BOGO stands for 'buy one, get one' and refers to discounts where one item is free or half-price when you buy another. BOGO 50% off promotion offers great savings opportunities if you take advantage of them.
Here are some tips for getting the most out of BOGO free:
First, ensure you understand the terms and conditions of the Kroger ad. Sometimes there may be limits on which items qualify for the discount and how many discounts can be used in each purchase. Read all details carefully so you can take advantage of all your savings!
Second, compare prices between different stores to see who has the best deal on items eligible for BOGOs. Third, stock up on items with a BOGO offer available. You can stock items that don't go bad quickly or something you know you will use often enough to avoid wasting it (like toilet paper). This way, you can save money even after the offer ends.
Membership Program
Are you ready to change the way you shop? Because you're about to hear something mindblowing - the Kroger reward program!
Members of the program have exclusive access to big discounts, limited deals, and high-class amenities. They also earn as they shop because every certain amount of purchase at selected outlets and brands entitles them to a point!
While all these sound posh and expensive, it really isn't - membership comes at an affordable fee, especially considering all the benefits you can get! Plus, registration is very easy - just follow the directions on the Kroger sales ad, and within the day, you're a member already!
Exclusive Online
Online shopping is taking everyone by a storm, and for good reason! It's easy, accessible, and convenient - all good things for people living in a busy world. Besides all those, there are the amazing deals and discounts that gets everyone on a hook. These offers vary per product and brand, from great steals like buy one get one free to splendid markdowns, like 50% off on an item. You can find them all on the Kroger weekly circular, so check it out!
Free Shipping
Avoid exceeding your online shopping budget when you use the Kroger ad! Not only does it feature the biggest online deals and discounts, you'll also find that it has the most exclusive free shipping offers, from specific products to vouchers. It's easy to use - flip through collections, earmark the ones you love, and follow instructions to make sure your product is being shipped for FREE!
Find Clearance Items
Clearance sales and racks aren't as dismal as they seem to be. There are treasures hidden in these places, and you just have to find them! Make the discovery easier and quicker by using the Kroger sales flyer. It features the most recent clearance sales, so you're updated on the what, when, where, and how of these amazing opportunities.
Price Match at Kroger
Are you an avid shoppper at Kroger? Then you should subscribe to the Kroger weekly ad! Not only does it help you discover the best deals and discounts, it's also a reliable resource for price matching. Easy to access anytime, anywhere, you can easily compare and contrast prices, or simply just check if your favorite products have taken a cost hike or not. Items are organized into collections, so searching for your items or brands is easy.
Cashback Program
Losing money after you spend is the norm, but why don't you turn the tables now and then by using Kroger cashback coupons. When you use those vouchers, you get some money back after paying for your purchase, so while you gain and save some! You can then spend that little something more on something fun, necessary, or just keep it for future rainy days.
If you're interested in finding some cashback coupons, try digging into the Kroger coupon database. It's the biggest collection of vouchers that allow cashbacks, discounts, and more!
Shop at Right Time
Want to go on a shopping spree at Kroger? Plan it first! To do so, start by deciding on the "when"? Well there's no better moment to go shopping than when promos are at their peak. This happens a few times a year, such as during Black Friday, back to school, Christmas, and more. So make sure set the date for those days because they're the right time to shop til you drop.
Also, you'll need to set a budget. While you can put down a certain amount and go with it on the day itself, it's best to check out prices, deals, and discounts in advance. You can do that with Kroger ad previews! They let you sneak a peek on what future promos Kroger plans to launch, so planning that shopping spree is a breeze!
Shopping at Kroger
In-store Shopping
Before going on an in-store shopping trip, make sure you have everything you need : (1) shopping bag, (2) shopping list, and (3) Kroger sales flyer.
Wait ... what even is a sales flyer you'd ask and why is it essential? A sales flyer is a promotional resource from Kroger, which features the latest and biggest deals, discounts, promos, and other irresistible offers. It's a great way to stay updated on item prices, too! Thus, you can use this conveniently online material to plan your shopping trip so you can maximize your savings and budget.
Curbside Picku at Kroger
If your local Kroger did not have a certain item on stock, there's an easy solution to that: curbside pickup. Through this service, customers like you can order a specific object and have it shipped to your local Kroger or another convenient location. This is great for those who want to save on shipping fees, or just want to purchase items before setting foot at Kroger. To learn more about this offer, check out the Kroger flyer - it contains all the info you need; plus, you can check if there are promo offers, too.
Delivery
If you don't have time to do the groceries and shopping, don't fret! Instead, use the Kroger weekly ad this week to see if your local Kroger allows online shopping AND delivery. You can use those services to get everything you need with a few finger taps and clicks. Once you're done paying, you can just work on other things and wait for the package to arrive -- really convenient and time-saving.
Online Shopping at Kroger
Shopping online is a great way to discover savings and discounts through weekly deals. Kroger weekly ad this week offers many different items and services at discounted prices. Plenty of delightful discounts are available for those looking for quality goods and services from Kroger.
By shopping online, you can avoid the hassle of trekking out to physical locations while still enjoying access to Kroger's broad product selection. You can shop whenever convenient for you without compromising on quality or quantity.
Kroger App
Her are two shopping tips: check your fave app store and see if the Kroger app is already availble AND subscribe to the Kroger ad. The app allows you to buy things wherever and whenever, in the most effortless way possible. Meanwhile, an ad subscription makes sure you don't miss out on the biggest and most exclusive deals and promos.
About Kroger
Kroger is the United States' largest supermarket by revenue with a cool $121.1 billion in annual sales. The retail giant has over 2,800 stores across the US. It also has plenty of other well-known retail stores under its umbrella. These include Ralph's, Fred Meyer, and Dillon's among other brands. Kroger is a one-stop shop where you can get good quality items at a low price.
Source
How to find Kroger sales flyer?
Kroger Sales Flyer FAQs

How to get Kroger Ads Emailed to You?

Never miss out on great deals from the Kroger marketplace! Get the Kroger Weekly Ad sent straight to your inbox with these easy steps:

Visit the Kroger website and log in to your account.

From the drop down menu below your name, click on "My Account."

Click on "Preferences" and toggle the button for weekly ads to "On."

How long does the Kroger Ad last?

Kroger Sales Ad are good for 7 days from the day of release. This can change around the holidays when the ads run for a longer or shorter amount of time. The running time will depend on what day the holiday will fall on.

When Does Kroger release the new ad?

For most stores, Kroger Weekly Ads are available every Wednesday at midnight (ET). Kroger stores in Illinois, Missouri, and Indiana get new weekly ads every Thursday.

You can also visit the Kroger website a day before the new ads start to see a preview of next week's early Kroger ad.

How to get Kroger Ads in the Mail?

A physical copy of the Kroger Weekly Ads is available in your local newspapers. Unfortunately, Kroger currently does not send these copies via mail. You can also get a paper copy of the weekly ads from your local Kroger store.

What day does the Kroger Ad start and end?

New Kroger weekly ads start every Wednesday at midnight ET and end every Tuesday. This schedule may change during holidays when weekly ads run longer or shorter.
What are Kroger Hours?

Kroger store hours vary per location. To check business hours for the Kroger store nearest you, please go to the Kroger Store Locator page. Next, enter your ZIP code and choose a store to see your selected store's hours.
Kroger near me

Not sure where to find the nearest Kroger store in your area? Go online and visit the Kroger website, then go to the Store Locator page. Enter your ZIP code, your city, or your state. and it will show you all the Kroger stores near you so you can decide which one to go to or order from.
Kroger pickup & delivery

Can't go to the store to do your grocery shopping? Browse and shop the Kroger marketplace right from the comfort of your own home! Choose the delivery option to get your groceries delivered to your door.

Kroger also offers a grocery pickup option. This allows you to shop from home and then collect your groceries at a scheduled time.

Check Kroger Free Pickup and Grocery Delivery: How it Works & Tips for more details.
Kroger pharmacy

Select Kroger stores also have a pharmacy located inside the store. Get your over-the-counter medication needs here or have your prescription filled. It's an awesome addition to the store that helps you save more time when running errands.
Kroger bakery

No one can resist the smell of freshly baked bread! Drop by the bakery section to indulge your carb cravings. The Kroger bakery has delicious breads and decadent desserts. You can also have custom-made cakes here for special occasions.
Kroger Black Friday

Kroger Black Friday deals are always worth looking forward to. Get your holiday shopping done without blowing your budget! This is also the perfect time to treat yourself. Check out the upcoming Kroger Black Friday Sales Ads for more info.
How EveryPayJoy Help you Save?
Everypayjoy is a great website to help you save money on everyday purchases. It provides access to the Kroger sales flyer and exclusive deals so users can find the best prices and discounts available. With Everypayjoy, you will not miss any no savings opportunities.
The website has a simple design that helps users quickly find what they need without sacrificing quality or spending more than necessary. On top of providing deals and coupons for its users, Everypajoy also offers a vast selection of products, from clothing, frozen items, furniture, electronics, and more, in the sales flyer.
Additionally, using Everypayjoy means staying up-to-date with all the latest discounts and offers from your favorite stores. With [store[ weekly ads provided straight to your inbox, you can make sure that you always know when there are new opportunities for saving money on items that you need or want.
Overall, EverypayJoy is an excellent resource for savings on everyday purchases. There are always new ways to save with this website, whether coupons or weekly ads from popular stores. So, why not take advantage? You can quickly maximize your budget with just a few clicks and an eye out for those astonishing deals.
Disclaimer: Kroger is a registered trademark of Kroger and is not affiliated with our company. We are not affiliated with, endorsed by, or connected to Kroger. Our use of any trademark belonging to another company is not done with the intent to confuse consumers but is rather incidental in promoting these companies and their coupons.