Family Dollar Weekly Ad (05/28/2023 - 06/03/2023)
Are you looking to plan your grocery shopping trip for the upcoming week? Look no further – with Family Dollar Weekly Ad. You can get a sneak peek at the deals and discounts coming soon! With this handy guide on Family Dollar ad, you can keep an eye out for new offers and discounts available each week to score some amazing deals at Family Dollar.
Family Dollar Ad & Preview
Family Dollar Ad 06/01/2023 - 06/10/2023

Family Dollar Ad 05/28/2023 - 06/03/2023

Family Dollar Ad 05/14/2023 - 07/08/2023
Now viewing: Family Dollar Weekly Ad Preview 05/28/2023 - 06/03/2023
Scroll mouse wheel to zoom
Page 1 of 14
Click the images below to view other Family Dollar Weekly Ads
Family Dollar Ad
06/01 - 06/10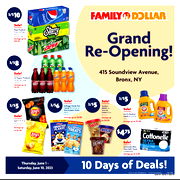 Family Dollar Ad
05/28 - 06/03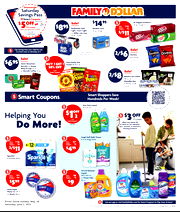 Family Dollar Ad
05/14 - 07/08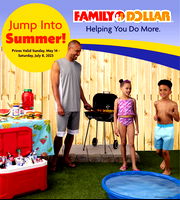 Browse Deals & Coupons in this Family Dollar Ad
Want to be in on a small shopping hack? Check out the Family Dollar weekly ad this week before heading out! It's a great way to find exclusive deals, project expenses, and maximize your budget without setting a foot out of your home!
For instance, this weekly special, which is set for 05/28/2023 to 06/03/2023, features 28 money-saving offers. To see them all, use the arrow buttons to flip to the next page (or go back to the previous). If the page looks to blurred, use your scroller to zoom in on prices, product names, and other info.
If you find anything you like, try to get it before the week ends! The Family Dollar ad gets updated every week, so some offers are really limited to 06/03/2023 only. But new offers come up with every update, so you might find something better if you miss out on some deals! You can even check out some of next week's promos using the Family Dollar ad previews!
However, if nothing catches your eye and you can't wait for next week's discounts, browse the Family Dollar coupon database instead! It's easy to save and redeem coupons from the ever-growing collection of vouchers. Just click on the coupon, read details and instruction, then redeem when you can (but make sure it's before the expiration date).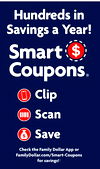 Smart Coupon
Save $Hundreds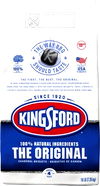 L. A. COLORS
Sale! 3/ $5.0

Assorted Toys
Reg. Price $5 and up
Popular Family Dollar Brands
Most store catalogs are sorted by type, like household items or fashion products. While that's neat, it can be a hassle to peruse through a thousand items just to look for this one brand that you want.
Well, here's the answer to your dilemma: a Family Dollar circular featuring a top Family Dollar deals by brand segment. All the best discounts from 12 brands, sorted for your convenience and easy verification.
Some brands you will encounter in this Family Dollar sales flyer are Huggies, Kingsford, Lysol, Homeline. Now and then, the list gets updated so visit it as often as you can to avoid missing out on juicy offers.
Expired Flyers
Family Dollar Ad 05/21/2023 - 05/27/2023

Family Dollar Ad 05/18/2023 - 05/27/2023

Family Dollar Ad 05/15/2023 - 05/20/2023

Family Dollar Ad 05/07/2023 - 05/14/2023
How to save at Family Dollar?
Shopping can be expensive, especially when there is no way to get a discount. Fortunately, if you know what you are doing, it is possible to save a great deal of money with the help of Family Dollar sales ad!
Here you will find helpful tips on how to save your hard-earned cash while shopping at this popular retail destination. We will look at strategies like signing up for emails and taking advantage of coupon codes, plus a few more lesser-known tactics. Reap the rewards of sizable savings today by following these simple steps and learning how to save money effectively.
Family Dollar Digital Coupons
Shopping at Family Dollar with Digital Coupons can help you save a lot of money! By taking advantage of the digital Family Dollar coupons available, customers can stock up on all their favorite items while also keeping their budgets in check. Here are some tips to get the most out of your digital coupon shopping experience:
1. Start by searching for digital coupons online. There are websites and apps specifically for finding and using digital coupons. So, take advantage of these tools to make sure you have access to the best deals. Make sure to read the description for each coupon before using it, as some coupons may have restrictions or expiration dates.
2. Sign up for email alerts from Family Dollar. Many stores offer discounts and coupon codes through their email lists. Thus, sign up and stay informed about upcoming sales and promotions. This way, you will always take advantage of a great deal.
3. Combine multiple coupons when possible. If you have numerous digital coupons from different sources (such as emails, store websites, and apps), see if you can combine them into one transaction. This could result in some significant savings. Make sure that the terms and conditions allow it before proceeding with the purchase.
Overall, shopping at Family Dollar is always more fun when saving money is involved and digital coupons provide just that opportunity. So remember to take advantage of all those fabulous discounts offered through digital coupons.
Deals of the Week
Ever used a Family Dollar weekly ad? It's high time you should -- it's the most effortless way to access the most recent and exclusive discounts and offers! Yes, all the best and newest stuff from Family Dollar, all in one place.
With just a few clicks and scrolls, you can discover hundreds of fascinating deals and thrilling price markdowns. Plus, it only gets better - the ad gets updated every week, with bigger and better shopping bonuses. So make sure to check our weekly ad regularly - it doesn't take much time to browse and you instantly get rewarded with big-buck savings.
Family Dollar BOGO
When you shop at Family Dollar, there are some great ways to save money with BOGO free or "Buy One Get One" promotions. Here are some tips and tricks for getting the most out of these offers:
First, always read the terms and conditions of a BOGO offer before making a purchase. Knowing precisely what items qualify for the promotion and your savings is essential. For example, a store may have a "BOGO 50% Off" promotion, meaning customers can purchase one item and receive another at half price. It's important to note that both items must be equal or more excellent value to qualify for this offer.
Second, make sure you compare prices between different stores and online retailers so that you can get the best deal available. Remember to include any applicable taxes when calculating the total cost of an item. Additionally, take advantage of any special store discounts or loyalty programs that may apply to your purchase when using a BOGO offer.
Finally, check the expiration dates on any promotional offers from the Family Dollar sales flyer. Many stores set expiration dates for their BOGO offers. So, if you don't use them before they expire, you could miss out on some significant savings. Plan ahead and maximize your savings by taking advantage of these time-limited deals before they expire.
By following these tips and tricks, savvy shoppers can take full advantage of BOGOs at Family Dollar and make their hard-earned money go further!
Reward Programs
You can earn while you shop if you are part of the Family Dollar reward program. Membership of this program entitles you to one point if you reach a certain amount of purchase at Family Dollar. Thus, the more you spend, the more points you get. You can save up these points for future splurges! Besides points, you also get access to exclusive and massive promos.
If you want to join the reward program, find the instructions in our Family Dollar sales ad. Membership fee is affordable and worth much less than the savings and deals you can get throughout your membership duration.
Online Exclusive Offers
Online shopping fans, like you, are there for the convenience, variety, and swiftness. But once you get access to online exclusive offers, the deal gets sealed - you won't be doing shopping any other way anymore.
But how do you even find such big offers? Easy - subscribe to Family Dollar weekly circular. It features the biggest sales, discounts, and coupons, all at the tip of your fingers.
Leverage Free Shipping
There's nothing like the frustration of finding the perfect product online with the perfect pricetag, only to be charged with a shipping fee that will rip off your wallet. Well, that's about to change.
With the Family Dollar ad, you can find the best free shipping offers at the palm of your hand. These deals are easy to avail - click on the product or voucher, read the terms and instructions, then shop to your heart's content.
Clearance
Shopping at Family Dollar doesn't have to mean breaking the bank. With the help of their clearance section, you can still buy quality items without succumbing to impulse buys. Clearance items offer a variety of products, from clothing to furniture and appliances, all at hugely discounted prices.
Shopping carefully in this section would ensure you get the best value for your money. Furthermore, don't forget about the Family Dollar sales flyer, which further reduces the prices for a limited time. So if you are looking for ways to save money at Family Dollar, take advantage of their clearance and sales.
Price Matching
When shopping through Family Dollar sales ad, shoppers should take advantage of the store's price-matching policies to save the most money. By showing proof of a lower advertised price on an identical item, customers can have the store match that price and get the best deal possible. It is a good idea to do some research before you buy something. Many websites have reviews that can help you find products with lower prices. With some effort, shoppers can find both quality products and good prices when they shop at Family Dollar and use their price matching policy.
Cashback Program
Want a little something extra after your grand shopping spree? Then hold on to some Family Dollar cashback coupons! Read their terms and conditions so you know when to use them. Each coupon entitles you to get a little something back after every qualified purchase, so you'll end up getting stuff for much less than they should. This impressive deal is quite rare, but when you have access to the Family Dollar coupon database, they're easier to find anytime, anywhere.
Shop at Right Time
If you're making a big purchase this year, here's a hack -- get it on Black Friday! This pseudo-holiday doesn't just mark the beginning of Christmas shopping season, it's also the day when shops set the lowest prices and offer the biggest discounts. Thus, if you want to get something at its cheapest, this would be one of the best days to do so. If the price isn't slashed down, you're sure to get a deal or coupon you can avail. Find all those (and more) through Family Dollar ad previews.
Shopping at Family Dollar
Family Dollar In-store Shopping
This week, shoppers at Family Dollar can get amazing deals on an exciting array of items. We proudly offer weekly ads that feature savings on some of our most popular products. Whether you are looking for snacks, household items, or special treats for the kids, you can always find something new and exciting in our Family Dollar weekly ad this week.
Our knowledgeable staff is here to help make sure you get the best deals available. With Family Dollar, shopping is easy and fun. Whether looking for fresh produce, everyday necessities, or the latest tech gadgets, you will find something suitable. So visit the Family Dollar and start saving today.
Curbside Pickup
If your local Family Dollar did not have a certain item on stock, there's an easy solution to that: curbside pickup. Through this service, customers like you can order a specific object and have it shipped to your local Family Dollar or another convenient location. This is great for those who want to save on shipping fees, or just want to purchase items before setting foot at Family Dollar. To learn more about this offer, check out the Family Dollar flyer - it contains all the info you need; plus, you can check if there are promo offers, too.
Delivery at Family Dollar
These days, whether you did your shopping in-store or online, most shops offer delivery options. Such a service allows you to buy stuff without setting foot at the store or having bulk and large purchases transported to your place without much hassle. Whichever purpose you need it for, you must check first whether your local Family Dollar does offer delivery. If they do, you can the check the Family Dollar weekly ad this week to see if they have delivery vouchers, discounts, and deals. Avail any that are applicable so you can save on the fees!
Online Shopping
When you shop online and take advantage of the Family Dollar weekly ad this week, you take the extra step towards mega saving. In addition, online shopping can help shoppers stay within their budget by providing easy-to-compare prices, which you can do with just a few clicks.
Furthermore, shoppers may have access to exclusive deals and discounts that are only available when they shop online. Websites often run promotional codes or other discounts that allow customers to save even more money while they shop.
Mobile Digital App
Is the Family Dollar app installed on your phone? If it isn't, you should visit your app store and see if it's up for download. Once you got the app up and ready, you should also consider subscribing to Family Dollar ad services, so you won't miss out on big-time sales, deals, discounts, vouchers, and other amazing promos.
About Family Dollar
Family Dollar is an American variety store chain. With over 8,000 locations in all states except Alaska, Hawaii, Oregon and Washington, it is the second largest retailer of its type in the United States. Family Dollar was headquartered in Matthews, a suburb of Charlotte, North Carolina, until it was acquired by Dollar Tree and headquarters operations were moved to Chesapeake, Virginia.
Source
How EveryPayJoy Help you Save?
If you haven't subscribed to EveryPayJoy and its Family Dollar weekly ads, you're missing out on a lot. Subscription allows you to receive the freshest deals and offers, from money-saving vouchers to huge discounts. Most of these are exclusive and limited, so there's a high chance you won't find them on your own or if you did, they might be expired already. To avoid such a waste, bookmark the website and subscribe!
Besides the weekly ads, the EveryPayJoy website also has hundreds of coupons you can use to save money on purchases from various brands. These coupons are easy to use and the database is regularly updated so you always get the latest offers. You can also earmark vouchers if you won't use them yet, but make sure to check expiration date.
Also, the benefits do not end there! EveryPayJoy also features tips and Family Dollar sales flyers. All these provide valuable information you can use to be a better shopper!
Disclaimer: Family Dollar is a registered trademark of Family Dollar and is not affiliated with our company. We are not affiliated with, endorsed by, or connected to Family Dollar. Our use of any trademark belonging to another company is not done with the intent to confuse consumers but is rather incidental in promoting these companies and their coupons.