HEB Weekly Ad (03/22/2023 - 03/28/2023)
Why pay more for groceries and household items when you don't have to? Look no further than HEB ad your one-stop shop for all your shopping needs! With HEB Weekly Ad, you can find out about the current and upcoming offers so that you can plan your shopping trips accordingly. The HEB weekly ad makes it easy to save money while still buying all the things you need.
Now viewing: HEB Weekly Ad Preview 03/22/2023 - 03/28/2023
Scroll mouse wheel to zoom
Page 1 of 4
Browse Deals & Coupons in this HEB Ad
Has your shopping cart been looking more and more sad and bare recently? That'll surely turn around if you use this HEB weekly ad this week. It's a big shopping hack - you get your huge discounts here so you can get more value for your money!
These discounts are for this week only, from 03/22/2023 to 03/28/2023. To find your pick of the deals, use the arrow buttons or press on the "next" button to move through one collection onto another. Products are sorted by collection to make shopping easier (and replicate the feeling of being at the mall or grocery, walking down one organized aisle after another).
The plus and minus buttons on the side are for zooming in and out of HEB ad. Zooming in, you'd see product details, like prices and names, much more clearly. Then, if you zoom out, you can compare the collection items to each other as they sit side-by-side on your screen. Really efficient, right?
While you're at it, you can also save a HEB coupon or two from the database! These coupons entitle you to bigger discounts and savings, so save as much as you can.
This ad gets updated regularly, so if you find nothing that suits you for now, you can always come back next time. Or if want a headstart on the discounts, use the HEB weekly ad previews! These previews feature the craziest deals for the next few weeks, so you're shopping game is ahead of everyone else's.

H-E-B Raw Wild Gulf Peeled Deveined Shrimp
Buy H-E-B Raw Wild Gulf Peeled Deveined Shrimp, 16 oz., 50 - 70 ct. Get 3 items FREE! with coupons in-store or online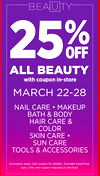 BEAUTY
25% OFF ALL BEAUTY with coupon in-store

H-E-B Wild Caught Swordfish Steaks
SAVE UP TO $6 PER LB.

H-E-B Wild Caught Large Key West Pink Shrimp
SAVE UP TO $1 PER. LB.


Small Ataulfo Mangos
3 for $1.0

Red Pears or EverCrisp Apples
$0.97

Deli Prepackaged or Hot Tamales
Save $3 with H-E-B DigiDeal in-store or online

Hill Country Fare Hickory Smoked Bacon, 12 oz. assorted varieties, or H-E-B Made In Texas Smoked Sausage Ring 13 - 14 oz., original, Polish, mesquite, savory jalapeño or longhorn cheddar
2 for $6.0
Popular HEB Brands
When it comes to finding unbeatable deals, no one beats the HEB circular. With over 9 different brands available, there's something for everyone and every budget. From top-tier names like Tide, Hill Country Fare to lesser-known vendors offering excellent prices, customers can find what they need at great prices.
By taking advantage of the HEB sales flyer, customers can take advantage of top deals from popular brands. That way, shoppers can access all the tremendous offers without breaking the bank.
Moreover, with an ever-changing selection of amazing discounts and deals available regularly, customers can find something new each time they shop with the HEB circular. Whether you are looking for food items or household essentials - chances are you will find what you need at unbeatable prices.
Expired Flyers
HEB Ad 03/15/2023 - 03/21/2023

HEB Ad 03/08/2023 - 03/14/2023

HEB Ad 03/01/2023 - 03/07/2023

HEB Ad 02/22/2023 - 02/28/2023
How to save at HEB?
Heading out? Don't forget to check out (or at least bookmark) this HEB weekly circular. As the most updated collection of promo offers and discount products, you'll find it invaluable for maximizing your shopping trip. You can use it to compare prices with actual mall displays, find coupons you can redeem, learn how to join rewards programs, and other fantastic opportunities you wouldn't want to miss.
HEB Digital Coupons
Did you go a little over your online shopping budget today? Or is there a shipping fee you don't want to pay? Find the answers to your shopping troubles in this treasure trove of vouchers: the HEB coupon database. It is a compilation of hundreds of big-value coupons that entitle you to product deals, store discounts, free shipping, and other money-saving promos.
Browsing the coupons is really easy as they are sorted into organized collections for your convenience. Once you find ones you like, click on them individually to find more details, such as expiration date, and instructions for redeeming. If you don't plan on using them soon, you can also save them instead, but make sure to redeem them before expiry.
HEB Weekly Specials
Looking for HEB weekly specials? Don't look too far as it's right here at the HEB weekly ad. It is a digital promo material that displays all the best deals and discounts right at the screen of your gadget. Thus, there's no need to head out to HEB itself; you can stay in your bed, just browsing and looking for your favorites.
All products are organized by collection and you can zoom in on each one of them; thus, it's more effortless to look for specific items. All the offers are good for this week only, but once those expires, the site will be updated with the newest ad containing the freshest deals.
BOGOs
Saving money at HEB with BOGOs (Buy One Get One) offers is a great way to stretch your dollar further. This promotional offer can save you up to 50% off the regular price of an item if you take advantage of the deal. To get started, look for items at HEB that are marked with a BOGO 50% off label or sticker on the shelf. The deals are usually near the middle of the store. They might be at the end of an aisle or in another area that is easy to see.
When shopping, it is important to read any signs that tell you about the offer. The signs will tell you how many items you need to buy to get another item for free. For instance, if two items have been labeled as "buy one get one free," then you'll need to purchase two of them for the discount.
Additionally, it's always a good idea to double-check any buy-one-get-one promotions at checkout before leaving to ensure you get all applicable discounts and promotions. By using BOGO deals wisely, shoppers can maximize their savings by taking advantage of these wonderful offers available at HEB sales ad.
Reward Programs
Did you know HEB has a reward program? If you didn't, now you do and you should be a part of it. Members of the program are entitlted to the most exclusive deals and earn hundreds of points just by shopping. All these points can be used for future shopping trips, for even bigger savings.
So, what are you wating for? Find the registration details in our HEB sales ad!
Exclusive Online
Online shopping is taking everyone by a storm, and for good reason! It's easy, accessible, and convenient - all good things for people living in a busy world. Besides all those, there are the amazing deals and discounts that gets everyone on a hook. These offers vary per product and brand, from great steals like buy one get one free to splendid markdowns, like 50% off on an item. You can find them all on the HEB weekly circular, so check it out!
Free Shipping
Shopping at HEB is a great way to keep up with the latest trends and find discounted items. However, what if we tell you that the HEB also offers free shipping?
Just sign up for their email list and be on the lookout for free shipping promotions. Additionally, take advantage of special deals using the store's rewards program to get even more significant discounts on select items. If you are looking for an easier way to save at HEB weekly ad, give their free shipping options a try today.
Clearance
Ever shopped during clearance sales? You should - it revolutionizes the way you make purchases. Clearance racks and lineups often hide the cheapest thrills, only accessible to those who are lucky or stay constantly updated through the HEB sales flyer. This flyer has announcements regarding clearance sales, and even sneaks in glimpses of what the rack has to offer. So, be sure to check it out so you won't miss out on the good stuff like everyone else.
Price Match at HEB
Shopping for the best deal can be arduous, often requiring more time and effort than desired. Thankfully, price-matching can easily ensure you get the best value while shopping through the HEB ad.
Offered by many retailers, including HEB, price matching is a great way to guarantee that you don't overpay for your purchase. It usually requires showing proof of a lower price at another store, and HEB will match it. Using price-matching as you shop, you will save substantial amounts just by taking the extra few minutes to ask. With such simple steps towards savings, there is no reason not to take advantage of this terrific money-saving option when shopping at HEB.
Cashback Program
What's a cashback? It's as straightforward as it sounds - you get money or cash back to you after you purchase a certain product. It's a one-of-a-kind deal, just like buy one get one, free shipping, and big discount promos. Like the other offers, you just have to meet the terms and conditions to avail! If you want to know more about it (and discover huge promos), then check out the HEB coupon database. It's got all the info you need (and more!).
Shop at Right Time
Shopping at HEB can be a great opportunity to snag some fantastic deals. One of the best ways to save at HEB weekly ad is to pay attention to the mega sales that happen periodically throughout the year. These sales offer fantastic discounts across all departments, allowing shoppers to save big.
To make sure you don't miss these savings opportunities, simply sign up for the store's email list and follow any pages on social media that they have created. Notifications will come directly to your news feed or inbox whenever a new sale launches so that you can take advantage of it right away. Shopping during one of these sales will help you stock up on essentials while keeping money in your pocket.
Shopping at HEB
HEB In-store Shopping
This week, shoppers at HEB can get amazing deals on an exciting array of items. We proudly offer weekly ads that feature savings on some of our most popular products. Whether you are looking for snacks, household items, or special treats for the kids, you can always find something new and exciting in our HEB weekly ad this week.
Our knowledgeable staff is here to help make sure you get the best deals available. With HEB, shopping is easy and fun. Whether looking for fresh produce, everyday necessities, or the latest tech gadgets, you will find something suitable. So visit the HEB and start saving today.
Curbside Picku at HEB
If you live far from your local HEB, it can be frustrating to go there and find out that the product you need isn't on stock. To avoid such failed shopping trips, here's a simple hack: curbside pickup! Through this service, you can place an order in advance (check the HEB flyer to know how), schedule it for pickup at a time and location nearest to you, and get them when they're ready and convenient for you! In this way, you're sure you get what you need without the risk of wasting transport costs and effort!
Delivery
Shopping from the HEB ad and sales flyer can be even more convenient with delivery options. No longer do shoppers have to worry about fighting traffic and long lines when trying to take advantage of HEB's discounts. This feature makes all the difference for busy families or those who do not have access to vehicles. Instead, shoppers can use delivery services to save time, energy, and money.
Online Shopping
Online shopping has revolutionized the way we shop. Shopping online is convenient and comes with a plethora of benefits. With just a few clicks, you can access the HEB circular from the comfort of your home. Thus, you do not have to make an extra trip to the store.
Shopping online also allows shoppers to compare prices between multiple stores quickly, giving them even more ways to save. Online retailers often offer special sales and exclusive discounts that you won't find in stores.
Mobile Digital App
Have you seen a HEB ad feature the HEB app and wonder if it's worth it? It is - aside from the online shop being one click away, you are entitled to exclusive deals, discounts, and other promo offers. The perks are many, so be sure to check your app store and install it if it's up and available!
About HEB
What originally started as the C.C. Butt Grocery Store is now H.E.B, one of America's biggest food chains and the biggest privately held company in Texas. H.E.B currently has over 300+ store locations in cities across Texas and in Mexico.
Source
How to find HEB sales flyer?
HEB FAQs

How to get HEB Ads Emailed to You?

To get fresh H-E-B ads sent straight to your inbox every week, you can sign up for the newsletter from the HEB website. Follow these three easy steps to get started.

Go to https://www.heb.com/

Scroll down to the bottom of the page where it says "Sign up to receive exclusive email-only savings & updates"

Enter your email address

How long does the HEB Ad last?

The HEB ads are valid for an entire week from their release. The deals and exclusive offers included in the weekly ads vary from week to week so be sure to grab them while they're there!

When does HEB release the new ad?

New ads from HEB are released every Wednesday on a weekly basis.

How to have HEB weekly ad shipped to me

At the moment, HEB does not ship out ads to its customers. However, there are plenty of other ways to see ads from HEB.

Visit the HEB website at https://www.heb.com/

Sign up for the newsletter from the website.

Visit your local HED store

What day does the HEB Ad start and end?

HEB releases a new weekly ad every Wednesday which ends on Tuesday of the following week. If you're the type of shopper who likes to plan days ahead of time, you can visit the HEB website for an HEB weekly ad preview as well.
What are HEB Hours?

In general, most HEB stores open at 08:00 AM and close at 08:00 PM. However, these hours can vary from one store to another. There are stores that open as early as 06:00 AM and some that close as late as 10:00 PM. Weekday hours and weekend hours tend to vary, too. To check your local HEB's business hours, go to https://www.heb.com/store-locations. From there, enter your city/state/zip and choose a store near you.
HEB Locations

San Antonio is home to the HEB headquarters. It is also the city with the biggest HEB store and the most number of HEB locations in Texas. Austin and Houston come next while Katy and Mcallen are the cities with the least number of HEB stores in Texas.
HEB coupons

Couponing at HEB is easy! Use them to get discounted items or freebies in your basket wyb participating items. When buying in-store, you can use free H-E-B yellow coupons and Catalina coupons. If you're ordering groceries from HEB online, you can use digital coupons instead. Either way, your final cost is always going to be lower when you use coupons at HEB.
HEB grocery pickup & delivery

Need to shop, but don't have much time to do it? If you're in Texas, you're in luck! HEB offers both curbside pickup and grocery delivery. Curbside pickup is free for all orders over $35 while orders below $35 will have an additional $2.95 fee (previously $4.95). For grocery delivery orders, a fee of $9.95 is applied on top of your total bill.
HEB gift card

HEB gift cards are reloadable. They're great for personal use and as a gift to someone else as well. To reload your card, visit the nearest HEB and stop by the register. You can also buy an e-gift card and reload them the same way. HEB gift cards can be used for both in-store and online purchases.
HEB bakery

The HEB bakery is a fine combination of country comfort and tasteful elegance. From fresh pies and tortillas for your pantry to cakes for special occasions and even pastries like macarons to elevate a special dinner, they have everything that one could think of.
HEB coffee

On the hunt for good coffee that's affordable and sustainably sourced? HEB's Cafe Ole coffee brand is rich, creamy, and flavorful. It's also made from 100% sustainably sourced Arabica beans. It's definitely on many shoppers' best buy lists considering the quality for the price.
HEB grocery

Whatever it is you need, you'll probably find it at an HEB near you. More than a grocery store, HEB is a one-stop-shop for your usual everyday essentials. From potato chips to effective cleaning products, HEB has you covered. Stop by and shop if you're looking for good quality products at an affordable price.
HEB wine

Texas wine is underrated. If you're looking for something affordable and just as good, if not better, than your favorite fancy wines, go to the nearest HEB. They carry an extensive variety of wines and other alcoholic drinks for the occasional drinker and for enthusiasts as well.
HEB online

Now you don't have to go to the store to shop or check out new deals and offers. Save yourself the time and the hassle of driving to the store to do those things and do them online instead! Visit the HEB website or download the HEB app on your phone to enjoy hassle-free shopping, couponing, and saving!
HEB pharmacy

Indeed, HEB is a one-stop kind of shop. Aside from groceries, pastries, wine, and coffee, they also have an HEB pharmacy. Most stores have an in-store pharmacy that offers various health services. These include prescription refills, vaccinations and immunizations, custom medications, and more.
How EveryPayJoy Help you Save?
EverypayJoy is a great platform for anyone looking to save money on everyday purchases. With exclusive deals and coupons, users can pinpoint the best prices, discounts, and offers. EverypayJoy simplifies the process of finding the best deals and helps users maximize their budget without sacrificing quality.
The platform provides access to HEB sales flyers, HEB weekly ads, and exclusive deals that can be found all in one place. This eliminates the need to go through multiple websites or stores to find what you need at the best prices. The comprehensive range of options available from EverypayJoy ensures that there is something for everyone, whether it be clothing, furniture, or electronics.
Not only does EverypayJoy provide access to great deals and savings, but it also has an easy-to-use search function. You can use this feature to search your favorite stores and find what you are looking for quickly and efficiently.
Overall, using Everypayjoy is easy to save money on everyday purchases while still enjoying quality products at discounted prices. Everypayjoy has a lot of different products from different stores. The design is simple, and the customer service is great, so you are guaranteed to be happy with your purchase!
Disclaimer: HEB is a registered trademark of HEB and is not affiliated with our company. We are not affiliated with, endorsed by, or connected to HEB. Our use of any trademark belonging to another company is not done with the intent to confuse consumers but is rather incidental in promoting these companies and their coupons.