Safeway Weekly Ad (05/03/2023 - 06/06/2023)
Shopping for the week's groceries just got effortless with Safeway's Weekly Ad! Planning is key to ensuring you get the most out of your budget and shopping experience. Check out the current Safeway ad to find top deals and save big on all of your favorite products. Take advantage of this excellent opportunity to plan your meals and shopping list early to take full advantage of all that Safeway has to offer. Not only can you browse the full selection of discounted items, but now you can also get a sneak peek into Safeway weekly ad upcoming specials!
Safeway Ad & Preview
Safeway Ad 06/07/2023 - 06/13/2023

Safeway Ad 06/05/2023 - 07/09/2023

Safeway Ad 06/05/2023 - 07/02/2023

Safeway Ad 06/02/2023 - 06/08/2023

Safeway Ad 06/02/2023 - 06/29/2023

Safeway Ad 05/31/2023 - 06/06/2023

Safeway Ad 05/31/2023 - 06/27/2023

Safeway Ad 05/31/2023 - 06/06/2023

Safeway Ad 05/03/2023 - 06/06/2023
Now viewing: Safeway Weekly Ad Preview 05/03/2023 - 06/06/2023
Scroll mouse wheel to zoom
Page 1 of 23
Click the images below to view other Safeway Weekly Ads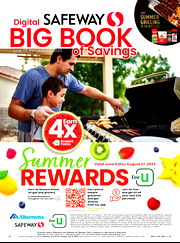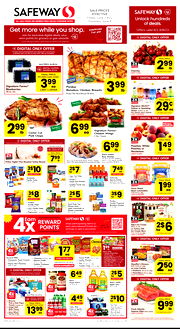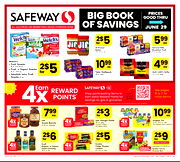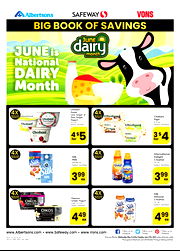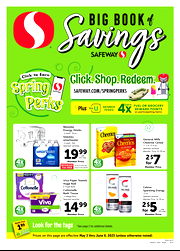 Browse Deals & Coupons in this Safeway Ad
Reading the Safeway ad is straightforward. All you have to do is scroll through the Ad Preview above or click on the other store links to see their weekly ads. With the help of the Safeway weekly ad this week, it is easy to tell whether a product is on sale. You can easily search through multiple categories to find the items of your need.
Additionally, you must know that the ad will start from 05/03/2023 and last till 06/06/2023. This gives you plenty of time to enjoy 14 and keep shopping wisely. Looking through the Safeway ad for next week is prime because plenty of great deals will save you money each week.
You should also keep an eye out for special promotions such as discounts or buy-one-get-one-free offers that will help you stretch your budget even further. Plus, some products may only be available at discounted prices during certain times of the year, which can be found by reading the Safeway ad regularly.
When looking at the Safeway weekly ad this week, read up on any exclusive offers listed at the top of the page. The coupon database can also help you find additional savings, so check out the Safeway coupon section as well.
Finally, keep an eye out for any new products that have been released recently, and take advantage of those deals!

McCormick
Get it for $3.99
Signature SELECT®
Get it for $4.99

Quilted Northern
Get it for $19.99


Open Nature®
Get it for $6.99



McCormick®
Get it for $5.00

Coca-Cola
Get it for $10.00

Popular Safeway Brands
When finding top deals by the Starbucks, customers can easily find great discounts on their favorite products. With the help of the Safeway circular and Safeway sales flyer, customers can quickly identify which brands offer the most deals and discounts. Dynamic parameters such as searchable categories and sorting filters make it easy for customers to sort through all the different brands that Safeway offers.
Currently, there are 12 available in the store's catalog with a vast selection of products. Each brand offers unique deals and discounts; some may offer weekly or even monthly specials, while others have limited-time sales events.
Amongst this array of choices, customers can compare prices between different brands to get the prime value for their budget. This way, they can save even more money when purchasing items from their favorite brands!
Expired Flyers
Safeway Ad 05/26/2023 - 06/01/2023

Safeway Ad 05/24/2023 - 05/30/2023

Safeway Ad 05/24/2023 - 05/30/2023

Safeway Ad 05/24/2023 - 05/30/2023
How to save at Safeway?
Do you find going to the mall or grocery too much of a hassle? With this Safeway weekly circular, you won't anymore because it makes shopping a breeze. It has all the most recent (and even future) deals, discounts, and promos you can use to enjoy your budget to the fullest. Also, all are organized to make browsing easier - a realy money AND time saver.
Coupons at Safeway
Saving money at Safeway with the help of digital coupons is easy and rewarding. To get started, customers need to search for applicable coupons from various sources, such as websites, apps, or emails. Once you find them, you can clip Safeway coupons to the store loyalty card or enter the corresponding code when checking out.
By using these digital coupons, customers can save big on a wide variety of items, such as groceries, beauty products, and home items. In some cases, even higher discounts may be available than what would be available if the customer simply used their store loyalty card alone.
In order to make sure customers don't miss out on any savings opportunities, they should always check online or clip from newspapers before shopping to look for a valid Safeway coupon. Furthermore, it is important to remember to use the coupon when purchasing to take advantage of its discounts.
Overall, digital coupons are an excellent way for customers to save money when shopping at Safeway. With a little bit of research and effort into finding applicable codes, customers can enjoy great deals on items purchased from this renowned store.
Safeway Weekly Specials
Safeway is a great place to shop when trying to save a few extra bucks. One of the best ways to save money is by taking advantage of Safeway's weekly specials and deals. If you are looking for big savings, Safeway offers multiple weekly specials that can be used at checkout. The Safeway weekly circular provides discounts that will help you save dollars on the final bill.
In addition, Safeway's weekly specials offer additional savings on specific items. This section of Safeway's website is updated with promotional codes each week, so be sure to check in often. You won't be able to use the discounts after the expiration date. Thus, a regular checkup is essential. Moreover, double-check the prices to ensure that the store applies deals of the week on your bill.
BOGOs
Saving money on a Safeway ad with the help of Buy One Get One (BOGO) offers is an easy and cost-effective way to stretch your budget. In addition to providing customers with a two-for-one deal, many stores also run promotional BOGO 50% sales on specific items. To maximize savings when taking advantage of a BOGO offer, it is essential to shop strategically and know how to use the promotion to its full potential.
Start by being aware of the store's BOGO policy so you can understand which deals are available and the terms and conditions for each offer. Many stores have restrictions on the types of products that qualify for their BOGOs. Additionally, some retailers limit the number of times you can use a special BOGO deal during a single shopping trip, so keeping track is essential to avoid overspending.
Consider buying non-perishable items like paper towels and canned goods when using a BOGO promotion. Such things tend to be less expensive than fresh produce or other items that may spoil before you use them. If there's a buy one get one free sale on a thing you don't need right away, such as toilet paper or laundry detergent, stock up while the prices are low and save them for later.
Reward Programs
Shopping at Safeway is a great way to save money in more than one way. Their reward program and membership offer customers exclusive discounts, exclusive offers, and special deals. Members can get access to early sales during the holiday season and are eligible for additional discounts when they shop in-store or online.
The rewards program is easy to use. Simply log into your account on Safeway's website or app and enter your payment information. Start earning points for every in-store and online purchase. You can redeem your rewards points when shopping in-store or online by selecting the option to pay with a rewards point balance at checkout.
Signing up for Safeway's membership-based reward program is easy and incredibly rewarding. With exclusive benefits like discounted prices on all purchases and early access to sales before non-members,- it's a no-brainer way to save while shopping at Safeway. Take advantage of this amazing opportunity today and never miss out on the next Safeway ad.
Exclusive Online
Don't have the energy to get out and buy what you need? That's alright - you can still buy stuff without going out or even getting up! With the Safeway online store, you can shop from the convenience of your own bed and Internet. Add to cart all you need and before you check them out, make sure to check out the Safeway weekly circular - it has all the best online deals and biggest discounts you can use to maximize your budget and make savings.
Leverage Free Shipping
Saving money at Safeway is effortless with the help of free shipping. Apart from all the exclusive offers and discounts in the Safeway sales flyer, the one thing that attracts most customers is that they get the package delivered to their homes without paying a single penny.
To get started, customers can sign up for a free membership to gain access to exclusive discounts and promotions. It will help them have their orders shipped for free without any additional cost.
Clearance
Shopping at Safeway doesn't have to blow your budget. In fact, you can save money with the help of their clearance offers. With a little bit of planning and knowledge, shoppers can stay within their budgets while enjoying fantastic deals on Safeway sales flyer.
First, make sure you know when clearance items are offered, as this is often when the best discounts are available. Second, ask customer service associates for any additional discounts or special offers that may help bring down the cost of your purchase. Finally, sign up for Safeway's email list to ensure you stay up-to-date on new clearance offerings. With these tips in mind, shopping at Safeway can become both enjoyable and affordable!
Price Matching
Are you an avid shoppper at Safeway? Then you should subscribe to the Safeway weekly ad! Not only does it help you discover the best deals and discounts, it's also a reliable resource for price matching. Easy to access anytime, anywhere, you can easily compare and contrast prices, or simply just check if your favorite products have taken a cost hike or not. Items are organized into collections, so searching for your items or brands is easy.
Cashback Program
Shopping at Safeway just got even more rewarding. With the help of cashback, customers can now earn money while they shop! To get started, the customer must simply link their store account with a cashback website and shop. It is that easy.
This will add up to savings or loyalty points you can use to access exclusive Safeway deals. As an additional benefit, cashback offers assure shoppers of additional value for every purchase made. With just a few clicks, customers can enjoy substantial savings on all their purchases with the Safeway ad. A win-win for everyone!
Shop at Right Time
If you're making a big purchase this year, here's a hack -- get it on Black Friday! This pseudo-holiday doesn't just mark the beginning of Christmas shopping season, it's also the day when shops set the lowest prices and offer the biggest discounts. Thus, if you want to get something at its cheapest, this would be one of the best days to do so. If the price isn't slashed down, you're sure to get a deal or coupon you can avail. Find all those (and more) through Safeway ad previews.
Shopping at Safeway
In-store Shopping
Is it time to stock on some groceries? Before you make that regular trip to your local Safeway, add this to your routine: bookmark and check the Safeway sales flyer before you leave. This promo material compiles money-saving discounts and deals, so you can make the most out of your budget and save as much as you can. It also tells you until when these promos are good for, and how you can avail them. It is a valuable resource for any pro-shopper, so don't pass on it!
Curbside Pickup
Shopping using curbside pickup is becoming increasingly popular these days due to its convenience, safety, and affordability. With the click of a button, shoppers can find the item they are looking for in the Safeway ad, add it to their cart, pay online and schedule a pickup time.
This saves shoppers time and effort of going into the Safeway. Stores will often attach a sales flyer with orders that include deals exclusive to online shoppers. This is an excellent way for shoppers to get even more value for their purchases by taking advantage of special promotions.
Delivery at Safeway
Shopping from the Safeway ad and sales flyer can be even more convenient with delivery options. No longer do shoppers have to worry about fighting traffic and long lines when trying to take advantage of Safeway's discounts. This feature makes all the difference for busy families or those who do not have access to vehicles. Instead, shoppers can use delivery services to save time, energy, and money.
Online Shopping at Safeway
You can choose fast shipping if you order groceries or other household items online. This means you will not have to wait in line at the store. Overall, online shopping provides an array of benefits for those looking for convenience and savings.
Not only can shoppers find items unavailable locally in the Safeway sales flyer, but they also get access to reviews from other customers. It gives them valuable insight into their buying decisions so they can make an informed decision before purchasing.
Safeway App
Safeway shoppers can take advantage of a wealth of benefits by using Safeway's app. Let's start with convenience, as the app has easy access to the Safeway circular that allows shoppers to browse deals and discounts from anywhere at any time.
With the Safeway app, time-strapped customers have the information they need quickly and efficiently, leaving them more time for leisure activities. What could be better?
About Safeway
Safeway is an American supermarket chain founded in April 1915 in American Falls, Idaho by Marion Barton Skaggs. It is a subsidiary of Albertsons after being acquired by private equity investors led by Cerberus Capital Management in January 2015. Safeway's primary base of operations is in the west with some stores located in the Mid-Atlantic region of the Eastern Seaboard. The subsidiary is headquartered in Pleasanton, California, with its parent company headquartered in Boise, Idaho.
Source
How to find Safeway sales flyer?
Safeway FAQs

How to get Safeway Ads Emailed to You?

There is no option to sign up for the Safeway weekly ad. However, you can sign up for Safeway for U instead. This will get you access to new deals, exclusive rewards, and tons of perks. You'll also be able to earn points and redeem rewards with a Safeway for U account. Learn more about it here: https://www.safeway.com/justforu-guest.html

How long does the Safeway Ad last?

The Safeway ad runs for seven days. They often

When Does Safeway release the new ad?

Safeway's weekly ad release schedule varies from time to time. Most weekly ads are released on Wednesdays or on Fridays. There are times, too, when a new weekly ad is released while another one is currently ongoing so be sure to check back on the Safeway website regularly.

how to have Safeway weekly ad shipped to me

Safeway's weekly ads are sent in the mail randomly. Depending on whether your area is covered by their mailing list, you may or may not receive weekly ads from Safeway in the mail. If you're not in an area that receives Safeway weekly ads, you can still view the ads online or in the store.

What day does the Safeway Ad start and end?

Safeway ads that start on Wednesdays end on Tuesdays of the following week. For ads that start on Friday, all deals and offers included are valid until Thursday of the following week.
What are Safeway Hours?

Safeway hours vary per location. To see what time your local Safeway store opens, go to https://local.safeway.com/search.html and enter your state, city, or ZIP code. Press enter and pick from the list of stores that appear and click on the store name to see its business hours.
Safeway Locations

With over 900+ locations in the US, it's not hard to find a Safeway near you. Safeway operates in 18 states within the US. According to their website, the following are the top 5 states with the most number of Safeway locations:
Safeway coupons

Shopping with coupons is the best way to get the most out of every penny at Safeway. One of the easiest ways to get coupons to use for your Safeway orders/purchases is to sign up for a Safeway for U account. Enjoy deals like bogo, free items, or discounted prices with your Safeway coupons from the Big Book of Savings. You can also mix and match sale items according to your preference.
safeway grocery pickup & delivery

Like most other supermarkets/grocery stores, Safeway also offers curbside pickup and delivery. Enjoy first-time shopper perks when you enter promo code, saving you as much as $20 off and/or free delivery on your first order. Of course, repeat customers can get their groceries delivered or ready for pickup, too, at a very reasonable fee.
safeway bakery

The Safeway bakery is a carb-laden haven for anyone who loves bread, cakes, pastries, and other baked treats. Get everyday snacks or custom cakes for special events here. The Safeway bakery has a good mix of year-round treats and seasonal eats that's sure to make you full and happy.
safeway grocery

Need fresh produce? Ice cream? Other food products? Flowers? Whatever it is, Safeway definitely has a thing or two for you to choose from. With their wide range of product categories to offer, shopping at Safeway is easy and efficient. Buy deals with your coupons and stretch every dollar further. Safeway is every budgetarian's sanctuary.
safeway wine

Aside from food products and everyday household needs, Safeway also has an amazing assortment of wines and spirits. Get top-shelf wines at pocket-friendly prices. Find your favorites, from rich reds like Austin Hope Cabernet Sauvignon to sophisticated whites like the Rombauer Chardonnay, or be adventurous and try something new you've never had before.
safeway online

Get all of your Safeway-related needs sorted in one place by downloading the Safeway App. Order your groceries for pickup or delivery, get coupons, and stay updated on new ads and offers when you check Safeway online through the app. You can also do so by visiting the Safeway website.
safeway pharmacy

The Safeway pharmacy offers a plethora of services, from immunization and vaccination shots, prescription management and refills, and health screenings to specialty care, travel health, and more. You can also get discounts and use coupons at the Safeway pharmacy to make it easier on the pocket to stay on top of your health!
How EveryPayJoy Help you Save?
If you haven't subscribed to EveryPayJoy and its Safeway weekly ads, you're missing out on a lot. Subscription allows you to receive the freshest deals and offers, from money-saving vouchers to huge discounts. Most of these are exclusive and limited, so there's a high chance you won't find them on your own or if you did, they might be expired already. To avoid such a waste, bookmark the website and subscribe!
Besides the weekly ads, the EveryPayJoy website also has hundreds of coupons you can use to save money on purchases from various brands. These coupons are easy to use and the database is regularly updated so you always get the latest offers. You can also earmark vouchers if you won't use them yet, but make sure to check expiration date.
Also, the benefits do not end there! EveryPayJoy also features tips and Safeway sales flyers. All these provide valuable information you can use to be a better shopper!
Disclaimer: Safeway is a registered trademark of Safeway and is not affiliated with our company. We are not affiliated with, endorsed by, or connected to Safeway. Our use of any trademark belonging to another company is not done with the intent to confuse consumers but is rather incidental in promoting these companies and their coupons.