Known for their low prices and budget-friendly deals, ALDI has made its mark in the US territory around the 70s. Today, they have more than 2000 stores and over 25,000 employees across the country. To make grocery shopping easier for its customers, ALDI also offers Grocery Delivery via Instacart and Curbside Grocery Pick-Up.
"Why let others do your groceries when you can do it yourself?" You might ask. There are lots of benefits to having your groceries done and delivered. Considering the current pandemic, one of the biggest and most helpful benefits of using a grocery delivery service like ALDI's is that you get to fill up your pantry like you usually do without going out and possibly exposing yourself to the virus.
Of course, even without a pandemic, grocery delivery services are still quite beneficial, especially for people who are too busy to go to the store themselves. Using a grocery delivery service like ALDI's can save you time, gas, and energy.
Another service that's quickly gaining popularity these days is curbside grocery pick-up. Unlike having your groceries delivered from the store straight to your home, this service still requires you to go to the actual store to get your groceries, but someone has already done the run for you and all you have to do is pick it up at the designated area then bring it straight home. This minimizes your contact with people which, in turn, also minimizes your risk of contracting any disease. Of course, it's a great service to help you save time and energy as well.
---
Table of content
---
1. ALDI free curbside grocery pickup
What is ALDI grocery pickup?
ALDI Curbside Grocery Pickup is a service offered by ALDI that lets customers place their grocery orders online and then, later, pick it up at their ALDI store of choice.
How does ALDI curbside pickup work?
The ALDI Grocery Pickup service is powered by Instacart. This means that, to avail of the service, you would have to sign up for Instacart. Don't worry, signing up is free!
To start, go to Aldi Pickup Page and click on "Start Shopping"
2. Login to your account.
This will take you to the ALDI Powered by Instacart login page where you can either create an account (for new customers) or log in (for existing customers). To create an account, enter your zip code first and click "Start Shopping." Otherwise, you can click on the text that says "Log In" at the bottom.
If ALDI Curbside Pickup is available in your area, you'll see this and you can then proceed to signing up for an account.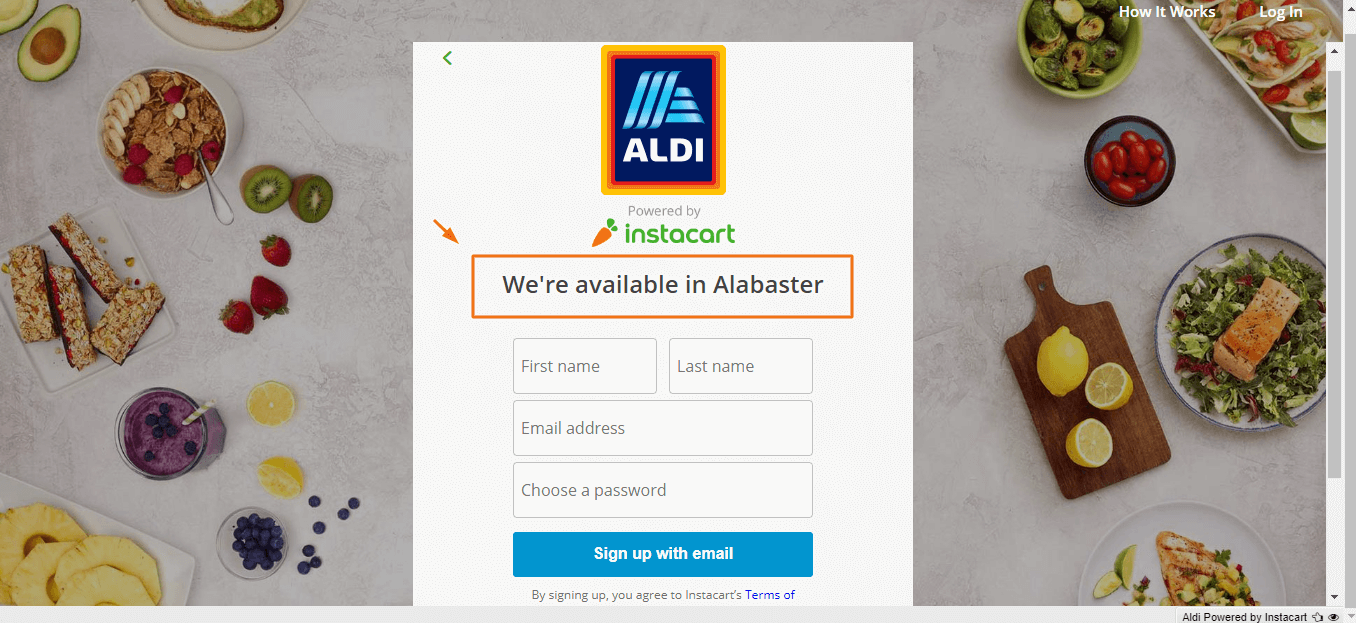 Otherwise, you'll see this. You can still sign up for an account so you can be notified when ALDI Curbside Pickup becomes available in your area.
3. Shop your favorite products
After signing up, you'll be redirected to the ALDI Storefront homepage where you can browse their available items and add them to your cart. Just click on the "+" on the top right section of an item's photo to add it to your cart.
4. Place your order
When you're done, click on "Cart" then click "Go to checkout." Always check if there's a coupon you can apply to your purchase to get bigger savings! You can always check Aldi Coupons on EveryPayJoy.
On the next page, click on "Pickup" and fill out the form with all the necessary information like pickup location, time, your contact details, and your card details for payment.
Once your pickup is scheduled, you'll see this:
Now all you have to do is drive by your ALDI store of choice at your chosen time of pickup.
5. Pull up to the designated spot.
Look for the blue curbside space and follow instructions on signage.
6. Get groceries and enjoy.
An employee will bring your groceries to your car.
Is ALDI grocery pickup free?
If you're an Instacart Express member, ALDI Curbside Grocery Pickup is free. Otherwise, ALDI charges a minimal fee for the service.
Also, free pickup on orders $35+ for first time customers when you use code ALDIGROCERY2020 at checkout.
How much does it cost for curbside pickup at ALDI?
Orders over $35 come with a $1.99 pickup fee. For orders that are less than $35, pickup fees starting at $3.99 apply.
Where is ALDI grocery pickup available?
The ALDI Curbside Grocery Pickup service is available in over 700 stores nationwide. To find out if there is an ALDI store that does curbside pickup in your area, go to ALDI curbside pickup locations and search for your local ALDI store.
Do you tip curbside pickup at ALDI?
Yes, tipping is highly encouraged for your ALDI Instacart shoppers. A default tip of 5% of the total amount of the transaction is recommended, though you can always adjust it on the app to give them a higher tip.
To leave a tip for your shopper, open your Instacart app, click on "View Account," and choose the most recent order then tap "Rate and Tip" and select the tip amount.
---
2. ALDI grocery delivery
What Is ALDI Grocery Delivery?
ALDI Grocery Delivery is another service offered by ALDI to help its customers get their regular grocery shopping done without leaving the house. Just go to the website, place your order, pay for it, and wait for it to be delivered to your doorstep.
How do I order groceries from ALDI for delivery?
To get your groceries from ALDI delivered to your home, the steps you have to take are pretty much the same.
1. go to ALDI grocery delivery page and click on "Start Shopping."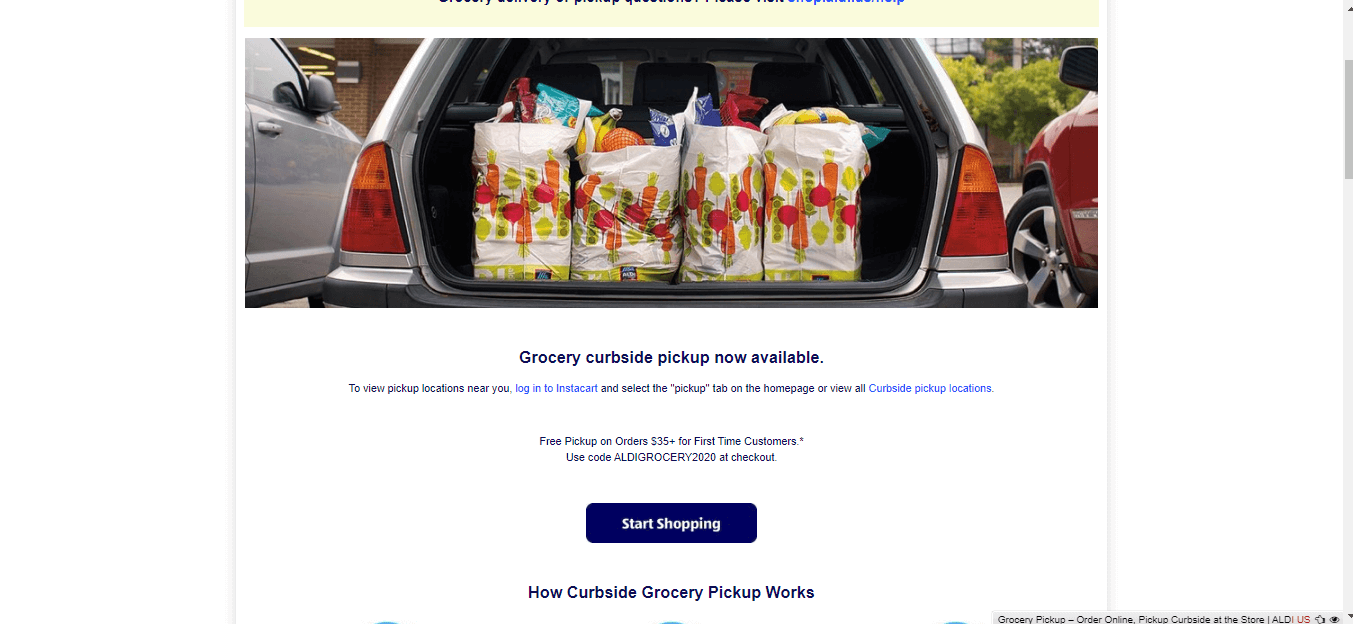 2. Login or create an account.
If you're a returning ALDI Instacart customer, simply log in to your Instacart account on the next page. For new customers, enter your ZIP code to find out if ALDI grocery delivery is available in your area. If it is, you'll see this and you can then proceed to creating an account.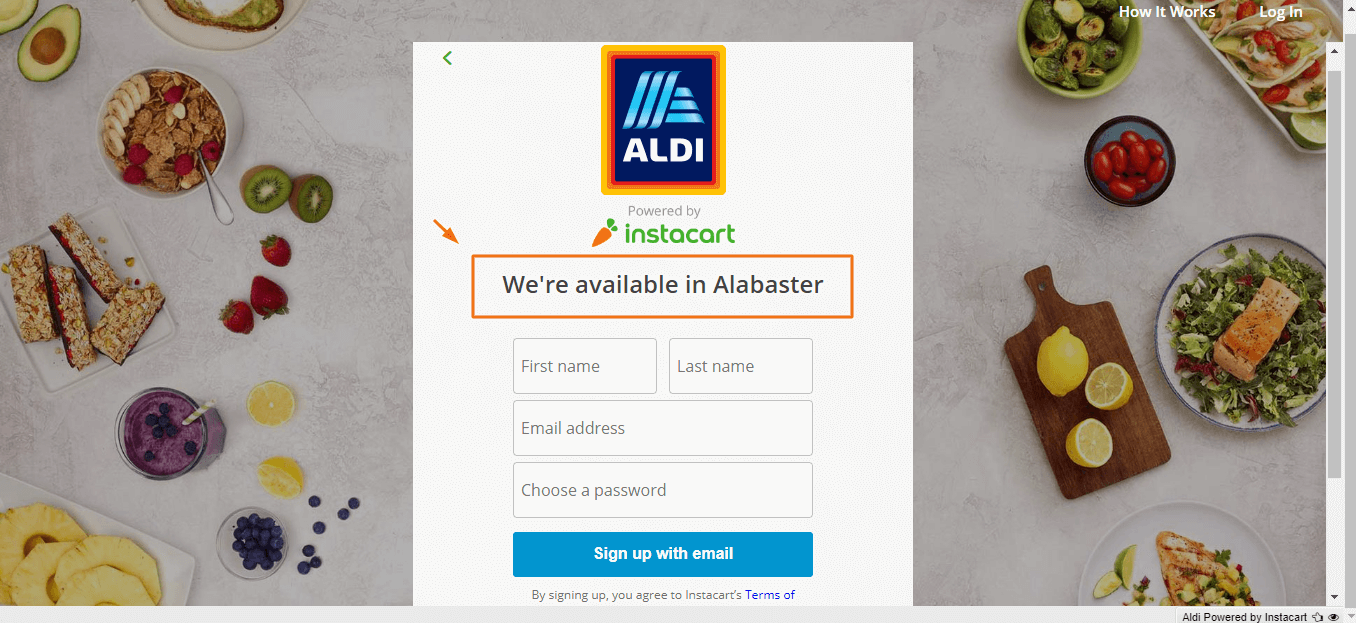 If Aldi Grocery Delivery isn't available in your area, you'll see this. You can still sign up for an account to get notified when the service becomes available in your area.
3. Shop your favorite products.
After signing up, you can start browsing through ALDI's product catalogue for your needs. Click on the "+" on the top right corner of each item's photo to add to your cart.
4. Place your order.
Once you have everything you need added to your cart, you can proceed to check out. Click on the "Cart" icon on the top right corner of your screen then tap on "Go to Checkout." Don't forget to apply your available coupons for bigger savings!
Tap "Delivery" and fill in all the necessary information. You will be asked for the delivery address, delivery time, instructions (if any), your contact details, and your payment info.
Delivery date and time options will be shown. There is a "Fast & Flexible" option which is basically the "as soon as possible" option. This immediately forwards your order to the next available shopper so it's perfect for those who are already home anyway and can receive the order as soon as the shopper is done shopping. If you'd like to schedule your delivery for another time, choose the time and date that's most convenient for you instead.
If none of the available schedules work for you, you can check the "Leave at my door if I'm not around" option under "Delivery Instructions."
Once you're done filling everything up, you'll see a confirmation on your screen that your order has been received. You'll also be notified, via text, when your Instacart shopper has started shopping.
5. Wait for the delivery.
Any updates on the necessary changes that might need to be made on your cart (out of stock items, etc.) as well as updates on your shopper's progress will be sent to you via SMS.
How much does ALDI charge to deliver groceries?
The delivery fee for ALDI Grocery Delivery is free for first-time customers and for orders above $35. For orders below $35, a delivery fee of $5.99 applies. If you're thinking of having your groceries delivered regularly, you might as well sign up for Instacart Express. For $14.99/month or $149/year, you can have your groceries from ALDI and other stores delivered to your home by Instacart free of charge.
In comparison, Walmart typically charges $7.95 to $9.95 per order for grocery deliveries. They do have Delivery Unlimited which is very similar to Instacart Express which gives you free delivery on all your groceries for $12.95/month or $98/year. However, Unlimited Delivery only applies to Walmart grocery deliveries.
A similar service from Amazon called Amazon Fresh offers free delivery on orders over $35 in select areas and free delivery on orders over $50 everywhere else. Amazon Fresh is free with Amazon Prime (Amazon Prime Video members not qualified) by invitation only.
Is ALDI grocery delivery free?
For first-time customers and orders over $35, ALDI grocery delivery is free. Orders under $35 come with a $5.99 delivery fee.
Do you tip delivery driver at ALDI?
Yes. Tipping is always encouraged and Instacart suggests a $2 minimum tip or 5% for every grocery delivery transaction, whichever is higher.
If you'd like to tip higher, just click on "Change" to change the tip amount.
Where is ALDI grocery delivery available?
According to their website, 95% of their 2,000 stores nationwide offer the grocery delivery service. To check if ALDI grocery delivery is available in your area, go to shop.aldi.us and enter your ZIP code.
Alternatively, you could go to their homepage and click on "Find A Store."
Enter your ZIP code to see a list of stores in your area and look for the Delivery and Curbside icons from the store of your choice.
Pros & Cons of ALDI Grocery Delivery
Still not sure this is something you'd benefit from? Check out this list of pros and cons for ALDI Grocery Delivery to help you make a better and more informed decision.
PROS:
Saves you time – shop on your phone or from your computer wherever you are and have your groceries delivered to your home. You can do other things while waiting for your groceries to arrive which is can be really helpful if you're pressed for time.
Saves you energy – too tired to walk around the store to get what you need? Go ahead and sit back on that recliner, put your feet up, and do your grocery run without lifting a finger (you do have to swipe and tap, though). Not to mention, you wouldn't have to stand in line for who knows how long and wait as another customer's card gets declined over and over again and the cashier panics, not knowing what to do. Getting a full month's worth of groceries? Say goodbye to the hassle of lugging a heavy cart around, transferring heavy bags from the cart to your trunk, and making multiple trips from the car to your kitchen as you unload the bags, too!
Saves you gas – gas can be pretty expensive these days and being able to do your grocery without driving to the store and back can really help you save gas.
Saves you from overspending – you know how, when you do your groceries, you come in for just a few things and you come out with a mile-long receipt of things that you don't really need because you got carried away by the huge "Sale" sign or the cute packaging? Sometimes, you'd even forget a thing or two from the list of actual things you need. With online grocery delivery, you can save yourself from that and from overspending because you're less likely to get distracted. In most shops like ALDI, you'd even see the total amount of the items in your cart as you go which is a great way to check if everything is still within budget.
Saves you from being exposed to different kinds of illnesses – whether you're immunocompromised or you just want to stay home to ensure your safety, having your groceries delivered to your home is a great way to reduce your exposure to any illnesses.
CONS:
You can't be picky with the items in your cart – dented cans, old and damaged packaging, near-expiry goods — these are just some of the things that you'd usually avoid when shopping in the store yourself but when you're having your grocery run done by another person, these things may find their way into your cart. This is especially challenging when you're shopping for fresh produce.
Prices may be a bit higher – aside from the delivery fee, shopper's fee, and convenience fee (not all stores charge for this), you might also notice that online store prices are a bit higher compared to the in-store prices.
Some things might be out-of-stock – if you're the meal-planning type, not having an item or two from your list delivered to you could mean re-working your whole menu. While you do get refunded for items that are out-of-stock, the hassle of having to buy it from another store or thinking of something else to cook can be quite frustrating.
You won't be able to check the label – if anyone in your household has special diet restrictions, online grocery shopping can be a challenge. Not being able to hold the products in your hands means not being able to see all the ingredients so you'd either have to skip it or google it.
---
Saving Tips
Can I use a coupon with ALDI curbside pickup and grocery delivery?
ALDI publishes weekly ads on its website where you can check out weekly deals on food, toys, clothes, and more. To see their weekly ads, just go to ALDI weekly ad page.
Aside from the in-app coupons that are readily available for you to use before checkout, you can also go to ALDI coupons and click on "ALDI" to see all available coupons.
Does ALDI mark up grocery prices for online pickup / delivery orders?
You might notice a small difference in price on some of the items you'll find on Instacart when compared in-store at ALDI. While there are some items that are priced the same, others came with a markup of 3% to 5%.
How to Choose Between Grocery Pickup or Delivery
Grocery delivery services are perfect for people who don't have the time, energy, or capacity to drive to the store to get their grocery run done. This service allows you to do your groceries without ever having to leave your home. It's also especially beneficial for immunocompromised people as it eliminates the need to face people since you can just instruct your delivery driver to leave the groceries at your door and you can collect it after they leave.
Curbside pickup, on the other hand, is best for people who leave home to work anyway but don't have the time, energy, or capacity to walk through the store to look for the things that they need. It's a time-saving service that allows you to have someone else do your grocery run so you can just come and collect it at the designated pickup area after work and before you head home.
Can I pay with cash for ALDI grocery pickup and delivery?
Unfortunately, as of the moment, Instacart for ALDI only accepts debit cards, credit cards, contactless payments via Apple Pay and Google Pay, and EBT SNAP. You can, however, tip your driver with cash.
---
Sources