ALDI Coupons, Deals & Promo Codes
Reading the ALDI ad is straightforward. All you have to do is scroll through the Ad Preview above or click on the other store links to see their weekly ads. With the help of the ALDI weekly ad this week, it is easy to tell whether a product is on sale. You can easily search through multiple categories to find the items of your need.
Additionally, you must know that the ad will start from 06/04/2023 and last till 06/10/2023. This gives you plenty of time to enjoy 20 and keep shopping wisely. Looking through the ALDI ad for next week is prime because plenty of great deals will save you money each week.
You should also keep an eye out for special promotions such as discounts or buy-one-get-one-free offers that will help you stretch your budget even further. Plus, some products may only be available at discounted prices during certain times of the year, which can be found by reading the ALDI ad regularly.
When looking at the ALDI weekly ad this week, read up on any exclusive offers listed at the top of the page. The coupon database can also help you find additional savings, so check out the ALDI coupon section as well.
Finally, keep an eye out for any new products that have been released recently, and take advantage of those deals!

Today's Kitchen Fresh Bacon Cheddar Patties
$7.49

Fresh Texas Style BBQ Rub Brisket
$5.49


Fresh Orange Ginger Atlantic Salmon on a Cedar Plank
$10.99






ALDI Small Recycled Eco Friendly Bag
$0.99


WowWee Pop 2 Play Lemonade Stand
$29.99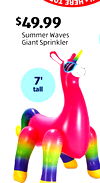 Summer Waves Giant Sprinkler
$49.99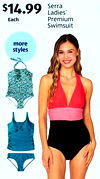 ALDI Deals by Brands
Whether looking for household items or groceries, you can find something unique with the specially curated offers in the ALDI circular. With top deals from 12 brands and unbeatable prices, customers can trust that they will get quality products without breaking the bank.
Check out ALDI sales flyer today and start planning your next shopping trip! With such an extensive catalog, including some famous names like Huntington Home, Park Street Deli, Simply Nature, RANGE MASTER, you will find all the finest deals in no time.
The ALDI sales flyer also offers discounts on specific categories, such as clothing and electronics, so shoppers can find great bargains in whatever department they're looking for. Whether searching for quality kitchenware or fashion accessories, you won't have to worry about spending too much when shopping with the ALDI.
ALDI Weekly Ad & Preview
Wondering where to find the craziest markdowns? Only right here, with ALDI weekly ad! It takes only a few clicks and scrolls to score the most budget-friendly offers on your screen.
But you know what's crazier? You can also find future whopping bargains with ALDI ad previews! It's a limited sneak peek, so grab the chance while it's hot!
How to save at ALDI?
Do you have trouble staying updated with the most recent promo offers from ALDI? With the ALDI weekly circular, you won't have that problem anymore. It's frequently updated so only the best and newest cheap thrills are featured. Besides amazing slashed-down products, the circular also helps you get access to vouchers, buy one get one deals, weekly specials, and other big-value deals.
Coupons at ALDI
Running out of coupons to use? Get a refill at ALDI coupon database. It is the largest digital collection of vouchers that entitle you to the biggest discounts, most amazing deals, and other fantastic promos. Some of these coupons are even exclusive only to this database, so make sure to subscribe.
Moreover, taking advantage of this coupon database is easy. Just browse through the collections, click on the ones you like, and read the provided terms, conditions, and instructions for saving and redeeming. Once done, use the coupons as you like and make sure to visit the database regularly; it gets updated frequently, so you can get a headstart on the most recent offers.
Deals of the Week
Saving money with the help of ALDI weekly circular is easy, convenient, and rewarding. Here are some tips to help you maximize your savings:
Firstly, check out the ALDI weekly ad. In it, you will find all the great deals they have going on for that particular week. Some of these deals may include discounts on certain items, including personal care and household products, frozen goods, dairy, beverages, and more.
Secondly, keep an eye out for timely weekly promotions and sales. This could mean special discounts on bulk items or buy-one-get-one-free offers that can save you a lot of money in the long run.
By using these strategies combined with the regular weekly specials and deals offered by ALDI, you can easily save a substantial amount of money each time you shop there.
BOGOs
Need to get more of one thing? Then take advantage of ALDI BOGO or buy one get one deals! The offer varies per item; for instance, a BOGO 10% deal entitles you to 10% off on the 2nd item. The best of them all is the BOGO free, which allows you to get the 2nd item 100% off - such a steal, right?
To be updated on the most recent BOGO offers, regularly check out our ALDI sales flyer. It features the most recent and exclusive deals and discounts, from BOGO promos to massive discounts.
Membership Program
You can earn while you shop if you are part of the ALDI reward program. Membership of this program entitles you to one point if you reach a certain amount of purchase at ALDI. Thus, the more you spend, the more points you get. You can save up these points for future splurges! Besides points, you also get access to exclusive and massive promos.
If you want to join the reward program, find the instructions in our ALDI sales ad. Membership fee is affordable and worth much less than the savings and deals you can get throughout your membership duration.
Exclusive Online
Ever wondered why everyone's transitioning to online shopping? That's because of the huge deals and discounts! With online shops, not only do you save on transport and physical effort, product prices are cheaper, too, especially when you use and stay updated on the ALDI weekly circular! This digital resource features the most recent promos you can use to make big savings on big purchases.
Free Shipping
Here's a sound online shopping advice you can follow - don't check out anything without making sure you aren't missing any discounts or free shipping deals! After all, you wouldn't want to pass on the chance to save money, right?
To find those free shipping offers, use the ALDI ad. You can flip through it anytime, anywhere to find fantastic promos you can use to waive online shipping charges or slash down prices.
Clearance
Ever shopped during clearance sales? You should - it revolutionizes the way you make purchases. Clearance racks and lineups often hide the cheapest thrills, only accessible to those who are lucky or stay constantly updated through the ALDI sales flyer. This flyer has announcements regarding clearance sales, and even sneaks in glimpses of what the rack has to offer. So, be sure to check it out so you won't miss out on the good stuff like everyone else.
Price Match at ALDI
Price Matching is a great way to save money while shopping at ALDI. It allows customers to compare prices and get the lowest cost for the same items they want. Here's how it works:
Before you shop, do some research and take note of which stores have lower prices for the products you're interested in buying. Ensure these prices are still active when you are ready to purchase.
Price matching isn't limited to just one item. By taking advantage of Price Match policies, customers can save time and money by receiving guaranteed low prices on their purchases from ALDI sales flyer.
Cashback reward program
Shopping through the ALDI weekly ad can be an even more rewarding experience, thanks to Cash Back. Cash Back allows shoppers to receive a percentage of their total purchase price back after checkout. This extra cash can really add up over time, and best of all, it is completely free and easy to use.
All customers need to do is log in at the store website and activate their Cash Back account. Special offers also appear periodically for extra savings opportunities. With Cash Back, shoppers can save even more money on their favorite items at ALDI.
Shop at Right Time
Weekly deals are amazing but special, holiday deals are MUCH, MUCH better because the discounts are bigger, the deals are hotter, and the offers are plentier. Thus, knowing when to shop at the right time is crucial - you make the most of your money and you get the most savings, points, or cashbacks.
Subscribing to ALDI ad previews allows you to be updated and get glimpses of these big holiday sales, like black friday or back-to-school. They're just as easy to use as weekly ads or flyers - course through collections, earmark your favorites, and be ready to secure them on the day.
Shopping at ALDI
In-store Shopping
In-store shopping can be an advantageous experience during busy times of the year, such as holidays and seasonal sales. Many shoppers find that in-store shopping helps them make informed decisions when purchasing items. Additionally, shoppers can benefit from reading the ALDI circular to find the best deals for each item.
Reading store circulars can help you figure out which stores have sales on certain products. You can also find out what products are being offered at a discount from one store to another. Shoppers can stretch their dollar even further by taking advantage of store circulars!
Curbside Pickup
Did you know many stores, including your local ALDI, provide curbside pickup? It's a service that allows you to order items in advance, and you can schedule the pickup at your preferred time and location. It's convenient, and much more affordable than door-to-door deliveries. You can even make it cheaper through promos and deals, which you can find on the ALDI flyer! The flyer is regularly updated, so check it out for more promos and info on curbside pickup services.
Delivery at ALDI
With the advent of delivery services, shopping has been reduced to three simple steps: order, pay, and wait. Yes, if your local ALDI offers a delivery service, you won't have to go through the hassle of dragging numerous packages or large items from the store to your home. You can call, ask in person, or search online to check if your local ALDI offers such a perk. It usually comes at an extra cost, but if you find vouchers through the ALDI weekly ad this week, you can make it much more affordable.
Online Shopping at ALDI
You can choose fast shipping if you order groceries or other household items online. This means you will not have to wait in line at the store. Overall, online shopping provides an array of benefits for those looking for convenience and savings.
Not only can shoppers find items unavailable locally in the ALDI sales flyer, but they also get access to reviews from other customers. It gives them valuable insight into their buying decisions so they can make an informed decision before purchasing.
ALDI App
ALDI app is a great way for shoppers to save money and time. By enabling customers to sign up, the ALDI circular offers exclusive discounts, notifications about in-store events, and early access to sales. Shopping at ALDI can be made easier as ALDI app provides users with product information, nutritional info, helpful recipes, personalized shopping lists, and more. With the ALDI app, shoppers will feel prepared and informed while browsing the products.
How EveryPayJoy Help you Save?
Everypayjoy is a great platform for those who want to save money when they go shopping. The website has everything from coupons to ALDI weekly ads, making it a one-stop shop for savings. You don't have to be a frequent shopper to see the value of using Everypayjoy, as it provides both immediate and long-term savings opportunities.
Everypayjoy helps you save money through its array of deals and coupon promotions. With access to the ALDI sales flyer and ALDI weekly ads, shoppers can easily find discounts on their favorite items. Plus, these savings are offered at all times, no matter what time of year or season it is. This makes Everypayjoy an excellent choice for anyone looking to save money on their shopping trips.
Another way that Everypayjoy helps you save is by providing access to exclusive offers that may not be available elsewhere. These special promotions can provide big savings on items like groceries and clothing and other items such as electronics and home goods.
In addition, subscribing to the Everypayjoy website provides shoppers regular notifications about upcoming store sales flyers and weekly ads. That's why subscribing to Everypayjoy is such a great idea if you're looking for ways to save money while shopping at your favorite stores.
Disclaimer: ALDI is a registered trademark of ALDI and is not affiliated with our company. We are not affiliated with, endorsed by, or connected to ALDI. Our use of any trademark belonging to another company is not done with the intent to confuse consumers but is rather incidental in promoting these companies and their coupons.