Pavilions Weekly Ad (03/22/2023 - 03/28/2023)
Shopping for the week's groceries just got effortless with Pavilions's Weekly Ad! Planning is key to ensuring you get the most out of your budget and shopping experience. Check out the current Pavilions ad to find top deals and save big on all of your favorite products. Take advantage of this excellent opportunity to plan your meals and shopping list early to take full advantage of all that Pavilions has to offer. Not only can you browse the full selection of discounted items, but now you can also get a sneak peek into Pavilions weekly ad upcoming specials!
Pavilions Ad & Preview
Pavilions Ad 03/22/2023 - 03/28/2023

Pavilions Ad 03/22/2023 - 04/18/2023

Pavilions Ad 03/08/2023 - 03/28/2023
Now viewing: Pavilions Weekly Ad Preview 03/22/2023 - 03/28/2023
Scroll mouse wheel to zoom
Page 1 of 6
Click the images below to view other Pavilions Weekly Ads
Pavilions Ad
03/22 - 03/28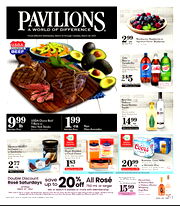 Pavilions Ad
03/22 - 04/18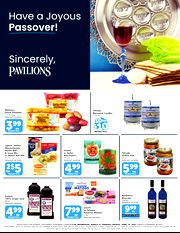 Pavilions Ad
03/08 - 03/28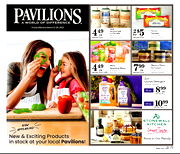 Browse Deals & Coupons in this Pavilions Ad
Find everything you need using the Pavilions weekly ad for this week. It contains 22 amazing deals, exclusive for 03/22/2023 to 03/28/2023 only. So don't miss out on such limited gimmicks!
To view these offers, click, scroll, and zoom in on the Pavilions ad. Clicking on the arrows or "next" button lets you browse through different collections, like grocery products, household appliances, school stuff, and fashion items. Such brilliant organization lets you find your necessities much faster! Meanwhile, scrolling allows you to zoom in, so you get a better view of the item, product details, and incredible markdowns.
You can also save a Pavilions coupon from the database! These coupons may be for a limited time only, so click on your screen to get a list of coupon details, which includes expiry dates and instructions for redeeming. They're a great shopping hack that lets you get more value for your money.
All these deals and coupons aren't just for this week too! Keep visiting to find more exclusive Pavilions weekly ads and Pavilions ad previews. The Pavilions ad previews gives you a glimpse of future promos, so you'd have a headstart with your shopping spree plans!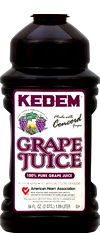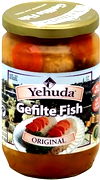 Streit's or Yehuda Passover Matzos
$7.99

Streit's or Gefen Macaroons
$4.99

Lipton, Streit's Manischewitz Matzo Ball & Soup Mix or Matzo Ball Mix
2 for $5.0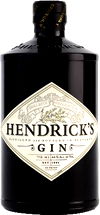 Hendrick's Gin or Nosotros Blanco Tequila
$29.99

White Claw Vodka or Four Roses Straight Bourbon
$16.99

Smirnoff Vodka 1.75 ltr. or Truly Vodka Seltzer Variety Pack 8 pack, 12 oz. cans
$15.99
Popular Pavilions Brands
When it comes to finding unbeatable deals, no one beats the Pavilions circular. With over 12 different brands available, there's something for everyone and every budget. From top-tier names like Zum to lesser-known vendors offering excellent prices, customers can find what they need at great prices.
By taking advantage of the Pavilions sales flyer, customers can take advantage of top deals from popular brands. That way, shoppers can access all the tremendous offers without breaking the bank.
Moreover, with an ever-changing selection of amazing discounts and deals available regularly, customers can find something new each time they shop with the Pavilions circular. Whether you are looking for food items or household essentials - chances are you will find what you need at unbeatable prices.
Expired Flyers
Pavilions Ad 03/15/2023 - 03/21/2023

Pavilions Ad 03/08/2023 - 03/14/2023

Pavilions Ad 03/01/2023 - 03/07/2023

Pavilions Ad 02/22/2023 - 02/28/2023
How to save at Pavilions?
Are you tired of spending a fortune every time you shop at Pavilions? If so, it is time to learn some tricks that can help you save. With the right approach, you can ensure that your shopping experience at Pavilions doesn't put a significant dent in your budget. You can find multiple ways to save money in the Pavilions sales ad. Read on, and discover the innovative strategies to get the most bang for your buck!
Coupons at Pavilions
Saving money at Pavilions with the help of digital coupons is easy and rewarding. To get started, customers need to search for applicable coupons from various sources, such as websites, apps, or emails. Once you find them, you can clip Pavilions coupons to the store loyalty card or enter the corresponding code when checking out.
By using these digital coupons, customers can save big on a wide variety of items, such as groceries, beauty products, and home items. In some cases, even higher discounts may be available than what would be available if the customer simply used their store loyalty card alone.
In order to make sure customers don't miss out on any savings opportunities, they should always check online or clip from newspapers before shopping to look for a valid Pavilions coupon. Furthermore, it is important to remember to use the coupon when purchasing to take advantage of its discounts.
Overall, digital coupons are an excellent way for customers to save money when shopping at Pavilions. With a little bit of research and effort into finding applicable codes, customers can enjoy great deals on items purchased from this renowned store.
Deals of the Week
Weekly shopping doesn't have to rip off your wallet. With a great budget and tons of deals, it can be an enjoyable, money-saving trip. Care to know how? It's easy - just use the Pavilions weekly ad.
The weekly ad is a digital catalog of all the best offers exclusive for this week only. They are all sorted by collection, for your easy perusal. If you find the details too small, just zoom in with your scroller.
Once you've exhausted all of this week's sales, it isn't the end of it all. The ad gets updated EVERY WEEK, so make sure you visit it frequently to stay updated.
BOGOs
Saving at Pavilions with the help of BOGO free can be a great way to stretch your budget! To ensure you get the most out of every BOGO promotion, start by understanding the terms and conditions. Many promotions may have limits on items eligible for the discount or restrictions on how many discounts can be used in one purchase. Read all details carefully and make sure you understand them before taking advantage of savings opportunities.
It is also important to compare prices between stores to determine who has the best deal on items that qualify for BOGO 50% off. Shopping around can save money and allow you to find items on which you can get extra savings with the Pavilions ad.
When a BOGO offer is available, it's smart to stock up on items that don't expire quickly or something you know you will use up for certain. This way, you won't need to worry about wasting any food or other item due to an expiration date before you have time to use it up.
The additional discounts are great ways of saving even more money with each purchase so combine them with BOGOs wherever possible for even more significant savings.
Reward Programs
Shopping at Pavilions is a great way to save money in more than one way. Their reward program and membership offer customers exclusive discounts, exclusive offers, and special deals. Members can get access to early sales during the holiday season and are eligible for additional discounts when they shop in-store or online.
The rewards program is easy to use. Simply log into your account on Pavilions's website or app and enter your payment information. Start earning points for every in-store and online purchase. You can redeem your rewards points when shopping in-store or online by selecting the option to pay with a rewards point balance at checkout.
Signing up for Pavilions's membership-based reward program is easy and incredibly rewarding. With exclusive benefits like discounted prices on all purchases and early access to sales before non-members,- it's a no-brainer way to save while shopping at Pavilions. Take advantage of this amazing opportunity today and never miss out on the next Pavilions ad.
Exclusive Online
Thanks to their great online exclusive offers, shopping with the Pavilions weekly ad doesn't have to break the bank. With a few savvy tips, you can save big on your next purchase. Use the store website to browse their different promotions and sales, some of which are exclusive online.
Look for special discounts or clearance items only available online and save even more. Also, consider signing up for their email newsletter to access the latest promotions easily. Shopping with Pavilions is made more accessible and affordable when you take advantage of their exclusive online offers!
Leverage Free Shipping
If there's one con to online shopping, it's the expensive shipping fees. Sometimes, what you're buying is even much cheaper than the cost of having it delivered! But if you start buying from Pavilions, you'll find that you can have your item shipped for free!
That's because the Pavilions ad also features items or vouchers with attached free shipping deals. Most of them are for a limited time only, so enjoy them while you can!
Find Clearance Items
Consider stocking up on certain items when they are specially discounted, as long as you have room in your pantry or freezer. Shopping at Pavilions doesn't have to be expensive. Taking advantage of their clearance offers is an excellent way to save money and still get quality merchandise. Clearance items are constantly changing, so make sure to keep an eye out for new products that come in.
It is also important to inspect the product closely before purchase. Be sure it is not damaged and all pieces are included before bringing it home. Use the clearance offers combined with store coupons or loyalty programs to maximize savings. A little bit of research and extra effort can pay off big time!
Price Matching
Shopping for sometimes expensive items can be daunting, especially if you don't want to pay the full price due to limited funds. Price matching is a great tool that shoppers at Pavilions can use to save money while buying their desired items. Nearly every major retailer offers price matching, and Pavilions is no exception.
Simply by showing proof of the lowest price on an item elsewhere, customers can get a discounted rate for the same item at Pavilions. So why not take advantage of this fantastic deal in the Pavilions weekly ad and find everything you need while saving money?
Cashback Program
Shopping at Pavilions just got even more rewarding. With the help of cashback, customers can now earn money while they shop! To get started, the customer must simply link their store account with a cashback website and shop. It is that easy.
This will add up to savings or loyalty points you can use to access exclusive Pavilions deals. As an additional benefit, cashback offers assure shoppers of additional value for every purchase made. With just a few clicks, customers can enjoy substantial savings on all their purchases with the Pavilions ad. A win-win for everyone!
Shop at Right Time
If you're making a big purchase this year, here's a hack -- get it on Black Friday! This pseudo-holiday doesn't just mark the beginning of Christmas shopping season, it's also the day when shops set the lowest prices and offer the biggest discounts. Thus, if you want to get something at its cheapest, this would be one of the best days to do so. If the price isn't slashed down, you're sure to get a deal or coupon you can avail. Find all those (and more) through Pavilions ad previews.
Shopping at Pavilions
In-store Shopping
Shopping in-store can be a great way to save money. Stores often feature extended discounts with their ads, and the Pavilions weekly ad this week is no exception! Taking advantage of these sales can help savvy shoppers keep their budgets under control while still buying the items they need and want.
Shopping in-store allows customers to browse the products they are considering. Furthermore, they can make more informed and balanced choices than could be made by ordering online. Additionally, in-store shopping is ideal for those who hate the time an online order requires for delivery.
Curbside Pickup
Shopping can be challenging now with crowded Pavilions aisles and limited hours. Fortunately, Pavilions offers curbside pickup to help shoppers get what they need without risking their health. With just a few clicks on Pavilions ad, customers can select the items they want and choose a pickup time at checkout. From there, Pavilions will take care of the rest. Shoppers can drive up and have all their items brought out and dropped off at their car without requiring contact. This way, you can spend less time in the Pavilions, saving both time and money.
Delivery
Shopping from the convenience of the home has always been a piece of cake with the Pavilions ad and fast delivery. Benefiting from these services can give shoppers access to an abundance of products, more options and better deals. Delivery services eliminate the time wasted visiting multiple stores to search for a perfect product for the desired need.
Shopping with Pavilions ads and delivery is all about getting what you need without compromising exactly when you want it. With quick delivery and excellent products, shopping has just gotten so much better!
Online Shopping
If you don't have the energy to get out of your bed and drive to your local Pavilions, that's alright. With the Internet up and running, there's no need for you to get out of your home to do some shopping. Instead, open the Pavilions circular, see if they have an online shop, and start adding items to your cart! Browse through the collections like you're going through store aisles! Once you have everything you need, click check out!
Pavilions App
Have the whole Pavilions within your reach when you install the Pavilions app! Visit your app store to see if it's up for download, and if it is, have it installed immediately! If it's not yet ready, you can also subscribe to the Pavilions ad so you're easily updated of the app's release in your area.
About Pavilions
Source
How EveryPayJoy Help you Save?
Want to find the weekly ads, deals, discounts, coupons, and sales flyers of ALL stores in ONE place? Sounds impossible but a website for that is up and running already. Check out open-access website called EveryPayJoy - it has all the promos you need, such as the Pavilions weekly ads, Pavilions sales flyers, brand coupons, and more. You don't even have to pay or get a subscription!
However, if you want to be notified of the latest deals, you can provide your email. Soon enough, you'll regularly receive news and updates regarding promos from various stores, especially your favorite ones. You'll also know when, where, and how to get those deals. Use those info wisely, and you'd enjoy shopping more and stick to budget better.
If that isn't enough, you can also visit the site's coupon database. Everything is sorted by brand, so if you were planning to make a big purchase at a certain store, check first if they have a coupon or two you can use. After all, you'd want to save as much as you can!
Disclaimer: Pavilions is a registered trademark of Pavilions and is not affiliated with our company. We are not affiliated with, endorsed by, or connected to Pavilions. Our use of any trademark belonging to another company is not done with the intent to confuse consumers but is rather incidental in promoting these companies and their coupons.