Jewel Osco Weekly Ad (06/07/2023 - 06/13/2023)
Everyday is shopping day with these incredible promos from Jewel Osco weekly ad! All the cheapest bargains in the palm of your hand. Click and scroll to check out each offer.
This isn't just for this week, too! Find future deals through Jewel Osco ad previews, showcasing the most exciting markdowns!
Jewel Osco Ad & Preview
Jewel Osco Ad 06/07/2023 - 06/13/2023

Jewel Osco Ad 05/31/2023 - 06/06/2023

Jewel Osco Ad 05/31/2023 - 06/06/2023

Jewel Osco Ad 05/31/2023 - 06/27/2023

Jewel Osco Ad 05/31/2023 - 08/01/2023
Now viewing: Jewel Osco Weekly Ad Preview 06/07/2023 - 06/13/2023
Scroll mouse wheel to zoom
Page 1 of 11
Click the images below to view other Jewel Osco Weekly Ads
Jewel Osco Ad
06/07 - 06/13

Jewel Osco Ad
05/31 - 06/06
Jewel Osco Ad
05/31 - 06/06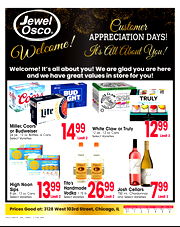 Jewel Osco Ad
05/31 - 06/27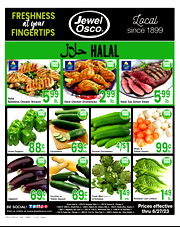 Jewel Osco Ad
05/31 - 08/01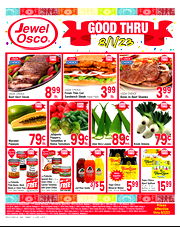 Browse Deals & Coupons in this Jewel Osco Ad
Are you in the mood for some window shopping but don't want to go to the mall? Here's what you can do instead - stay in your bed, take out your phone, then flip through 9 amazing promo deals.
Yes, you can effortlessly access so many fantastic offers if you use the Jewel Osco weekly ad this week. It showcases the best discounts exclusive for 06/07/2023 to 06/13/2023. Product deals are organized by collection, so it's easier to find necessities and earmark favorites.
To course through the Jewel Osco ad, you can use the arrows or "next" button to move across collections. It's like flipping through a voucher book, and you can even save a Jewel Osco coupon you can use to save on near-future purchases.
As you click on or save the coupon, you'll get access to coupon details, like instructions on how to redeem or the period when the voucher is applicable. Make sure to read them carefully and take note of the expiration date - you wouldn't want to waste it, don't you?
Also, you can take your window shopping to the next level by getting a glimpse of next week and maybe even next, next week's deals! You can do so through the Jewel Osco ad previews, which is as easy to use as the Jewel Osco weekly ad.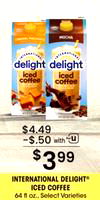 INTERNATIONAL DELIGHT®
$0.5 OFF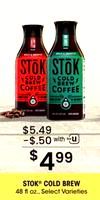 Tropicana
Get it for $3.99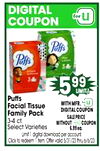 InnovAsian
Get it for $3.99
Popular Jewel Osco Brands
Why pay full when you can get it for less? With this online Jewel Osco circular, you can find the biggest discounts on branded items so you can save money even as you spend!
Such a perk is possible when you check out the top Jewel Osco deals by brand segment of this Jewel Osco sales flyer. This section features large discount collections from 12 brands, such as Dove, Hormel, Jimmy Dean, Suavitel.
To view those offers, click on the brand name, icon, or "view now" button. You'll be directed to a web page full of exclusive deals, which grows everyday so try to stay updated.
Expired Flyers
Jewel Osco Ad 05/24/2023 - 05/30/2023

Jewel Osco Ad 05/17/2023 - 05/23/2023

Jewel Osco Ad 05/17/2023 - 05/23/2023

Jewel Osco Ad 05/10/2023 - 05/16/2023
How to save at Jewel Osco?
Saving money at Jewel Osco doesn't have to be a tricky endeavor. With the right approach and some savvy shopping strategies, you can easily save a few bucks every time you shop. Whether taking advantage of price cuts or stretching your food budget further with meal planning, there are plenty of ways to get more value for your purchases with Jewel Osco ads.
First and foremost, familiarize yourself with the Jewel Osco weekly ad. This is where you will find all the best deals! By following some simple tips on how to save at Jewel Osco, you will find yourself shopping smarter in no time.
Jewel Osco Digital Coupons
Are you a big fan of coupons? Then dive into this Jewel Osco coupon database because it's the biggest you will find! It has hundreds of redeemable vouchers you can use to get discounts, deals, free shipping, and other money-saving offers. It's all digital, so you can easily access them with a smartphone and the tip of your finger.
To redeem these coupons, go into the database and earmark the ones you like. Then, click on them to find details, such as terms and conditions, expiration date, and more. It will also include instructions for saving or redemption, which you must follow carefully. After that, all there's left to do is enjoy shopping!
Also, make sure to check out the database regularly - it's frequently updated with new and exclusive coupons you wouldn't want to miss.
Jewel Osco Weekly Specials
Saving at Jewel Osco with the help of weekly specials and deals of the week is a great way to get the most out of your money. By taking advantage of these weekly offers, you can stock up on essential household supplies. There are several ways to take advantage of these deals.
First, be sure to check the store's website before shopping. This will allow you to see what kinds of products are on discount. The Weekly Specials/Deals section will also list any coupons available for additional savings. Be sure to read all product descriptions carefully to know which items qualify for the special price or coupon code.
Another way to maximize savings is by signing up for the store's email newsletter. Many retailers will send out exclusive weekly deals through this service, allowing customers to save even more on their purchases.
By taking advantage of Weekly Specials/Deals of the Jewel Osco weekly ad, you will get great deals on everything from groceries and apparel to electronics and housewares. Whether online or in-store, these specials are a great way to save money without sacrificing quality!
Jewel Osco BOGO
Buying items in bulk? Don't do that without taking advantage of the biggest BOGO or buy one take one deals available only our Jewel Osco sales flyer. These BOGO deals, which range from BOGO free to BOGO percent discounts, lets you save much and maximize your budget.
If you do bulk purchasing regularly, don't worry. The flyer gets updated often, so you'll still have tons of BOGO deals to use in the future.
Reward Programs
You can now shop at Jewel Osco and earn rewards with their reward program/membership. By becoming a member, you can save money when shopping for your favorite items and get exclusive offers, discounts, Jewel Osco coupons, and special promotions. Every purchase will earn you points which accumulate the more you shop, eventually leading to unbelievable savings.
Additionally, certain memberships even notify shoppers of upcoming sales so you can be sure to shop for your desired item at the best possible price. In conclusion, don't miss out on the chance to shop and earn rewards at Jewel Osco's Reward Program/Membership. It is an unbeatable deal.
Exclusive Online
Do you feel like there's little difference between online and physical shopping? Well, you might be doing it wrong. Expert online shoppers know that the digital world is where you can find the cheapest thrills, biggest discounts, and most fantastic deals. If you want to be in on the secret, check out the Jewel Osco weekly circular! It's where the find all these fantastic and updated promos, and you shouldn't miss out on those, too!
Free Shipping
If there's one con to online shopping, it's the expensive shipping fees. Sometimes, what you're buying is even much cheaper than the cost of having it delivered! But if you start buying from Jewel Osco, you'll find that you can have your item shipped for free!
That's because the Jewel Osco ad also features items or vouchers with attached free shipping deals. Most of them are for a limited time only, so enjoy them while you can!
Find Clearance Items
If you've been eyeing certain seasonal items and find them too expensive for your budget, wait until they hit the clearance sales section. Prices are much lesser than before and quality is usually more or less the same. Truly a gem these clearance sales are! But you're not the only one who knows of them - other expert shoppers are also eager to find jewels on those racks.
To get ahead of everyone, you can watch out for clearance sales announcements on Jewel Osco sales flyer and ad previews. These promotional materials provide sneak peeks into huge yet limited deals at Jewel Osco, including clearance sales.
Price Matching
Are you an avid shoppper at Jewel Osco? Then you should subscribe to the Jewel Osco weekly ad! Not only does it help you discover the best deals and discounts, it's also a reliable resource for price matching. Easy to access anytime, anywhere, you can easily compare and contrast prices, or simply just check if your favorite products have taken a cost hike or not. Items are organized into collections, so searching for your items or brands is easy.
Cashback Program
Saving at Jewel Osco with the help of Cashback is an excellent way to maximize your savings. Cashback services allow customers to get back a percentage of their purchase as a cash reward, which you can use on future purchases or withdraw as cash.
In addition to being able to take advantage of regular discounts offered by Jewel Osco weekly ad, cashback services are an additional way to save money while shopping there. Depending on how much you shop at Jewel Osco, this could mean hundreds of dollars in savings each year!
Shop at Right Time
Is your kid going back to school? You'll have a lot of stuff to buy - clothes, bags, school supplies, shoes, and more. All these expenses could leave your bank empty, but not if you're shopping smart.
Shop at the right time with the Jewel Osco ad previews. These ads showcase back-to-school deals and promos way ahead of time, so you know when, where, how, and how much you can get them. It will surely help you stretch your budget, so make sure to subscribe!
Shopping at Jewel Osco
In-store Shopping
Is it time to stock on some groceries? Before you make that regular trip to your local Jewel Osco, add this to your routine: bookmark and check the Jewel Osco sales flyer before you leave. This promo material compiles money-saving discounts and deals, so you can make the most out of your budget and save as much as you can. It also tells you until when these promos are good for, and how you can avail them. It is a valuable resource for any pro-shopper, so don't pass on it!
Curbside Picku at Jewel Osco
Shopping can be challenging now with crowded Jewel Osco aisles and limited hours. Fortunately, Jewel Osco offers curbside pickup to help shoppers get what they need without risking their health. With just a few clicks on Jewel Osco ad, customers can select the items they want and choose a pickup time at checkout. From there, Jewel Osco will take care of the rest. Shoppers can drive up and have all their items brought out and dropped off at their car without requiring contact. This way, you can spend less time in the Jewel Osco, saving both time and money.
Delivery at Jewel Osco
The Jewel Osco now offers a delivery service, allowing customers to place their order online and have it waiting on the doorstep within a matter of days. Not only is this more convenient, but shoppers can take advantage of the Jewel Osco weekly ad this week to save even more money.
Delivery services also save valuable time by eliminating the need for long lines at checkout or trips to multiple stores in one day. It is no wonder that more and more shoppers are turning to delivery as their primary means of purchasing Jewel Osco items - the convenience and savings of Kroger delivery simply can't be beaten.
Online Shopping
Online shopping can be a great way for shoppers to save time and money. By checking Jewel Osco weekly ad this week, shoppers can quickly identify which items are on sale and take advantage of the great deals available. Shopping online also allows people to shop virtually anywhere and anytime, so they can find the best prices without driving from store to store. So whether you want to save time or money, online shopping is incredibly convenient to help shoppers get what they need.
Mobile Digital App
Shopping at Jewel Osco is now easier than ever before with the Jewel Osco app. Jewel Osco shoppers can save time and money while staying up to date with the Jewel Osco circular. Customers can view Jewel Osco's specials, browse products, make their shopping lists, and even order online. This is an incredibly handy tool that can be used in the comfort of one's own home.
About Jewel Osco
Source
How EveryPayJoy Help you Save?
Is it possible to find the best and most recent deals and promos right in your email's inbox? It is, if you're subscribed to Jewel Osco weekly ad! Head to the EveryPayJoy website, input your email for the weekly ad subscription, and tada! You can expect the discounts, vouchers, Jewel Osco sales flyers, and other shopping promos to flood your inbox.
While regular promo emails might seem annoying, you'll come to love them when you realize how much money you save even if you're a frequent shopper. That's because you know when the best discounts are offered, and you can schedule purchases accordingly. Aside from that, you can also access EveryPayJoy's massive coupon database. You can use the vouchers to lower your total even further, so you don't go over the budget. It may even allow you to buy stuff you thought you couldn't afford!
EveryPayJoy also doles out shopping advice and tips, such as how to get free shipping deals. Read the articles they post on the site, and it's all there - wise words to make you a better and wiser shopper.
Disclaimer: Jewel Osco is a registered trademark of Jewel Osco and is not affiliated with our company. We are not affiliated with, endorsed by, or connected to Jewel Osco. Our use of any trademark belonging to another company is not done with the intent to confuse consumers but is rather incidental in promoting these companies and their coupons.