Acme Markets Weekly Ad (03/24/2023 - 03/30/2023)
Budgeting is made easier with Acme Markets weekly ad and Acme Markets ad previews! With just a few clicks and scrolls, you can dive into the most recent AND future collections of promo sales and quality products. So what are you waiting for? Grab the chance to stay updated and don't miss out on exclusive offers.
Acme Markets Ad & Preview
Acme Markets Ad 03/24/2023 - 03/30/2023

Acme Markets Ad 03/03/2023 - 04/13/2023
Now viewing: Acme Markets Weekly Ad Preview 03/24/2023 - 03/30/2023
Scroll mouse wheel to zoom
Page 1 of 3
Click the images below to view other Acme Markets Weekly Ads
Acme Markets Ad
03/24 - 03/30

Acme Markets Ad
03/03 - 04/13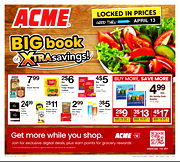 Browse Deals & Coupons in this Acme Markets Ad
Avoid putting back things on the shelf because you ran out of budget! The Acme Markets weekly ad for this week keeps you posted on the most recent deals and discounts, so it's easier to track prices and maximize your budget. This one, in particular, covers 1 promos from 03/24/2023 to 03/30/2023.
Once the week ends, the weekly ad gets updated so you get access to a fresh, complete set of jaw-dropping discounts. Of course, you can sneak a peek by using the Acme Markets ad previews, but the deals there are limited only. If you want to see the whole array, visit this site regularly so you'd have first access to offers you wouldn't want to miss.
To use these weekly ad specials, you can click on the arrows, plus, and minus buttons. The arrows get you from one collection to the other, so you can browse through all the deals in an organized manner. Meanwhile, the plus and minus buttons are for zooming in and out - if you want, you can use your scroller instead too.
Besides the Acme Markets weekly ad, you can also visit the Acme Markets coupon database. It has hundreds of vouchers from various brands and products. Click on the coupons to view details, see expiration dates, and then save them for near-future use!

Dietz & Watson
Get it for $6.99
Popular Acme Markets Brands
Shopping with Acme Markets has become one of the most leisurely activities of all time. With the 12 brands that the store offers, the dynamic parameters of the Acme Markets sales flyer will offer considerable deals effortlessly. Whether looking for quality products from a top supplier or trying to save money on everyday items, shoppers can find a wide range of discounts from Jimmy Dean, Kedem, DeLallo.
By using the Acme Markets circular, consumers can take advantage of each brand's sales and promotions. From popular name-brand goods such as Jimmy Dean, Kedem, DeLallo, shoppers can find notable deals on everything they need. With these top-brand offers, customers can get more bang for their buck while shopping at Acme Markets.
It's easy to see why so many people shop at Acme Markets. With unbeatable prices across all brands and quality products that are sure to last, customers know that when they shop here, they are getting value for their money.
Expired Flyers
Acme Markets Ad 03/17/2023 - 03/23/2023

Acme Markets Ad 03/10/2023 - 03/16/2023

Acme Markets Ad 03/03/2023 - 03/09/2023

Acme Markets Ad 02/24/2023 - 03/02/2023
How to save at Acme Markets?
Do you ever wish that you could save more when shopping at Acme Markets? If so, then you are in luck! With a few simple strategies and the right tips, anyone can save big and find awesome discounts. Learn how to shop smarter and get amazing deals exclusively from Acme Markets weekly circular. All of the information on how to maximize your savings when shopping with Acme Markets is here. Just read on to begin saving today.
Coupons at Acme Markets
Saving money at Acme Markets with the help of digital coupons is easy and rewarding. To get started, customers need to search for applicable coupons from various sources, such as websites, apps, or emails. Once you find them, you can clip Acme Markets coupons to the store loyalty card or enter the corresponding code when checking out.
By using these digital coupons, customers can save big on a wide variety of items, such as groceries, beauty products, and home items. In some cases, even higher discounts may be available than what would be available if the customer simply used their store loyalty card alone.
In order to make sure customers don't miss out on any savings opportunities, they should always check online or clip from newspapers before shopping to look for a valid Acme Markets coupon. Furthermore, it is important to remember to use the coupon when purchasing to take advantage of its discounts.
Overall, digital coupons are an excellent way for customers to save money when shopping at Acme Markets. With a little bit of research and effort into finding applicable codes, customers can enjoy great deals on items purchased from this renowned store.
Acme Markets Weekly Specials
Saving money at Acme Markets can be made accessible when you take advantage of the weekly specials and deals. Shopping around for these great offers is a great way to get the best deals on items you need or have been wanting. Before heading to the store, you should always check out the weekly ads online or in-store so you can plan ahead and get exactly what's on sale that week.
When planning your shopping trip, try to maximize your savings by only buying items on sale to save as much as possible. Additionally, look for coupons and discounts in the Acme Markets weekly ad. This could mean even more savings! Consider signing up for a loyalty program to receive additional discounts and rewards points each time you shop at Acme Markets.
By taking advantage of all these different methods, you can maximize your savings at Acme Markets while still getting what you need!
BOGOs
Do you love free stuff? If you do, all the more reason for you to stay updated with the biggest buy one get one or BOGO free deals! You can find them on our Acme Markets sales flyer, which features other BOGO deals, too, like BOGO 50% off, BOGO 20% off, and more. Flipping through those BOGO collections is real easy, so give it a try.
Membership Program
You can earn while you shop if you are part of the Acme Markets reward program. Membership of this program entitles you to one point if you reach a certain amount of purchase at Acme Markets. Thus, the more you spend, the more points you get. You can save up these points for future splurges! Besides points, you also get access to exclusive and massive promos.
If you want to join the reward program, find the instructions in our Acme Markets sales ad. Membership fee is affordable and worth much less than the savings and deals you can get throughout your membership duration.
Exclusive Online
Do you feel like there's little difference between online and physical shopping? Well, you might be doing it wrong. Expert online shoppers know that the digital world is where you can find the cheapest thrills, biggest discounts, and most fantastic deals. If you want to be in on the secret, check out the Acme Markets weekly circular! It's where the find all these fantastic and updated promos, and you shouldn't miss out on those, too!
Leverage Free Shipping
Shopping at Acme Markets can be a budget-minded shopper's dream. You can save even more if you know how to take advantage of their great free shipping option! Always make sure to check the website for any special deals that offer complimentary shipping. These are usually timed offers and change often. Setting up an account with the store will also give you opportunities to score free delivery when you buy certain items or enter specific codes during checkout.
If you want the guaranteed free shipment option, spend the extra few dollars and purchase a premium membership. Premium memberships and large purchases offen offer free express delivery. Taking advantage of this great perk of the Acme Markets weekly ad just might get you some extra money back in your wallet.
Clearance
In case you want to save as much as you can on your grocery bill with the help of Acme Markets ad? Look no further than the store's clearance section! Clearance items are often significantly marked down in price, so you can save lots of money.
Additionally, since these items are on clearance, it is a great chance to buy higher-end items for less. The excitement of finding something fantastic and unique at a fraction of the cost can be quite motivating! Take the time to browse through the store's clearance section and experience how much money one can save. You might find some hidden gem you have been searching for!
Price Match at Acme Markets
Want to make the most out of your money? Then before you buy something, check out the Acme Markets weekly ad first. All the prices listed are accurate and recent, so you can check if the item or brand you're currently considering is cheaper than the one on the ad. If not, well, you have the option to going to Acme Markets to buy the item yourself, or purchase it digitally.
Also, you might even find deals and discounts on the circular. You can use these to make products even cheaper and your savings even bigger.
Cashback Program
Shopping through the Acme Markets weekly ad can be an even more rewarding experience, thanks to Cash Back. Cash Back allows shoppers to receive a percentage of their total purchase price back after checkout. This extra cash can really add up over time, and best of all, it is completely free and easy to use.
All customers need to do is log in at the store website and activate their Cash Back account. Special offers also appear periodically for extra savings opportunities. With Cash Back, shoppers can save even more money on their favorite items at Acme Markets.
Shop at Right Time
The holidays is an expensive season -- so many gifts to buy, so many occasions and parties to prepare for. If you want to keep your wallet from going empty, you'll have to find items at their cheapest, and one way to do that is through Acme Markets ad previews. These ads showcase future prices, deals, and discounts, so you know what you can get in advance. This makes planning shopping trips and maximizing budgets much easier.
Moreover, you can use the previews to know what Black Friday has to offer. This day signals the start of Christmas shopping season, and the deals are unbelievable. It's the right time to shop for the holidays, so be sure to hit the shops and see the previews.
Shopping at Acme Markets
Acme Markets In-store Shopping
Make in-store shopping more fun when you use the Acme Markets sales flyer. This promo material features exclusive and valuable offers, from huge discounts to money-saving deals. It doesn't skimp on the details, so you know when, where, how, and what to use those promos on. Moreover, one of the best things about is it's accessible! You can bookmark it so you can look into it anytime, anywhere, even right inside your local Acme Markets. Great way to compare prices, right?
Curbside Pickup
Check out the latest Acme Markets sales flyer! Not only does it contain the biggest deals and discounts, it also features great and convenient services you may not be familiar with, like curbside pickup! Such an offer allows you to make an order, have it delivered to a specific, nearby location, and pick up the package once it has arrived. Transportation fees are cheaper this way, plus you can pickup the item the soonest it's available and won't get delayed by delivery backlogs and other similar issues.
Delivery
Why go to the local Acme Markets, when the local Acme Markets can come to you? More stores are offering delivery services, and of course, Acme Markets isn't late to the trend. A delivery option is convenient for many who can't leave their home, or purchased items that are too difficult to transport. If you're interested, check out if you're local Acme Markets is offering delivery through the Acme Markets weekly ad this week. You'll also find there instructions and it may also direct you to credible delivery apps, like instacart. It's regularly updated, so you're sure that the info provided is accurate.
Online Shopping at Acme Markets
As nearly everyone is spending more time on the digital landscape, business, including Acme Markets are making the transition with you by opening up their own online stores. Like physical locations, you can browse through collections, find what you need, and purchase all that you've gathered in your shopping cart. Basically, the same experience but much more convenient and effortless. Find out if you your area's Acme Markets has an online shop (and what promos they offer) through the Acme Markets circular!
Acme Markets App
Acme Markets understands the need for convenience in the hectic modern lifestyle, and their helpful app provides just that. With the Acme Markets app, shoppers can take advantage of their Acme Markets flyer, which is updated weekly with new deals and discounts on everyday needs. The Acme Markets app also offers an easy-to-use interface, personalized recommendations, and real-time notifications whenever favorite items go on sale. Acme Markets app simplifies shopping and lets users know they are getting the best offers available.
About Acme Markets
Acme Markets Inc. is a supermarket chain operating 164 stores throughout Connecticut, Delaware, Maryland, New Jersey, New York, and Pennsylvania and, as of 1999, is a subsidiary of Albertsons, and part of its presence in the Northeast. It is headquartered in East Whiteland Township, Pennsylvania, near Malvern, a Philadelphia suburb.
Source
How EveryPayJoy Help you Save?
Do you shop every week? If you're spending money so often, you'd want to save as much as you can too. Lucky for you, there's EveryPayJoy! It's a website that compiles weekly ads, coupons, sales flyers, and shopping advice articles to help you maximize your budget and savings. You can access it anytime, anywhere.
Moreover, you can also subscribe to Acme Markets weekly ads or Acme Markets sales flyer through EveryPayJoy. You only need an email to do so, and after you've provided that, you'll regularly receive updates on the latest promos, deals, and discounts. This is a big help for a weekly shopper like you as you know what's cheap and what discounts you can get.
Aside from the weekly ads, you can also browse EveryPayJoy's comprehensive coupon database. Hundreds of ready-to-use, updated vouchers all in one place, organized by brand. With just a click on your screen, you can avail them and enjoy the savings immediately!
Disclaimer: Acme Markets is a registered trademark of Acme Markets and is not affiliated with our company. We are not affiliated with, endorsed by, or connected to Acme Markets. Our use of any trademark belonging to another company is not done with the intent to confuse consumers but is rather incidental in promoting these companies and their coupons.