Lowe's Market Coupons, Deals & Promo Codes
The Lowe's Market ad, from 03/22/2023 to 03/28/2023, is full of incredible savings on a wide range of products and items. There are categories for all kinds of groceries and other things. Choose easily among frozen goods, deli, breakfast, cereal, pet supplies, pharmacy, produce, and many more.
You will see 36 astonishing deals that will help you find the items you need at the best prices available. The Lowe's Market weekly ad this week also includes a Lowe's Market coupon for additional savings, so you can save even more money when shopping at Lowe's Market.
Furthermore, the Lowe's Market Weekly Ad This Week has a plethora of great deals that customers won't want to miss out on! For those who prefer not to visit the Store, the Lowe's Market ad can also be found online, making it even easier for shoppers to see what kind of savings are available without leaving home. You can browse through different categories without leaving your house or office and take advantage of discounts whenever they are offered.
This is especially helpful when looking for something specific, as it allows customers access to all kinds of products, no matter where they live or work. Shoppers who want to maximize their savings when shopping at Lowe's Market should definitely keep an eye out for their favorite Lowe's Market coupon.
Coupons often provide additional offers such as a buy one get one free promotion or a percentage off orders over a certain amount. Thus, you can end up saving twice as much as they would have without them!

CACIQUE CREMA 15 oz. Agria or Mexicana $369

JAMES' SMOKED SAUSAGE 48 oz. $1029 CACIQUE $369

$159 Excludes Turkey Franks BAR S MEAT FRANKS 12 oz., Select Group $599

CARANDO MEATBALLS 16 oz. $599 $1029

LA VAQUITA SHREDDED CHEESE 7 oz., Select Group $269

TEJANO HOT LINKS 16 oz. $419 LA VAQUITA $269

BAR S SMOKED SAUSAGE 13 oz., Select Group $359 TEJANO $419

$369 SANTA FE WHITE CORN TORTILLAS 72 ct.

SMITHFIELD ANYTIME HAM 1.5 lb. $749 $359

$919 HOLTEN BEEF PATTIES 8 ct., 32 oz. restaurant quality $369

BAR S CLASSIC CHOPPED HAM 12 oz. $319 $919

SMITHFIELD THICK CUT BACON 24 oz. Stack Pack $999 $319

MAIN ST. BISTRO SIDE DISHES 24 oz., Select Group $359 EL MONTEREY $499

EL MONTEREY SIGNATURE DINNERS 10 oz., Select Group Enchilada or Quesadilla $499

BAR S DELI SHAVED HAM 9 oz., Select Group $349 Excludes Turkey Flavors MAIN ST. BISTRO $359

SMITHFIELD BACON 12 oz. Original or Thick Cut $499 3

$599 /LB. DEL MAR BROKEN COOKED SHRIMP 2 lb. Sold in a 2 lb. bag for $11.98 15

$1559 CHUCK/ARM ROAST Grass Run Farms 24 oz. 1 Now Available! DELICIOUS 100% GRASS FED & FINISHED GROUND BEEF & STEAKS 7

$179 /LB. PILGRIM'S CHICKEN DRUMSTICKS 3 lbs. or more 4 9

$399 /EA. DOLE CHOPPED KIT 12.3 oz. Sesame Asian

$319 /LB. 3 lbs. or more CENTER CUT PORK LOIN CHOPS Bone-In

$398 /EA. DICED NOPALITOS 1 lb.

ARTESIAN JUMBO SWEET RED ONIONS 99¢ /LB. $399

$128 /LB. FUJI APPLES Fresh & Crisp $398

HOTHOUSE CUCUMBERS $229 /EA.

PREMIUM HOTHOUSE TOMATOES $199 /LB. 99¢

5$1FOR FANCY FRESH LEMONS

DEL MONTE JALAPENO POPPERS with Bacon 15 oz. $598 /EA. $229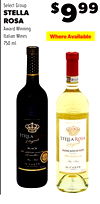 Select Group STELLA ROSA Award Winning Italian Wines 750 ml. $999 Where Available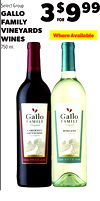 3$999 FOR Where Available Select Group GALLO FAMILY VINEYARDS WINES 750 ml.

IGITAL COUPONS D D I I G G I I T T A A L L C C O O U U P P O O N N M M U U S S T T B B E E C C L L I I P P P P E E D D O O N N O O U U R R A A P P $1.69/ea. - 50¢/ea. sale price digital coupon $1.19/EA. DIGITAL COUPON FINAL PRICE WHEN YOU BUY ONE Limit 4
COUPON VALID 03/15/23 - 03/21/23 ONLY!! $3.99/ea. sale price - 50¢/ea. digital coupon $3.49/EA. DIGITAL COUPON FINAL PRICE WHEN YOU BUY ONE Limit 2 containers per coupon Limit 1 coupon per customer KEMPS ICE CREAM or Frozen Yogurt 48 oz., Select Group CO

sale price digital coupon $1.79/ea. - 80¢/ea. 99¢ /EA. DIGITAL COUPON FINAL PRICE Limit 1 per coupon Limit 1 coupon per customer ICEBERG LETTUCE Cello COUPON VALID 03/15/23 - 03/21/23 ONLY!! D D I I G G I I T T A A L L C C O O U U P P O O N N M M U U S S

COUPON VALID 03/15/23 - 03/21/23 ONLY!! 2 for $7.00 sale price - $2.00 digital coupon 2 for $5.00 DIGITAL COUPON FINAL PRICE Limit 2 items per coupon Limit 1 coupon per customer When You Buy Two RICO'S CHEESE SAUCE 15 oz., Select Group OR PACE PICANTE SAU

$8.99/ea. - $1.00/ea. sale price with manufacturers digital coupon $7.99/EA. DIGITAL COUPON FINAL PRICE WHEN YOU BUY ONE Limit 1 jug per coupon Limit 1 coupon per customer D D I I G G I I T T A A L L C C O O U U P P O O N N M M U U S S T T B B E E C C L
Related Brands to Lowe's Market
With amazing deals on food and household items alike, it's no wonder why so many people turn to Lowe's Market. Searching for the highest quality products at unbeatable prices has never been simpler, thanks to Lowe's Market sales flyer! Moreover, with the Lowe's Market circular, you can take advantage of their wide selection of brands and find top deals with just a few clicks.
With over 6 different brands available, there's something for everyone and every budget. From popular names like Seventh Generation, Wilson, Sargento, Fage, Splenda, Smart Ones to lesser-known vendors offering unbeatable prices, customers can find what they need at unbeatable prices.
Take advantage of a fantastic deal with the Lowe's Market sales flyer. It is regularly updated to ensure that shoppers have access to all the newest offers from top brands. Whether you're looking for quality items or just trying to get the best value for your money, you can trust that Lowe's Market's flyers will have what you need.
Here are the popular brands we found in our database:
Lowe's Market Weekly Ad & Preview
You don't need to leave your home to find the best promo deals. In fact, you don't even have to stand up! With Lowe's Market weekly ad, you only have to click, scroll, or zoom in to check out every promo deal of every collection for this week. You can also look into next week's offers through Lowe's Market ad previews.
How to save at Lowe's Market?
Do you find going to the mall or grocery too much of a hassle? With this Lowe's Market weekly circular, you won't anymore because it makes shopping a breeze. It has all the most recent (and even future) deals, discounts, and promos you can use to enjoy your budget to the fullest. Also, all are organized to make browsing easier - a realy money AND time saver.
Lowe's Market Digital Coupons
Saving at Lowe's Market with the help of digital coupons is an appreciable way to save money. You can find digital coupons on Lowe's Market's website, and they are often easy to use. All you need to do is open up Lowe's Market's page and search for Lowe's Market coupon codes or discounts. Some Lowe's Market coupons will automatically apply your discount when something is purchased from their website.
However, others require you to type in a code before completing your purchase. Other Lowe's Market coupons may only be applied online or in-store, so read all the terms and conditions associated with the coupon before using it. No matter what kind of Lowe's Market coupon you have, using it can result in some nice savings.
Deals of the Week
Saving with the help of weekly specials at Lowe's Market is a great way to stretch your budget and save money. Here are some tips on how to get the most out of their weekly specials:
1. Review the Lowe's Market weekly circular each week. This way, you will be aware of any sales or discounts that may not have been advertised elsewhere. Another advantage to this is that you can compare prices over different stores to find the best deal.
2. Take advantage of online coupons and promo codes every week. Many stores offer online coupons that you can apply for additional savings on items you purchase through their website or app.
3. Look for weekly "buy one, get one" deals where you can purchase two items for a lower price than buying them separately. This is a great way to stock up on products while saving money.
4. Check expiration dates carefully when shopping with weekly ads, as some promotions might expire before the sale ends. Moreover, it is vital to take note of end dates to maximize savings on items you are planning to buy anyway.
5. Combine weekly deals with other promotions like rewards programs or discounts from loyalty cards so that you can maximize your savings potential even more.
By following these tips, you can maximize your utility or grocery bill savings.
BOGOs
Buying items in bulk? Don't do that without taking advantage of the biggest BOGO or buy one take one deals available only our Lowe's Market sales flyer. These BOGO deals, which range from BOGO free to BOGO percent discounts, lets you save much and maximize your budget.
If you do bulk purchasing regularly, don't worry. The flyer gets updated often, so you'll still have tons of BOGO deals to use in the future.
Membership Program
Are you a frequent shoppper at Lowe's Market? Are you a member of the Lowe's Market membership program? If the answer to those questions are yes then no, you are doing it wrong. Skipping the chance of being part of the Lowe's Market reward program means you miss out on many perks and benefits! For instance, members earn points every time they shop - imagine how many points you could've earned and used already if you were already a member!
So don't keep missing out! Take charge and register for the program. You may check out the Lowe's Market sales ad for more info on the registration process.
Exclusive Online
Shopping online at Lowe's Market with exclusive offers can be an excellent way to save money on purchases. One of the easiest ways to find these exclusive deals is by checking out the store's website. You can often find discounts on everything from clothing and furniture to electronics and appliances.
You may also want to check out Lowe's Market weekly circular, which sometimes lists special deals available exclusively online. One of the best ways to keep track of Lowe's Market's exclusive online offers is by following them on social media platforms such as Twitter and Facebook. These accounts often feature updates about new promotions, advertising upcoming sales events, and alerting followers about any current sales going on.
Free Shipping
There's nothing like the frustration of finding the perfect product online with the perfect pricetag, only to be charged with a shipping fee that will rip off your wallet. Well, that's about to change.
With the Lowe's Market ad, you can find the best free shipping offers at the palm of your hand. These deals are easy to avail - click on the product or voucher, read the terms and instructions, then shop to your heart's content.
Clearance
Shopping at Lowe's Market can stay within the budget. By looking out for clearance items, you can save big. Savvy shoppers can use the Lowe's Market ad to find something for everyone, from fashion and home goods to electronics. With the abundance of excellent deals available, you will be sure to unlock incredible value on whatever purchase you make.
Remember to check the clearance section before making a purchase, and you could land a tremendous discount. Keep your eye out for end-of-season deals, special offers, and sales. With so many chances for savings, you are sure to find something you want at the right price.
Price Matching
Price matching is a great way to save big at the Lowe's Market sales ad. This useful policy allows shoppers to adjust their purchase amount based on the prices of the same item at competing stores. Meaning you never have to worry about spending too much.
To use the price matching guarantee, simply bring the current price from a competitor and inform the Lowe's Market staff. If their product is substantially similar, they will match it, and you can save some money on your purchase. With price matching at Lowe's Market, rest assured that you wouldn't have to leave empty-handed due to inflated prices.
Cashback reward program
Now and then, Lowe's Market would offer cashback promos or coupons. Availing these offers mean would you get back a certain portion of your purchase, either as cash or store credit. Fantastic, right? However, you'll have to meet the terms and conditions, so make sure you know of those before using your coupon. You can find the coupons, along with their terms and conditions, on the Lowe's Market coupon database. Just scroll through the collections, find the voucher, click on it, and avail when you can, but make sure to do so before the expiration date.
Shop at Right Time
Want to go on a shopping spree at Lowe's Market? Plan it first! To do so, start by deciding on the "when"? Well there's no better moment to go shopping than when promos are at their peak. This happens a few times a year, such as during Black Friday, back to school, Christmas, and more. So make sure set the date for those days because they're the right time to shop til you drop.
Also, you'll need to set a budget. While you can put down a certain amount and go with it on the day itself, it's best to check out prices, deals, and discounts in advance. You can do that with Lowe's Market ad previews! They let you sneak a peek on what future promos Lowe's Market plans to launch, so planning that shopping spree is a breeze!
Shopping at Lowe's Market
Lowe's Market In-store Shopping
In-store shopping can be an advantageous experience during busy times of the year, such as holidays and seasonal sales. Many shoppers find that in-store shopping helps them make informed decisions when purchasing items. Additionally, shoppers can benefit from reading the Lowe's Market circular to find the best deals for each item.
Reading store circulars can help you figure out which stores have sales on certain products. You can also find out what products are being offered at a discount from one store to another. Shoppers can stretch their dollar even further by taking advantage of store circulars!
Curbside Picku at Lowe's Market
For those looking for ways to pick up items from Lowe's Market without having to enter the premises, the curbside pickup may be a great advantage. Shopping online has some great benefits! You can avoid long lines and save time. You might also find special offers that the store is running, as well as grab some even better deals from the Lowe's Market sales flyer. With curbside pickup, Lowe's Market customers can take advantage of offers without leaving their car or home.
Delivery
With the advent of delivery services, shopping has been reduced to three simple steps: order, pay, and wait. Yes, if your local Lowe's Market offers a delivery service, you won't have to go through the hassle of dragging numerous packages or large items from the store to your home. You can call, ask in person, or search online to check if your local Lowe's Market offers such a perk. It usually comes at an extra cost, but if you find vouchers through the Lowe's Market weekly ad this week, you can make it much more affordable.
Online Shopping at Lowe's Market
When you shop online and take advantage of the Lowe's Market weekly ad this week, you take the extra step towards mega saving. In addition, online shopping can help shoppers stay within their budget by providing easy-to-compare prices, which you can do with just a few clicks.
Furthermore, shoppers may have access to exclusive deals and discounts that are only available when they shop online. Websites often run promotional codes or other discounts that allow customers to save even more money while they shop.
Lowe's Market App
Get access to an online shop, exclusive deals, and other great perks by installing the Lowe's Market app! You can check your app store if the app is ready for downloading in your area. The Lowe's Market add may also feature the app, and clicking on it will direct you to a link that allows you to easily install it.
How EveryPayJoy Help you Save?
Everypayjoy helps you save money in many different ways. It offers users access to Lowe's Market sales flyers and weekly ads, as well as exclusive deals and coupons. This allows shoppers to find the best deals and save money on everyday purchases. In addition, users can easily search through the extensive range of products available in-store sales flyers and Lowe's Market weekly ads, ensuring they get all the fantastic discounts and special offers.
The platform also offers several advantages over other online discount websites. Firstly, the simple design makes it easy for customers to quickly find what they need without wasting time. Secondly, Everypayjoy ensures that shoppers always get access to the most up-to-date deals and offers from retailers. It gives them an edge when it comes to maximizing their savings. Finally, Everypayjoy is free to use, so customers can start saving money immediately with no upfront costs or commitments.
Overall, Everypayjoy is a stunning way for shoppers to save money on everyday purchases while still getting quality products at an affordable price. Its user-friendly interface and wide range of discounts and coupons make it perfect for anyone looking to make their budget stretch further without sacrificing quality or convenience.
Disclaimer: Lowe's Market is a registered trademark of Lowe's Market and is not affiliated with our company. We are not affiliated with, endorsed by, or connected to Lowe's Market. Our use of any trademark belonging to another company is not done with the intent to confuse consumers but is rather incidental in promoting these companies and their coupons.