Eurofresh Market Coupons, Deals & Promo Codes
Avoid putting back things on the shelf because you ran out of budget! The Eurofresh Market weekly ad for this week keeps you posted on the most recent deals and discounts, so it's easier to track prices and maximize your budget. This one, in particular, covers 36 promos from 05/31/2023 to 06/06/2023.
Once the week ends, the weekly ad gets updated so you get access to a fresh, complete set of jaw-dropping discounts. Of course, you can sneak a peek by using the Eurofresh Market ad previews, but the deals there are limited only. If you want to see the whole array, visit this site regularly so you'd have first access to offers you wouldn't want to miss.
To use these weekly ad specials, you can click on the arrows, plus, and minus buttons. The arrows get you from one collection to the other, so you can browse through all the deals in an organized manner. Meanwhile, the plus and minus buttons are for zooming in and out - if you want, you can use your scroller instead too.
Besides the Eurofresh Market weekly ad, you can also visit the Eurofresh Market coupon database. It has hundreds of vouchers from various brands and products. Click on the coupons to view details, see expiration dates, and then save them for near-future use!

6 oz. Red Apple Organic ORGANIC Fontina, Havarti, or ORGANIC Gouda Fontina ORGANIC 99 Couda 4 Ea.

Stella Aged Asiago Cheese 799 Lb. 4

5.3 oz. Switzerland Emmentaler EMMENTALER - - - - - - - 5 49 Ea.

Krinos krinos Kefalotyri Cheese KF 99 1 1 Lb.

7.6 oz. Yancey's Fancy Cheddar Cheese BUFFALOWING HOT SAUCE CHEDDAR 99 4 Ea.

7 oz. Green Field's Natural Irish Cheddar Cheese 99 4 Ea.

Wisconsin Muenster Cheese 449 Lb.

Homemade Arancini Rice Balls 99

creamy Kidney Bean Salad 449 Self Lb. en
99 9 Ea. 7.1 oz. Klement's Original Pork & Beef Snack Sticks

Grandma's Potato Salad 49 3 Lb.

Homemade Potato Pancakes 5 49 Lb.

! 799 Ea. 8.9-10.7 oz. LUNCHABLES Assorted Oscar Mayer Lunchables LUNCHABLES
799 Lb. 12 oz. Assorted Nathan's Franks

Stella Provolone I Cheese 449 Lb.

Homemade Antipasto Salad Lb.

Homemade Chicken Parmesan 399 Ea.

Homemade Veggie Egg Rolls For $5

German Potato Salad 349 Lb.

Chicken Breast Lb. Assorted Pickles 32 oz. PICKLES

Sharp I Cheddar Cheese I - 599 Lb.

Wisconsin Brick Cheese I - 449 Lb.

Ham Lb. Black Forest Smoked Turkey Block Forest

Corned Beef Lb. - Cajun Turkey Cajun Style Turkey D 1099

Lb. Greenridge Farm 52% Lower GREENRIDGE 52% LOWER - Sodium Turkey SODIUM

Lb. Greenridge Farm Tavern Ham 799

Citterio Prosciuttini CITTERIO - - - - - 699 Lb. DIETZ& D

Andy's Deli Mild Head Cheese 699 Lb.

Mastro Prosciutto 999 Lb.

Busch Summer Sausage 899 Lb.

MEMORIAL DAY HOURS: 7AM-7PM Kid's Choice Seedless Watermelon 499 Ea.


Dean's NO Homemade Vanilla 48 oz. Dean's 3 49 Ice Cream Limit 2

food club - adidas - finely shredded mild ched - cheese medium food cheddar cheese - - - 6-8 oz. Food Club 69 Shredded or 1 Chunk Cheese Limit 3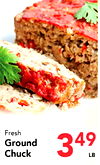 Fresh Ground Chuck 349 LB
Related Brands to Eurofresh Market
Shopping for the best deals has never been easier. Whether grocery shopping or just looking for that perfect item - find top deals by brand quickly and painlessly at Eurofresh Market. With the Eurofresh Market circular, you can take advantage of the 6 brands and their sales flyers to see what each has to offer.
The Eurofresh Market sales flyer offers some great deals that can save you from paying extra. Whether you are looking for the top value from brands like Kevin's, Price Chopper, AVEENO, Glaceau, Fabuloso, Farmer John or quality products from one of their top suppliers - Eurofresh Market provides it with all. Check out the website today to begin planning your next shopping trip - you won't regret it!
Here are the popular brands we found in our database:
Eurofresh Market Weekly Ad & Preview
Are you looking to plan your grocery shopping trip for the upcoming week? Look no further – with Eurofresh Market Weekly Ad. You can get a sneak peek at the deals and discounts coming soon! With this handy guide on Eurofresh Market ad, you can keep an eye out for new offers and discounts available each week to score some amazing deals at Eurofresh Market.
How to save at Eurofresh Market?
Shopping's never been more fun when you have access to the Eurofresh Market weekly circular. It has all the biggest and most recent deals, discounts, vouchers, and other irresistible offers. It's effortless, too, for whether you are home, on the road, at the office, or even inside Eurofresh Market, you can easily access the circular and flip through dozens of promo collections.
So what are you waiting for? Start browsing!
Coupons at Eurofresh Market
Shopping at Eurofresh Market can be expensive, but there are plenty of ways to save money with the use of digital coupons. These coupons can provide discounts on anything from apparel to home goods, making shopping for those much-needed items a whole lot easier on the wallet.
To get the most out ofEurofresh Market coupons, it's essential to do your research and find the ones that are best suited for you. Start by signing up for any newsletters or loyalty programs offered by Eurofresh Market. This informs you about upcoming sales and provides a wealth of coupons and promo codes to help you save.
Using digital coupons can help reduce your shopping bill cost at Eurofresh Market. With just a little bit of research and preparation, you will be able to take advantage of incredible discounts explicitly tailored to your needs. So make sure to give it a try next time you shop. By following these simple steps and taking advantage of all available coupon options, shoppers can save significant amounts of money while shopping at Eurofresh Market.
Deals of the Week
Saving at Eurofresh Market with the help of weekly specials and deals of the week is a great way to get the most out of your money. By taking advantage of these weekly offers, you can stock up on essential household supplies. There are several ways to take advantage of these deals.
First, be sure to check the store's website before shopping. This will allow you to see what kinds of products are on discount. The Weekly Specials/Deals section will also list any coupons available for additional savings. Be sure to read all product descriptions carefully to know which items qualify for the special price or coupon code.
Another way to maximize savings is by signing up for the store's email newsletter. Many retailers will send out exclusive weekly deals through this service, allowing customers to save even more on their purchases.
By taking advantage of Weekly Specials/Deals of the Eurofresh Market weekly ad, you will get great deals on everything from groceries and apparel to electronics and housewares. Whether online or in-store, these specials are a great way to save money without sacrificing quality!
Eurofresh Market BOGO
Do you love free stuff? If you do, all the more reason for you to stay updated with the biggest buy one get one or BOGO free deals! You can find them on our Eurofresh Market sales flyer, which features other BOGO deals, too, like BOGO 50% off, BOGO 20% off, and more. Flipping through those BOGO collections is real easy, so give it a try.
Membership Program
Saving money while shopping at Eurofresh Market is easier than ever with the Reward program and membership opportunities. This program gives shoppers an opportunity to shop and earn rewards points that they can use for future purchases.
By signing up and being a member, customers can accumulate points with each purchase they make at the store. Shoppers can later redeem these points for discount codes, cash-back rewards, and more. With this level of savings potential, Reward members can save big when they shop through the Eurofresh Market ad, making their favorite products even more affordable.
Exclusive Online
Shopping at Eurofresh Market can be a great way to get the things you need while saving money. With the help of Online Exclusive Offers, you can save even more, no matter your budget. With the range of offers available, there is something for everyone. You can get astonishing discounts on clothes, housewares, and home appliance deals. You must visit Eurofresh Market weekly circular or the website and start shopping for great discounts. So what are you waiting for? Visit Eurofresh Market today and take advantage of all these incredible online offers!
Free Shipping
Avoid exceeding your online shopping budget when you use the Eurofresh Market ad! Not only does it feature the biggest online deals and discounts, you'll also find that it has the most exclusive free shipping offers, from specific products to vouchers. It's easy to use - flip through collections, earmark the ones you love, and follow instructions to make sure your product is being shipped for FREE!
Find Clearance Items
Shopping doesn't have to be expensive, especially when you take advantage of clearance offers from Eurofresh Market weekly circular. Clearance offers are a great way to save money on items you want and need. You can find deals on clothing, shoes, furniture, and more that are marked down far below the regular price.
If you are looking to get the most for your money, make sure to check out the clearance section at Eurofresh Market and take advantage of their incredible discounts. Don't miss out on these opportunities because you could end up saving lots of money.
Price Matching
Are you on top with the most recent pricelists? The ever-changing prices make it hard to do so, but with the Eurofresh Market weekly ad, it's possible. It's regularly updated so that only the most recent and accurate costs are listed. This makes it easier to match prices, compare brands, and project this week's budget.
The ad also has great deals and discounts, so you can bring those prices lower than you thought you could.
Cashback Program
Saving at Eurofresh Market while enjoying cash-back benefits can be a fun and rewarding experience. Understanding how to maximize your savings is the key. To do this, start by signing up for a cash-back program so that you can begin receiving rewards on qualifying purchases from Eurofresh Market weekly ad.
Before making a purchase, check for any exclusive offers or other deals that could increase your overall savings. Additionally, compare prices between Eurofresh Market and other vendors online to ensure you get the best deal when shopping with them. By following these money-saving tips, you can shop at Eurofresh Market confidently, knowing that your wallet will be happier.
Shop at Right Time
Shopping at the right time for mega sales can be a great way to save money at Eurofresh Market. In particular, mega sales, like Black Friday and Cyber Monday, allow shoppers to nab amazing deals on clothing and accessories. The key is to develop an action plan that takes advantage of these opportunities. You should start by researching upcoming mega sales at Eurofresh Market weekly circular and find out what will be available for purchase.
Once you have this information, create a budget and stick to only purchasing items that are on sale or are within your budget. By planning ahead and taking advantage of discounts, you can stock up on all of your must-have items while sticking to your limits. With a bit of planning, you will save money every time there's a mega sale at Eurofresh Market.
Shopping at Eurofresh Market
In-store Shopping
Shopping in-store has many benefits that out-of-store shopping just can't match. While the convenience of ordering online is attractive, shoppers can gain access to Eurofresh Market circular. This circular has information about discounts and special promotions unavailable online.
Additionally, in-store shoppers can find physical review products before purchase and may even be given advice from knowledgeable staff who are on hand. This experience is only possible by going to the store. Shopping in-store also eliminates the anxiety around buying something different than what was expected or pictured, as it puts the customer's personal experience first and foremost.
Curbside Picku at Eurofresh Market
If you live far from your local Eurofresh Market, it can be frustrating to go there and find out that the product you need isn't on stock. To avoid such failed shopping trips, here's a simple hack: curbside pickup! Through this service, you can place an order in advance (check the Eurofresh Market flyer to know how), schedule it for pickup at a time and location nearest to you, and get them when they're ready and convenient for you! In this way, you're sure you get what you need without the risk of wasting transport costs and effort!
Delivery at Eurofresh Market
The Eurofresh Market now offers a delivery service, allowing customers to place their order online and have it waiting on the doorstep within a matter of days. Not only is this more convenient, but shoppers can take advantage of the Eurofresh Market weekly ad this week to save even more money.
Delivery services also save valuable time by eliminating the need for long lines at checkout or trips to multiple stores in one day. It is no wonder that more and more shoppers are turning to delivery as their primary means of purchasing Eurofresh Market items - the convenience and savings of Kroger delivery simply can't be beaten.
Online Shopping at Eurofresh Market
Eurofresh Market flyer provides an easy and beneficial way to get your shopping done, with the added benefit of online shopping. Shopping from Eurofresh Market is now easier than ever because you can browse items from the comfort of your living room. It gives you advantage of all the deals Eurofresh Market offers.
When shopping online, you can compare Eurofresh Market's prices to other stores and read user reviews on products. Furthermore, Eurofresh Market customers can feel safe knowing that their transactions are secure and protected.
Eurofresh Market App
Shopping at Eurofresh Market is now easier than ever before with the Eurofresh Market app. Eurofresh Market shoppers can save time and money while staying up to date with the Eurofresh Market circular. Customers can view Eurofresh Market's specials, browse products, make their shopping lists, and even order online. This is an incredibly handy tool that can be used in the comfort of one's own home.
How EveryPayJoy Help you Save?
Store and brand deals are great, but they can be so hard to find. You'd have to visit individual shop websites to find the most updated offers. But I've got great news - you can finally stop searching high and low for these discounts around the Internet because all of them are right here in EveryPayJoy!
EveryPayJoy is an easy-to-use website that compiles an abundance of weekly ads, coupons, and tips from many shops. You can easily browse their collections to find deals or coupons that suit your needs and shopping habits.
To use EveryPayJoy, just click on the "view now" button for the Eurofresh Market weekly ads. You'll be directed to a page full of links to the Eurofresh Market sales flyer, current weekly specials, ad previews, and other resources you can use to score the hottest promos. Click on whichever link you need and feel free to explore the deals within it. You can also read the FAQs portion to learn about the store's system for deals and promos.
Disclaimer: Eurofresh Market is a registered trademark of Eurofresh Market and is not affiliated with our company. We are not affiliated with, endorsed by, or connected to Eurofresh Market. Our use of any trademark belonging to another company is not done with the intent to confuse consumers but is rather incidental in promoting these companies and their coupons.