Empire Kosher Supermarket Coupons, Deals & Promo Codes
Avoid putting back things on the shelf because you ran out of budget! The Empire Kosher Supermarket weekly ad for this week keeps you posted on the most recent deals and discounts, so it's easier to track prices and maximize your budget. This one, in particular, covers 36 promos from 05/31/2023 to 06/06/2023.
Once the week ends, the weekly ad gets updated so you get access to a fresh, complete set of jaw-dropping discounts. Of course, you can sneak a peek by using the Empire Kosher Supermarket ad previews, but the deals there are limited only. If you want to see the whole array, visit this site regularly so you'd have first access to offers you wouldn't want to miss.
To use these weekly ad specials, you can click on the arrows, plus, and minus buttons. The arrows get you from one collection to the other, so you can browse through all the deals in an organized manner. Meanwhile, the plus and minus buttons are for zooming in and out - if you want, you can use your scroller instead too.
Besides the Empire Kosher Supermarket weekly ad, you can also visit the Empire Kosher Supermarket coupon database. It has hundreds of vouchers from various brands and products. Click on the coupons to view details, see expiration dates, and then save them for near-future use!

EVENTS, PARTIES AND SHAB ALASKA ROLL $2 OFF en kingston and brookly

SUSHI SANDWICH $3 OFF 529 empire blvd. betwee

STERN'S 100% WHOLE WHEAT BREAD MEZONOS 16 OZ $3.59

SHOR HABOR TURKEY PASTRAMI 4OZ $2.99ea

SHOR HABOR CHICKEN FRANKS 12OZ $3.49ea

SHOR HABOR KOSHER SALAMI 16OZ $4.99ea

BBQ CHICKEN STEAK $8.49lb SUSHI

SHOR HABOR CHICKEN LEGS FAMILY PACK $2.79lb SHOR HABOR CHICKEN

MARBLE CHIFFON CAKE lb $6.49

PICKLED MOCK TENDER $9.99lb

MEAT LONDON BROIL $8.99lb


6. SOFT CHOCOLATE CHIP COOKIES 8 OZ $5.99 pkg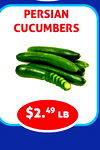 PERSIAN CUCUMBERS $2.49 lb

SMALL WATERMELON $5.99 ea


AVOCADO 99¢ ea GALA APPLES

BAKERY MINI SPRINKLE CUPCAKES 12 CT $6.99 pkg




PRODUCE ASPARAGUS $2.49 lb

CANDLE LIGHTING PARSHAS NASO 8:03 klyn ave. tel: 718.221.2

FRESHIES Baby Wipes 80 ct Limit 12 .99¢

KITCHEN COLLECTION Grip & Zip Sandwich Bags 150 ct Limit 4 $1.99

3. p y t r o f e b i s n o p s e r t o n l

BAKOL Organic Gem Pops Assorted Pack 8.50 oz Limit 4 $3.99

KRAVY Sugar Waffle Cones 12 Ct. Limit 4 $2.29

BY THE CASE DINNER 9" Plastic Plates 100 Ct Case of 4 Limit 1 Case $16.99

BY THE CASE FOIL PANS Cookie Sheets 100 Ct. Limit 1 Case $41.99 GIVAT

BY THE CASE BLOOMS Clear Freeze Pops 100 Ct Limit 1 $8.49

PEPPERIDGE FARM PuffPastry Sheets 17.30 Oz Limit 4 $4.79

BY THE CASE DINNER 12 Oz Soup Bowls 100 Ct. Case of 8 Limit 1 Case $16.99
Related Brands to Empire Kosher Supermarket
Shopping for the best deals has never been easier. Whether grocery shopping or just looking for that perfect item - find top deals by brand quickly and painlessly at Empire Kosher Supermarket. With the Empire Kosher Supermarket circular, you can take advantage of the 6 brands and their sales flyers to see what each has to offer.
The Empire Kosher Supermarket sales flyer offers some great deals that can save you from paying extra. Whether you are looking for the top value from brands like Snapple, Cheetos, Talenti, Kleenex, RUBBERMAID, Fairway or quality products from one of their top suppliers - Empire Kosher Supermarket provides it with all. Check out the website today to begin planning your next shopping trip - you won't regret it!
Here are the popular brands we found in our database:
Empire Kosher Supermarket Weekly Ad & Preview
Are you wondering what is in store for you at your local Empire Kosher Supermarket this week? Look no further than the Empire Kosher Supermarket Weekly Ad! With the sneak peek of next week's savings, you can plan and prepare to save big on your best-loved products. Shop smarter with Empire Kosher Supermarket ad and take advantage of their low prices that won't break the bank. You will find all kinds of savings on food items, home goods, health and beauty necessities, pet supplies, apparel, electronics, toys, and games.
How to save at Empire Kosher Supermarket?
Make the most out of your money when you shop at Empire Kosher Supermarket! From buy one get one offers to price markdowns, there are many ways you can maximize your budget. Discover them all through our Empire Kosher Supermarket weekly circular, a digital resource that compiles all the best deals in one place. It's easy to use and accessible anytime, anywhere.
Coupons at Empire Kosher Supermarket
Empire Kosher Supermarket is a great place to shop for all your needs, but you don't have to break the bank! With digital coupons, Empire Kosher Supermarket can help customers save money. You can easily find Empire Kosher Supermarket coupons online that you can use when shopping. Simply look through Empire Kosher Supermarket's website or do a quick search on any search engine, and you will find digital Empire Kosher Supermarket coupons you can apply at checkout.
When using these Empire Kosher Supermarket coupons, pay attention to expiration dates and usage limits if they are specified. With digital Empire Kosher Supermarket coupons, there is no need to worry about losing them as the website automatically applies them at checkout. All you need to do is to make sure to have the coupon code handy before you finish your order!
Deals of the Week
Saving with the help of weekly specials at Empire Kosher Supermarket is a great way to stretch your budget and save money. Here are some tips on how to get the most out of their weekly specials:
1. Review the Empire Kosher Supermarket weekly circular each week. This way, you will be aware of any sales or discounts that may not have been advertised elsewhere. Another advantage to this is that you can compare prices over different stores to find the best deal.
2. Take advantage of online coupons and promo codes every week. Many stores offer online coupons that you can apply for additional savings on items you purchase through their website or app.
3. Look for weekly "buy one, get one" deals where you can purchase two items for a lower price than buying them separately. This is a great way to stock up on products while saving money.
4. Check expiration dates carefully when shopping with weekly ads, as some promotions might expire before the sale ends. Moreover, it is vital to take note of end dates to maximize savings on items you are planning to buy anyway.
5. Combine weekly deals with other promotions like rewards programs or discounts from loyalty cards so that you can maximize your savings potential even more.
By following these tips, you can maximize your utility or grocery bill savings.
BOGOs
Saving money at Empire Kosher Supermarket with the help of BOGO's (Buy One, Get One) offers is a great way to get more for your money. To take advantage of these offers, shoppers should understand what deals BOGOs offer and how to get the most out of them.
First, shoppers should check out Empire Kosher Supermarket's current BOGO specials. These are usually advertised in newspapers, on the store's website, or even on social media platforms such as Twitter and Facebook. Once you have identified which items are part of a BOGO offer, read the fine print before purchasing to ensure that you will get both items at the discounted price.
Another great way to save at Empire Kosher Supermarket with BOGOs is through couponing. Shoppers can find coupons online or in newspapers that can be used with BOGO offers for even more savings. Not all stores accept coupons along with their Buy One Get One offer, so it is essential to check the store's policies beforehand.
Finally, keep an eye out for special promotional days on the Empire Kosher Supermarket sales flyer. Many stores have a day throughout the year when customers can purchase one item at full price and get another item from select departments for free! This is often an excellent time to stock up on seasonal goods or everyday staples and try something new without breaking the bank!
By taking advantage of these tips and understanding how Buy One Get One promotion works, shoppers can maximize their savings when shopping at Empire Kosher Supermarket.
Membership Program
Saving at Empire Kosher Supermarket is easy with their generous reward programs and membership. Customers can begin by signing up for the membership, either online or in-store. Once they have signed up, they will receive an email confirmation and a card they can use while shopping to enjoy exclusive discounts, rewards, and deals. With every purchase, customers will shop and earn points, which they can use towards future purchases in the store.
Members of the rewards program also gain access to exclusive events and promotions unavailable to non-members. For example, members can take advantage of special sales during certain times of the year, getting even deeper discounts on select items. In addition, customers who use their cards to make purchases will frequently receive coupons and promotional codes.
The rewards program also offers customers a variety of additional benefits, such as free shipping on eligible orders, early access to new product releases, extended returns policies, and more. Moreover, members are eligible to join a loyalty program associated with Empire Kosher Supermarket weekly circular.
With all these great incentives and benefits available through their rewards membership program, it is no wonder, so many customers choose Empire Kosher Supermarket for their shopping needs.
Online Exclusive Offers
Shopping at Empire Kosher Supermarket can be a great way to find the perfect product for a reasonable price. One fantastic way to save when you shop through the Empire Kosher Supermarket sales flyer is to take advantage of their Online Exclusive Offers. These offers are only available online and come with amazing discounts on some of their most popular items.
The customer must visit the store's website, browse sale items, and add them to their virtual cart. Online Exclusive Offers make it easy for customers to get the best deals without leaving home.
Leverage Free Shipping
If there's one con to online shopping, it's the expensive shipping fees. Sometimes, what you're buying is even much cheaper than the cost of having it delivered! But if you start buying from Empire Kosher Supermarket, you'll find that you can have your item shipped for free!
That's because the Empire Kosher Supermarket ad also features items or vouchers with attached free shipping deals. Most of them are for a limited time only, so enjoy them while you can!
Clearance
Do you often find only bad, unlikeable pieces left in the clearance sale? That's because you're too late! To enjoy the clearance racks and find the best deals, you have to be as early as you can. Thus, always be on the lookout for clearance sale announcements on the Empire Kosher Supermarket sales flyer. This online resource is regularly updated, so you're sure to hear of any upcoming sales and deals.
Price Matching
Heading out to Empire Kosher Supermarket? Don't go there without checking the Empire Kosher Supermarket weekly ad first! This ad has all the most recent product prices, deals, and discounts. You can use such info to match prices and plan your purchases better so you can avoid going over budget and maybe even make some savings! Browsing the ad takes only a few minutes but leads to so much savings, it's worth the time.
Cashback Program
Cashback offers are stones that hit two birds at once. Firstly, you save money as you get a portion back from the money you just spent. Secondly, it's like a reward - you do something, and you get back something good. Sounds fantastic, right?
Because of how great they are, it isn't amazing that cashback promos are elusive. They're only offered now and then, so to stay updated, subscribe to Empire Kosher Supermarket coupon database! This database grants you access to all available vouchers, including limited cashback deals.
Shop at Right Time
Shopping during the holiday season can be expensive, but you can save money at Empire Kosher Supermarket with a few simple tips. Shopping at black Friday sales or mega sales throughout the year is a great way to find deals and discounts on products you are interested in. Instead of spending hours researching and comparing prices, these multi-day deals make it easy for shoppers to get what they need for less. Whether your shopping list consists of presents or an upgrade for yourself, shop at the right time this holiday season, and be sure to stock up on the Empire Kosher Supermarket ad.
Shopping at Empire Kosher Supermarket
In-store Shopping
In-store shopping can be an advantageous experience during busy times of the year, such as holidays and seasonal sales. Many shoppers find that in-store shopping helps them make informed decisions when purchasing items. Additionally, shoppers can benefit from reading the Empire Kosher Supermarket circular to find the best deals for each item.
Reading store circulars can help you figure out which stores have sales on certain products. You can also find out what products are being offered at a discount from one store to another. Shoppers can stretch their dollar even further by taking advantage of store circulars!
Curbside Picku at Empire Kosher Supermarket
Curbside pickup is an excellent option for avid shoppers who want to order things from afar but want to avoid shipping fees. You can just call your local Empire Kosher Supermarket, see if they what you need, place an order, and then schedule the pickup on the time most convenient for you! Moreover, you can use it to place advance orders for items Empire Kosher Supermarket doesn't have at the moment. Once the stock comes in, you get first dibs as you'll be called for pickup. Neat, right? To learn more about this, check out the Empire Kosher Supermarket flyer!
Delivery at Empire Kosher Supermarket
Shopping from the comfort of your own home has many benefits. With the help of Empire Kosher Supermarket sales flyer, shoppers can find the best deals without ever leaving the house. This makes it easier and more convenient to compare prices across multiple stores and take advantage of great deals that wouldn't otherwise be available.
Home delivery also saves time and money. It allows you to purchase items without paying additional fees for gas or parking spots. Ultimately, home delivery shopping is a great way to save time and money while enjoying all of the perks associated with shopping at Empire Kosher Supermarket.
Online Shopping
You can choose fast shipping if you order groceries or other household items online. This means you will not have to wait in line at the store. Overall, online shopping provides an array of benefits for those looking for convenience and savings.
Not only can shoppers find items unavailable locally in the Empire Kosher Supermarket sales flyer, but they also get access to reviews from other customers. It gives them valuable insight into their buying decisions so they can make an informed decision before purchasing.
Mobile Digital App
Is the Empire Kosher Supermarket app installed on your phone? If it isn't, you should visit your app store and see if it's up for download. Once you got the app up and ready, you should also consider subscribing to Empire Kosher Supermarket ad services, so you won't miss out on big-time sales, deals, discounts, vouchers, and other amazing promos.
How EveryPayJoy Help you Save?
Everypayjoy is a great platform to help you save money on your shopping trips. Not only does the website provide access to the latest Empire Kosher Supermarket sales flyer and weekly ads, but it also offers coupons and deals that can save you big each time you shop.
Shoppers can easily find incredible discounts on products they are looking for by subscribing to Everypayjoy's website. With just one click, users can instantly access all of the latest Empire Kosher Supermarket weekly ads in one place. This eliminates the need to search through individual stores or websites and helps shoppers save time while looking for the best deals possible.
Additionally, Everypayjoy makes it easy for shoppers to stay up to date with new promotions and sales. The website allows customers to subscribe for notifications about new offers. Thus, you will never miss out on an opportunity to save money at your favorite stores.
The convenience of Everypayjoy is why so many shoppers trust this platform when planning their shopping trips. By taking advantage of the deals and coupons available on this site, customers can enjoy substantial discounts without spending hours searching around online or in-store.
Disclaimer: Empire Kosher Supermarket is a registered trademark of Empire Kosher Supermarket and is not affiliated with our company. We are not affiliated with, endorsed by, or connected to Empire Kosher Supermarket. Our use of any trademark belonging to another company is not done with the intent to confuse consumers but is rather incidental in promoting these companies and their coupons.