Trader Joe's Weekly Ad (06/01/2023 - 06/08/2023)
Wondering where to find the craziest markdowns? Only right here, with Trader Joe's weekly ad! It takes only a few clicks and scrolls to score the most budget-friendly offers on your screen.
But you know what's crazier? You can also find future whopping bargains with Trader Joe's ad previews! It's a limited sneak peek, so grab the chance while it's hot!
Trader Joe's Ad & Preview
Trader Joe's Ad 06/01/2023 - 06/08/2023

Trader Joe's Ad 05/27/2023 - 06/02/2023
Now viewing: Trader Joe's Weekly Ad Preview 06/01/2023 - 06/08/2023
Scroll mouse wheel to zoom
Page 1 of 11
Click the images below to view other Trader Joe's Weekly Ads
Trader Joe's Ad
06/01 - 06/08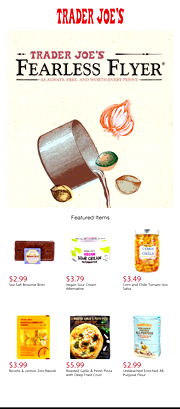 Trader Joe's Ad
05/27 - 06/02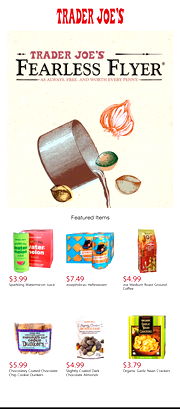 Browse Deals & Coupons in this Trader Joe's Ad
Has your shopping cart been looking more and more sad and bare recently? That'll surely turn around if you use this Trader Joe's weekly ad this week. It's a big shopping hack - you get your huge discounts here so you can get more value for your money!
These discounts are for this week only, from 06/01/2023 to 06/08/2023. To find your pick of the deals, use the arrow buttons or press on the "next" button to move through one collection onto another. Products are sorted by collection to make shopping easier (and replicate the feeling of being at the mall or grocery, walking down one organized aisle after another).
The plus and minus buttons on the side are for zooming in and out of Trader Joe's ad. Zooming in, you'd see product details, like prices and names, much more clearly. Then, if you zoom out, you can compare the collection items to each other as they sit side-by-side on your screen. Really efficient, right?
While you're at it, you can also save a Trader Joe's coupon or two from the database! These coupons entitle you to bigger discounts and savings, so save as much as you can.
This ad gets updated regularly, so if you find nothing that suits you for now, you can always come back next time. Or if want a headstart on the discounts, use the Trader Joe's weekly ad previews! These previews feature the craziest deals for the next few weeks, so you're shopping game is ahead of everyone else's.

Organic Hickory Smoked Turkey Breast
$5.99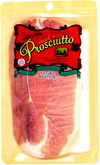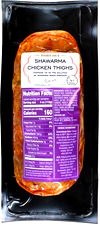 Shawarma Chicken Thighs
$6.99

Sweet Italian Chicken Sausage
$6.49
Uncured Turkey Bacon
$3.99

All Natural Pasture Raised Heirloom Chicken Thighs
$6.99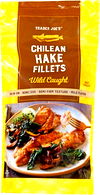 Chilean Hake Fillets
$4.99

All Natural Heirloom Whole Chicken
$3.99

Dill-Icious Seasoned Cold-Smoked Salmon
$6.49

TRADJ260520238901
Meat, Seafood, and Plant Based
Related Brands to Trader Joe's
Can't find your fave brand among the medley of similar items? Flip through the top Trader Joe's deals by brand instead. It's a segment of the Trader Joe's circular wherein product discounts are organized by brand for those who have specific tastes or just want to explore offers from big names.
To see such offers, click on the brand icon or "view now" button to open into a page full of exclusive deals. Like the Trader Joe's sales flyer, these brand discounts pages are updated regularly, so keep an eye out for new additions. For example, this circular covers only 6 brands, but you can expect another name or two to be added next week.
Here are the popular brands we found in our database:
Expired Flyers
Trader Joe's Ad 05/19/2023 - 05/26/2023

Trader Joe's Ad 05/12/2023 - 05/18/2023

Trader Joe's Ad 05/06/2023 - 05/12/2023

Trader Joe's Ad 04/22/2023 - 05/05/2023
How to save at Trader Joe's?
Make the most out of your money when you shop at Trader Joe's! From buy one get one offers to price markdowns, there are many ways you can maximize your budget. Discover them all through our Trader Joe's weekly circular, a digital resource that compiles all the best deals in one place. It's easy to use and accessible anytime, anywhere.
Trader Joe's Digital Coupons
Coupons are a must-have for your shopping sprees. They let you extend your budget or go under it; either way, they make the whole trip much more enjoyable. Unlike before, though, you can't cut out a ton of them from the newspapers or magazines. So where can you find these simple treasures these days?
They are all right there in this Trader Joe's coupon database. As the world transitioned to the digital landscape, so did your beloved vouchers. Not only are they now easier to find and carry, they're also easy to save and redeem. Just click on each coupon for more info and instructions.
Trader Joe's Weekly Specials
Saving at Trader Joe's with the help of weekly specials and deals of the week is a great way to get the most out of your money. By taking advantage of these weekly offers, you can stock up on essential household supplies. There are several ways to take advantage of these deals.
First, be sure to check the store's website before shopping. This will allow you to see what kinds of products are on discount. The Weekly Specials/Deals section will also list any coupons available for additional savings. Be sure to read all product descriptions carefully to know which items qualify for the special price or coupon code.
Another way to maximize savings is by signing up for the store's email newsletter. Many retailers will send out exclusive weekly deals through this service, allowing customers to save even more on their purchases.
By taking advantage of Weekly Specials/Deals of the Trader Joe's weekly ad, you will get great deals on everything from groceries and apparel to electronics and housewares. Whether online or in-store, these specials are a great way to save money without sacrificing quality!
Trader Joe's BOGO
BOGO offers, otherwise known as "Buy One Get One" deals, can be an effective way for savvy shoppers to save money. From groceries to clothes to home decor items, BOGO deals allow customers to purchase one thing and receive another item for free. How can you get the most out of your BOGO-free savings? Read on for some tips and tricks on how to take full advantage of these cost-saving offers.
First, be sure you understand the terms of the BOGO offer. A store often states that customers can receive one item free or at a reduced cost when they purchase another item of equal or greater value. So if you are hoping to get two items for the price of one, make sure both items qualify for the promotion.
Second, carefully calculate the cost of the item you are buying. While BOGO 50% off sounds great in theory, it is essential to ensure that both items offer real savings combined. Don't be fooled by an offer that looks good on the surface. If you are paying more for two than what you normally would pay for one, you are not saving money.
So, just remember to read the fine print, calculate the cost of both items combined, and mix and match offers whenever possible. With these tips in mind, you will be able to take full advantage of BOGO savings and get the most out of your budget.
Reward Programs
Saving at Trader Joe's with their loyalty rewards program is calming and convenient. With the help of this program, customers can access exclusive discounts and promotions that are only available to members. This allows them to get the best Trader Joe's sales ad on their purchases and save money in the process.
Members are eligible for additional discounts like coupon codes that may not be available in-store or online. They also get early access to sales events, making it unchallenging to find great deals even before they go on sale. Plus, when members make a purchase using their loyalty points, they can save even more money.
To maximize savings while shopping at Trader Joe's, members should take advantage of special offers and flash sales that are only available through the loyalty program. Additionally, they should keep track of their rewards points so they can redeem them quickly and conveniently in-store when they need to use them.
Overall, being a member of Trader Joe's's loyalty rewards program is an excellent way for customers to save money when shopping. With exclusive discounts, promotional offers, and other benefits, it is a perfect way for members to make their money stretch further when buying items from Trader Joe's.
Exclusive Online
Do you feel like there's little difference between online and physical shopping? Well, you might be doing it wrong. Expert online shoppers know that the digital world is where you can find the cheapest thrills, biggest discounts, and most fantastic deals. If you want to be in on the secret, check out the Trader Joe's weekly circular! It's where the find all these fantastic and updated promos, and you shouldn't miss out on those, too!
Free Shipping
If there's one con to online shopping, it's the expensive shipping fees. Sometimes, what you're buying is even much cheaper than the cost of having it delivered! But if you start buying from Trader Joe's, you'll find that you can have your item shipped for free!
That's because the Trader Joe's ad also features items or vouchers with attached free shipping deals. Most of them are for a limited time only, so enjoy them while you can!
Find Clearance Items
Clearance sales and racks aren't as dismal as they seem to be. There are treasures hidden in these places, and you just have to find them! Make the discovery easier and quicker by using the Trader Joe's sales flyer. It features the most recent clearance sales, so you're updated on the what, when, where, and how of these amazing opportunities.
Price Match at Trader Joe's
The best way to make a budget is to know the prices even before you're at the store. But is that even possible? It is if you're an avid shopper at Trader Joe's because there is the Trader Joe's weekly ad you can use to check prices. The ad is updated every week, so you're sure the listed prices are reliable and recent. You can use it for other price matching needs, too, like compare brand prices, evaluate price hikes, and more.
Cashback Program
Many are familiar with Trader Joe's discount and free shipping deals. But cashback promos? Not so much. But once you've tried availing them, you'll keep coming back for more. That's because these offers entitle you to get back a certain amount of what you've spent!
The money you got back can be used for future purchases at Trader Joe's, or might even be returned to you as cash you can use for other purposes. If you want to try availing cashback deals, you can look for the corresponding vouchers on the Trader Joe's coupon database.
Shop at Right Time
Shopping at the right time can save you a lot of money, and Trader Joe's is no exception. Christmas sales present a great opportunity to get big discounts, with items often discounted by up to 50%. An even better chance for huge savings is Black Friday.
Every year, Trader Joe's sales flyer offers thousands of products with special deals. Such times make it especially important to keep an eye on their offers and shop only when you find the best bargains. Shopping the discounts available during these special times can help ensure you make the most out of your budget and give yourself some extra cash to treat yourself to after a successful shopping spree.
Shopping at Trader Joe's
In-store Shopping
In-store shopping has advantages that online shoppers can't enjoy. For example, you can get the privilege of the Trader Joe's circular with all of the upcoming sales and discounts. Thus, you will have time to prepare for bargains ahead of time. With in-store shopping, customers have access to more thorough product details, as well as personal assistance from store representatives.
Additionally, shoppers can see and feel the products for quality assurance, touch and look at various features, and compare items for sale side-by-side. By comparing prices and features side-by-side in one place, customers can make wiser purchasing decisions.
Curbside Picku at Trader Joe's
For those looking for ways to pick up items from Trader Joe's without having to enter the premises, the curbside pickup may be a great advantage. Shopping online has some great benefits! You can avoid long lines and save time. You might also find special offers that the store is running, as well as grab some even better deals from the Trader Joe's sales flyer. With curbside pickup, Trader Joe's customers can take advantage of offers without leaving their car or home.
Delivery
If you don't have time to do the groceries and shopping, don't fret! Instead, use the Trader Joe's weekly ad this week to see if your local Trader Joe's allows online shopping AND delivery. You can use those services to get everything you need with a few finger taps and clicks. Once you're done paying, you can just work on other things and wait for the package to arrive -- really convenient and time-saving.
Online Shopping
Online shopping has revolutionized the way we shop. Shopping online is convenient and comes with a plethora of benefits. With just a few clicks, you can access the Trader Joe's circular from the comfort of your home. Thus, you do not have to make an extra trip to the store.
Shopping online also allows shoppers to compare prices between multiple stores quickly, giving them even more ways to save. Online retailers often offer special sales and exclusive discounts that you won't find in stores.
Trader Joe's App
Have you heard about the new Trader Joe's app? It's an avid shopper's must-have, so if you haven't installed it yet, be sure to do so if you can! Check your app Trader Joe's to see if it's ready for download in your area. If not, subscribe to Trader Joe's ad so you get the news first and call dibs!
About Trader Joe's
The first Trader Joe's store was opened in 1967 by founder Joe Coulombe in Pasadena, California. It was owned by German entrepreneur Theo Albrecht from 1979 until his death in 2010, when ownership passed to his heirs. Albrecht's family also owns the German supermarket chain ALDI Nord, to which Trader Joe's belongs. Another Aldi company, Aldi S�d, also operates in the U.S., but uses the Aldi name and logo. The company has offices in Monrovia, and Boston, Massachusetts.
Source
How EveryPayJoy Help you Save?
If you're a shopaholic, there are two things you must do: bookmark the EveryPayJoy website and subscribe to its Trader Joe's weekly ads. They are the easiest ways to get and prolong that euphoric shopping high, as they allow you access to the best deals, discounts, coupons, and other promos at Trader Joe's. The weekly ads are easy to flip through and item prices are highly accurate and recent. The ads also specify the days they are good for and are automatically updated right after the end of the week.
Besides the weekly ads, the website also has a coupon database! All the biggest vouchers, sorted by brand for your easy perusal. Like the weekly ads, expiration dates are also indicated, so you know when you can spend them. Great way to save money, right?
EveryPayJoy also posts articles that provide great shopping tips! These writeups provide valuable and exclusive information you can use to go under or maximize your budget. All these, and the ones above, come for free so don't waste the opportunity!
Disclaimer: Trader Joe's is a registered trademark of Trader Joe's and is not affiliated with our company. We are not affiliated with, endorsed by, or connected to Trader Joe's. Our use of any trademark belonging to another company is not done with the intent to confuse consumers but is rather incidental in promoting these companies and their coupons.