ShopRite Weekly Ad (06/02/2023 - 06/08/2023)
Everyday is shopping day with these incredible promos from ShopRite weekly ad! All the cheapest bargains in the palm of your hand. Click and scroll to check out each offer.
This isn't just for this week, too! Find future deals through ShopRite ad previews, showcasing the most exciting markdowns!
ShopRite Ad & Preview
ShopRite Ad 06/04/2023 - 06/10/2023

ShopRite Ad 06/02/2023 - 06/08/2023

ShopRite Ad 05/28/2023 - 06/03/2023

ShopRite Ad 05/14/2023 - 07/01/2023

ShopRite Ad 05/12/2023 - 07/01/2023
Now viewing: ShopRite Weekly Ad Preview 06/02/2023 - 06/08/2023
Scroll mouse wheel to zoom
Page 1 of 11
Click the images below to view other ShopRite Weekly Ads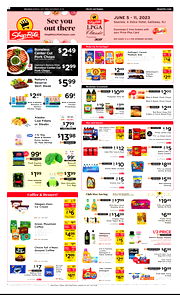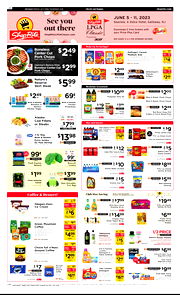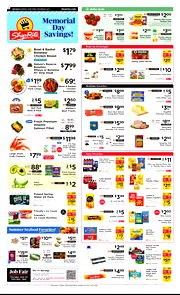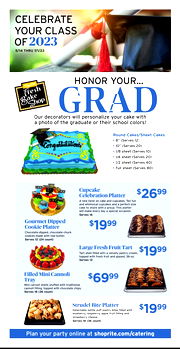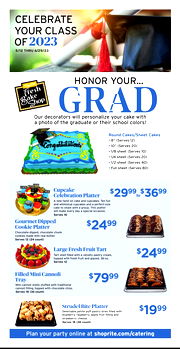 Browse Deals & Coupons in this ShopRite Ad
Reading the ShopRite weekly ad this week is a great way to save time and money. If you are looking for great deals that are easy to access, with the ShopRite ad, you can quickly and easily browse through all the in-store sales and specials. From discounts on groceries to savings on household items and personal care, there's something for everyone.
Reading through the ShopRite ad can also help you find other offers such as coupons, special contests, bonus points, or rewards programs. You can even use a ShopRite coupon to plan your weekly meal plan to get the most bang for your buck.
Right now, there are over 28 different deals running in the current ShopRite weekly ad this week! The weekly ad starts on 06/02/2023 and ends on 06/08/2023. Before making any purchases, make sure to check out any available coupons for extra savings.
Overall, reading through the ShopRite ads each week is a great way to stay informed about what's going on within their stores and find out about amazing deals before anyone else does! It is also important to note that some deals are only available for a limited time, so if you see something you like, take advantage of it sooner than later.
Thus, if you are looking to stretch your budget further while still enjoying a variety of products or services offered by ShopRite, then taking a quick peek at their latest weekly ad could be beneficial for achieving that goal!


Poise
Digital Coupon $1.00 OFF








Popular ShopRite Brands
Shopping for the best deals has never been easier. Whether grocery shopping or just looking for that perfect item - find top deals by brand quickly and painlessly at ShopRite. With the ShopRite circular, you can take advantage of the 12 brands and their sales flyers to see what each has to offer.
The ShopRite sales flyer offers some great deals that can save you from paying extra. Whether you are looking for the top value from brands like Bowl & Basket, Coke or quality products from one of their top suppliers - ShopRite provides it with all. Check out the website today to begin planning your next shopping trip - you won't regret it!
Expired Flyers
ShopRite Ad 05/26/2023 - 06/01/2023

ShopRite Ad 05/21/2023 - 05/27/2023

ShopRite Ad 05/19/2023 - 05/25/2023

ShopRite Ad 05/14/2023 - 05/20/2023
How to save at ShopRite?
Do you find going to the mall or grocery too much of a hassle? With this ShopRite weekly circular, you won't anymore because it makes shopping a breeze. It has all the most recent (and even future) deals, discounts, and promos you can use to enjoy your budget to the fullest. Also, all are organized to make browsing easier - a realy money AND time saver.
Coupons at ShopRite
ShopRite is a great place to shop for all your needs, but you don't have to break the bank! With digital coupons, ShopRite can help customers save money. You can easily find ShopRite coupons online that you can use when shopping. Simply look through ShopRite's website or do a quick search on any search engine, and you will find digital ShopRite coupons you can apply at checkout.
When using these ShopRite coupons, pay attention to expiration dates and usage limits if they are specified. With digital ShopRite coupons, there is no need to worry about losing them as the website automatically applies them at checkout. All you need to do is to make sure to have the coupon code handy before you finish your order!
ShopRite Weekly Specials
Saving money at ShopRite with the help of weekly specials or "deals of the week" is a great way to save on groceries and household supplies. To get the most out of these offers, plan and do your research.
Start by acquainting yourself with the weekly ad. Check it out every week to see what discounts and price cuts are available. Once you have a good idea of what the ShopRite weekly ad offers, list items you need currently part of the deal. Make sure to check expiration dates so you don't miss out on any offers.
You should also look for coupons in the weekly deals. Most stores will accept paper coupons as well as digital ones found online. Some stores even allow you to stack digital coupons for more savings. So, if you see any weekly special coupon code, ensure you use it on time.
Finally, don't forget about weekly clearance items! Many stores mark down things that may no longer be part of their regular inventory but can still make perfect sense for you. Thus, take advantage of these discounted prices by weekly checking store websites and flyers.
By planning and taking advantage of weekly specials, deals, coupons, and clearance items at ShopRite, customers can find great bargains and save a lot on their weekly purchases!
BOGOs
Saving at ShopRite with the help of BOGO free can be a great way to stretch your budget! To ensure you get the most out of every BOGO promotion, start by understanding the terms and conditions. Many promotions may have limits on items eligible for the discount or restrictions on how many discounts can be used in one purchase. Read all details carefully and make sure you understand them before taking advantage of savings opportunities.
It is also important to compare prices between stores to determine who has the best deal on items that qualify for BOGO 50% off. Shopping around can save money and allow you to find items on which you can get extra savings with the ShopRite ad.
When a BOGO offer is available, it's smart to stock up on items that don't expire quickly or something you know you will use up for certain. This way, you won't need to worry about wasting any food or other item due to an expiration date before you have time to use it up.
The additional discounts are great ways of saving even more money with each purchase so combine them with BOGOs wherever possible for even more significant savings.
Reward Programs
Saving at ShopRite with their loyalty rewards program is calming and convenient. With the help of this program, customers can access exclusive discounts and promotions that are only available to members. This allows them to get the best ShopRite sales ad on their purchases and save money in the process.
Members are eligible for additional discounts like coupon codes that may not be available in-store or online. They also get early access to sales events, making it unchallenging to find great deals even before they go on sale. Plus, when members make a purchase using their loyalty points, they can save even more money.
To maximize savings while shopping at ShopRite, members should take advantage of special offers and flash sales that are only available through the loyalty program. Additionally, they should keep track of their rewards points so they can redeem them quickly and conveniently in-store when they need to use them.
Overall, being a member of ShopRite's loyalty rewards program is an excellent way for customers to save money when shopping. With exclusive discounts, promotional offers, and other benefits, it is a perfect way for members to make their money stretch further when buying items from ShopRite.
Online Exclusive Offers
With exclusive online offers, shopping at ShopRite is more budget-friendly than ever. Whether you are looking to buy home appliances, clothing, or electronics, simply take advantage of the available ShopRite weekly ad online to help make your purchases as cost-effective as possible.
Instead of browsing the store for items, you need to check out the ever-changing inventory of items for sale at ShopRite. Keep checking back for the latest promotions. This way, you can enjoy discounts on whatever catches your eye. So why not try out ShopRite with their delightful array of exclusive online offers today?
Leverage Free Shipping
Shopping at ShopRite can be a budget-minded shopper's dream. You can save even more if you know how to take advantage of their great free shipping option! Always make sure to check the website for any special deals that offer complimentary shipping. These are usually timed offers and change often. Setting up an account with the store will also give you opportunities to score free delivery when you buy certain items or enter specific codes during checkout.
If you want the guaranteed free shipment option, spend the extra few dollars and purchase a premium membership. Premium memberships and large purchases offen offer free express delivery. Taking advantage of this great perk of the ShopRite weekly ad just might get you some extra money back in your wallet.
Find Clearance Items
If you love the thrill of going through a mass of colors, forms, shapes, and sizes, clearance sales are the best place for you. These racks are filled with off-season, surplus, and other many, many items, often in a state of disarray. There's usually no organization, and if there is, that's usually gone after a blizzard of shoppers. But even so, shopping through clearance racks are one of the best, money-saving hacks. Prices are so reduced, some great items comet at 60% off.
To join in and be on time for the fun, watch out for announcements of clearance sales on ShopRite sales flyer. They are usually for a very limited time only, and you must be there right away. It's not a good idea to start shopping during the sales last few days as you won't have the good stuff anymore.
Price Match at ShopRite
If you love keeping track of product prices at ShopRite, then the ShopRite weekly ad will be your best friend. It's frequently updated, so you're sure that the featured prices, deals, and discounts are accurate and the most recent. These make your price matching efforts more reliable, which is crucial for maximizing budgets and making the most savings. Also, it's effortless and quick to use, so you can easily find all the info you need.
Cashback Program
Do you think you can get money back just by spending? While that may seem like an absurd concept, it's actually possible right now! More and more stores and brands are offering cashback promos, which allow you to get a certain amount of money back when you meet the deal's terms and conditions. Amazing, right?
If you're interested in such fantastic promos, then subscribe to the ShopRite coupon database. From cashbacks to discounts, it has it all, ready for you to take and use.
Shop at Right Time
Is your kid going back to school? You'll have a lot of stuff to buy - clothes, bags, school supplies, shoes, and more. All these expenses could leave your bank empty, but not if you're shopping smart.
Shop at the right time with the ShopRite ad previews. These ads showcase back-to-school deals and promos way ahead of time, so you know when, where, how, and how much you can get them. It will surely help you stretch your budget, so make sure to subscribe!
Shopping at ShopRite
ShopRite In-store Shopping
In-store shopping is the most classic way to shop. For some, it's even a ritual or a way to de-stress from a hectic week. Especially for shopaholics, nothing feels more comforting than walking along the newly-stocked aisles, assessing items, and checking out products.
If you're that kind of person, you'd think the experience would hardly get better. But it does, when you use the ShopRite sales flyer. It updates you on the latest deals and promos, so you're always informed of the most recent and best offers.
Curbside Picku at ShopRite
If your local ShopRite did not have a certain item on stock, there's an easy solution to that: curbside pickup. Through this service, customers like you can order a specific object and have it shipped to your local ShopRite or another convenient location. This is great for those who want to save on shipping fees, or just want to purchase items before setting foot at ShopRite. To learn more about this offer, check out the ShopRite flyer - it contains all the info you need; plus, you can check if there are promo offers, too.
Delivery at ShopRite
These days, whether you did your shopping in-store or online, most shops offer delivery options. Such a service allows you to buy stuff without setting foot at the store or having bulk and large purchases transported to your place without much hassle. Whichever purpose you need it for, you must check first whether your local ShopRite does offer delivery. If they do, you can the check the ShopRite weekly ad this week to see if they have delivery vouchers, discounts, and deals. Avail any that are applicable so you can save on the fees!
Online Shopping at ShopRite
Change the way you shop by letting the store come to you, which is possible if your local ShopRite has an online shop! All products you would see in the physical branch (and more) are available on the online shop. You can flip and browse web pages like you're walking down aisles of goods. To check if your local ShopRite has an online shop, view the ShopRite circular, which is regularly updated with latest news, services, and promos.
ShopRite App
What if your local ShopRite is one tap away? That's totally possible if you have the ShopRite app installed in your fave gadget! To find this app, check out the ShopRite ad - it usually features the app ready for download. Once it's installed, you can add to cart and check out items right away!
About ShopRite
Shoprite is known as the biggest food retailer in New Jersey and the entire metropolitan New York area. Headquartered in Keasbey, New Jersey, the retailers' cooperative operates under Wakefern Food Corporation. Shoprite has 300+ stores in six states across the Mid-Atlantic: : Connecticut, Delaware, Maryland, New Jersey, New York, and Pennsylvania.
Source
How to find ShopRite sales flyer?
Shoprite FAQs

How to get Shoprite Ads emailed to You?

Want to get the most out of your shopping experience at Shoprite? Sign up for the Shoprite weekly ad and stay updated on exclusive deals and offers from your favorite store! You can even get digital coupons to use for your next purchase. To get started, visit the Shoprite website and create an account.

How long does the Shoprite Ad last?

The Shoprite weekly ad lasts for seven days.

When Does Shoprite release the new ad?

Shoprite releases a new weekly ad every Sunday. If you'd like to see next week's ads in advance, you can view the Shoprite weekly ad preview on the Shoprite website as well. This tool makes it easier for you to plan your grocery trip.

How to have Shoprite weekly ad shipped to me

Depending on your area, you may or may not be qualified to receive Shoprite's mass distribution of the weekly Shoprite circular. For customers not included in the distribution area, you can still get the Shoprite ad from your local newspaper. You can also view them online from the Shoprite website.

What day does the Shoprite Ad start and end?

A new Shoprite ad begins every Sunday. The same ad ends on Saturday of the same week.
What are Shoprite Hours?

Staying updated on your favorite store's business hours is a great way to plan your grocery trip better. Shoprite store hours are as follows:

Monday to Saturday: 08:00 AM to 09:00 PM

Sunday 9:00 AM to 6:00 PM
Shoprite Location

New Jersey is home to the most number of Shoprite locations per state. Aside from New Jersey, though, Shoprite also serves five other states in the Mid-Atlantic area. These include:

If you're from these states and you're looking for a Shoprite near you, visit the Shoprite store finder page at https://shop.shoprite.com/globaldata/banner-pages/store-locator
Shoprite coupons

One of the best perks of being a Price Plus Club member is getting access to coupons. Shoprite regularly uploads digital coupons for customers to clip and load on to their Price Plus Club card. These coupons are helpful in helping you make the most out of your grocery shopping budget so you can get more for less.
Shoprite grocery pickup & delivery

To make shopping safer and more convenient for its customers, Shoprite also offers grocery delivery and curbside pickup. For a minimal fee, you can have your goods delivered to your doorstep. Another option is to have it ready for pickup at your preferred time. Click here for more info on home delivery and pickup https://shop.shoprite.com/globaldata/banner-pages/help-page/pickup-delivery.
Shoprite gift card

Looking for a practical and useful gift? Shoprite gift cards make great gifts for anyone! Buy them in-store or order one online. Shoprite will mail a physical address to your preferred location and you can load them up online so it's ready for use for the recipient.
Shoprite bakery

The Shoprite bakery is a crowd favorite among shoppers. Aside from freshly breads, they also have great-tasting pastries and desserts. If you ever need something delicious and sweet to bring to a party, drop by the Shoprite bakery.
Shoprite grocery

Get your everyday essentials and more from the Shoprite grocery. Whether it's food or a household cleaning product that you need, you'll find it at Shoprite! Not feeling up for a grocery trip? Have your groceries delivered instead! You can also schedule it for pickup at your preferred time. Grocery shopping at Shoprite is always fun, easy, and convenient.
Shoprite wine and spirits

Good wine that doesn't break the bank can be a challenge to find. Luckily, Shoprite has a section dedicated to wines and spirits full of them. Discover something new or stock up on an old favorite on your next Shoprite trip. You might even discover sales on wines you've been eyeing for a while.
Shoprite online

These days, everything can be done online - even grocery shopping! Shoprite online is a place where you can get all your daily needs and more. Visit their website to see what's up for grabs. You can even clip digital coupons for even bigger savings!
Shoprite black Friday

Avoid the holiday shopping stress by getting it done early. Shoprite's Black Friday sales always include great giftable items at amazing prices. Now, who says the holidays have to be a burden on your budget? You can even start shopping for your holiday menu as early as Black Friday and get big savings.
How EveryPayJoy Help you Save?
Everypayjoy is a fantastic website that helps you save money on everyday purchases. It provides access to ShopRite sales flyers, weekly ads, and exclusive deals and coupons. Thus, the platform allows users to pinpoint the best prices, discounts, and special offers.
With EverypayJoy, you will never miss out on significant savings again. Its simple design allows users to quickly find what they need and maximize their budget without sacrificing quality. Affordability aside, the variety of options available at Everypayjoy is guaranteed to have something for everyone.
You can find amazing deals on products from clothing, furniture, electronics, and beyond in the ShopRite sales flyer. So why not save some extra money with every purchase? Putting your hard-earned money back where it belongs, in your pocket.
Everypayjoy also provides exclusive deals and coupons to help you save money on your purchases. With so many value-friendly options at your fingertips, Everypayjoy is an invaluable shopping companion that enables you to save.
Disclaimer: ShopRite is a registered trademark of ShopRite and is not affiliated with our company. We are not affiliated with, endorsed by, or connected to ShopRite. Our use of any trademark belonging to another company is not done with the intent to confuse consumers but is rather incidental in promoting these companies and their coupons.