Fleet Farm Weekly Ad (05/26/2023 - 06/03/2023)
Shopping smart and getting the most out of your budget is a goal many people strive for, so why not take advantage of the convenience and savings offered by the Fleet Farm ad? With our Fleet Farm ad page, you can keep up with all the latest deals and offers on products ranging from groceries to electronics - all at competitive prices. Start browsing today and enjoy the unbeatable value of shopping with Fleet Farm weekly ad. With our ever-changing selection of great deals, there's something new every time, so don't miss out on your chance to save big!
Fleet Farm Ad & Preview
Fleet Farm Ad 06/02/2023 - 06/10/2023

Fleet Farm Ad 06/02/2023 - 06/10/2023

Fleet Farm Ad 06/02/2023 - 06/10/2023

Fleet Farm Ad 05/26/2023 - 06/03/2023

Fleet Farm Ad 05/19/2023 - 06/18/2023

Fleet Farm Ad 03/27/2023 - 07/02/2023
Now viewing: Fleet Farm Weekly Ad Preview 05/26/2023 - 06/03/2023
Scroll mouse wheel to zoom
Page 1 of 13
Click the images below to view other Fleet Farm Weekly Ads
Fleet Farm Ad
06/02 - 06/10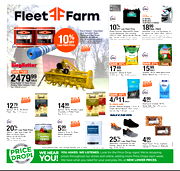 Fleet Farm Ad
06/02 - 06/10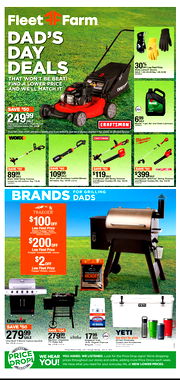 Fleet Farm Ad
06/02 - 06/10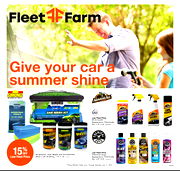 Fleet Farm Ad
05/26 - 06/03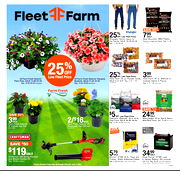 Fleet Farm Ad
05/19 - 06/18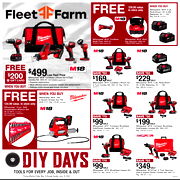 Fleet Farm Ad
03/27 - 07/02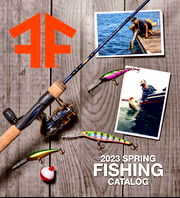 Browse Deals & Coupons in this Fleet Farm Ad
Reading the Fleet Farm ad is straightforward. All you have to do is scroll through the Ad Preview above or click on the other store links to see their weekly ads. With the help of the Fleet Farm weekly ad this week, it is easy to tell whether a product is on sale. You can easily search through multiple categories to find the items of your need.
Additionally, you must know that the ad will start from 05/26/2023 and last till 06/03/2023. This gives you plenty of time to enjoy 23 and keep shopping wisely. Looking through the Fleet Farm ad for next week is prime because plenty of great deals will save you money each week.
You should also keep an eye out for special promotions such as discounts or buy-one-get-one-free offers that will help you stretch your budget even further. Plus, some products may only be available at discounted prices during certain times of the year, which can be found by reading the Fleet Farm ad regularly.
When looking at the Fleet Farm weekly ad this week, read up on any exclusive offers listed at the top of the page. The coupon database can also help you find additional savings, so check out the Fleet Farm coupon section as well.
Finally, keep an eye out for any new products that have been released recently, and take advantage of those deals!


MLB Short-Sleeve Tees & Headwear
40% OFF Low Fleet Price

Thorogood®
25% OFF Low Fleet Price

Priefert
$30 OFF LOW FLEET PRICE

6' x 10' Premier Dog Kennel Panel
$30 Low Fleet Price



Rubbermaid
FREE $200 GIFT CARD WHEN YOU BUY $1099 Fleet Price


Popular Fleet Farm Brands
Shopping with Fleet Farm has become one of the most leisurely activities of all time. With the 12 brands that the store offers, the dynamic parameters of the Fleet Farm sales flyer will offer considerable deals effortlessly. Whether looking for quality products from a top supplier or trying to save money on everyday items, shoppers can find a wide range of discounts from CRAFTSMAN.
By using the Fleet Farm circular, consumers can take advantage of each brand's sales and promotions. From popular name-brand goods such as CRAFTSMAN, shoppers can find notable deals on everything they need. With these top-brand offers, customers can get more bang for their buck while shopping at Fleet Farm.
It's easy to see why so many people shop at Fleet Farm. With unbeatable prices across all brands and quality products that are sure to last, customers know that when they shop here, they are getting value for their money.
Expired Flyers
Fleet Farm Ad 05/19/2023 - 05/29/2023

Fleet Farm Ad 05/17/2023 - 05/29/2023

Fleet Farm Ad 05/12/2023 - 05/20/2023

Fleet Farm Ad 05/12/2023 - 05/29/2023
How to save at Fleet Farm?
Shopping at Fleet Farm doesn't have to cost a fortune. There are plenty of ways to save without sacrificing the products and services you need. Whether taking advantage of limited-time deals, using Fleet Farm coupons, or signing up for rewards programs, getting the most out of shopping at Fleet Farm is easy with a few simple strategies. With a bit of effort, you will be able to maximize your savings and stay within budget every time.
Coupons at Fleet Farm
Shopping at Fleet Farm with Digital Coupons can help you save a lot of money! By taking advantage of the digital Fleet Farm coupons available, customers can stock up on all their favorite items while also keeping their budgets in check. Here are some tips to get the most out of your digital coupon shopping experience:
1. Start by searching for digital coupons online. There are websites and apps specifically for finding and using digital coupons. So, take advantage of these tools to make sure you have access to the best deals. Make sure to read the description for each coupon before using it, as some coupons may have restrictions or expiration dates.
2. Sign up for email alerts from Fleet Farm. Many stores offer discounts and coupon codes through their email lists. Thus, sign up and stay informed about upcoming sales and promotions. This way, you will always take advantage of a great deal.
3. Combine multiple coupons when possible. If you have numerous digital coupons from different sources (such as emails, store websites, and apps), see if you can combine them into one transaction. This could result in some significant savings. Make sure that the terms and conditions allow it before proceeding with the purchase.
Overall, shopping at Fleet Farm is always more fun when saving money is involved and digital coupons provide just that opportunity. So remember to take advantage of all those fabulous discounts offered through digital coupons.
Fleet Farm Weekly Specials
Weekly shopping doesn't have to rip off your wallet. With a great budget and tons of deals, it can be an enjoyable, money-saving trip. Care to know how? It's easy - just use the Fleet Farm weekly ad.
The weekly ad is a digital catalog of all the best offers exclusive for this week only. They are all sorted by collection, for your easy perusal. If you find the details too small, just zoom in with your scroller.
Once you've exhausted all of this week's sales, it isn't the end of it all. The ad gets updated EVERY WEEK, so make sure you visit it frequently to stay updated.
BOGOs
"Spend more, save more" becomes true with the biggest and most exclusive BOGO or buy one get one deals! Find these BOGO offers on the Fleet Farm sales flyer, and you'll be entitled to a free or discounted second item. It's an opportunity to bulk buy for the future without ripping your wallet. Don't pass it up - future you will thank you!
Membership Program
Did you know Fleet Farm has a reward program? If you didn't, now you do and you should be a part of it. Members of the program are entitlted to the most exclusive deals and earn hundreds of points just by shopping. All these points can be used for future shopping trips, for even bigger savings.
So, what are you wating for? Find the registration details in our Fleet Farm sales ad!
Online Exclusive Offers
Ever wondered why everyone's transitioning to online shopping? That's because of the huge deals and discounts! With online shops, not only do you save on transport and physical effort, product prices are cheaper, too, especially when you use and stay updated on the Fleet Farm weekly circular! This digital resource features the most recent promos you can use to make big savings on big purchases.
Leverage Free Shipping
Who doesn't love online shopping? You get a lot of variety, as you can access nearly every brand possible and find items physical stores don't even have. They're also convenient - just click, tap, and scroll and you can find everything you need. Moreover, there are a ton of cheap options, especially when you know how to look.
But while all that sounds good, you can make it better with free shipping! Free shipping promos allow you to have your purchases delivered for free, so long as you meet the deal's or voucher's terms and conditions. Find such limited deals on the regularly-updated Fleet Farm ad.
Clearance
Find yourself always late when it comes to clearance sales? Find announcements about such offers (and more) through the Fleet Farm sales flyer and ad previews. These digital resources often sneak in peeks of such big deals, so make sure to be updated. Once you find specific dates, make sure to block the day out and hit the racks ahead of everyone else.
Price Matching
Price matching on the Fleet Farm weekly circular has become a great way to save money while still being able to shop where you want. Price matching is searching for the same product, or one similar to it, on another site at a lower price. Furthermore, you can ask the Fleet Farm to match that price. It is so simple, just shop online and keep your eye out for better deals elsewhere.
Once you have found the item elsewhere more cheaply, tell Fleet Farm, and they will match it. Of course, some restrictions do apply. However, with just a few minutes of research and looking around, shoppers can easily use this great tool and save a lot of money.
Cashback Program
Shopping at Fleet Farm just got even more rewarding. With the help of cashback, customers can now earn money while they shop! To get started, the customer must simply link their store account with a cashback website and shop. It is that easy.
This will add up to savings or loyalty points you can use to access exclusive Fleet Farm deals. As an additional benefit, cashback offers assure shoppers of additional value for every purchase made. With just a few clicks, customers can enjoy substantial savings on all their purchases with the Fleet Farm ad. A win-win for everyone!
Shop at Right Time
Shopping at Fleet Farm can seem expensive, but with the help of shopping at the right time, it can be a much more affordable experience. When making purchases from Fleet Farm weekly ad, timing your trip is key!
For instance, Black Friday shopping is essential for getting some of the best deals that this Fleet Farm offers, especially during the holiday season. Back to School, sales are also great. There are always discounts and special offers for various school supplies, making this an ideal time to save money. Mega Sales are also worth looking into. These usually offer extra discounts and lower prices on some of the biggest and most expensive products this store has to offer. Knowing when to shop allows you to save money when visiting Fleet Farm.
Shopping at Fleet Farm
Fleet Farm In-store Shopping
Shopping in-store has many benefits that out-of-store shopping just can't match. While the convenience of ordering online is attractive, shoppers can gain access to Fleet Farm circular. This circular has information about discounts and special promotions unavailable online.
Additionally, in-store shoppers can find physical review products before purchase and may even be given advice from knowledgeable staff who are on hand. This experience is only possible by going to the store. Shopping in-store also eliminates the anxiety around buying something different than what was expected or pictured, as it puts the customer's personal experience first and foremost.
Curbside Picku at Fleet Farm
Check out the latest Fleet Farm sales flyer! Not only does it contain the biggest deals and discounts, it also features great and convenient services you may not be familiar with, like curbside pickup! Such an offer allows you to make an order, have it delivered to a specific, nearby location, and pick up the package once it has arrived. Transportation fees are cheaper this way, plus you can pickup the item the soonest it's available and won't get delayed by delivery backlogs and other similar issues.
Delivery
These days, whether you did your shopping in-store or online, most shops offer delivery options. Such a service allows you to buy stuff without setting foot at the store or having bulk and large purchases transported to your place without much hassle. Whichever purpose you need it for, you must check first whether your local Fleet Farm does offer delivery. If they do, you can the check the Fleet Farm weekly ad this week to see if they have delivery vouchers, discounts, and deals. Avail any that are applicable so you can save on the fees!
Online Shopping
Shop your heart out without dropping because with online shopping, everything is effortless! You won't have to walk, talk, or carry bags. You just have to wait for delivery to bring your purchases to you! If you want that convenience, check if your local Fleet Farm has an online shop. If they do, start adding items to your virtual cart, but before you check out, make sure you apply the vouchers and promos you find in the Fleet Farm circular.
Mobile Digital App
Shopping can be a wonderful experience or an overwhelming chore, particularly if you are looking for the best deals. Finding even better deals is easier as apps allow customers to input coupons easily, making savings even more accessible. Now you do not have to clip them out of the paper carefully. Furthermore, shopping online with store apps makes budgeting easier by keeping track of spending while simultaneously finding quality deals.
About Fleet Farm
Source
How EveryPayJoy Help you Save?
Everypayjoy is a fantastic website that helps you save money on everyday purchases. It provides access to Fleet Farm sales flyers, weekly ads, and exclusive deals and coupons. Thus, the platform allows users to pinpoint the best prices, discounts, and special offers.
With EverypayJoy, you will never miss out on significant savings again. Its simple design allows users to quickly find what they need and maximize their budget without sacrificing quality. Affordability aside, the variety of options available at Everypayjoy is guaranteed to have something for everyone.
You can find amazing deals on products from clothing, furniture, electronics, and beyond in the Fleet Farm sales flyer. So why not save some extra money with every purchase? Putting your hard-earned money back where it belongs, in your pocket.
Everypayjoy also provides exclusive deals and coupons to help you save money on your purchases. With so many value-friendly options at your fingertips, Everypayjoy is an invaluable shopping companion that enables you to save.
Disclaimer: Fleet Farm is a registered trademark of Fleet Farm and is not affiliated with our company. We are not affiliated with, endorsed by, or connected to Fleet Farm. Our use of any trademark belonging to another company is not done with the intent to confuse consumers but is rather incidental in promoting these companies and their coupons.