Best Buy Weekly Ad (03/20/2023 - 03/27/2023)
Flip through Best Buy weekly ad and score the most incredible deals! Browse the collection by clicking on arrow buttons. Easily zoom in for a clearer view of each item using the scroller!
What's more – you can check out Best Buy ad previews for future dates! It's a great help in planning budgets.
Best Buy Ad & Preview
Best Buy Ad 03/20/2023 - 03/27/2023

Best Buy Ad 03/13/2023 - 03/20/2023
Now viewing: Best Buy Weekly Ad Preview 03/20/2023 - 03/27/2023
Scroll mouse wheel to zoom
Page 1 of 79
Click the images below to view other Best Buy Weekly Ads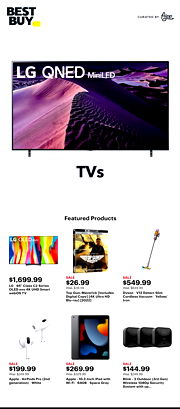 Browse Deals & Coupons in this Best Buy Ad
Reading the Best Buy weekly ad this week is easy. The ads are divided into categories so you can quickly find what you are looking for with ease. You can also view the coupons available in their database, and be sure to check back often as new deals become available every week.
It is important that you read the Best Buy ad so that you don't miss out on any savings opportunities. Companies post exclusive deals in their weekly ads, which are usually only good for one week or less. Thus, it is a great way to take advantage of limited-time discounts on products and services. Plus, these ads can help you plan your shopping trips by telling you which items are on sale and when they will go back up in price.
The current Best Buy ad contains over 30 different offers ranging from discounts on food items to special savings on household goods and more. This week's ad runs from 03/20/2023 until 03/27/2023, so make sure to act fast if there is something you want before it goes off sale!
Additionally, there may be additional promotions in the website's coupon section where shoppers can find even more great savings opportunities. The Best Buy coupon further helps you to lessen your shopping bill. Overall, viewing the Best Buy weekly ad this week is an easy way to save money on groceries and other items each week when done correctly.

Dell - Inspiron 2-in-1 14" FHD+ Touch Laptop – AMD Ryzen 7 – 16GB Memory – 512GB SSD - Pebble Green
$699.99

H&R Block - Tax Software Deluxe + State 2022 - Windows, Mac OS [Digital]
$34.99

Epson - EcoTank ET-2800 Wireless All-in-One Supertank Inkjet Printer - White
$199.99

WD - BLACK SN850 2TB Internal SSD PCIe Gen 4 x4 Officially Licensed for PS5 with Heatsink
$199.99

Epson - WorkForce WF-2930 All-in-One Inkjet Printer
$59.99

HP - Smart Tank 6001 Wireless All-In-One Supertank Inkjet Printer with up to 2 Years of Ink Included - Basalt
$259.99

Samsung - T350 Series 24" IPS LED FHD, FreeSync (HDMI, VGA) - Dark Blue Gray
$109.99

Lenovo - Yoga 7i 16" 2.5K Touch 2-in-1 Laptop - Intel Evo Platform - Core i7-1260P - 16GB Memory - 512GB SSD - Arctic Grey
$799.99

MacBook Pro 14" Laptop - Apple M1 Pro chip - 16GB Memory - 512GB SSD - Space Gray
$1599.0

Apple - 10.2-Inch iPad with Wi-Fi - 256GB - Space Gray
$399.99
Related Brands to Best Buy
When finding top deals by the Native, Jarritos, Zep, Renuzit, Celeste, Huggies, customers can easily find great discounts on their favorite products. With the help of the Best Buy circular and Best Buy sales flyer, customers can quickly identify which brands offer the most deals and discounts. Dynamic parameters such as searchable categories and sorting filters make it easy for customers to sort through all the different brands that Best Buy offers.
Currently, there are 6 available in the store's catalog with a vast selection of products. Each brand offers unique deals and discounts; some may offer weekly or even monthly specials, while others have limited-time sales events.
Amongst this array of choices, customers can compare prices between different brands to get the prime value for their budget. This way, they can save even more money when purchasing items from their favorite brands!
Here are the popular brands we found in our database:




Expired Flyers
Best Buy Ad 03/13/2023 - 03/20/2023

Best Buy Ad 03/06/2023 - 03/13/2023

Best Buy Ad 03/06/2023 - 03/13/2023

Best Buy Ad 03/03/2023 - 03/10/2023
How to save at Best Buy?
Shopping at Best Buy doesn't have to cost a fortune. There are plenty of ways to save without sacrificing the products and services you need. Whether taking advantage of limited-time deals, using Best Buy coupons, or signing up for rewards programs, getting the most out of shopping at Best Buy is easy with a few simple strategies. With a bit of effort, you will be able to maximize your savings and stay within budget every time.
Best Buy Digital Coupons
Shopping at Best Buy can be expensive, but there are plenty of ways to save money with the use of digital coupons. These coupons can provide discounts on anything from apparel to home goods, making shopping for those much-needed items a whole lot easier on the wallet.
To get the most out ofBest Buy coupons, it's essential to do your research and find the ones that are best suited for you. Start by signing up for any newsletters or loyalty programs offered by Best Buy. This informs you about upcoming sales and provides a wealth of coupons and promo codes to help you save.
Using digital coupons can help reduce your shopping bill cost at Best Buy. With just a little bit of research and preparation, you will be able to take advantage of incredible discounts explicitly tailored to your needs. So make sure to give it a try next time you shop. By following these simple steps and taking advantage of all available coupon options, shoppers can save significant amounts of money while shopping at Best Buy.
Best Buy Weekly Specials
Saving money at Best Buy is easy with the help of its weekly specials and deals. Every week, there are many different opportunities to save money on everything from frozen goods to electronics. These weekly deals give customers discounts on select items, free shipping options, bonus points, or rewards. Thus, make sure to take advantage of these fantastic offers. To ensure you get all of these great savings opportunities, it's essential to check in with Best Buy now and then.
You can also sign up for email alerts from Best Buy weekly ad, so you'll always be one step ahead when finding the best new savings opportunities. Additionally, if you follow Best Buy on social media such as Facebook and Twitter, you can often find additional monthly promotions and savings. That said, it is wise to remember that many of these discounts are only available for limited periods. Thus, acting fast is essential if you want to take advantage of a particularly enticing deal.
Finally, if you are a loyal customer who shops regularly at Best Buy, check out their loyalty program. Members receive exclusive offers and discounts throughout the year. So when it comes time for your next shopping spree, take advantage of all that Best Buy has to offer by checking out its weekly specials and deals of the week.
BOGOs
Get your shopping gals and guys ready because all of you are about to discover one of the greatest shopping hacks - this Best Buy sales flyer containing the most exclusive and recent BOGO or buy one get one deals, from BOGO free to BOGO discounts. This flyer is updated regularly, so before you go on shopping sprees, check it out so you don't miss on such amazing steals.
Membership Program
Saving at Best Buy with their loyalty rewards program is calming and convenient. With the help of this program, customers can access exclusive discounts and promotions that are only available to members. This allows them to get the best Best Buy sales ad on their purchases and save money in the process.
Members are eligible for additional discounts like coupon codes that may not be available in-store or online. They also get early access to sales events, making it unchallenging to find great deals even before they go on sale. Plus, when members make a purchase using their loyalty points, they can save even more money.
To maximize savings while shopping at Best Buy, members should take advantage of special offers and flash sales that are only available through the loyalty program. Additionally, they should keep track of their rewards points so they can redeem them quickly and conveniently in-store when they need to use them.
Overall, being a member of Best Buy's loyalty rewards program is an excellent way for customers to save money when shopping. With exclusive discounts, promotional offers, and other benefits, it is a perfect way for members to make their money stretch further when buying items from Best Buy.
Online Exclusive Offers
Shopping at Best Buy can be a great way to find the perfect product for a reasonable price. One fantastic way to save when you shop through the Best Buy sales flyer is to take advantage of their Online Exclusive Offers. These offers are only available online and come with amazing discounts on some of their most popular items.
The customer must visit the store's website, browse sale items, and add them to their virtual cart. Online Exclusive Offers make it easy for customers to get the best deals without leaving home.
Free Shipping
Shopping at Best Buy sales flyer doesn't have to be expensive. There are plenty of ways to save money while still getting the needed product. One of the easiest and best ways to save when shopping online is to take advantage of free shipping.
Many stores offer free shipping on orders that exceed a certain price threshold. Thus, if you are planning on shopping at Best Buy, look out for those opportunities to get shipments sent right to your door without having to pay extra. That way, you can still get the items you need while keeping your wallet happy.
Find Clearance Items
Shopping doesn't have to be expensive, especially when you take advantage of clearance offers from Best Buy weekly circular. Clearance offers are a great way to save money on items you want and need. You can find deals on clothing, shoes, furniture, and more that are marked down far below the regular price.
If you are looking to get the most for your money, make sure to check out the clearance section at Best Buy and take advantage of their incredible discounts. Don't miss out on these opportunities because you could end up saving lots of money.
Price Match at Best Buy
Taking advantage of price matching at Best Buy is a great way to save money when you shop there. Price matching involves looking at competitors' prices and adjusting the cost of your item so that it is equal to or lower than the competitor's price.
To do this, all you have to do is bring proof of competitive pricing, such as Best Buy ad, sell sheet, or even a screenshot from a website before checking out. With price matching at Best Buy, saving money on your purchases can be quick and easy.
Cashback Program
Get your money back - literally - through cashback promos! If you buy a specific product or reach a certain total in one purchase, you'll be entitled to cash returns, as long as you have cashback coupons or the promos or store is having the promo. Offers are quite limited so be the first to find them on the Best Buy coupon database. It's a digital resource that showcases all the biggest vouchers you can use to get deals and discounts, including exlusive cashback offers. Subscribe now!
Shop at Right Time
The best time to shop until you drop is when the most amazing deals are on! You get the most out of your money because prices are at their lowest, discounts are at their biggest, and coupons are plenty. Such days are limited per year, like Black Friday, back-to-school season, and more. So make sure to subscribe to the Best Buy ad previews to know when they are going to start!
Being the first to know when the biggest promos begin is crucial as you get access to the best items and won't be stuck with leftovers. So when the announcement is made through the preview, make sure to mark your calendars, save your coupons, and plan the best shopping spree!
Shopping at Best Buy
In-store Shopping
Make in-store shopping more fun when you use the Best Buy sales flyer. This promo material features exclusive and valuable offers, from huge discounts to money-saving deals. It doesn't skimp on the details, so you know when, where, how, and what to use those promos on. Moreover, one of the best things about is it's accessible! You can bookmark it so you can look into it anytime, anywhere, even right inside your local Best Buy. Great way to compare prices, right?
Curbside Pickup
Check out the latest Best Buy sales flyer! Not only does it contain the biggest deals and discounts, it also features great and convenient services you may not be familiar with, like curbside pickup! Such an offer allows you to make an order, have it delivered to a specific, nearby location, and pick up the package once it has arrived. Transportation fees are cheaper this way, plus you can pickup the item the soonest it's available and won't get delayed by delivery backlogs and other similar issues.
Delivery at Best Buy
Delivery is a service that's getting more and more popular these days, but does your local Best Buy offer it? If you want to know, check out the Best Buy weekly ad this week. It will provide information and instructions on how to avail the latest services, including delivery or pickup. Aside from that, it also features amazing and recent promos, such as discounts, vouchers, and other deals. You can use those to stretch your shopping budget or make the delivery costs more affordable!
Online Shopping
Online shopping can be a great way for shoppers to save time and money. By checking Best Buy weekly ad this week, shoppers can quickly identify which items are on sale and take advantage of the great deals available. Shopping online also allows people to shop virtually anywhere and anytime, so they can find the best prices without driving from store to store. So whether you want to save time or money, online shopping is incredibly convenient to help shoppers get what they need.
Mobile Digital App
What if your local Best Buy is one tap away? That's totally possible if you have the Best Buy app installed in your fave gadget! To find this app, check out the Best Buy ad - it usually features the app ready for download. Once it's installed, you can add to cart and check out items right away!
About Best Buy
On August 22, 1966, Richard M. Schulze and a business partner opened Sound of Music, an electronics store specializing in high fidelity stereos in St. Paul, Minnesota. Schulze financed the opening of his first store with his personal savings and a second mortgage he took out on his family's home. In 1967, Sound of Music acquired Kencraft Hi-Fi Company and Bergo Company. Sound of Music earned $1 million in revenue and made about $58,000 in profits in its first year. In 1969, Sound of Music had three stores and Schulze bought out his business partner.
Source
How EveryPayJoy Help you Save?
Have you ever wondered how avid shoppers can shop as as much as they do? Well, it's not necessarily because they have lots of cash -- it's more of they have access to the biggest deals and discounts! When you are on top with the latest promos, you are able to make the most of your money and stretch your shopping budget farther than you ever thought you could. Thus, you can walk into a store thinking you'd come out with one bag but do so with a lot of packages, yet still able to stick to the budget.
So with that, how do you stay updated with promo offers? It's easy - head to EveryPayJoy's website and subscribe to its Best Buy weekly ads. You'll automatically receive the latest deals, including discounts, coupons, and Best Buy sales flyer. You might even get news of future promos, so you can plan out early your budget and shopping trips!
Besides the weekly ads, EveryPayJoy also has a coupon database which sorts its vouchers by brand. You can easily see when each coupon expires and how they can be used. They're a great way to save money on big purchases!
Disclaimer: Best Buy is a registered trademark of Best Buy and is not affiliated with our company. We are not affiliated with, endorsed by, or connected to Best Buy. Our use of any trademark belonging to another company is not done with the intent to confuse consumers but is rather incidental in promoting these companies and their coupons.