Woodman's Food Market Coupons, Deals & Promo Codes
Reading the Woodman's Food Market weekly ad this week is easy, and you can do it in a few simple steps. First, you must scroll through the Ad Preview above to see all the items available at discounted prices this week. Next, you can sort through the categories to find what you are looking for.
You will surprisingly find multiple categories, including self-care, pet supplies, deli, fresh meat, frozen foods, and many more. Lastly, you can check out the coupons associated with each item in the coupon database for additional savings.
Reading this Woodman's Food Market ad is crucial because it offers discounts on items that may not be available when purchasing them at the total price. Additionally, it can help customers save money by providing information on particular products that may have been on sale, but people may have missed when shopping usually. It also provides shoppers with information regarding sales and promotions they wouldn't have known about otherwise.
The store's weekly ad will continue from 06/01/2023 to 06/07/2023, so be sure to check back often to keep up with the latest available discounts and deals. You will get 36 spectacular deals to help you save even more money on your purchases.
The Woodman's Food Market coupon is one of the best ways to get extra savings when shopping at Woodman's Food Market. Coupons usually come with special deals such as free items or buy one get one free deals, which can help you save significantly on your purchase. Be sure to take advantage of these offers if they are available!

DIGITAL MANUFACTURER COUPONS

Natural or Organic Manufacturers continue to transition from print coupons to digital coupons. Many of these digital coupons are available in our app and website, ShopWoodmans.com. [CLICK HERE to learn more]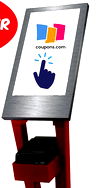 EXTRA SAVINGS TOP SECRET CLASSIFIED SMMM...THESE OFFERS ARE NOT ADVERTISED IN-STORE, ONLY HERE! OFFERS OFFERS APPLY AUTOMATICALLY AT CHECKOUT... NO SHOPPER ID. COUPONS OR SPECIAL CODE REQUIRED Offers Valid - - - - - - - - - - I - MANUFACTURER INSTANT REBA


CHEESE FROM THE HEART OF DAIRY MOZZARELLA COUNTRY - CRYSTAL FARMS CRYSTAL SATE FARMS AMERICAN MEDIUM CHEDDAR - -
OLAY Olay Moisturizer REGENERIST WHIP 1.7oz POWERFIA whip $28.49 -$5.00 DIGITAL COUPON ACTIVE $23.49 Limit 1 per household

Pampers Diapers Pampers 1 BOX $28.29 Pampers DIGITAL baby-dry -$3.00 COUPON days & nights $25.29 Limit 1 per household

3X - Mr.Clean Freak Spray - 16oz $5.99 DIGITAL -$2.00 COUPON CLEAN FREAK SEEP CLEANING MIST $3.99 -

Dawn Powerwash RINSE 1 Set $4.99 DIGITAL -$2.00 COUPON DAWN - POWERWASH - - $2.99 Limit 1 per household

UPCOMING FOOD HOLIDAYS! MASHED POTATO JALAPEÑO POPPER CHEESE BITES MAC & CHEESE Homemade Eggs Benedic olive salad y National - g Day! Happy Chee Happy National Olive Day! CLICK HERE TO VIEW THE FULL TWO WEEK CALENDAR.

Cascade Tubs 52 1 Set $19.99 Cascade DIGITAL PLATINUM PLUS -$2.00 COUPON $17.99 Limit 1 per household

$8.99 Lolea Sangria All 750ml Varieties

$8.49 Martini & Rossi As 750ml Bottles

$12.99 Lamarca Prosecco 750ml Bottles

$8.49 Jack Daniels Whiskey & Cola 4 - 12oz Cans

$14.49 Nutrl Vodka Seltzer All Varieties | 8 - 12oz Cans

$2.49 BuzzBallz All 200ml Varieties

$8.99 The Long Drink 6 - 355ml Cans | Assorted Varieties

$2.79 Irish Spring Bar Soap Select 3ct Varieties

$8.49 Sunny D Vodka Seltzer 4 - 12oz Cans | New Item !

$4.99 Plymouth Foam Cooler Price Each

2/$1 Evolve Super Dog Biscuits 3.5oz Biscuit

$16.99 Cosequin Joint Max for Dogs 60ct Packages

79¢ M-150 Energy Drink 5oz Packages

2/$5 Sweetleaf Stevia Water Drops Select 1.62oz Varieties

4/$5 Annie's Mac & Cheese Select 5.25-6oz Varieties

Jackson's Sweet Potato $5.99 Chips 16oz Bags

$4.19 Goya Sazon Cilantro Achiote 36ct Packages

Deebee's Organic Variety $3.69 Fruit Pops 10ct Packages

$3.49 Chick-Fil-A Original Sauce 16oz Bottles

$2.49 Sweet Baby Ray's BBQ Sauce 28oz Bottles

$3.49 Food Club Mayonnaise 30oz Jar

$2.29 Heinz Ketchup 20oz Bottles | Price w/ In-Store Coupon

$1.99 Bush's Baked Beans 28oz Cans
Related Brands to Woodman's Food Market
Hardly anything else beats the quality of branded pieces but let's admit it - most of them have price tags that can rip your wallets. But that's about to change because with this Woodman's Food Market circular, you don't have to sacrifice quality anymore. It lets you get access to the top Woodman's Food Market deals by brand, a segment decked with big-discount vouchers and markdown items from 6 brands.
Specifically, it features promo deals from the following brands: Michelob Ultra, Califia Farms, Michelob, Stella Rosa, Blue Moon, Jif. If your favorite brand, voucher, or product isn't here, don't worry; the Woodman's Food Market sales flyer often gets updated so you'd have more amazing deals from more brands!
Here are the popular brands we found in our database:
Woodman's Food Market Weekly Ad & Preview
Are you looking for the best deals and savings on your favorite items? Look no further than Woodman's Food Market ad! Our Woodman's Food Market weekly ad is full of amazing discounts and offers so that you can get the most out of your shopping experience. We make sure to update our feed frequently and keep it up to date with all the latest sales and deals. So what are you waiting for? Head to Woodman's Food Market webpage or click next and browse the extensive list of discounted items.
How to save at Woodman's Food Market?
Shopping can be expensive, especially when there is no way to get a discount. Fortunately, if you know what you are doing, it is possible to save a great deal of money with the help of Woodman's Food Market sales ad!
Here you will find helpful tips on how to save your hard-earned cash while shopping at this popular retail destination. We will look at strategies like signing up for emails and taking advantage of coupon codes, plus a few more lesser-known tactics. Reap the rewards of sizable savings today by following these simple steps and learning how to save money effectively.
Woodman's Food Market Digital Coupons
Coupons are an underrated shopping hack. When used correctly, they can save you a lot of money, especially over the long term. But many find them frivolous, elusive, and a hassle to carry around and use. But this Woodman's Food Market coupon database is here to change the game.
This database gathers the most recent and exclusive vouchers in one digital resource so you won't have the hassle of carrying or losing them. To avail the coupons, open the database, scroll through, and find the ones you need. Click on them individually to find terms and conditions, expiration dates, and instructions on how to save or redeem them.
Woodman's Food Market Weekly Specials
The Internet is full of amazing treasures and one you shouldn't miss is this Woodman's Food Market weekly ad! While you might think it's a catalog full of temptations, once you take advantage of it, you realized it's a practical resource you can use to compare prices, find discounted items, and discover terrific deals. Thus, one of the best ways to maximize your budget.
Moreover, it doesn't take much time or effort to use. You just have to click on buttons or icons. Products are organized by collection, so if you know what you're looking for, finding it is quicker. But there's also joy in just idly flipping through the collections - you find unexpected and exclusive deals you would've missed out on if you just skipped pages.
Woodman's Food Market BOGO
Savvy shoppers know the secret to saving money is to look for buy-one-get-one (BOGO) deals. At Woodman's Food Market ad, these BOGO offers can be found in many departments and offer an excellent way to get two items for the price of one.
Customers should familiarize themselves with the store's specials to take advantage of BOGO deals at Woodman's Food Market. You can do this by checking out the weekly circular or asking a customer service representative. BOGOs can often be found in multiple departments, such as Grocery, Shoes, Home Decor, and more. Customers should also note that some BOGOs are limited time only and are available for a few days or just one day.
Overall, finding great deals at Woodman's Food Market with the help of BOGOs is easy if you know what to look for and how best to use them. You can maximize your savings by combining different offers and promotions along with BOGO-free offers throughout the store. This way, you will get top-notch quality products at unbeatable prices.
Membership Program
You can earn while you shop if you are part of the Woodman's Food Market reward program. Membership of this program entitles you to one point if you reach a certain amount of purchase at Woodman's Food Market. Thus, the more you spend, the more points you get. You can save up these points for future splurges! Besides points, you also get access to exclusive and massive promos.
If you want to join the reward program, find the instructions in our Woodman's Food Market sales ad. Membership fee is affordable and worth much less than the savings and deals you can get throughout your membership duration.
Exclusive Online
If the convenience and diversity of products haven't attracted you to online shopping, here's something that would: huge, exclusive deals! With online shopping, not only can you purchase items from the comfort of your home, you might even make massive savings compared to physical shopping. Moreover, you'll save on gas and window shopping temptations, so that's another perk.
If you want to start your first online shopping spree, check out the Woodman's Food Market weekly circular first. It is a digital catalog that showcases all the biggest deals and discounts. Use wisely!
Leverage Free Shipping
Are you about to check out an item on your cart? Don't do that yet! Find out first if you can have it shipped for free through the Woodman's Food Market ad! It's a digital resource that features many promos, including free shipping deals and vouchers. Saves you a lot of money, so make sure to bookmark it for future purchases.
Clearance
By taking advantage of the store's clearance section, you can really ramp up your savings. The clearance section is typically located in the back of the store or in a distinct section within the store. You can shop here for amazing discounts through the Woodman's Food Market ad on overstock inventory and seasonal items that are no longer in style.
In order to maximize your savings from clearance items, always try on anything before buying. Sometimes clothes that look nice on the hanger won't fit quite as expected once you've tried them on. Additionally, check for any stains or minor damage that may not have been noticed when putting them out on display.
Even if these items have some imperfections, they are frequently discounted, so it might be worth the purchase at a reduced price, especially when the issue is minor!
Price Match at Woodman's Food Market
Are you on a tight budget this week? Then you certainly have no room for unexpected price hikes and would greatly appreciate big discounts. Luckily for you, you can find both accurate prices and amazing deals on the Woodman's Food Market weekly ad. This digital resource is frequently updated so it showcases only the most recent promos and prices. Take advantage of that by using it as a reference for your week's price matching efforts and apply the featured discounts and deals accordingly.
Cashback Program
Shopping with a Woodman's Food Market ad can be a thrilling experience, but having the ability to save money while you do so makes it even more exciting. With Cash Back, customers can get even more value as they shop. By signing up for an account with Woodman's Food Market, customers can start collecting points and vouchers to make purchases at marked-down prices.
Additionally, customers can accumulate cash-back rewards on certain items which are credited towards their next purchase. It has never been easier to save at Woodman's Food Market with the added bonus of getting cash back.
Shop at Right Time
Saving money at Woodman's Food Market will be a piece of cake if you shop at the right time. To maximize savings and get the most bang for your buck, take advantage of two key seasonal opportunities: Black Friday and Back to School season.
Black Friday is an annual event filled with deep discounts on items ranging from apparel to electronics, making it a great opportunity to save big on products you have had your eye on. Many retailers also offer special online deals exclusive to their online stores, so be sure to check those out too.
Back to School season is also another great chance to save big and stock up on essential items like clothes, shoes, and school supplies. Retailers often offer discounts on bulk orders or bundle packages, so it's a good idea to plan ahead and purchase what you need in advance.
By taking advantage of these two seasonal shopping opportunities, savvy shoppers can save big at Woodman's Food Market. By doing your research online and planning ahead of time, you can ensure that you find amazing deals available for the items you need.
Shopping at Woodman's Food Market
Woodman's Food Market In-store Shopping
Despite all the perks of digital stores, in-store shopping never gets old. You get to walk across fully-stocked aisles, feel the product, and see everything for yourself. If you're buying electronics or certain items, you can have them tested to ensure quality. Certain stalls also offer free samples or trials, especially if they're new. All these and more ensure that physical shops are here to stay.
To make the most out of your in-store shopping experience, use the Woodman's Food Market sales flyer. You can find here some of the latest prices and deals, which are extremely helpful in maximizing your budget.
Curbside Pickup
What if you can buy all your groceries just sitting down then get up once it's packed and ready? That doesn't just sound like a dream - it can actually happen when you avail of the curbside pickup order service at your local Woodman's Food Market! Through this service, you can choose everything you need online, place an order, and schedule the pickup at a time and location nearest to you. It's extra convenient, plus much more affordable than delivery, especially if you took advantage of applicable deals and promos featured in the Woodman's Food Market flyer!
Delivery
Why go to the local Woodman's Food Market, when the local Woodman's Food Market can come to you? More stores are offering delivery services, and of course, Woodman's Food Market isn't late to the trend. A delivery option is convenient for many who can't leave their home, or purchased items that are too difficult to transport. If you're interested, check out if you're local Woodman's Food Market is offering delivery through the Woodman's Food Market weekly ad this week. You'll also find there instructions and it may also direct you to credible delivery apps, like instacart. It's regularly updated, so you're sure that the info provided is accurate.
Online Shopping
Shopping online can provide several benefits to consumers that traditional shopping may not. You can compare prices across retailers for the best deal on any item. Moreover, you can access the Woodman's Food Market circular to look at the current deals and discounts. Not only that, but by taking advantage of Woodman's Food Market's online shopping system, you will save time and money by avoiding long lines at check-out. In short, Woodman's Food Market's online shopping service is a handy tool for shoppers looking to save time and money.
Mobile Digital App
Shoppers can benefit greatly from the Woodman's Food Market app, a convenient way to access Woodman's Food Market circular. From anywhere with their mobile devices, shoppers can browse the latest deals and discounts. The app sends shoppers personalized notifications that alert customers when their favorite items go on sale.
Woodman's Food Market app further adds convenience by integrating with popular payment systems within the app. In short, the Woodman's Food Market app offers shoppers a simple way to manage their grocery budget better while enjoying a wonderful selection of goods at discounted prices.
How EveryPayJoy Help you Save?
Everypayjoy is a great platform for those who want to save money when they go shopping. The website has everything from coupons to Woodman's Food Market weekly ads, making it a one-stop shop for savings. You don't have to be a frequent shopper to see the value of using Everypayjoy, as it provides both immediate and long-term savings opportunities.
Everypayjoy helps you save money through its array of deals and coupon promotions. With access to the Woodman's Food Market sales flyer and Woodman's Food Market weekly ads, shoppers can easily find discounts on their favorite items. Plus, these savings are offered at all times, no matter what time of year or season it is. This makes Everypayjoy an excellent choice for anyone looking to save money on their shopping trips.
Another way that Everypayjoy helps you save is by providing access to exclusive offers that may not be available elsewhere. These special promotions can provide big savings on items like groceries and clothing and other items such as electronics and home goods.
In addition, subscribing to the Everypayjoy website provides shoppers regular notifications about upcoming store sales flyers and weekly ads. That's why subscribing to Everypayjoy is such a great idea if you're looking for ways to save money while shopping at your favorite stores.
Disclaimer: Woodman's Food Market is a registered trademark of Woodman's Food Market and is not affiliated with our company. We are not affiliated with, endorsed by, or connected to Woodman's Food Market. Our use of any trademark belonging to another company is not done with the intent to confuse consumers but is rather incidental in promoting these companies and their coupons.