Sunset Foods Coupons, Deals & Promo Codes
Avoid putting back things on the shelf because you ran out of budget! The Sunset Foods weekly ad for this week keeps you posted on the most recent deals and discounts, so it's easier to track prices and maximize your budget. This one, in particular, covers 36 promos from 03/15/2023 to 03/21/2023.
Once the week ends, the weekly ad gets updated so you get access to a fresh, complete set of jaw-dropping discounts. Of course, you can sneak a peek by using the Sunset Foods ad previews, but the deals there are limited only. If you want to see the whole array, visit this site regularly so you'd have first access to offers you wouldn't want to miss.
To use these weekly ad specials, you can click on the arrows, plus, and minus buttons. The arrows get you from one collection to the other, so you can browse through all the deals in an organized manner. Meanwhile, the plus and minus buttons are for zooming in and out - if you want, you can use your scroller instead too.
Besides the Sunset Foods weekly ad, you can also visit the Sunset Foods coupon database. It has hundreds of vouchers from various brands and products. Click on the coupons to view details, see expiration dates, and then save them for near-future use!

SUNSET REWARDS SIGN UP TODAY: Text SUNSET to 87573

Hydrangea Premium 5 inch Always a favorite, this is a beautiful plant you can enjoy at home today. 18.99 EA

ORGANIC USDA ORGANIC Organic Pascal Celery 2.99 EA

USDA ORGANIC Organic Farm Fresh Nutrient and Vitamin Rich Broccoli 1.99 LB

Garden Ripe Super Sweet Gerden Ripe GRAPE TOMATORS ! Super Sweet GRAPE TOMATOES - Super Sweet Farm Fresh Grape Tomatoes Pint pkg 2/$4

California Sweet & Juicy Cara Cara Or Heirloom Navel Oranges 1.99 LB

TEXAS SWEET GRAPEFRUIT Texas Sweet Scarlett's Red Grapefruit 1.99 LB

A SWEET CRISP NEW APPLE VARIETAL Michigan Grown Evercrisp Apples 1.99 LB

Farm Fresh Red or Green Leaf Lettuce 1.99 LB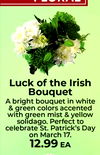 Luck of the Irish Bouquet A bright bouquet in white & green colors accented with green mist & yellow solidago. Perfect to celebrate St. Patrick's Day on March 17. 12.99 EA

Super Select Farm Fresh Cucumbers .99 EA

ANTLE Farm Fresh Head Lettuce 1.99 EA Romaine Hearts 3 ct Bag 2.99 EA

eGrocer You click it. We pick it. Curbside Grocery Pick Up $5 OFF! USE PROMO CODE: Save5March Expiration 3/31/23. Shopped by Sunset employees Temperature controlled until you arrive Pick up on your schedule Same price as shopping in store Egrocer.SunsetFo

PRODUCE Imported Large Sweet Red Or Green Seedless Grapes 2.49 LB

Ground Fish Sunset's Seafood Department grinds fish fresh to order just the way you want it. Customers can choose their own combination of whitefish, pike, and trout. Carrots and onions are both available upon request. We can also include bones. SUNSET LO

Now Entertaining.SunsetFoods.com

Herzog Lineage Pinot Noir California 750 mL 16.99 EA

Teperberg White or Cabernet - Sauvignon Israel 750 mL 11.99 ??

Manischewitz Concord or MANISCHEWITZ MANISCHEWITZ Blackberry - New York CONCORD BLACKBERRY GRAPE - 750 mL 5.49 EA

Bartenura BARTENURA - Moscato Italy = 750 mL - - - - 11.99 EA

Vita Wild Nova Salmon Vita Vita Nova Lox TM of Smoked Salmon Wild Nova Salmon 3 oz pkg 5.99 EA

Bennetts Bennetts Bennetts CHILI Original SAU Bennetts Bennett's Chili Sauce CHILI Original - SAUCE 12 oz 2.99 EA

Lay's Kosher for Passover Potato Chips POTATO CHIPS Crunchy - - - - or Regular 6 oz 3.49 EA

Streit's - - Dark Dark Chocolate Chocolate EGG MATZOS Egg Matzo 7 oz : 4.99 ??

CR .. Tuscanini POTATO CHIPS - - - Potato Chips 4-6 oz 2.49 EA

GEFEN FROSTED CRISPY-O'S GEFEN - Gefen FRUIT-FLAVORED CRISPY-O'S Crispy-O's Cereal 5.5-6.6 oz 2.99 EA A

HADDAR Haddar Sweet Sweet Potato Potato CHIPS Chips 5 OZ 3.69 EA

SEMI SWEET Glick's or CHOCOLATE CHIPS Haddar Chocolate - HADDAR Chips chocolate chips - - - - - 9 OZ 2 2.59 EA

HADDAR - Haddar Confectioners Sugar Confectioner - - Sugar 12 oz 3.19 EA

Kedem KEDEM Apple 100% Juice Juice Apple 64 oz 2.99 EA

N Yoplait Yoplait Yoplait original light mountain blueberry Yoplait Yogurt Select Varieties 4-6 oz 10/$6

Nature's Super Food Vitamin & Nutrient Rich Brussel Sprouts 1.99 LB

Green SIMPLY STEAM Green Gia Frozen Vegetable Green Giant Select SIMPLY STEAM Varieties 9-10 oz 2.19 E

Red 'B' Potatoes Dole 3 LB Bag Red Potatoes 3.29 ?? B-Size

MOZZARELLA CHEESE Essential Everyday SHARP Sliced CHEESE Cheese 6-8 oz 10 2/$5
Related Brands to Sunset Foods
When it comes to Sunset Foods deals by brand, a range of options are available. With the Sunset Foods circular and Sunset Foods sales flyer, customers can stay updated with the latest deals and offers. The dynamic parameters between brands vary, depending on the 6 brands present in the Sunset Foods.
Look at our Monster, Gustare, Sensodyne, Finish, Chobani, Ariel, which features some of the biggest names in retail and offers fantastic deals. From clothing to home goods, electronics to beauty products, there is something for everyone here at Sunset Foods. Plus, with our exclusive discounts and special offers, you can save even more when shopping with us. We strive to bring you the best promos from every brand we feature so you never miss out on significant savings.
Whether seasonal specials or year-round promotions, take advantage of all our top offers and enjoy unbeatable prices on high-quality products from leading brands.
Here are the popular brands we found in our database:
Sunset Foods Weekly Ad & Preview
Are you looking for the best deals and savings on your favorite items? Look no further than Sunset Foods ad! Our Sunset Foods weekly ad is full of amazing discounts and offers so that you can get the most out of your shopping experience. We make sure to update our feed frequently and keep it up to date with all the latest sales and deals. So what are you waiting for? Head to Sunset Foods webpage or click next and browse the extensive list of discounted items.
How to save at Sunset Foods?
Make the most out of your money when you shop at Sunset Foods! From buy one get one offers to price markdowns, there are many ways you can maximize your budget. Discover them all through our Sunset Foods weekly circular, a digital resource that compiles all the best deals in one place. It's easy to use and accessible anytime, anywhere.
Coupons at Sunset Foods
Did you go a little over your online shopping budget today? Or is there a shipping fee you don't want to pay? Find the answers to your shopping troubles in this treasure trove of vouchers: the Sunset Foods coupon database. It is a compilation of hundreds of big-value coupons that entitle you to product deals, store discounts, free shipping, and other money-saving promos.
Browsing the coupons is really easy as they are sorted into organized collections for your convenience. Once you find ones you like, click on them individually to find more details, such as expiration date, and instructions for redeeming. If you don't plan on using them soon, you can also save them instead, but make sure to redeem them before expiry.
Deals of the Week
Ever used a Sunset Foods weekly ad? It's high time you should -- it's the most effortless way to access the most recent and exclusive discounts and offers! Yes, all the best and newest stuff from Sunset Foods, all in one place.
With just a few clicks and scrolls, you can discover hundreds of fascinating deals and thrilling price markdowns. Plus, it only gets better - the ad gets updated every week, with bigger and better shopping bonuses. So make sure to check our weekly ad regularly - it doesn't take much time to browse and you instantly get rewarded with big-buck savings.
BOGOs
Savvy shoppers know the secret to saving money is to look for buy-one-get-one (BOGO) deals. At Sunset Foods ad, these BOGO offers can be found in many departments and offer an excellent way to get two items for the price of one.
Customers should familiarize themselves with the store's specials to take advantage of BOGO deals at Sunset Foods. You can do this by checking out the weekly circular or asking a customer service representative. BOGOs can often be found in multiple departments, such as Grocery, Shoes, Home Decor, and more. Customers should also note that some BOGOs are limited time only and are available for a few days or just one day.
Overall, finding great deals at Sunset Foods with the help of BOGOs is easy if you know what to look for and how best to use them. You can maximize your savings by combining different offers and promotions along with BOGO-free offers throughout the store. This way, you will get top-notch quality products at unbeatable prices.
Membership Program
Saving at Sunset Foods with the help of their reward program and membership is easy and convenient. By signing up for their Rewards Program, customers can shop and earn points on all their purchases. You can further redeem these points for discounts on future purchases. Plus, with a membership, customers will receive exclusive deals, special discounts, early access to new products, and free shipping on certain items. Joining the Rewards Program is simple. You need to create an account online or in-store with your email address and start earning rewards immediately.
If you often shop through the Sunset Foods weekly circular, then becoming a member is the perfect way to save even more money. Members get exclusive access to deals that are unavailable to non-members and first notifications on upcoming sales and promotions. Members don't have to worry about shipping fees on certain items.
Overall, saving money at Sunset Foods using their rewards program and membership couldn't be easier! You can take advantage of amazing deals and discounts by signing up for either one or both of these programs and earning rewards today.
Exclusive Online
With online shopping, you can do all of these at once: sit back, relax, spend more, and save more! That's made possible by the hundreds of amazing deals and discounts everyday, which only gets better during holidays, like Christmas season and Black Friday. If you want to be updated on the most recent promos, check out the Sunset Foods weekly circular. It has all the newest promos in one place, for your convenience.
Leverage Free Shipping
Who doesn't love online shopping? You get a lot of variety, as you can access nearly every brand possible and find items physical stores don't even have. They're also convenient - just click, tap, and scroll and you can find everything you need. Moreover, there are a ton of cheap options, especially when you know how to look.
But while all that sounds good, you can make it better with free shipping! Free shipping promos allow you to have your purchases delivered for free, so long as you meet the deal's or voucher's terms and conditions. Find such limited deals on the regularly-updated Sunset Foods ad.
Clearance
Shopping at Sunset Foods doesn't have to blow your budget. In fact, you can save money with the help of their clearance offers. With a little bit of planning and knowledge, shoppers can stay within their budgets while enjoying fantastic deals on Sunset Foods sales flyer.
First, make sure you know when clearance items are offered, as this is often when the best discounts are available. Second, ask customer service associates for any additional discounts or special offers that may help bring down the cost of your purchase. Finally, sign up for Sunset Foods's email list to ensure you stay up-to-date on new clearance offerings. With these tips in mind, shopping at Sunset Foods can become both enjoyable and affordable!
Price Matching
Are you on top with the most recent pricelists? The ever-changing prices make it hard to do so, but with the Sunset Foods weekly ad, it's possible. It's regularly updated so that only the most recent and accurate costs are listed. This makes it easier to match prices, compare brands, and project this week's budget.
The ad also has great deals and discounts, so you can bring those prices lower than you thought you could.
Cashback reward program
Want a little something extra after your grand shopping spree? Then hold on to some Sunset Foods cashback coupons! Read their terms and conditions so you know when to use them. Each coupon entitles you to get a little something back after every qualified purchase, so you'll end up getting stuff for much less than they should. This impressive deal is quite rare, but when you have access to the Sunset Foods coupon database, they're easier to find anytime, anywhere.
Shop at Right Time
Weekly deals are amazing but special, holiday deals are MUCH, MUCH better because the discounts are bigger, the deals are hotter, and the offers are plentier. Thus, knowing when to shop at the right time is crucial - you make the most of your money and you get the most savings, points, or cashbacks.
Subscribing to Sunset Foods ad previews allows you to be updated and get glimpses of these big holiday sales, like black friday or back-to-school. They're just as easy to use as weekly ads or flyers - course through collections, earmark your favorites, and be ready to secure them on the day.
Shopping at Sunset Foods
In-store Shopping
Shopping in-store has its advantages, especially with the Sunset Foods weekly ad this week. Whether it is groceries or self-care products, Sunset Foods is sure to have what you need at low prices. It is ideal for grabbing items off the shelf and taking them home without waiting for delivery when you buy things that will go bad or need them immediately. Not to mention the shopping atmosphere allows patrons to discover unexpected items they may not find online browsing retailers. With Sunset Foods, you can rest assured that you will accomplish your shopping goals in one place.
Curbside Pickup
If your local Sunset Foods did not have a certain item on stock, there's an easy solution to that: curbside pickup. Through this service, customers like you can order a specific object and have it shipped to your local Sunset Foods or another convenient location. This is great for those who want to save on shipping fees, or just want to purchase items before setting foot at Sunset Foods. To learn more about this offer, check out the Sunset Foods flyer - it contains all the info you need; plus, you can check if there are promo offers, too.
Delivery at Sunset Foods
The Sunset Foods now offers a delivery service, allowing customers to place their order online and have it waiting on the doorstep within a matter of days. Not only is this more convenient, but shoppers can take advantage of the Sunset Foods weekly ad this week to save even more money.
Delivery services also save valuable time by eliminating the need for long lines at checkout or trips to multiple stores in one day. It is no wonder that more and more shoppers are turning to delivery as their primary means of purchasing Sunset Foods items - the convenience and savings of Kroger delivery simply can't be beaten.
Online Shopping
If you don't have the energy to get out of your bed and drive to your local Sunset Foods, that's alright. With the Internet up and running, there's no need for you to get out of your home to do some shopping. Instead, open the Sunset Foods circular, see if they have an online shop, and start adding items to your cart! Browse through the collections like you're going through store aisles! Once you have everything you need, click check out!
Sunset Foods App
Her are two shopping tips: check your fave app store and see if the Sunset Foods app is already availble AND subscribe to the Sunset Foods ad. The app allows you to buy things wherever and whenever, in the most effortless way possible. Meanwhile, an ad subscription makes sure you don't miss out on the biggest and most exclusive deals and promos.
How EveryPayJoy Help you Save?
Everypayjoy is a great platform for those who want to save money when they go shopping. The website has everything from coupons to Sunset Foods weekly ads, making it a one-stop shop for savings. You don't have to be a frequent shopper to see the value of using Everypayjoy, as it provides both immediate and long-term savings opportunities.
Everypayjoy helps you save money through its array of deals and coupon promotions. With access to the Sunset Foods sales flyer and Sunset Foods weekly ads, shoppers can easily find discounts on their favorite items. Plus, these savings are offered at all times, no matter what time of year or season it is. This makes Everypayjoy an excellent choice for anyone looking to save money on their shopping trips.
Another way that Everypayjoy helps you save is by providing access to exclusive offers that may not be available elsewhere. These special promotions can provide big savings on items like groceries and clothing and other items such as electronics and home goods.
In addition, subscribing to the Everypayjoy website provides shoppers regular notifications about upcoming store sales flyers and weekly ads. That's why subscribing to Everypayjoy is such a great idea if you're looking for ways to save money while shopping at your favorite stores.
Disclaimer: Sunset Foods is a registered trademark of Sunset Foods and is not affiliated with our company. We are not affiliated with, endorsed by, or connected to Sunset Foods. Our use of any trademark belonging to another company is not done with the intent to confuse consumers but is rather incidental in promoting these companies and their coupons.