Randalls Coupons, Deals & Promo Codes
Reading the Randalls ad is straightforward. All you have to do is scroll through the Ad Preview above or click on the other store links to see their weekly ads. With the help of the Randalls weekly ad this week, it is easy to tell whether a product is on sale. You can easily search through multiple categories to find the items of your need.
Additionally, you must know that the ad will start from 05/31/2023 and last till 06/06/2023. This gives you plenty of time to enjoy 35 and keep shopping wisely. Looking through the Randalls ad for next week is prime because plenty of great deals will save you money each week.
You should also keep an eye out for special promotions such as discounts or buy-one-get-one-free offers that will help you stretch your budget even further. Plus, some products may only be available at discounted prices during certain times of the year, which can be found by reading the Randalls ad regularly.
When looking at the Randalls weekly ad this week, read up on any exclusive offers listed at the top of the page. The coupon database can also help you find additional savings, so check out the Randalls coupon section as well.
Finally, keep an eye out for any new products that have been released recently, and take advantage of those deals!
We cannot find Randalls coupons and deals in our database, here are the recommended deals for you: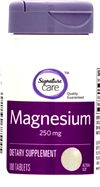 Nature's Truth or Signature Care™ Vitamins
BUY 1, GET 1 FREE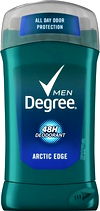 Degree or Suave Deodorant
$1 OFF


Boost Energy Shakes 6 pk. of 8 oz., Clif Builders Protein Bars 6 pk. of 2.4 oz. Bars, Bottles
$10.99

Coffee mate 64 oz. or Natural Bliss Creamer* 46 oz.
$6.99

4.3-7.2 OZ. SELECTED PASTA OR ICE RICE-A-RONI PASTA ONI .99 RONI CHEESE -

18 OZ. SELECTED SWEET BABY RAY'S BBQ SAUCE - - -

$919 TYSON CHICKEN 25.5 oz. Tenders, 26 oz. Patties or 29 oz. Fun Nuggets
Summer Rose Bouquet
$7.00 ea when you buy 2 or more!

Beer, Liquor Wine of the Month - - - Campo Viejo Wines 750 ml. Bottle Reserva Rioja $11.99 White Blend $10.99 Brut Rose Cava $8.99 Brut Reserva Cava $8.99 Tempranillo Rioja $8.99 Garnacha $8.99 The Red Blend $8.99

KING COTTON BACON 24 oz., Stack Pack $749 $179




Klondike Ice Cream Bars 6 ct./24-27 oz. Select varieties or Magnum Ice Cream Bars* 3 ct./8.62-9.12 oz.
2/ $7.0



Build Your Own Bouquet
5/ $20.0

$3.59/lb. sale price - 30¢/lb. digital coupon $3.29/LB. DIGITAL COUPON FINAL PRICE Limit 1 chub per coupon Limit 1 coupon per customer Digital Coupon good on 10 lb. chub ONLY GROUND BEEF Fresh, 81 % Lean Sold in Approx. 10 lb. chub COUPON VALID 05/24/23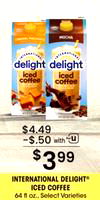 INTERNATIONAL DELIGHT®
$0.5 OFF


Hershey's Multipack Candy*
BOGO of equal or lesser value 40% off

Fresh Chicken Boneless Breast
$1.99
Meijer Wellness Vitamins or Supplements*
BOGO of equal or lesser value FREE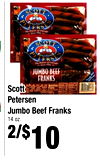 77 Scott Scott Petersen Petersen Jumbo Beef Franks Jumbo Beef Franks 14 oz. 14 oz. 2/$2/$1010

7 USDA Inspected USDA Inspected Beef Spare Ribs cryovac cryovac $448 lb.

$179 LOWE'S FLOUR TORTILLAS 8", 10 ct.

32 OZ. SQUEEZE BOTTLE HUNT'S KETCHUP $149 Hunts Hunts TOMATO TOMATO KETCHUP KETCHUP - - - - - - - - - - -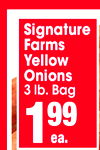 Pork St. Louis Style Ribs
$2.49

Buy! Buy! Great Great Fresh Chicken Fresh Chicken Wing Dings Wing Dings $$113636 lb. lb.

$249 /EA. DOLE SALAD 9 oz. Premium Romaine 3

Randalls Deals by Brands
Shopping with Randalls has become one of the most leisurely activities of all time. With the 12 brands that the store offers, the dynamic parameters of the Randalls sales flyer will offer considerable deals effortlessly. Whether looking for quality products from a top supplier or trying to save money on everyday items, shoppers can find a wide range of discounts from Huggies, Arm & Hammer, Blue Diamond, Axe.
By using the Randalls circular, consumers can take advantage of each brand's sales and promotions. From popular name-brand goods such as Huggies, Arm & Hammer, Blue Diamond, Axe, shoppers can find notable deals on everything they need. With these top-brand offers, customers can get more bang for their buck while shopping at Randalls.
It's easy to see why so many people shop at Randalls. With unbeatable prices across all brands and quality products that are sure to last, customers know that when they shop here, they are getting value for their money.
Randalls Weekly Ad & Preview
Flip through Randalls weekly ad and score the most incredible deals! Browse the collection by clicking on arrow buttons. Easily zoom in for a clearer view of each item using the scroller!
What's more – you can check out Randalls ad previews for future dates! It's a great help in planning budgets.
How to save at Randalls?
Saving money at Randalls doesn't have to be complicated at all. With the proper knowledge, you can do it quickly and easily! This guide will provide all the necessary information to help you make informed decisions when shopping at Randalls. Thus, you can save as much money as possible!
You will learn helpful tips, such as taking advantage of discounts and promotions and finding the best deals online. We will also discuss how you can maximize savings by monitoring prices and shopping for better deals. Finally, we will look at creative ways to save even more money at Randalls, such as rewards programs, Randalls coupons, cashback offers, and more.
Randalls Digital Coupons
If you are looking for extra savings, don't forget about the chance of utilizing the Randalls coupon. Check online or clip from newspapers before shopping. Randalls coupons are often available for a wide range of products that could be helpful when shopping at Randalls.
Randalls digital coupons offer great discounts on a variety of items, including groceries, beauty products, and home items. To start saving through digital coupons, a customer needs to find an applicable coupon from various sources such as websites, apps, or email. Furthermore, you must clip it to their store loyalty card or enter the corresponding code when checking out. With Randalls coupons, you can get an unbeatable deal on the products you love. You just have to remember to use them.
Furthermore, digital coupons often offer additional benefits such as free shipping or cashback rewards. This means that you get discounts on select items when purchasing them online. Moreover, there is also a chance to earn rewards or even receive additional discounts through cashback programs. With these extra benefits combined with traditional coupon savings, Randalls digital coupons are sure to dent your budget.
These coupons are a great way to get the most bang for your buck while shopping at Randalls. With digital coupons, you can access exclusive deals and discounts that are unavailable elsewhere. All you need to do is apply the coupon code during checkout, and voila, instant savings!
Randalls Weekly Specials
The Internet is full of amazing treasures and one you shouldn't miss is this Randalls weekly ad! While you might think it's a catalog full of temptations, once you take advantage of it, you realized it's a practical resource you can use to compare prices, find discounted items, and discover terrific deals. Thus, one of the best ways to maximize your budget.
Moreover, it doesn't take much time or effort to use. You just have to click on buttons or icons. Products are organized by collection, so if you know what you're looking for, finding it is quicker. But there's also joy in just idly flipping through the collections - you find unexpected and exclusive deals you would've missed out on if you just skipped pages.
Randalls BOGO
Saving money at Randalls with BOGOs (Buy One Get One) offers is a great way to stretch your dollar further. This promotional offer can save you up to 50% off the regular price of an item if you take advantage of the deal. To get started, look for items at Randalls that are marked with a BOGO 50% off label or sticker on the shelf. The deals are usually near the middle of the store. They might be at the end of an aisle or in another area that is easy to see.
When shopping, it is important to read any signs that tell you about the offer. The signs will tell you how many items you need to buy to get another item for free. For instance, if two items have been labeled as "buy one get one free," then you'll need to purchase two of them for the discount.
Additionally, it's always a good idea to double-check any buy-one-get-one promotions at checkout before leaving to ensure you get all applicable discounts and promotions. By using BOGO deals wisely, shoppers can maximize their savings by taking advantage of these wonderful offers available at Randalls sales ad.
Reward Programs
There are many perks that come with the Randalls membership program - exclusive discounts, limited deals, massive points, and luxurious amenities. Yet a lot of people, maybe even you, haven't registered yet because they think it's frivolous or the registration process is a hassle. Well, those two points are about to be proven wrong.
Firstly, the reward program isn't frivolous because the many perks, points, and promos get you back your money's worth and more. Secondly, registration is not a hassle at all. Just check out the Randalls sales ad, find the instructions, follow them and provide needed info. Within five minutes, you're part of the family already!
Exclusive Online
Online shopping fans, like you, are there for the convenience, variety, and swiftness. But once you get access to online exclusive offers, the deal gets sealed - you won't be doing shopping any other way anymore.
But how do you even find such big offers? Easy - subscribe to Randalls weekly circular. It features the biggest sales, discounts, and coupons, all at the tip of your fingers.
Leverage Free Shipping
Here's a sound online shopping advice you can follow - don't check out anything without making sure you aren't missing any discounts or free shipping deals! After all, you wouldn't want to pass on the chance to save money, right?
To find those free shipping offers, use the Randalls ad. You can flip through it anytime, anywhere to find fantastic promos you can use to waive online shipping charges or slash down prices.
Find Clearance Items
By taking advantage of the store's clearance section, you can really ramp up your savings. The clearance section is typically located in the back of the store or in a distinct section within the store. You can shop here for amazing discounts through the Randalls ad on overstock inventory and seasonal items that are no longer in style.
In order to maximize your savings from clearance items, always try on anything before buying. Sometimes clothes that look nice on the hanger won't fit quite as expected once you've tried them on. Additionally, check for any stains or minor damage that may not have been noticed when putting them out on display.
Even if these items have some imperfections, they are frequently discounted, so it might be worth the purchase at a reduced price, especially when the issue is minor!
Price Matching
Price matching is a great way to save big at the Randalls sales ad. This useful policy allows shoppers to adjust their purchase amount based on the prices of the same item at competing stores. Meaning you never have to worry about spending too much.
To use the price matching guarantee, simply bring the current price from a competitor and inform the Randalls staff. If their product is substantially similar, they will match it, and you can save some money on your purchase. With price matching at Randalls, rest assured that you wouldn't have to leave empty-handed due to inflated prices.
Cashback reward program
Saving money at Randalls can be easy if you know where to look! Cash Back is a great way to get the most out of every shopping trip. Simply shop online by keeping in mind the Randalls sales ad, and use the cash back apps, sites, or affiliated credit cards to earn money on items you already buy. Cash Back rewards will vary depending on which program you are using.
Thus, do your research to find the one that offers the highest percentage of returns. Once you identify the best rewards provider for you, start tracking your purchases and watch your savings rise quickly.
Shop at Right Time
Is your kid going back to school? You'll have a lot of stuff to buy - clothes, bags, school supplies, shoes, and more. All these expenses could leave your bank empty, but not if you're shopping smart.
Shop at the right time with the Randalls ad previews. These ads showcase back-to-school deals and promos way ahead of time, so you know when, where, how, and how much you can get them. It will surely help you stretch your budget, so make sure to subscribe!
Shopping at Randalls
Randalls In-store Shopping
Heading out to your local Randalls? Seems like you're forgetting something ...
You forgot to check out the latest Randalls sales flyer! It's the greatest in-store shopping hack as you can use it to find deals, promos, and prices even before you've stepped out of your home. If you use it wisely, you can plan your shopping trip more efficiently, as you know where, when, and how to make the best purchases.
Curbside Pickup
Curbside pickup has become an increasingly popular way for shoppers to get their goods without leaving their homes. This simple service offers convenience, comfort, and safety all in one. Shopping curbside means not having to face the hustle and bustle of the store while searching for what you need.
It is all at your fingertips, just a phone call or click away. Additionally, you do not have to wait in checkout lines to get benefits from Randalls ad. Instead, curbside services quickly hand off bags with your purchases. During this era of social distancing, curbside pickups are especially alluring to those who want to minimize contact with others.
Delivery
Shopping from the convenience of the home has always been a piece of cake with the Randalls ad and fast delivery. Benefiting from these services can give shoppers access to an abundance of products, more options and better deals. Delivery services eliminate the time wasted visiting multiple stores to search for a perfect product for the desired need.
Shopping with Randalls ads and delivery is all about getting what you need without compromising exactly when you want it. With quick delivery and excellent products, shopping has just gotten so much better!
Online Shopping at Randalls
As nearly everyone is spending more time on the digital landscape, business, including Randalls are making the transition with you by opening up their own online stores. Like physical locations, you can browse through collections, find what you need, and purchase all that you've gathered in your shopping cart. Basically, the same experience but much more convenient and effortless. Find out if you your area's Randalls has an online shop (and what promos they offer) through the Randalls circular!
Randalls App
Randalls shoppers can take advantage of a wealth of benefits by using Randalls's app. Let's start with convenience, as the app has easy access to the Randalls circular that allows shoppers to browse deals and discounts from anywhere at any time.
With the Randalls app, time-strapped customers have the information they need quickly and efficiently, leaving them more time for leisure activities. What could be better?
How EveryPayJoy Help you Save?
EverypayJoy is a great platform for anyone looking to save money on everyday purchases. With exclusive deals and coupons, users can pinpoint the best prices, discounts, and offers. EverypayJoy simplifies the process of finding the best deals and helps users maximize their budget without sacrificing quality.
The platform provides access to Randalls sales flyers, Randalls weekly ads, and exclusive deals that can be found all in one place. This eliminates the need to go through multiple websites or stores to find what you need at the best prices. The comprehensive range of options available from EverypayJoy ensures that there is something for everyone, whether it be clothing, furniture, or electronics.
Not only does EverypayJoy provide access to great deals and savings, but it also has an easy-to-use search function. You can use this feature to search your favorite stores and find what you are looking for quickly and efficiently.
Overall, using Everypayjoy is easy to save money on everyday purchases while still enjoying quality products at discounted prices. Everypayjoy has a lot of different products from different stores. The design is simple, and the customer service is great, so you are guaranteed to be happy with your purchase!
Disclaimer: Randalls is a registered trademark of Randalls and is not affiliated with our company. We are not affiliated with, endorsed by, or connected to Randalls. Our use of any trademark belonging to another company is not done with the intent to confuse consumers but is rather incidental in promoting these companies and their coupons.