Raley's Coupons, Deals & Promo Codes
Reading the Raley's weekly ad this week is unchallenging and fruitful. All of the current sales are categorized and easy to identify, so you can quickly find what you are looking for. For example, you will see the Raley's ad divided into fresh meat, seafood, pantry essentials, beverages, alcohol, pet supplies, and many more categories.
So, keep an eye out so you can save money on groceries and other items offered by Raley's. The Raley's ad has 19 exciting deals that are valid through the end of this week, starting on 05/31/2023 and ending on 06/06/2023. There are currently 19 available in the Raley's weekly ad this week, all offering great savings.
Whether you are shopping for yourself or your family, or even if it is just a special occasion gift, looking through the Raley's weekly ad this week can help you save money. In addition to providing discounts on items found in stores, there may also be coupons available that can help you save even more money. You will find an available Raley's coupon in the database, which is regularly updated with new offers and specials.
Having a look through the Raley's ad could be beneficial for anyone who wants to get their hands on great products and services without breaking their budget. Not only does it provide discounts that can lower your grocery bill significantly, but it also helps customers stay up to date with all the products available at Raley's.
Knowing what products have been discounted allows customers to ensure they are getting the best possible value when shopping at this store. Additionally, customers can find out about upcoming promotions and take advantage of all potential savings opportunities.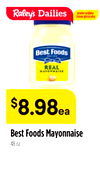 Best Foods Mayonnaise
SAVE $5 when you buy $15 of participating Unilever products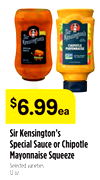 Sir Kensington's Special Sauce or Chipotle Mayonnaise Squeeze
$6.99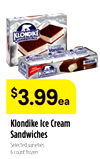 Klondike Ice Cream Sandwiches
$3.99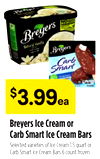 Breyers Ice Cream or Carb Smart lce Cream Bars
$3.99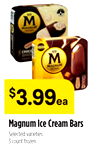 Magnum Ice Cream Bars
SAVE $5 when you buy $15 of participating Unilever products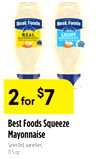 Best Foods Squeeze Mayonnaise
SAVE $5 when you buy $15 of participating Unilever products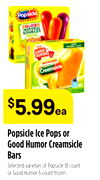 Popsicle Ice Pops or Good Humor Creamsicle Bars
$5.99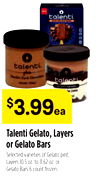 Talenti Gelato, Layers or Gelato Bars
SAVE $5 when you buy $15 of participating Unilever products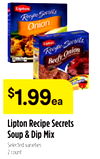 Lipton Recipe Secrets Soup & Dip Mix
$1.99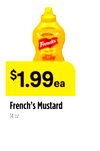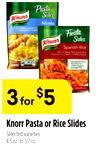 Knorr Pasta or Rice Slides
SAVE $5 when you buy $15 of participating Unilever products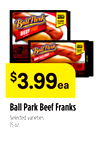 Ball Park Beef Franks
$3.99

Taylor Farms Chopped Salad
BUY 2 OR MORE $4.28

English Muffins or BelGioioso Mozzarella Cheese
2 FOR $5.0


Gallo Salame, Alouette Spreadable Cheese or Reser's Macaroni or Potato Salad
$5.0

Raley's Turkey Breast, Bacon Ranch Pasta or Smoked Rib Bites
$5.0

Drumstick Ice Cream Cones, Häagen-Dazs Ice Cream, Bars or Cones or So Delicious Frozen Dessert
$5.0

Raley's Coconut Water or Pringles Potato Crisps or Wavy
3 FOR $5.0
Related Brands to Raley's
With amazing deals on food and household items alike, it's no wonder why so many people turn to Raley's. Searching for the highest quality products at unbeatable prices has never been simpler, thanks to Raley's sales flyer! Moreover, with the Raley's circular, you can take advantage of their wide selection of brands and find top deals with just a few clicks.
With over 6 different brands available, there's something for everyone and every budget. From popular names like Lowrance, Poland Spring, Sea Best, Smirnoff, Keebler, Eridanous to lesser-known vendors offering unbeatable prices, customers can find what they need at unbeatable prices.
Take advantage of a fantastic deal with the Raley's sales flyer. It is regularly updated to ensure that shoppers have access to all the newest offers from top brands. Whether you're looking for quality items or just trying to get the best value for your money, you can trust that Raley's's flyers will have what you need.
Here are the popular brands we found in our database:


Raley's Weekly Ad & Preview
Take advantage of this easy-to-use, all-in-one Raley's weekly ad! With just a few arrow buttons and zoom in feature, you can course through collections of jaw-dropping price steals
Plus, Raley's ad previews lets you stay tuned on the season's next hottest deals! Click on a preview, get a glimpse of the future, and plan that shopping spree.
How to save at Raley's?
Saving money at Raley's doesn't have to be a tricky endeavor. With the right approach and some savvy shopping strategies, you can easily save a few bucks every time you shop. Whether taking advantage of price cuts or stretching your food budget further with meal planning, there are plenty of ways to get more value for your purchases with Raley's ads.
First and foremost, familiarize yourself with the Raley's weekly ad. This is where you will find all the best deals! By following some simple tips on how to save at Raley's, you will find yourself shopping smarter in no time.
Coupons at Raley's
Saving at Raley's with the help of digital coupons is an appreciable way to save money. You can find digital coupons on Raley's's website, and they are often easy to use. All you need to do is open up Raley's's page and search for Raley's coupon codes or discounts. Some Raley's coupons will automatically apply your discount when something is purchased from their website.
However, others require you to type in a code before completing your purchase. Other Raley's coupons may only be applied online or in-store, so read all the terms and conditions associated with the coupon before using it. No matter what kind of Raley's coupon you have, using it can result in some nice savings.
Raley's Weekly Specials
Saving with the help of weekly specials at Raley's is a great way to stretch your budget and save money. Here are some tips on how to get the most out of their weekly specials:
1. Review the Raley's weekly circular each week. This way, you will be aware of any sales or discounts that may not have been advertised elsewhere. Another advantage to this is that you can compare prices over different stores to find the best deal.
2. Take advantage of online coupons and promo codes every week. Many stores offer online coupons that you can apply for additional savings on items you purchase through their website or app.
3. Look for weekly "buy one, get one" deals where you can purchase two items for a lower price than buying them separately. This is a great way to stock up on products while saving money.
4. Check expiration dates carefully when shopping with weekly ads, as some promotions might expire before the sale ends. Moreover, it is vital to take note of end dates to maximize savings on items you are planning to buy anyway.
5. Combine weekly deals with other promotions like rewards programs or discounts from loyalty cards so that you can maximize your savings potential even more.
By following these tips, you can maximize your utility or grocery bill savings.
Raley's BOGO
When you shop at Raley's, there are some great ways to save money with BOGO free or "Buy One Get One" promotions. Here are some tips and tricks for getting the most out of these offers:
First, always read the terms and conditions of a BOGO offer before making a purchase. Knowing precisely what items qualify for the promotion and your savings is essential. For example, a store may have a "BOGO 50% Off" promotion, meaning customers can purchase one item and receive another at half price. It's important to note that both items must be equal or more excellent value to qualify for this offer.
Second, make sure you compare prices between different stores and online retailers so that you can get the best deal available. Remember to include any applicable taxes when calculating the total cost of an item. Additionally, take advantage of any special store discounts or loyalty programs that may apply to your purchase when using a BOGO offer.
Finally, check the expiration dates on any promotional offers from the Raley's sales flyer. Many stores set expiration dates for their BOGO offers. So, if you don't use them before they expire, you could miss out on some significant savings. Plan ahead and maximize your savings by taking advantage of these time-limited deals before they expire.
By following these tips and tricks, savvy shoppers can take full advantage of BOGOs at Raley's and make their hard-earned money go further!
Reward Programs
Are you ready to change the way you shop? Because you're about to hear something mindblowing - the Raley's reward program!
Members of the program have exclusive access to big discounts, limited deals, and high-class amenities. They also earn as they shop because every certain amount of purchase at selected outlets and brands entitles them to a point!
While all these sound posh and expensive, it really isn't - membership comes at an affordable fee, especially considering all the benefits you can get! Plus, registration is very easy - just follow the directions on the Raley's sales ad, and within the day, you're a member already!
Online Exclusive Offers
Thanks to their Online Exclusive Offers, shopping through the Raley's weekly ad has never been easier. Using these offers, customers can receive discounts and special deals when shopping online. The easiest way to take advantage of these discounts is to sign up for an account on the store's website and opt-in to their promotional emails. That way, customers can be sure not to miss any updates on new savings opportunities. Just make sure to compare prices before jumping in. Take advantage of these great offers today and start saving money shopping at Raley's.
Leverage Free Shipping
If you don't find joy in online shopping, that's likely because of the large shipping fees. But there's a great way to go around that, which is by taking advantage of free shipping deals and vouchers. Occassionaly, stores and brands put up certain products on a free shipping deal so that when you order them during the promo period, they'll be delivered to you for free. Besides such deals, there are also vouchers that waive off shipping fees if you meet certain terms or conditions.
Whichever way you get free shipping offers, they're a great way to save money on online purchases. They can be quite hard to catch because they're so limited and exclusive, but you can get a headstart by checking out the Raley's ad and ad previews. Along with other promo deals and discounts, these ads showcase fantastic free shipping deals you cannot resist.
Clearance
Shopping doesn't have to be expensive, especially when you take advantage of clearance offers from Raley's weekly circular. Clearance offers are a great way to save money on items you want and need. You can find deals on clothing, shoes, furniture, and more that are marked down far below the regular price.
If you are looking to get the most for your money, make sure to check out the clearance section at Raley's and take advantage of their incredible discounts. Don't miss out on these opportunities because you could end up saving lots of money.
Price Match at Raley's
With the help of price-matching, savvy shoppers can get the best deals at Raley's. This helpful tool allows customers to compare prices and save money on the items they need. All you have to do is show proof that something is being sold for a lower price somewhere else, and the store will honor it with a lower attributed cost.
Customers should pay attention to ads in newspapers, websites, and even stores close by for prices of products and compare them with what is being sold in Raley's before making a purchase. Even if an online deal is less than a local dealer, you can still save something. So, customers should keep an eye out for discounts or sales at their favorite stores. With these strategies in mind, shopping through the Raley's weekly circular can be simple and thrifty!
Cashback Program
Saving at Raley's with the help of Cashback is an excellent way to maximize your savings. Cashback services allow customers to get back a percentage of their purchase as a cash reward, which you can use on future purchases or withdraw as cash.
In addition to being able to take advantage of regular discounts offered by Raley's weekly ad, cashback services are an additional way to save money while shopping there. Depending on how much you shop at Raley's, this could mean hundreds of dollars in savings each year!
Shop at Right Time
Shopping at Raley's can be a great opportunity to snag some fantastic deals. One of the best ways to save at Raley's weekly ad is to pay attention to the mega sales that happen periodically throughout the year. These sales offer fantastic discounts across all departments, allowing shoppers to save big.
To make sure you don't miss these savings opportunities, simply sign up for the store's email list and follow any pages on social media that they have created. Notifications will come directly to your news feed or inbox whenever a new sale launches so that you can take advantage of it right away. Shopping during one of these sales will help you stock up on essentials while keeping money in your pocket.
Shopping at Raley's
Raley's In-store Shopping
Have you been exceeding your shopping budget more and more often? Making a checklist and being firm on your budget are one of the few ways to avoid overspending, but here's another lesser-known hack: Raley's sales flyer. This flyer has everything you need, from deals to discounts, so you can save money and stick to your budget. It's accessible anytime, anywhere, so make sure you got it ready even before you head out to your local Raley's.
Curbside Pickup
If you live far from your local Raley's, it can be frustrating to go there and find out that the product you need isn't on stock. To avoid such failed shopping trips, here's a simple hack: curbside pickup! Through this service, you can place an order in advance (check the Raley's flyer to know how), schedule it for pickup at a time and location nearest to you, and get them when they're ready and convenient for you! In this way, you're sure you get what you need without the risk of wasting transport costs and effort!
Delivery at Raley's
Finding time to shop for things they need can be challenging because people are often very busy with work, their families, and other things they have to do. Thus, shopping for the best deals has always been challenging. However, it is not the case anymore. Home delivery is the perfect way to experience hassle-free shopping.
Now you just need to grab the Raley's sales flyer and hop online for free delivery. Customers can find immense benefits when shopping with delivery from groceries to office supplies. It is convenient and safe to have items delivered to your doorstep.
Online Shopping at Raley's
When you shop online and take advantage of the Raley's weekly ad this week, you take the extra step towards mega saving. In addition, online shopping can help shoppers stay within their budget by providing easy-to-compare prices, which you can do with just a few clicks.
Furthermore, shoppers may have access to exclusive deals and discounts that are only available when they shop online. Websites often run promotional codes or other discounts that allow customers to save even more money while they shop.
Mobile Digital App
Raley's app has helped make it easier to keep up with the Raley's ads and specials. By downloading the app, shoppers can access Raley's flyer before it's even posted in the Raley's. This means shoppers can be sure they are getting the best deals, helping them save money on their purchases. With the Raley's app, all of Raley's's hottest items are only a touch away! Plus, Raley's often offers exclusive discounts through the app, giving savvy shoppers an additional edge.
How EveryPayJoy Help you Save?
Everypayjoy is a fantastic website that helps you save money on everyday purchases. It provides access to Raley's sales flyers, weekly ads, and exclusive deals and coupons. Thus, the platform allows users to pinpoint the best prices, discounts, and special offers.
With EverypayJoy, you will never miss out on significant savings again. Its simple design allows users to quickly find what they need and maximize their budget without sacrificing quality. Affordability aside, the variety of options available at Everypayjoy is guaranteed to have something for everyone.
You can find amazing deals on products from clothing, furniture, electronics, and beyond in the Raley's sales flyer. So why not save some extra money with every purchase? Putting your hard-earned money back where it belongs, in your pocket.
Everypayjoy also provides exclusive deals and coupons to help you save money on your purchases. With so many value-friendly options at your fingertips, Everypayjoy is an invaluable shopping companion that enables you to save.
Disclaimer: Raley's is a registered trademark of Raley's and is not affiliated with our company. We are not affiliated with, endorsed by, or connected to Raley's. Our use of any trademark belonging to another company is not done with the intent to confuse consumers but is rather incidental in promoting these companies and their coupons.