My IGA Coupons, Deals & Promo Codes
Avoid putting back things on the shelf because you ran out of budget! The My IGA weekly ad for this week keeps you posted on the most recent deals and discounts, so it's easier to track prices and maximize your budget. This one, in particular, covers 36 promos from 03/15/2023 to 03/21/2023.
Once the week ends, the weekly ad gets updated so you get access to a fresh, complete set of jaw-dropping discounts. Of course, you can sneak a peek by using the My IGA ad previews, but the deals there are limited only. If you want to see the whole array, visit this site regularly so you'd have first access to offers you wouldn't want to miss.
To use these weekly ad specials, you can click on the arrows, plus, and minus buttons. The arrows get you from one collection to the other, so you can browse through all the deals in an organized manner. Meanwhile, the plus and minus buttons are for zooming in and out - if you want, you can use your scroller instead too.
Besides the My IGA weekly ad, you can also visit the My IGA coupon database. It has hundreds of vouchers from various brands and products. Click on the coupons to view details, see expiration dates, and then save them for near-future use!

100 Always Save TE 100 OR COLD Always Save BL TEA BAGS BLACK TEA TAGLESS $150 Always Save Tea Bags 100 Ct., Selected Varieties

100 Always Save 100 TE Always Save TEA BAGS® DECAF BLACK TEA TAGLESS $319 Always Save Decaf Tea Bags 100 Ct., Selected Varieties

16 Oz. BLEACH Save BLEACH BLEACH - I i - - $235 Always Save Bleach 96 Oz., Selected Varieties
Always Save ALUMINUM 25 FOIL Always Save ALUMINUM FOIL 25 Save - ALUMINUM 25 FOIL - $135 Always Save Aluminum Foil 25 Sq. Ft., Selected Varieties

- - Always Save ORANGE - - JUIC Always FR Save - - ORANGE I JUICE FROZEN CONCENTRATE - - $215 Always Save Frozen Orange Juice 12 Oz.

Always Save Save CHOCOLATE Always Save SYRUP CHOCOLATE SYRUP CHOCOLATE SYRUP $2 15 Always Save Chocolate Syrup 24 Oz.

Always Save Always Save EVAPORATED FILLED MILK EVAPORATED FILLED MILK $129 Always Save Evaporated Milk 12 Oz.

Save Save PEANUTS PEANUTS PEANUTS - - $2 49 Always Save Dry Roasted Peanuts

Save ALL PURPOSE Save FLOUR ALL PURPOSE FLOUR - - - $2 75 Always Save All Purpose Flour 5 Lb.

EVERYDAY LOW PRICE Quality products at everyday low prices. Always That's what the Always Save brand means for your grocery basket. With budget-friendly low prices on Save hundreds of staple items across the store, you're sure to find an Always Save® prod

Save PANCAKE & WAFFLE MIX PANCAKE $195 Always & WAFFLE Save Always Save BUTTERMILK CARD PANCAKE Pancake Mix PANCAKE & WAFFLE & WAFFLE SYRUP COMPLETE MIX 32 Oz., Selected Varieties

Always Save Always Save Pancake Syrup PANCAKE & WAFFLE SYR 24 Oz. Save PANCAKE & WAFFLE SYRUP

$400 Save Always Save MINI DONUTS VARIETY PACK Variety Pack Mini Donuts 18 Oz. Save VARIETY PACK -

Best Choice. 100% Guaranteed SAVE LABELS Backed by a FOR YOUR CAUSE! 100% guarantee, - you can trust Best Choice for thousands of save quality products Raise Money for a at the right price. label your Schoolor any Non-Profit Group SAVE-A-LABEL.COM

Save - VARIETY PACK - - - - - - Save $459 INSTANT Always Save COFFEE Save - Instant Coffee VARIETY Save PACK - - 8 Oz. INSTANT COFFEE

Best Choice Clearly Best Choice by Best Choice save a SAVE-A-L We reserve the right to limit quantities, co

HICKO WOOD GRILLING PELLE REAL WOOD MESQUITE - - - - WOOD GRILLING PELLETS REAL WOOD - - - - - est Choice moker Pellets $11 99 Lb., Selected Varieties

Best Choice. 100% Guaranteed Backed by a 100% guarantee, you can trust Best Choice® for thousands of quality products at the right price. Prices Effective 3/15/2023 through 4/10/2023

Best Party - P - Best Cups Choice - ? - - - - 20 CUPS Cold Cups 20cups Best Choice Disposable Cups $2 1 20 Ct, Selected Varieties

Best Choice Soup & Salad STORAGE CONTAINER 5 CONTAINERS Best Choice Entree STORAGE CONTAINER 5 CONTAINERS A LIDS Best Choice Storage Containers $269 2-5 Ct. Selected Varieties

KETCHUP KETCHUP. KETCHUP. Best Choice Squeeze Ketchup 38 Oz. $259

- MUSTARD MUSTARD MUSTARD - - - Best Choice Squeeze Mustard 20 Oz. $1 99

Best Choke Ranch Ranch gang Best Choice Ranch Dressing Mix 1 Oz., Selected Varieties 75c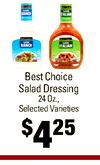 SKIN g I ITALIAN RANCI ITALIAN Best Choice Salad Dressing 24 Oz., Selected Varieties $425

Choice TRAIL MIX TRAIL MIX MOUNTAIN MOUNTAIN Best Choice Trail Mix 18 Oz., Selected Varieties $509

PEPPER JACK EXTRA SHARP I Best Choice Cracker Cheese Cuts 10 Oz., Selected Varieties

Mayonnaise, Best Choice Mayonnaise or Whipped Dressing 30 Oz., Selected Varieties $395

SALAD TOPPERS SALAD TOPPERS Best Choice Salad Toppers 3 Oz., Selected Varieties $269

VANILLA VANILLA WAFERS WAFERS - - Best Choice Vanilla Wafers 11 Oz. $1 99

- Choice - - Best Choice Tortilla Strips Selected Varieties $239

Family Pack SAVINGS 499 LB 3 Lbs.or more, IGA USDA Inspected Beef T-Bone Steaks 20-24 Oz. Select Varieties Reser's Main Street 329 Ristro Side Dishes

Hormel Always Pork Pork 39 Sold In Bag Whole 1 LB Boston Butt LIMIT O

3 Lbs. or More! USDA Select, IGA Family Boneless Beef Pack SAMINOS Chuck Roast 499 LB 20 Oz. Select Varieties Reser's Main Street Bistro Baked or Roasted Side Dishes 399

Pork Roast LIMIT 2 Hormel Always Tender 999 Boneless

20 Oz. Select Varieties Reser's Main Street Bistro Baked or Roasted Side Dishes 399
Related Brands to My IGA
Staying updated on your favorite brand's newest deals and discounts can be tricky, but not when you have this weekly My IGA circular. It has a section called the top My IGA deals by brand, wherein 6 icons and names are displayed.
When you click on the brand icon or the "view now" page, you are directed to a page full of exclusive, updated, and authentic deals. Click on each offer to see details. Note that these promos may be for a limited time only, so get them while you can!
Currently, only the following brands are featured in the My IGA sales flyer: Dawn, Sprout, White Castle, Turkey Hill, Kraft, Foster Farms. But this collection is ever-growing, so expect to see a few names and icons soon.
Here are the popular brands we found in our database:
My IGA Weekly Ad & Preview
Shopping on a budget with us just got easier! With weekly ads delivered weekly, you can now keep up with all the latest deals and find out when new products arrive. Just glance at our My IGA weekly ad page to get the best value. Whether it is a weekly special My IGA ad or competitive discounts, you will find the goods that fit your budget. Don't delay - visit the next page now to enjoy the convenience of great savings!
How to save at My IGA?
Savvy shoppers know that the My IGA ad is the perfect option you should check when it comes to finding savings. With a wide selection of discounted items and frequent promotional sales, you can save big at My IGA. To ensure you get the best value for your budget, do careful shopping by researching prices and seeking coupons. Taking advantage of loyalty programs can also help you secure additional savings. If you are looking for unbeatable bargains on top-of-the-line items, start your shopping journey at My IGA today.
Coupons at My IGA
Want a wallet full of coupons? You can do better with this massive digital database of My IGA coupons! Not only are they much, much more lightweight than a purse bursting with voucher stubs, they're also more updated and comprehensive. Indeed, this database aims to cover each and every digital voucher you can use My IGA. Thus, it is regularly updated so you always get an influx of the freshest and most exclusive offers.
You can also click on each coupon to find pertinent details, such as terms, conditions, discount caps, and expiration dates. You can either save them for future purchases or redeem right away.
Deals of the Week
Feeling low? Get a dose of cheap thrills using the My IGA weekly ad. It features collections of jaw-dropping discounts and deals, from grocery stuff to fashion pieces. You might even find that the stuff you've been ogling for months is included in the sale. Won't that be a great steal, right?
Exploring the weekly ad is effortless. You just use the arrow buttons to flip through offers and price markdowns. You can even zoom in or out if you like. Plus, it gets updated every week; thus, you're sure you're always up to speed with the biggest offers My IGA has.
BOGOs
Are you about to stock up on some items? Before buying them in lots, check out the My IGA sales flyer first! The flyer lets you peek into future promos, and you might find fantastic offers like buy one get one or BOGO deals. These deals let you get an item for free or at a discounter price - a money-saving hack for bulk buyers like you!
So, what are you waiting for? Check out the ad preview, find those deals, make your budget, and be ready to grab them all soon.
Reward Programs
Shopping at My IGA is a great way to save money in more than one way. Their reward program and membership offer customers exclusive discounts, exclusive offers, and special deals. Members can get access to early sales during the holiday season and are eligible for additional discounts when they shop in-store or online.
The rewards program is easy to use. Simply log into your account on My IGA's website or app and enter your payment information. Start earning points for every in-store and online purchase. You can redeem your rewards points when shopping in-store or online by selecting the option to pay with a rewards point balance at checkout.
Signing up for My IGA's membership-based reward program is easy and incredibly rewarding. With exclusive benefits like discounted prices on all purchases and early access to sales before non-members,- it's a no-brainer way to save while shopping at My IGA. Take advantage of this amazing opportunity today and never miss out on the next My IGA ad.
Online Exclusive Offers
With online shopping, you can do all of these at once: sit back, relax, spend more, and save more! That's made possible by the hundreds of amazing deals and discounts everyday, which only gets better during holidays, like Christmas season and Black Friday. If you want to be updated on the most recent promos, check out the My IGA weekly circular. It has all the newest promos in one place, for your convenience.
Leverage Free Shipping
Shopping online can be a great way to save money, especially when you take advantage of free shipping at My IGA. Not only can this help you avoid long lines in the store, but it will also give you a chance to pay no extra fees for shipping. Some stores may offer free promotional codes for a certain order size. Sign up for their newsletter to get notifications about these special offers throughout the year, and start saving on your orders today.
You can also follow them on social media where they often share deals, promotions, and other cool offers that may include free shipping. Taking advantage of these options should help you save big on every purchase and make your shopping experience even more enjoyable.
Find Clearance Items
Expert shoppers know to always check out clearance sales. It has some of the cheapest but best quality products many people just miss out on. But if you find these sales to often elude you, you can stay updated through the My IGA sales flyer. Announcements of the most recent and future clearance sales (and other promos) are done through the flyer, so make sure to subscribe.
Price Matching
Shopping with My IGA weekly ad doesn't always have to mean splurging. Thanks to its price-matching feature, customers can secure better value for their spending. By checking competitor prices of similar items and providing proof, shoppers can be assured that they get the best deals in the market.
This is especially helpful when one needs to purchase high-end or specialized products, like electronics, furniture, or appliances. All one has to do is show My IGA a comparable price from another source to get the discount. So next time you are out on a shopping spree at My IGA, don't forget to take advantage of the price matching.
Cashback Program
Shopping can be a lot of fun, especially through the My IGA weekly circular, where you can find so many amazing deals. But why should your shopping experience end there? With Cash Back at My IGA, you can save even more money on your purchases. All you have to do is sign up for an account with Cash Back and shop as usual. Then get money back into your account when you checkout.
It is really simple. Whether you are buying groceries or supplies, or just browsing the latest trends, with the help of Cash Back, making intelligent decisions regarding your spending is trouble-free.
Shop at Right Time
Want to go on a shopping spree at My IGA? Plan it first! To do so, start by deciding on the "when"? Well there's no better moment to go shopping than when promos are at their peak. This happens a few times a year, such as during Black Friday, back to school, Christmas, and more. So make sure set the date for those days because they're the right time to shop til you drop.
Also, you'll need to set a budget. While you can put down a certain amount and go with it on the day itself, it's best to check out prices, deals, and discounts in advance. You can do that with My IGA ad previews! They let you sneak a peek on what future promos My IGA plans to launch, so planning that shopping spree is a breeze!
Shopping at My IGA
In-store Shopping
In-store shopping has advantages that online shoppers can't enjoy. For example, you can get the privilege of the My IGA circular with all of the upcoming sales and discounts. Thus, you will have time to prepare for bargains ahead of time. With in-store shopping, customers have access to more thorough product details, as well as personal assistance from store representatives.
Additionally, shoppers can see and feel the products for quality assurance, touch and look at various features, and compare items for sale side-by-side. By comparing prices and features side-by-side in one place, customers can make wiser purchasing decisions.
Curbside Picku at My IGA
What if you can buy all your groceries just sitting down then get up once it's packed and ready? That doesn't just sound like a dream - it can actually happen when you avail of the curbside pickup order service at your local My IGA! Through this service, you can choose everything you need online, place an order, and schedule the pickup at a time and location nearest to you. It's extra convenient, plus much more affordable than delivery, especially if you took advantage of applicable deals and promos featured in the My IGA flyer!
Delivery
The My IGA now offers a delivery service, allowing customers to place their order online and have it waiting on the doorstep within a matter of days. Not only is this more convenient, but shoppers can take advantage of the My IGA weekly ad this week to save even more money.
Delivery services also save valuable time by eliminating the need for long lines at checkout or trips to multiple stores in one day. It is no wonder that more and more shoppers are turning to delivery as their primary means of purchasing My IGA items - the convenience and savings of Kroger delivery simply can't be beaten.
Online Shopping at My IGA
As nearly everyone is spending more time on the digital landscape, business, including My IGA are making the transition with you by opening up their own online stores. Like physical locations, you can browse through collections, find what you need, and purchase all that you've gathered in your shopping cart. Basically, the same experience but much more convenient and effortless. Find out if you your area's My IGA has an online shop (and what promos they offer) through the My IGA circular!
Mobile Digital App
What if your local My IGA is one tap away? That's totally possible if you have the My IGA app installed in your fave gadget! To find this app, check out the My IGA ad - it usually features the app ready for download. Once it's installed, you can add to cart and check out items right away!
How EveryPayJoy Help you Save?
If you want to find the latest promo updates from My IGA, you should subscribe to the My IGA weekly ads! It features many discounted products, huge deals, and other irresistible offers. Subscription is easy as you only have to open the EveryPayJoy website, provide your email to the subscription box, and all the fresh news comes through automatically and regularly.
Also, while you're at the EveryPayJoy site, make sure to bookmark it. It's a fantastic shopping resource that is full of coupons, articles, and My IGA sales flyers. All are organized diligently, so you can easily find coupons from certain brands or access offers from a certain store. Plus, you won't have to worry about outdated deals - all the offers and promos are updated regularly, plus you can easily see the expiration dates for both the weekly ads and the coupons.
Moreover, you don't really need a specific agenda to use the EveryPayJoy site. You don't even have to pay! You can flip through collections and materials idly and if you find something you like, availing the offer is really easy.
Disclaimer: My IGA is a registered trademark of My IGA and is not affiliated with our company. We are not affiliated with, endorsed by, or connected to My IGA. Our use of any trademark belonging to another company is not done with the intent to confuse consumers but is rather incidental in promoting these companies and their coupons.