Lidl Coupons, Deals & Promo Codes
Find everything you need using the Lidl weekly ad for this week. It contains 28 amazing deals, exclusive for 05/31/2023 to 06/06/2023 only. So don't miss out on such limited gimmicks!
To view these offers, click, scroll, and zoom in on the Lidl ad. Clicking on the arrows or "next" button lets you browse through different collections, like grocery products, household appliances, school stuff, and fashion items. Such brilliant organization lets you find your necessities much faster! Meanwhile, scrolling allows you to zoom in, so you get a better view of the item, product details, and incredible markdowns.
You can also save a Lidl coupon from the database! These coupons may be for a limited time only, so click on your screen to get a list of coupon details, which includes expiry dates and instructions for redeeming. They're a great shopping hack that lets you get more value for your money.
All these deals and coupons aren't just for this week too! Keep visiting to find more exclusive Lidl weekly ads and Lidl ad previews. The Lidl ad previews gives you a glimpse of future promos, so you'd have a headstart with your shopping spree plans!



cookie butter speculoos spread
$3.98










florist's selection bouquet
$12.99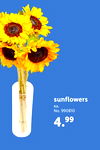 farmer's choice bouquet
$9.99





roasted red pepper hummus
$2.87


plain bite size naan
$4.49

chopped salad kit, avocado ranch


fire roasted chipotle salsa
$3.49

traditional sparkling lemonade
$2.85


Lidl Deals by Brands
Shopping at Lidl with their sales flyer and circular is a great way to find unlimited deals on top brands. With over 12 different brands, shoppers can be sure they are getting a fantastic selection of products. You will find 12 reputable brands in Livarno, Gelatelli, Parkside that will make sure that you get what you need at excellent prices.
Shopping with the Lidl sales flyer is different. When looking for top deals, you must check out all the brands available to find the best value for your budget. No matter what type of product you are looking for, there's something for everyone at Lidl circular.
With dynamic parameters and regular updates on the latest discounts and deals, customers can take advantage of unbeatable prices on quality items from top brands. Additionally, shoppers have access to detailed product features, so they know what they're buying before making their purchase.
Lidl Weekly Ad & Preview
Are you looking to plan your grocery shopping trip for the upcoming week? Look no further – with Lidl Weekly Ad. You can get a sneak peek at the deals and discounts coming soon! With this handy guide on Lidl ad, you can keep an eye out for new offers and discounts available each week to score some amazing deals at Lidl.
How to save at Lidl?
For those looking to save while they shop, Lidl may be the perfect place. It is a trusted shopping destination that has been offering great deals for years. Whether trending products or hard-to-find items, shoppers can save on nearly anything with the advantage of the Lidl ad.
We have put together a comprehensive list of tips. Thus, you can make the most of your trips to Lidl and keep up with their latest sales, special offers, and exciting deals. Start saving today and read on to learn how!
Coupons at Lidl
Coupons are a must-have for your shopping sprees. They let you extend your budget or go under it; either way, they make the whole trip much more enjoyable. Unlike before, though, you can't cut out a ton of them from the newspapers or magazines. So where can you find these simple treasures these days?
They are all right there in this Lidl coupon database. As the world transitioned to the digital landscape, so did your beloved vouchers. Not only are they now easier to find and carry, they're also easy to save and redeem. Just click on each coupon for more info and instructions.
Deals of the Week
Do you often find yourself hearing about Lidl weekly specials only AFTER they are done? Don't let that happen to you anymore. Instead, regularly check out the Lidl weekly ad! It is frequently updated with the best and most recent product deals and discounts for the week.
This weekly ad is like a digital catalog. You can flip through dozens of product collections until you find everything that contents your heart. You can zoom in and out to view more details or compare items with each other. The prices and offers are all accurate and recent; plus, there's also info on how to take advantage of them!
Lidl BOGO
We all know that BOGO stands for 'buy one, get one' and refers to discounts where one item is free or half-price when you buy another. BOGO 50% off promotion offers great savings opportunities if you take advantage of them.
Here are some tips for getting the most out of BOGO free:
First, ensure you understand the terms and conditions of the Lidl ad. Sometimes there may be limits on which items qualify for the discount and how many discounts can be used in each purchase. Read all details carefully so you can take advantage of all your savings!
Second, compare prices between different stores to see who has the best deal on items eligible for BOGOs. Third, stock up on items with a BOGO offer available. You can stock items that don't go bad quickly or something you know you will use often enough to avoid wasting it (like toilet paper). This way, you can save money even after the offer ends.
Reward Programs
Shopping at Lidl is a great way to save money in more than one way. Their reward program and membership offer customers exclusive discounts, exclusive offers, and special deals. Members can get access to early sales during the holiday season and are eligible for additional discounts when they shop in-store or online.
The rewards program is easy to use. Simply log into your account on Lidl's website or app and enter your payment information. Start earning points for every in-store and online purchase. You can redeem your rewards points when shopping in-store or online by selecting the option to pay with a rewards point balance at checkout.
Signing up for Lidl's membership-based reward program is easy and incredibly rewarding. With exclusive benefits like discounted prices on all purchases and early access to sales before non-members,- it's a no-brainer way to save while shopping at Lidl. Take advantage of this amazing opportunity today and never miss out on the next Lidl ad.
Online Exclusive Offers
Thanks to their great online exclusive offers, shopping with the Lidl weekly ad doesn't have to break the bank. With a few savvy tips, you can save big on your next purchase. Use the store website to browse their different promotions and sales, some of which are exclusive online.
Look for special discounts or clearance items only available online and save even more. Also, consider signing up for their email newsletter to access the latest promotions easily. Shopping with Lidl is made more accessible and affordable when you take advantage of their exclusive online offers!
Free Shipping
Shopping at Lidl can be a great way to save money without compromising on quality. Taking advantage of the store's free shipping policy can add to your savings. To qualify for free shipping, you'll need to choose eligible items with a minimum purchase amount that meets the store's requirements. The selection of items offered by Lidl ad typically changes daily.
The company offers discounts for select items at certain times throughout the week and month. With these deals and free shipping, you can get top-notch products delivered conveniently and hassle-free, saving even more.
Find Clearance Items
Clearance sales are popular for a great reason: HUGE savings. Prices are literally down by 40% to 60%, even higher for rare finds. Now, would you pass up on something like that?
Thus, it's no surprise that people are always excited for these deals. But that also means you get a lot of competition, so how you can get ahead of them? Easy - subscribe to the Lidl sales flyer and ads, and you'll know of clearance sales announcements earlier than everyone else. You might even get tidbits of exclusive, juicy info.
Price Match at Lidl
The best way to make a budget is to know the prices even before you're at the store. But is that even possible? It is if you're an avid shopper at Lidl because there is the Lidl weekly ad you can use to check prices. The ad is updated every week, so you're sure the listed prices are reliable and recent. You can use it for other price matching needs, too, like compare brand prices, evaluate price hikes, and more.
Cashback reward program
Shopping through the Lidl weekly ad can be an even more rewarding experience, thanks to Cash Back. Cash Back allows shoppers to receive a percentage of their total purchase price back after checkout. This extra cash can really add up over time, and best of all, it is completely free and easy to use.
All customers need to do is log in at the store website and activate their Cash Back account. Special offers also appear periodically for extra savings opportunities. With Cash Back, shoppers can save even more money on their favorite items at Lidl.
Shop at Right Time
Shopping during the holiday season can be expensive, but you can save money at Lidl with a few simple tips. Shopping at black Friday sales or mega sales throughout the year is a great way to find deals and discounts on products you are interested in. Instead of spending hours researching and comparing prices, these multi-day deals make it easy for shoppers to get what they need for less. Whether your shopping list consists of presents or an upgrade for yourself, shop at the right time this holiday season, and be sure to stock up on the Lidl ad.
Shopping at Lidl
In-store Shopping
Is it time to stock on some groceries? Before you make that regular trip to your local Lidl, add this to your routine: bookmark and check the Lidl sales flyer before you leave. This promo material compiles money-saving discounts and deals, so you can make the most out of your budget and save as much as you can. It also tells you until when these promos are good for, and how you can avail them. It is a valuable resource for any pro-shopper, so don't pass on it!
Curbside Picku at Lidl
Why take any risks when you can easily benefit from having your items brought right to your car? Shopping during and after the pandemic has become an incredibly convenient and safe experience with curbside pickup.
Customers don't have to worry about making time for a shopping trip and can maximize their savings with money-saving deals from the Lidl ad. Plus, shoppers don't even have to leave the comfort of their own vehicle to take advantage of Lidl's great offers. Being able to quickly and conveniently secure items will make any customer's shopping experience more enjoyable.
Delivery
If you don't have time to do the groceries and shopping, don't fret! Instead, use the Lidl weekly ad this week to see if your local Lidl allows online shopping AND delivery. You can use those services to get everything you need with a few finger taps and clicks. Once you're done paying, you can just work on other things and wait for the package to arrive -- really convenient and time-saving.
Online Shopping
Lidl ad offers online shopping and is an ideal way to save time, money, and hassle. Customers can browse Lidl stock quickly and easily from the comfort of their own homes. With cheap delivery rates and collection options ranging from in-store pickup to drop-off, Lidl provides customers maximum convenience and flexibility in shopping. Thus, shoppers can truly benefit from making Lidl their go-to place for purchasing goods.
Lidl App
Her are two shopping tips: check your fave app store and see if the Lidl app is already availble AND subscribe to the Lidl ad. The app allows you to buy things wherever and whenever, in the most effortless way possible. Meanwhile, an ad subscription makes sure you don't miss out on the biggest and most exclusive deals and promos.
How EveryPayJoy Help you Save?
EveryPayJoy is a shopaholic's dream. It has all the best promos from many big stores in one place, so you don't have to be eluded by deals or scour the Internet to find them. Such promos are showcased in the Lidl weekly ads or Lidl sales flyer. You can also subscribe to these promotional materials - provide your email to the subscription box and every week, you'll get the most recent and exclusive deals and discounts.
There is also an organized coupon database on the EveryPayJoy website. They are organized by brand for your convenience, and you only have to click on the coupons you like to use them. Plus, expiration dates are readily shown, so you won't have to guess if they're expired or not; it also makes it easier to plan your shopping trips.
Finally, EveryPayJoy stands out for the extraordinary tips it provides its users. There is a wide array of articles on the site, each providing advice so you can save money and make the most out of your budget. So if you find your shopping game to be a bit behind, brush up with some wisdom from EveryPayJoy.
Disclaimer: Lidl is a registered trademark of Lidl and is not affiliated with our company. We are not affiliated with, endorsed by, or connected to Lidl. Our use of any trademark belonging to another company is not done with the intent to confuse consumers but is rather incidental in promoting these companies and their coupons.