Lakeview Grocery Coupons, Deals & Promo Codes
Being forced to go out of your shopping budget is a real kicker, especially when you're saving money. With prices increasing more often than before, these incidents get even more frequent.
Is there a way to stay updated with prices and promos without leaving your house? There is, and it's by using the Lakeview Grocery weekly ad for this week. It's a digital circular that displays all the amazing pricedrops and discounts exclusive from 03/15/2023 to 03/21/2023.
You can treat the Lakeview Grocery ad like the most recent catalog. Flip through pages of product collections using arrows or the "next" button. Once you come across some products you need to buy, zoom in using your scroller to view the prices, product info, and other details. As these prices are set for this week, your budget is more accurate than before!
If you're not doing shopping this week, you may be more interested in the Lakeview Grocery ad previews. These previews show a limited number of promos and discounts for the next few weeks, so you can write your shopping list and set your budget ahead of time!
To further maximize your budget, get a voucher from the Lakeview Grocery coupon database! When applied with the Lakeview Grocery weekly ad discounts, you don't just prevent overspending - you might even get save more money than expected.

- 12 ct. Birdseye Sweet Mini Corn-on-the-Cob 2/$7 - :

10 ct. Selected - - Eggo Waffles Eggo 2/$5 - ... Eggo

MEAT USDA Choice Angus Beef Sirloin Steaks $5.99lb. Honeysuckle White 99% Lean Ground Turkey - - - - NO - -

BAKERY 6 ct. Chocolate Doberge Cake Squares

4.5 oz. Selected Sargento 3 PACK Balanced Breaks SARGENTO $2.88ea. - - - - Balanced - - Breaks

Gnarley Barley Jucifer 6 Pack Parish Canebrake

Food Club Vegetable Oil 14.5 oz. Cans Selected Hunt's Hunts Hunts Tomatoes

Guinness Stout - - - 6 Pack - - Abita Dupple HAZE

1 lb. Sweet Peeled Baby Carrots 99c ea. Pint Sweet Red Ripe

14.7-15 oz Cans Selected Chef Boyardee - Canned Pasta BOYARDEE BOYARDEE - - -

3 lb. Bag U.S. #1 Yellow Onions

6 Rolls or 8 Mega Rolls Selected Sparkle White Paper 12 - Towels or Angel Soft Bath Tissue AngelSoft 7:25 oz. Box Kraft Macaroni and Cheese Dinner

GROCERY D TO GO DAEMESAN - - AW Our Own 5 oz. Assorted Spinach Rio Briati Artichoke Dip Italian Cheese $4.99m

8 Pack 12 oz Bottles of 10 Pack 7.5 oz Mini Cans Selected Coca-Cola Products 2/$10 mini - mini - 10

FRESH PRODUCE Sweet Red Seedless Grapes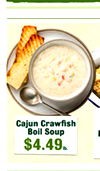 Cajun Crawfish Boil Soup $4.49m

1 Simply Orange Simply Orange 52 oz. Selected Simply Orange Juice 2/$6

JAMESON JAMESON - - 750 ml Jameson - - - Irish Whiskey

the Boss! SHEET BABY 14-18 oz Selected .... - - Sweet Baby Ray's Barbe Barbecue Sauce

SIGNATURE Community Community 12 or Red Bags or SIGNATURE 12 et Red Box K-Cups Assorted Community - - Coffee -


Prime Boneless Beef Ribeye Steaks $14.99 lb.

- - LARGE SIZE - - - LARGE SIZE - - - " Lucky Cheerios 14.3-16.8 or Selected General Mills Cereals LOWER CHOLEST $3.88ca.

Sanderson Farms Drumsticks lb.

Angelo Brocato's Italian Cookies Seeded assorted or

Braided Italian Bread Fresh baked daily.

Gulf Caught Medium Peeled Shrimp

- - - - 7FRN G 16.9-28 oz. Selected Gatorade Drinks or Fit 4/$5

drinking water 24 Pack Half Liter Bottles drinking Food Club water Drinking Water 3/$9 - - la LARGE SIZE - LARGE SIZE - -

St. Patrick's & St. Joseph's Day! Farm Fresh Lucky Green Cabbage 49c lb.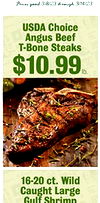 Prices good 3/8/23 through 3/14/23 USDA Choice Angus Beef T-Bone Steaks $10.99 16-20 ct. Wild Caught Large Gulf Shrimn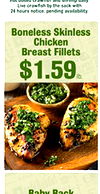 not Live posto crawfish trawsus by and the sack with Daily. 24 hours notice. pending availability Boneless Skinless Chicken Breast Fillets Raby Back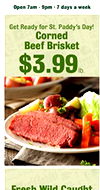 Open 7am-9pm +7 days a week Get Ready for St. Paddy's Day! Corned Beef Brisket $3.99 Fresh Wild Caught

Related Brands to Lakeview Grocery
Why pay full when you can get it for less? With this online Lakeview Grocery circular, you can find the biggest discounts on branded items so you can save money even as you spend!
Such a perk is possible when you check out the top Lakeview Grocery deals by brand segment of this Lakeview Grocery sales flyer. This section features large discount collections from 6 brands, such as Philadelphia, Starry, Fish Market, Ortega, Rockstar, PictSweet.
To view those offers, click on the brand name, icon, or "view now" button. You'll be directed to a web page full of exclusive deals, which grows everyday so try to stay updated.
Here are the popular brands we found in our database:


Lakeview Grocery Weekly Ad & Preview
Budgeting is made easier with Lakeview Grocery weekly ad and Lakeview Grocery ad previews! With just a few clicks and scrolls, you can dive into the most recent AND future collections of promo sales and quality products. So what are you waiting for? Grab the chance to stay updated and don't miss out on exclusive offers.
How to save at Lakeview Grocery?
Saving money at Lakeview Grocery doesn't have to be a tricky endeavor. With the right approach and some savvy shopping strategies, you can easily save a few bucks every time you shop. Whether taking advantage of price cuts or stretching your food budget further with meal planning, there are plenty of ways to get more value for your purchases with Lakeview Grocery ads.
First and foremost, familiarize yourself with the Lakeview Grocery weekly ad. This is where you will find all the best deals! By following some simple tips on how to save at Lakeview Grocery, you will find yourself shopping smarter in no time.
Coupons at Lakeview Grocery
Want a wallet full of coupons? You can do better with this massive digital database of Lakeview Grocery coupons! Not only are they much, much more lightweight than a purse bursting with voucher stubs, they're also more updated and comprehensive. Indeed, this database aims to cover each and every digital voucher you can use Lakeview Grocery. Thus, it is regularly updated so you always get an influx of the freshest and most exclusive offers.
You can also click on each coupon to find pertinent details, such as terms, conditions, discount caps, and expiration dates. You can either save them for future purchases or redeem right away.
Lakeview Grocery Weekly Specials
Saving money at Lakeview Grocery with the help of weekly specials or "deals of the week" is a great way to save on groceries and household supplies. To get the most out of these offers, plan and do your research.
Start by acquainting yourself with the weekly ad. Check it out every week to see what discounts and price cuts are available. Once you have a good idea of what the Lakeview Grocery weekly ad offers, list items you need currently part of the deal. Make sure to check expiration dates so you don't miss out on any offers.
You should also look for coupons in the weekly deals. Most stores will accept paper coupons as well as digital ones found online. Some stores even allow you to stack digital coupons for more savings. So, if you see any weekly special coupon code, ensure you use it on time.
Finally, don't forget about weekly clearance items! Many stores mark down things that may no longer be part of their regular inventory but can still make perfect sense for you. Thus, take advantage of these discounted prices by weekly checking store websites and flyers.
By planning and taking advantage of weekly specials, deals, coupons, and clearance items at Lakeview Grocery, customers can find great bargains and save a lot on their weekly purchases!
Lakeview Grocery BOGO
We all know that BOGO stands for 'buy one, get one' and refers to discounts where one item is free or half-price when you buy another. BOGO 50% off promotion offers great savings opportunities if you take advantage of them.
Here are some tips for getting the most out of BOGO free:
First, ensure you understand the terms and conditions of the Lakeview Grocery ad. Sometimes there may be limits on which items qualify for the discount and how many discounts can be used in each purchase. Read all details carefully so you can take advantage of all your savings!
Second, compare prices between different stores to see who has the best deal on items eligible for BOGOs. Third, stock up on items with a BOGO offer available. You can stock items that don't go bad quickly or something you know you will use often enough to avoid wasting it (like toilet paper). This way, you can save money even after the offer ends.
Reward Programs
Did you know Lakeview Grocery has a reward program? If you didn't, now you do and you should be a part of it. Members of the program are entitlted to the most exclusive deals and earn hundreds of points just by shopping. All these points can be used for future shopping trips, for even bigger savings.
So, what are you wating for? Find the registration details in our Lakeview Grocery sales ad!
Exclusive Online
Need to buy something? Don't get out of the house right away! Check online offers first because they're often better and cheaper. That's because stocks are more reliable, you get a lot of options, and with the right promos, they're so much more affordable. Speaking about promos, you will find the best online deals and discounts on the Lakeview Grocery weekly circular, so make sure to check that out.
Leverage Free Shipping
Shopping with Lakeview Grocery can be a great way to save on your home or office needs. However, you can maximize your savings by taking advantage of free shipping offers. There are two main tactics that can help. First, when you sign up for the Lakeview Grocery email newsletter, you will regularly receive updates about their promotions. These promotions include free shipping deals.
Second, many sites offer free shipping if you reach a certain minimum order amount. So, if you are already planning to purchase several items through the Lakeview Grocery ad, it is easy to get extras and qualify for the offer. With these strategies in mind, your shopping trips to Lakeview Grocery will get bigger and better savings every time.
Find Clearance Items
In case you want to save as much as you can on your grocery bill with the help of Lakeview Grocery ad? Look no further than the store's clearance section! Clearance items are often significantly marked down in price, so you can save lots of money.
Additionally, since these items are on clearance, it is a great chance to buy higher-end items for less. The excitement of finding something fantastic and unique at a fraction of the cost can be quite motivating! Take the time to browse through the store's clearance section and experience how much money one can save. You might find some hidden gem you have been searching for!
Price Match at Lakeview Grocery
Price matching on the Lakeview Grocery weekly circular has become a great way to save money while still being able to shop where you want. Price matching is searching for the same product, or one similar to it, on another site at a lower price. Furthermore, you can ask the Lakeview Grocery to match that price. It is so simple, just shop online and keep your eye out for better deals elsewhere.
Once you have found the item elsewhere more cheaply, tell Lakeview Grocery, and they will match it. Of course, some restrictions do apply. However, with just a few minutes of research and looking around, shoppers can easily use this great tool and save a lot of money.
Cashback reward program
Shopping at Lakeview Grocery just got more accessible and more rewarding! With Cash Back, you can save on all your purchases. All it takes is a few minutes online to join the program, and from then on, every dollar you spend earns you rewards that you can quickly redeem for incredible discounts and savings. The Lakeview Grocery ad Cash Back program is designed to help shoppers maximize their money without compromising quality. So why wait? Join today to enjoy effortless savings while shopping at Lakeview Grocery!
Shop at Right Time
Do you have to buy a lot of holiday gifts for many family and friends? You can avoid spending so much if you buy them during Black Friday! It's the right time to shop during the holidays because there are tons of cheap thrills, valuable vouchers, and huge discounts. You can make the most of your money and get everything you need within budget!
To know what Black Friday holds out for you, you can use the Lakeview Grocery ad previews. Even before the actual day, it already features big promos, so you can plan what to buy or what coupons to save and avail.
Shopping at Lakeview Grocery
Lakeview Grocery In-store Shopping
In-store shopping can be an advantageous experience during busy times of the year, such as holidays and seasonal sales. Many shoppers find that in-store shopping helps them make informed decisions when purchasing items. Additionally, shoppers can benefit from reading the Lakeview Grocery circular to find the best deals for each item.
Reading store circulars can help you figure out which stores have sales on certain products. You can also find out what products are being offered at a discount from one store to another. Shoppers can stretch their dollar even further by taking advantage of store circulars!
Curbside Picku at Lakeview Grocery
For those looking for ways to pick up items from Lakeview Grocery without having to enter the premises, the curbside pickup may be a great advantage. Shopping online has some great benefits! You can avoid long lines and save time. You might also find special offers that the store is running, as well as grab some even better deals from the Lakeview Grocery sales flyer. With curbside pickup, Lakeview Grocery customers can take advantage of offers without leaving their car or home.
Delivery
Time is money, and sometimes spending hours walking through grocery and store aisles can lead you to wasting a lot of money. Not only do you spend when you shop, you also sacrifice hours you could have been earning or relaxing. Thus, it's time for some change! Use the Lakeview Grocery weekly ad this week to check if your local Lakeview Grocery allows delivery. Once you got that clarified, start doing your groceries at home and having them delivered. You save so much time, plus you're less likely to get tempted by random items you see on store aisles.
Online Shopping at Lakeview Grocery
If you love your local Lakeview Grocery but find it too far, you can check if they have an online shop! After all, most stores have hopped on the trend, so it's highly likely it has its version on the net. Once you find it, you can add to cart and check out to your heart's desires, without setting a foot out of your home. Moreover, you can use vouchers and discounts available on the Lakeview Grocery circular!
Lakeview Grocery App
Lakeview Grocery app has helped make it easier to keep up with the Lakeview Grocery ads and specials. By downloading the app, shoppers can access Lakeview Grocery flyer before it's even posted in the Lakeview Grocery. This means shoppers can be sure they are getting the best deals, helping them save money on their purchases. With the Lakeview Grocery app, all of Lakeview Grocery's hottest items are only a touch away! Plus, Lakeview Grocery often offers exclusive discounts through the app, giving savvy shoppers an additional edge.
How EveryPayJoy Help you Save?
EverypayJoy is a great platform for anyone looking to save money on everyday purchases. With exclusive deals and coupons, users can pinpoint the best prices, discounts, and offers. EverypayJoy simplifies the process of finding the best deals and helps users maximize their budget without sacrificing quality.
The platform provides access to Lakeview Grocery sales flyers, Lakeview Grocery weekly ads, and exclusive deals that can be found all in one place. This eliminates the need to go through multiple websites or stores to find what you need at the best prices. The comprehensive range of options available from EverypayJoy ensures that there is something for everyone, whether it be clothing, furniture, or electronics.
Not only does EverypayJoy provide access to great deals and savings, but it also has an easy-to-use search function. You can use this feature to search your favorite stores and find what you are looking for quickly and efficiently.
Overall, using Everypayjoy is easy to save money on everyday purchases while still enjoying quality products at discounted prices. Everypayjoy has a lot of different products from different stores. The design is simple, and the customer service is great, so you are guaranteed to be happy with your purchase!
Disclaimer: Lakeview Grocery is a registered trademark of Lakeview Grocery and is not affiliated with our company. We are not affiliated with, endorsed by, or connected to Lakeview Grocery. Our use of any trademark belonging to another company is not done with the intent to confuse consumers but is rather incidental in promoting these companies and their coupons.