La Chiquita Food Market Coupons, Deals & Promo Codes
Do you want a La Chiquita Food Market coupon or two? Or maybe even more? Check out the La Chiquita Food Market weekly ad for this week to find the largest coupon database right at the tip of your fingers.
Saving and redeeming these coupons is really easy to do. Just click on the coupon, check out the details and instructions, then redeem! But make sure you use them right before expiry or else it would be for naught.
You can save these coupons only from 05/31/2023 to 06/06/2023. The La Chiquita Food Market ads gets updated every week, so next week your getting new and better vouchers.
Besides fantastic coupons, the La Chiquita Food Market sales ad also grants you access to 36 exclusive promo deals and merch discounts! You wouldn't find these anywhere else, so get the most out of it! Click on the arrow buttons to quickly flip through dozens of product collections, including household items, fashion bonanza, school merch, and modern appliances.
If you can't shop this week, that's alright - plan for next week's instead. You can use the La Chiquita Food Market ad previews to view astounding discounts for the next few weeks. Planning ahead lets you maximize your budget and ensures your trip goes as smoothly as possible.

9 Tampico Flavored Punch Variety 128 Fl. Oz. 2/$5

Topo Chico Mineral Water 1 Ltr. 2/$4

14 Jarritos Flavored Soda, Sidral Mundet or Sangría Señorial 1.5 Lt. 3/$5

4 Pepsi, Diet Pepsi, Starry or Mtn Dew 24 Pack $1098

Nestle Pure Life Purified Water 24 Pk. 2/$7 S E G A R E V E B

Miller Lite or MGD 12 Pack/Cans or Glass Bottles $998

Corona Extra, Premier or Light 12 Pack/Glass Bottles $1498 R E E B

23 Best Choice Texas Toast, Breadsticks, Dinner Rolls or Garlic Bread 6-8 Ct. or 16 Oz. 2/$5

Dean's Ice Cream Variety 48 Oz. $348

Best Choice Whipped Topping Variety 8 Oz. $138

Hungry-Man Frozen Meals Variety 14-16 Oz. $398

3 FROZEN 5 On•Cor Frozen Meals Variety 24-28 Oz. 2/$7

98 Tony's Frozen Pizza Variety 18.5-20.13 Oz. 3/$10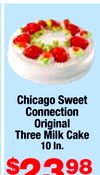 Chicago Sweet Connection Original 10 In. Three Milk Cake $2398

9 Best Choice Corn on the Cob 4-8 Ct. $298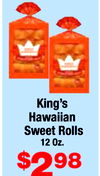 King's Hawaiian Sweet Rolls 12 Oz. $298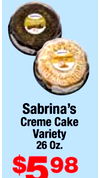 Sabrina's Creme Cake Variety 26 Oz. $598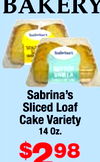 BAKERY Sabrina's Sliced Loaf Cake Variety 14 Oz. $298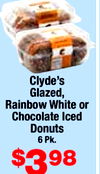 Rainbow White or Chocolate Iced Clyde's Glazed, Donuts 6 Pk. $398

Stella Provolone Cheese $398 Lb.

Homemade Tuna Salad $598 Lb.

Pork Chorizo 12 Oz. YoCrunch Low Fat Yogurt 2/$6 3

El Mexicano Panela Cheese $398 Homemade Lb.

2/$5 Whipped Topping 6.5 Oz. Nesquik Low Fat Milk

La Chona Quesadilla Cheese $398 Stella Lb.

4/$5 2/$4 Variety 14.25 Oz. Dairy Fresh Shredded Cheese Variety

8 Oz. Dairy Fresh Salted or Unsalted Butter 2/$4 $398

Turkey Ham Regular or Low Sodium Lb. $398 El Mexicano

Lb. Eckrich Bologna $298 La Chona Quesadilla

Fud Franks Variety 40 Oz. $498 8

Peel Raw Shrimp 31/40 Camaron Pelado Crudo 31/40 $598 Lb.

Grade "A" Poultry Yellow Chicken Leg Quarters Pierna Con Cadera de Pollo Amarilla 98¢ Lb.

U.S. Gov't Inspected Pork Spare Ribs Costilla de Puerco $298 Lb.
Bistec de Diesmillo Bistec de Diesmillo 55 Split & Seasoned Split & Seasoned Chicken Chicken Leg Quarters Leg Quarters Pierna Con Cadera de Pollo Pierna Con Cadera de Pollo Abierta y Sazonado Abierta y Sazonado $$114848 Lb.Lb.

U.S.D.A. Choice Beef Taco Meat Carne Picada Para Tacos $548 Lb.
Related Brands to La Chiquita Food Market
When finding top deals by the Yoli, Preen, GREEN GIANT, Native, Russell Stover, Giant, customers can easily find great discounts on their favorite products. With the help of the La Chiquita Food Market circular and La Chiquita Food Market sales flyer, customers can quickly identify which brands offer the most deals and discounts. Dynamic parameters such as searchable categories and sorting filters make it easy for customers to sort through all the different brands that La Chiquita Food Market offers.
Currently, there are 6 available in the store's catalog with a vast selection of products. Each brand offers unique deals and discounts; some may offer weekly or even monthly specials, while others have limited-time sales events.
Amongst this array of choices, customers can compare prices between different brands to get the prime value for their budget. This way, they can save even more money when purchasing items from their favorite brands!
Here are the popular brands we found in our database:




La Chiquita Food Market Weekly Ad & Preview
Are you striving to keep up with the latest La Chiquita Food Market's products and bargains? Then check out our La Chiquita Food Market weekly ad! Our weekly ad provides an easy way to view all of our La Chiquita Food Market's newest additions and deals. Every week, be sure to drop by and look at what's new - you might not want to miss out on whatever fantastic deals are available. Trust us, and it will be worth your while when you take advantage of La Chiquita Food Market ad. So don't forget - come back weekly for our weekly ad!
How to save at La Chiquita Food Market?
Have you been spending more and saving less when shopping at La Chiquita Food Market? Well, that needs to be changed - you should spend more AND save more! You can do that using coupons, discounts, weekly ad specials, and many more deals. Keep updated with these promos and learn how to save at La Chiquita Food Market using our La Chiquita Food Market weekly circular!
La Chiquita Food Market Digital Coupons
If you're an avid online shopper, you know coupons are ESSENTIAL. They bring down shopping price totals, eliminate shipping fees, and reduce individual product prices. But as great as they are, they're pretty elusive. Some platforms offer them on special occasions only or attach them with the stringiest terms and conditions.
Well, you don't have to be eluded anymore. Use this La Chiquita Food Market coupon database to find digital vouchers to fit your every need. For instance, does that free shipping coupon not apply to you? Try this shop discount instead! There are so many options, you'll always find one or two to redeem everytime you're on an online shopping spree.
So what are you waiting for? Enjoy them all now!
La Chiquita Food Market Weekly Specials
Feeling low? Get a dose of cheap thrills using the La Chiquita Food Market weekly ad. It features collections of jaw-dropping discounts and deals, from grocery stuff to fashion pieces. You might even find that the stuff you've been ogling for months is included in the sale. Won't that be a great steal, right?
Exploring the weekly ad is effortless. You just use the arrow buttons to flip through offers and price markdowns. You can even zoom in or out if you like. Plus, it gets updated every week; thus, you're sure you're always up to speed with the biggest offers La Chiquita Food Market has.
La Chiquita Food Market BOGO
Saving at La Chiquita Food Market with the help of BOGO free can be a great way to stretch your budget! To ensure you get the most out of every BOGO promotion, start by understanding the terms and conditions. Many promotions may have limits on items eligible for the discount or restrictions on how many discounts can be used in one purchase. Read all details carefully and make sure you understand them before taking advantage of savings opportunities.
It is also important to compare prices between stores to determine who has the best deal on items that qualify for BOGO 50% off. Shopping around can save money and allow you to find items on which you can get extra savings with the La Chiquita Food Market ad.
When a BOGO offer is available, it's smart to stock up on items that don't expire quickly or something you know you will use up for certain. This way, you won't need to worry about wasting any food or other item due to an expiration date before you have time to use it up.
The additional discounts are great ways of saving even more money with each purchase so combine them with BOGOs wherever possible for even more significant savings.
Reward Programs
You can earn while you shop if you are part of the La Chiquita Food Market reward program. Membership of this program entitles you to one point if you reach a certain amount of purchase at La Chiquita Food Market. Thus, the more you spend, the more points you get. You can save up these points for future splurges! Besides points, you also get access to exclusive and massive promos.
If you want to join the reward program, find the instructions in our La Chiquita Food Market sales ad. Membership fee is affordable and worth much less than the savings and deals you can get throughout your membership duration.
Exclusive Online
Shopping at La Chiquita Food Market can be a great way to find the perfect product for a reasonable price. One fantastic way to save when you shop through the La Chiquita Food Market sales flyer is to take advantage of their Online Exclusive Offers. These offers are only available online and come with amazing discounts on some of their most popular items.
The customer must visit the store's website, browse sale items, and add them to their virtual cart. Online Exclusive Offers make it easy for customers to get the best deals without leaving home.
Leverage Free Shipping
Shopping with La Chiquita Food Market can be a great way to save on your home or office needs. However, you can maximize your savings by taking advantage of free shipping offers. There are two main tactics that can help. First, when you sign up for the La Chiquita Food Market email newsletter, you will regularly receive updates about their promotions. These promotions include free shipping deals.
Second, many sites offer free shipping if you reach a certain minimum order amount. So, if you are already planning to purchase several items through the La Chiquita Food Market ad, it is easy to get extras and qualify for the offer. With these strategies in mind, your shopping trips to La Chiquita Food Market will get bigger and better savings every time.
Find Clearance Items
Clearance sales are popular for a great reason: HUGE savings. Prices are literally down by 40% to 60%, even higher for rare finds. Now, would you pass up on something like that?
Thus, it's no surprise that people are always excited for these deals. But that also means you get a lot of competition, so how you can get ahead of them? Easy - subscribe to the La Chiquita Food Market sales flyer and ads, and you'll know of clearance sales announcements earlier than everyone else. You might even get tidbits of exclusive, juicy info.
Price Matching
Shopping with La Chiquita Food Market weekly ad doesn't always have to mean splurging. Thanks to its price-matching feature, customers can secure better value for their spending. By checking competitor prices of similar items and providing proof, shoppers can be assured that they get the best deals in the market.
This is especially helpful when one needs to purchase high-end or specialized products, like electronics, furniture, or appliances. All one has to do is show La Chiquita Food Market a comparable price from another source to get the discount. So next time you are out on a shopping spree at La Chiquita Food Market, don't forget to take advantage of the price matching.
Cashback reward program
Cashback offers are stones that hit two birds at once. Firstly, you save money as you get a portion back from the money you just spent. Secondly, it's like a reward - you do something, and you get back something good. Sounds fantastic, right?
Because of how great they are, it isn't amazing that cashback promos are elusive. They're only offered now and then, so to stay updated, subscribe to La Chiquita Food Market coupon database! This database grants you access to all available vouchers, including limited cashback deals.
Shop at Right Time
Shopping at La Chiquita Food Market can be a great opportunity to snag some fantastic deals. One of the best ways to save at La Chiquita Food Market weekly ad is to pay attention to the mega sales that happen periodically throughout the year. These sales offer fantastic discounts across all departments, allowing shoppers to save big.
To make sure you don't miss these savings opportunities, simply sign up for the store's email list and follow any pages on social media that they have created. Notifications will come directly to your news feed or inbox whenever a new sale launches so that you can take advantage of it right away. Shopping during one of these sales will help you stock up on essentials while keeping money in your pocket.
Shopping at La Chiquita Food Market
La Chiquita Food Market In-store Shopping
Before going on an in-store shopping trip, make sure you have everything you need : (1) shopping bag, (2) shopping list, and (3) La Chiquita Food Market sales flyer.
Wait ... what even is a sales flyer you'd ask and why is it essential? A sales flyer is a promotional resource from La Chiquita Food Market, which features the latest and biggest deals, discounts, promos, and other irresistible offers. It's a great way to stay updated on item prices, too! Thus, you can use this conveniently online material to plan your shopping trip so you can maximize your savings and budget.
Curbside Pickup
Curbside pickup has become an increasingly popular way for shoppers to get their goods without leaving their homes. This simple service offers convenience, comfort, and safety all in one. Shopping curbside means not having to face the hustle and bustle of the store while searching for what you need.
It is all at your fingertips, just a phone call or click away. Additionally, you do not have to wait in checkout lines to get benefits from La Chiquita Food Market ad. Instead, curbside services quickly hand off bags with your purchases. During this era of social distancing, curbside pickups are especially alluring to those who want to minimize contact with others.
Delivery
Shopping from the La Chiquita Food Market ad and sales flyer can be even more convenient with delivery options. No longer do shoppers have to worry about fighting traffic and long lines when trying to take advantage of La Chiquita Food Market's discounts. This feature makes all the difference for busy families or those who do not have access to vehicles. Instead, shoppers can use delivery services to save time, energy, and money.
Online Shopping
Shopping online is a great way to discover savings and discounts through weekly deals. La Chiquita Food Market weekly ad this week offers many different items and services at discounted prices. Plenty of delightful discounts are available for those looking for quality goods and services from La Chiquita Food Market.
By shopping online, you can avoid the hassle of trekking out to physical locations while still enjoying access to La Chiquita Food Market's broad product selection. You can shop whenever convenient for you without compromising on quality or quantity.
La Chiquita Food Market App
Get access to an online shop, exclusive deals, and other great perks by installing the La Chiquita Food Market app! You can check your app store if the app is ready for downloading in your area. The La Chiquita Food Market add may also feature the app, and clicking on it will direct you to a link that allows you to easily install it.
How EveryPayJoy Help you Save?
Everypayjoy is a website that helps you save money on everyday purchases by providing access to La Chiquita Food Market sales flyers, weekly ads, and exclusive deals and coupons. This makes it easy for shoppers to find the best prices, discounts, and special offers. Whether you are looking for items in electronics, furniture, clothing, groceries, or other categories, there are plenty of ways to save money with Everypayjoy.
The savings don't stop with La Chiquita Food Market sales flyers. Everypayjoy also has La Chiquita Food Market weekly ads from hundreds of stores around the country. These ads typically feature significant discounts and deals that help consumers save big on their favorite products. Furthermore, since these ads change frequently, shoppers can stay up-to-date with new deals and promotions every week.
EverypayJoy also gives users access to exclusive coupons & promo codes to use at checkout when shopping online or in-store. You can use coupons for anything from groceries to home goods.
With its variety of options available, users can enjoy discounts on a wide range of products while staying up-to-date with the latest deals and promotions. Furthermore, its simple design makes it user-friendly as well as time-efficient. These features are helping shoppers get back more of their hard-earned money in no time at all!
Disclaimer: La Chiquita Food Market is a registered trademark of La Chiquita Food Market and is not affiliated with our company. We are not affiliated with, endorsed by, or connected to La Chiquita Food Market. Our use of any trademark belonging to another company is not done with the intent to confuse consumers but is rather incidental in promoting these companies and their coupons.