Key Food Coupons, Deals & Promo Codes
Reading the Key Food weekly ad this week is easy. The ads are divided into categories so you can quickly find what you are looking for with ease. You can also view the coupons available in their database, and be sure to check back often as new deals become available every week.
It is important that you read the Key Food ad so that you don't miss out on any savings opportunities. Companies post exclusive deals in their weekly ads, which are usually only good for one week or less. Thus, it is a great way to take advantage of limited-time discounts on products and services. Plus, these ads can help you plan your shopping trips by telling you which items are on sale and when they will go back up in price.
The current Key Food ad contains over 36 different offers ranging from discounts on food items to special savings on household goods and more. This week's ad runs from 06/02/2023 until 06/08/2023, so make sure to act fast if there is something you want before it goes off sale!
Additionally, there may be additional promotions in the website's coupon section where shoppers can find even more great savings opportunities. The Key Food coupon further helps you to lessen your shopping bill. Overall, viewing the Key Food weekly ad this week is an easy way to save money on groceries and other items each week when done correctly.

Extra Lean Alternative To Beef PastramServei Hot or Cold Jennie-TurkeyPastramiO 6$99 Sliced To Order lb.

2/7$ 7.2 Oz PkAssortedg New York StylBagelCrispse

7$99 Sliced To Order lb. CitteriMortadellaWithoPistachios
Made Using The Finest Pork & Beef CutAuthentics Old World FlavoNaturalr Casing DiLussGenoaSalamio 9$99 Sliced To Order lb. 7 7

Chef InspirationKrabs Cakes 3$959 Grab & Go For Your ConveniencStoree Made ... 4 CounPastramit oPastramir & Swiss $99

Top RounAngusPastramid 11$99 Sliced To Order lb.

8 5$99 8.5 Oz Jar ... Regular or With Orange DalmatiFigSpreada

6.35 Oz PkPortg Wine or Sage Belton FarmDerbyCheeses $ 997

$ 1992 Sold By The Piece lb. Imported BelletoilTriplee CrémBriee Perfect Pairing!

5 7$99 10 Oz Cont ... Shaved or Shredded BelGioiosParmesanCheeseCupso

pERDUEcHICKEN LEg QuarterpERDUEcHICKELEgJust4&s 2$9$992349 lb. N Quarters lb. Heat, Serve & Enjoy OChefz InspiratioSouthwestTurkeyn Cheese $99 lb. $99

Sliced To Order l.b 11 Top Round 2/7$ 8-10 Oz ConAssortedt Boar's Hea®HummusCupsd

Imported FinlandiSwissCheesea 8$99 Sliced To Order lb. a

7$99 5$99 Snacking Favorites 7.6 Oz Pkg ... Aalsbruk or With Bacon Smoked Goudora Cheddar: Steakhouse Onion, ChampagneJalapeoHorseradish, ñ & Peppadew, Wasabi/Horseradish, or Buffalo Wing Yancey's FancCheesey Wedges

specialty cheese 5$99 8 Oz PkSharp,g Medium or Extra Sharp Provolone oParmesan,r Asiago, Romano, Vegetarian Parmesan,Fontina or Crumbly Gorgonzola BelGioiosItaliano TablCheeseWedgese

Sliced To Order l.b 11$99 Boar's Hea®EverRoastChickenBreastd

ItaliaTurkeyn Sausage 5$99

DELI 40 Oz Pkg Oyster BaImitationCraby 11$99

ItaliaTurkeyn Sausage $ 995

24 Oz Bag AquaStaCrunchyShrimpr Butterfly 9$99

2 CSA B 10 Oz Cont AquaStaShrimpRingr $ 6$99
Turkey 16 Oz Pkg ButterbalHotItalianTurkeyl Sausage 11$99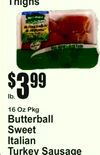 lb. $ 993 Thighs 16 Oz Pkg ButterbalSweetItalianTurkeyl Sausage

rAssorted 8$99 Shady Brook FarmMarinatedTenderloinss

3$99 Fully Cooked•: 6 Oz Pkg ... Harvestland Organic Gluten Free Chicken Strip•s 8 Oz Pkg ... Chicken: Grilled, Italian, Southwestern, Grilled Fajita Style, Rotisserie Seasoned or Roasted: Original or Honey PerduCarvedShorte Cuts

lb. 3$69 Fresh All NaturaBonelessl Breast For Scallopini or Shady Brook FarmTurkeyCutletss lb. 5$99 YOUCHOICE!R Family Pack


lb. 7 Grade A PerduBonelessChickenBreaste lb. 3$69 Family Pack

3 Lb BaIndividuallyg Quick Frozen County LinChickenWingse 5$99 14

lb. 2$99 Grade A Shady BrookFarmsFrozenTurkey Breast 5

SalDatese MaFri.y MaTues.y MaMon.29y May MaWed.30y May JuThurs.131n Sat26. Sun2728.

52 AVENUE "AAT" 566 EAST TH4 STREET FREE IN STORE DELIVERY WITAH $100 OR MORE ORDER SEE STORE FOR DETAILS. SHOP ONLINE WITH US AT keyfoodurbanmarketplace.instacart.com STORE HOURS 24 HOURS 7 DAYS A WEEK

r! Great 16 Oz Pkg ... Hot,Sweet With Fennel orSweet Without Fennel Teresa'sItalianSausageLinks $ 993 1 N $ Impossible 12 Oz Pkg

11-12 Oz PkAssortedg Nathan'BeefFrankss 2$99

Farm Raised FresAtlantich SalmoFilletn 1099$ Wild Caugh Previously Froze Swordfish Fillets Family PackWith: Club Cardlb.. Farm RaiseFrozend 1099$
Related Brands to Key Food
When it comes to Key Food deals by brand, a range of options are available. With the Key Food circular and Key Food sales flyer, customers can stay updated with the latest deals and offers. The dynamic parameters between brands vary, depending on the 6 brands present in the Key Food.
Look at our Marzetti, Red Baron, Pillsbury, Clif, Hanes, Knorr, which features some of the biggest names in retail and offers fantastic deals. From clothing to home goods, electronics to beauty products, there is something for everyone here at Key Food. Plus, with our exclusive discounts and special offers, you can save even more when shopping with us. We strive to bring you the best promos from every brand we feature so you never miss out on significant savings.
Whether seasonal specials or year-round promotions, take advantage of all our top offers and enjoy unbeatable prices on high-quality products from leading brands.
Here are the popular brands we found in our database:
Key Food Weekly Ad & Preview
Why pay more for groceries and household items when you don't have to? Look no further than Key Food ad your one-stop shop for all your shopping needs! With Key Food Weekly Ad, you can find out about the current and upcoming offers so that you can plan your shopping trips accordingly. The Key Food weekly ad makes it easy to save money while still buying all the things you need.
How to save at Key Food?
Have you been spending more and saving less when shopping at Key Food? Well, that needs to be changed - you should spend more AND save more! You can do that using coupons, discounts, weekly ad specials, and many more deals. Keep updated with these promos and learn how to save at Key Food using our Key Food weekly circular!
Coupons at Key Food
If you are looking to save money on your next purchase at Key Food? Look no further, as digital coupons are here to help! Digital coupons are a great way to save money both online and in-store. You can get discounts on groceries, clothing, electronics, and more with digital coupons. Key Food coupons offer a range of opportunities to get significant savings on your order.
First things first, you need to find the right Key Food coupon code for your purchase. To do so, check out Key Food's website and look through their list of available digital coupons. You may be able to find one that best matches your purchase. Before completing it, ensure that you apply this coupon code during the checkout process.
Doing so will guarantee that the discount is applied correctly and taken off of your total purchase price. Before finalizing your transaction, always take a moment to double-check if the coupon is still active and valid.
Be sure to read through the terms and conditions carefully before purchasing from any store - this way, you will know what discounts are offered and whether they're applicable or not!
Finally, remember that additional benefits may be associated with using digital coupons. Some stores may offer free shipping or cashback rewards! These deals can vary depending on the store, so always read up on them before making a purchase.
Deals of the Week
Going on a shopping trip at Key Food this week? Check out the Key Food weekly ad first! It helps you discover the best weekly specials, biggest product discounts, and other exclusive offers you can use to maximize your trip. You can also use it to accurately project expenses and compare prices!
To use the weekly ad, flip through the collections like you do with a physical catalog. There are arrow buttons that let you go back and forth. You can also use the magnifying glass icons or your scroller to zoom in and out. Some product details are too small to see if you don't zoom in.
BOGOs
Why get one when you can have two? Make the most out of your money by being the first to know and take advantage of Key Food buy one get one (BOGO) free deals! Besides BOGO free, there's also a shot at BOGO 50%, BOGO 30%, BOGO 20%, and many other juicy offers.
You can use these BOGO deals to stock up on necessities and wants while spending the least amount possible. Stay updated and look out for these promos on the Key Food sales flyer. The flyer is updated regular, so make sure to view it often.
Membership Program
Are you a part of our Key Food reward program already? If you aren't, register yourself, quick! You don't want to miss out on the hundreds of points you can earn, deals you can steal, and discounts you can enjoy as a member.
All the savings you can earn surely make the affordable membership fee worth many times over than it is. So don't hesitate to check out our Key Food sales ad for registration instructions.
Exclusive Online
With online shopping, you can do all of these at once: sit back, relax, spend more, and save more! That's made possible by the hundreds of amazing deals and discounts everyday, which only gets better during holidays, like Christmas season and Black Friday. If you want to be updated on the most recent promos, check out the Key Food weekly circular. It has all the newest promos in one place, for your convenience.
Free Shipping
Shopping at Key Food can be a budget-minded shopper's dream. You can save even more if you know how to take advantage of their great free shipping option! Always make sure to check the website for any special deals that offer complimentary shipping. These are usually timed offers and change often. Setting up an account with the store will also give you opportunities to score free delivery when you buy certain items or enter specific codes during checkout.
If you want the guaranteed free shipment option, spend the extra few dollars and purchase a premium membership. Premium memberships and large purchases offen offer free express delivery. Taking advantage of this great perk of the Key Food weekly ad just might get you some extra money back in your wallet.
Clearance
Shopping through the Key Food ad can be a delightful experience, especially when you can find great items at an even better price. One way to save money when shopping there is to take advantage of their Clearance section. The items in this section may be slightly distorted or worn, but the discounts are often unbeatable.
Checking the clearance section regularly will allow you to snatch up some stylish garments at a fraction of the cost. This can ensure that your wardrobe is always on point without breaking the bank.
Price Matching
Price Matching is a great way to save money while shopping at Key Food. It allows customers to compare prices and get the lowest cost for the same items they want. Here's how it works:
Before you shop, do some research and take note of which stores have lower prices for the products you're interested in buying. Ensure these prices are still active when you are ready to purchase.
Price matching isn't limited to just one item. By taking advantage of Price Match policies, customers can save time and money by receiving guaranteed low prices on their purchases from Key Food sales flyer.
Cashback reward program
Learning how to save at Key Food with the help of Cash Back can help you save money and create a budget plan to maximize your savings. Cash Back services give customers a percentage of their purchases through the Cash Back app or website. A small percentage goes back to your account each time you buy something.
This cycle makes it easier to stick within budget by knowing exactly how much money is going toward today's purchases. Thus, customers can explore all that Key Food weekly circular has to offer without worrying about spending too much on their next purchase.
Shop at Right Time
Saving money at Key Food will be a piece of cake if you shop at the right time. To maximize savings and get the most bang for your buck, take advantage of two key seasonal opportunities: Black Friday and Back to School season.
Black Friday is an annual event filled with deep discounts on items ranging from apparel to electronics, making it a great opportunity to save big on products you have had your eye on. Many retailers also offer special online deals exclusive to their online stores, so be sure to check those out too.
Back to School season is also another great chance to save big and stock up on essential items like clothes, shoes, and school supplies. Retailers often offer discounts on bulk orders or bundle packages, so it's a good idea to plan ahead and purchase what you need in advance.
By taking advantage of these two seasonal shopping opportunities, savvy shoppers can save big at Key Food. By doing your research online and planning ahead of time, you can ensure that you find amazing deals available for the items you need.
Shopping at Key Food
In-store Shopping
This week, shoppers at Key Food can get amazing deals on an exciting array of items. We proudly offer weekly ads that feature savings on some of our most popular products. Whether you are looking for snacks, household items, or special treats for the kids, you can always find something new and exciting in our Key Food weekly ad this week.
Our knowledgeable staff is here to help make sure you get the best deals available. With Key Food, shopping is easy and fun. Whether looking for fresh produce, everyday necessities, or the latest tech gadgets, you will find something suitable. So visit the Key Food and start saving today.
Curbside Pickup
When you order something online, it's usually delivered right at your door. It's convenient, but there are extra charges, and sometimes, those costs can be quite frivolous, especially when delivery hubs and local Key Food branches are available near you. To avoid that extra expense, opt for curbside pick up instead! Check out the Key Food sales flyer to know more information about this offer, but in a gist, items are ordered online, then shipped to a certain location. Once it arrives, you can pick it up at a time convenient to you!
Delivery at Key Food
With the convenience of home delivery, shoppers can now become smarter consumers and make better use of the Key Food sales flyer. Some stores may offer special discounts for online orders, or customers may be able to find better deals online.
By shopping from home, customers are able to compare prices from multiple stores easily. It would be difficult if shoppers had to drive to each location and try to find the best price. Doing so also protects shoppers against impulse buying decisions, as they can take their time deciding which items they truly need and want.
Online Shopping
Key Food ad offers online shopping and is an ideal way to save time, money, and hassle. Customers can browse Key Food stock quickly and easily from the comfort of their own homes. With cheap delivery rates and collection options ranging from in-store pickup to drop-off, Key Food provides customers maximum convenience and flexibility in shopping. Thus, shoppers can truly benefit from making Key Food their go-to place for purchasing goods.
Key Food App
Shopping can be a wonderful experience or an overwhelming chore, particularly if you are looking for the best deals. Finding even better deals is easier as apps allow customers to input coupons easily, making savings even more accessible. Now you do not have to clip them out of the paper carefully. Furthermore, shopping online with store apps makes budgeting easier by keeping track of spending while simultaneously finding quality deals.
How EveryPayJoy Help you Save?
Everypayjoy is a great resource for saving money on your shopping trips. Not only does it provide deals and coupons to save money, but it also provides access to the Key Food sales flyer and Key Food weekly ads. This means that you can keep up with the latest store deals and discounts without going out of your way to finding them.
One of the main reasons why Everypayjoy is so popular is because it makes it easy for shoppers to find the best prices available. By subscribing to their website, shoppers can stay updated on the current store sales flyers and weekly ads. This way, they never have to worry about missing a great deal or discount.
Another reason Everypayjoy is so useful is that it allows shoppers to compare prices between different stores easily. This helps them ensure they get the best deal possible every time they shop. In conclusion, Everypayjoy can assist you in finding the best deals when shopping online or in stores. You can compare prices and find new promotions and discounts from your favorite retailers.
Disclaimer: Key Food is a registered trademark of Key Food and is not affiliated with our company. We are not affiliated with, endorsed by, or connected to Key Food. Our use of any trademark belonging to another company is not done with the intent to confuse consumers but is rather incidental in promoting these companies and their coupons.