Jons International Marketplace Coupons, Deals & Promo Codes
Avoid putting back things on the shelf because you ran out of budget! The Jons International Marketplace weekly ad for this week keeps you posted on the most recent deals and discounts, so it's easier to track prices and maximize your budget. This one, in particular, covers 35 promos from 05/31/2023 to 06/06/2023.
Once the week ends, the weekly ad gets updated so you get access to a fresh, complete set of jaw-dropping discounts. Of course, you can sneak a peek by using the Jons International Marketplace ad previews, but the deals there are limited only. If you want to see the whole array, visit this site regularly so you'd have first access to offers you wouldn't want to miss.
To use these weekly ad specials, you can click on the arrows, plus, and minus buttons. The arrows get you from one collection to the other, so you can browse through all the deals in an organized manner. Meanwhile, the plus and minus buttons are for zooming in and out - if you want, you can use your scroller instead too.
Besides the Jons International Marketplace weekly ad, you can also visit the Jons International Marketplace coupon database. It has hundreds of vouchers from various brands and products. Click on the coupons to view details, see expiration dates, and then save them for near-future use!
We cannot find Jons International Marketplace coupons and deals in our database, here are the recommended deals for you:

$$6.996.99lblb Tri-Tip Steaks Pit Boss Grilling Pellets $9.99 20 lb bag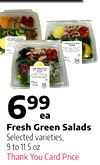 $$6.996.99 Ribeye Steak 8 oz ea 3/$10 5 oz ea Marinated Steak Skewers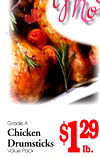 Grade A Chicken Drumsticks Value Pack $129 lb. LOOK LOOK LOOK LOOK

1010 Bar•S Bar•S Hot Links Hot Links 48 oz. 48 oz. $$999898

Barefoot Barefoot Bubbly Bubbly Select Varieties Select Varieties 750 ml. 750 ml. (plus tax) (plus tax) $$10104848

USDA Inspected USDA Inspected Lamb Loin Chops $998 lb.

famous SINCE PHILIPPINE COCONUT 9 Famous Amos Coconut 7 oz Was $2 ??

00 /~10/~10 /~10/~10 Velveeta Original Shells & Cheese Dinner 12 oz. 3/$5

- - CHAMELE - - - - - ORGAN CHAMELEON COLD-BRE CONCENTRA $2 49 - - - - - CHURRO COF - ORGANIC COLD-BREW Chameleon CONCENTRATE Cold Brew 8 Concentrate BLACK COFFEE 32 oz, Was $5.99

- - LUNDBERG FAMILY FARME ORGANIC $1 99 WHOLE GRAIN RICE FILAP SPANISH RICE ea Lundberg - Organic Spanish - Rice 6 oz

Gourmet Burger Patties
4 DAY SALE


Bar•S Bar•S Skinless Skinless Sausage Sausage Select Varieties Select Varieties 40 oz. 40 oz. $$558888 P

$1 49 SMOKE SHOW Smoke Show Trail Mix - SUPPORT - 5 oz, Was $2.49

$11 99 ea Smithfield Hometown Smithfield - - BACON Thick Cut Bacon Hometown Original 40 oz

Fresh Ground Daily! Fresh Ground Daily! All Beef All Beef Hamburger Hamburger

$2 99 ea Cherry Coke 6 x 16.9 oz

/~10/~10 Kraft Cheese & Beef Meatballs Apple Macaroni & Cheese Dinner 8.5 oz. 1010/~10/~10

Campbell's WATER ADD NO READY TO SERVE Vegetable Soup COOKED WITH CARE IN THE USA 33 Campbell's Vegetable Beef Soup

Jimmy Dean All Natural $5 99 Jimmy Dean All Natural Sausage 48 oz, First 2 Compare at $14.99 Regular Price $7.99


$$3.993.99lblb Boneless Beef Chuck Roast $7.99lb Thinly Sliced Carne Asada Meat


PACKAGED & L Hillshire Farm Hillshire Farm Deli Select Deli Select Lunch Meat Lunch Meat Select Varieties Select Varieties 7-9 oz. 7-9 oz. 2/$2/$1010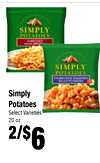 1313 Simply Simply Potatoes Potatoes Select Varieties Select Varieties 20 oz. 20 oz. 2/$2/$66

55 Bar•S Bar•S Corn Dogs Corn Dogs Original • 24 oz. Original • 24 oz. 2/$2/$1010

Cucumbers or Green Onion
2 for $1.0

FOSTER PECHUGAS DE POLLO CONGELADAS $8 99 CORTADAS EN CUBOS - - - - Foster Farms SE COCINA CONGELADO Chicken Breast Pieces - - HORMONAS CONGELADO RÁPIDAMENTE NATURAL 3.96 lbs, First 2 - - - - - - - - Compare at $19.99 Regular Price $11.99

Fresh Ground Daily! Fresh Ground Daily! All Beef All Beef Hamburger Hamburger Family Pack Family Pack $$229696 lb. lb.

100% NATURAL Hunts No Salt Added Diced Hunt's Diced Tomatoes 28 oz, First 4 Compare at $4.99 Regular Price $1.49
Famous Amos ea $ 299 $999 12ct OLOMBI Primal Kitche La Colombe Buffalo Avocado 99 Famous Amos Mayo Dressing Oatmilk Pumpkin Coconut Spice Latte 17 oz, Was $4.99 7 oz. Was $2.49 9 fl oz. Was $1.99

99 Bob Evans Bob Evans Roll Sausage Roll Sausage Select Varieties • 16 oz. Select Varieties • 16 oz. 2/$2/$77

L$ 99 Takis ea Takis Fuego Hot Chili Pepper & Lime Chips 9.9 oz
Related Brands to Jons International Marketplace
Nothing feels better than being the first to know about you fave brand's biggest deals. With this Jons International Marketplace circular, you can certainly be that as you get access to top Jons International Marketplace deals by brand. Such segment includes 6 brands, including Belgioioso, Fage, Nature's Reserve, Popcorners, Bowl & Basket, Frigo. You can click on each brand to find and save great value coupons. These exclusive coupons entitle you to massive discounts and incredible savings.
This Jons International Marketplace's sales flyer gets updated regularly, so make sure you visit it often. In that way, you're the first to take advantage of some limited coupons or discover big brands that just made it to the list.
Here are the popular brands we found in our database:
Jons International Marketplace Weekly Ad & Preview
Are you looking for the finest deals and discounts at your favorite Jons International Marketplace grocery store? Look no further than the weekly ad! Viewing the Jons International Marketplace Weekly Ad is a great way to save money on groceries, household items, health and beauty products, and much more. With the sneak peek of the upcoming Jons International Marketplace ad, you can easily plan out your shopping so that you don't miss any of the great deals that Jons International Marketplace has to offer.
How to save at Jons International Marketplace?
Heading out? Don't forget to check out (or at least bookmark) this Jons International Marketplace weekly circular. As the most updated collection of promo offers and discount products, you'll find it invaluable for maximizing your shopping trip. You can use it to compare prices with actual mall displays, find coupons you can redeem, learn how to join rewards programs, and other fantastic opportunities you wouldn't want to miss.
Coupons at Jons International Marketplace
Shopping at Jons International Marketplace with Digital Coupons can help you save a lot of money! By taking advantage of the digital Jons International Marketplace coupons available, customers can stock up on all their favorite items while also keeping their budgets in check. Here are some tips to get the most out of your digital coupon shopping experience:
1. Start by searching for digital coupons online. There are websites and apps specifically for finding and using digital coupons. So, take advantage of these tools to make sure you have access to the best deals. Make sure to read the description for each coupon before using it, as some coupons may have restrictions or expiration dates.
2. Sign up for email alerts from Jons International Marketplace. Many stores offer discounts and coupon codes through their email lists. Thus, sign up and stay informed about upcoming sales and promotions. This way, you will always take advantage of a great deal.
3. Combine multiple coupons when possible. If you have numerous digital coupons from different sources (such as emails, store websites, and apps), see if you can combine them into one transaction. This could result in some significant savings. Make sure that the terms and conditions allow it before proceeding with the purchase.
Overall, shopping at Jons International Marketplace is always more fun when saving money is involved and digital coupons provide just that opportunity. So remember to take advantage of all those fabulous discounts offered through digital coupons.
Deals of the Week
Saving at Jons International Marketplace with the help of weekly specials and deals of the week is a great way to get the most out of your money. By taking advantage of these weekly offers, you can stock up on essential household supplies. There are several ways to take advantage of these deals.
First, be sure to check the store's website before shopping. This will allow you to see what kinds of products are on discount. The Weekly Specials/Deals section will also list any coupons available for additional savings. Be sure to read all product descriptions carefully to know which items qualify for the special price or coupon code.
Another way to maximize savings is by signing up for the store's email newsletter. Many retailers will send out exclusive weekly deals through this service, allowing customers to save even more on their purchases.
By taking advantage of Weekly Specials/Deals of the Jons International Marketplace weekly ad, you will get great deals on everything from groceries and apparel to electronics and housewares. Whether online or in-store, these specials are a great way to save money without sacrificing quality!
BOGOs
Do you love free stuff? If you do, all the more reason for you to stay updated with the biggest buy one get one or BOGO free deals! You can find them on our Jons International Marketplace sales flyer, which features other BOGO deals, too, like BOGO 50% off, BOGO 20% off, and more. Flipping through those BOGO collections is real easy, so give it a try.
Membership Program
Although many find it frivolous and indulgent, being a part of store membership programs, like Jons International Marketplace reward program is so worth it. The key is in making the full use of the perks - from the exclusive discounts to the points you can earn.
Use the program to your advantage and you won't even feel the small membership fee you paid, just the big savings. Want to experience that? Learn how through our Jons International Marketplace sales ad.
Online Exclusive Offers
The Jons International Marketplace sales ad will make it harder for you to miss the exclusive online offers. You can start by checking the store's website for current sales and promotions. You can also check out their weekly flyer, which details all the new offers available exclusively online. The flyer will include discounts on products like clothing, housewares, furniture, electronics, appliances, home decor, and more. It may also have special deals for members of their loyalty program or those who sign up for its email list.
Leverage Free Shipping
There's nothing like the frustration of finding the perfect product online with the perfect pricetag, only to be charged with a shipping fee that will rip off your wallet. Well, that's about to change.
With the Jons International Marketplace ad, you can find the best free shipping offers at the palm of your hand. These deals are easy to avail - click on the product or voucher, read the terms and instructions, then shop to your heart's content.
Clearance
Shopping at Jons International Marketplace can stay within the budget. By looking out for clearance items, you can save big. Savvy shoppers can use the Jons International Marketplace ad to find something for everyone, from fashion and home goods to electronics. With the abundance of excellent deals available, you will be sure to unlock incredible value on whatever purchase you make.
Remember to check the clearance section before making a purchase, and you could land a tremendous discount. Keep your eye out for end-of-season deals, special offers, and sales. With so many chances for savings, you are sure to find something you want at the right price.
Price Matching
With the help of price-matching, savvy shoppers can get the best deals at Jons International Marketplace. This helpful tool allows customers to compare prices and save money on the items they need. All you have to do is show proof that something is being sold for a lower price somewhere else, and the store will honor it with a lower attributed cost.
Customers should pay attention to ads in newspapers, websites, and even stores close by for prices of products and compare them with what is being sold in Jons International Marketplace before making a purchase. Even if an online deal is less than a local dealer, you can still save something. So, customers should keep an eye out for discounts or sales at their favorite stores. With these strategies in mind, shopping through the Jons International Marketplace weekly circular can be simple and thrifty!
Cashback reward program
Get your money back - literally - through cashback promos! If you buy a specific product or reach a certain total in one purchase, you'll be entitled to cash returns, as long as you have cashback coupons or the promos or store is having the promo. Offers are quite limited so be the first to find them on the Jons International Marketplace coupon database. It's a digital resource that showcases all the biggest vouchers you can use to get deals and discounts, including exlusive cashback offers. Subscribe now!
Shop at Right Time
Shopping during the holiday season can be expensive, but you can save money at Jons International Marketplace with a few simple tips. Shopping at black Friday sales or mega sales throughout the year is a great way to find deals and discounts on products you are interested in. Instead of spending hours researching and comparing prices, these multi-day deals make it easy for shoppers to get what they need for less. Whether your shopping list consists of presents or an upgrade for yourself, shop at the right time this holiday season, and be sure to stock up on the Jons International Marketplace ad.
Shopping at Jons International Marketplace
In-store Shopping
Shopping in-store is a great way to save money and time, especially if you already know where the best deals are. By perusing the Jons International Marketplace sales flyer, shoppers can benefit from finding what items are on sale and take advantage of them as soon as possible. Plus, shopping in-store also allows customers to see, touch, and test out items they may be interested in.
Thus, you will know exactly what you are getting for your price without surprises. Shopping in stores is convenient and flexible, and it is often the better choice when buying expensive items requiring careful decisions.
Curbside Pickup
Curbside pickup has revolutionized the way people shop. With curbside pickup, shoppers can quickly and conveniently pick up their purchases without leaving their cars. By utilizing this service, you can avoid the extra time and steps necessary for the store. You can avoid waiting in lines or fighting through crowds of people when you shop.
Curbside pickup also has other benefits, like fewer people around or items available that are in limited supply more quickly. By taking advantage of curbside pickup services, shoppers can get the things they need easily and conveniently for an enjoyable shopping experience.
Delivery
Deivery services ensure that your purchases go from the Jons International Marketplace to your home with little to no effort on your part. Thus, if you want a stress-free shopping experience, make sure to avail it! But before you do so, ensure that your local Jons International Marketplace offers that perk. Checking is easy - you can ask the store yourself, call, or check online through the Jons International Marketplace weekly ad this week. This ad provides info on the latest services, deals, and discounts, making it a must-have for all avid shoppers like you!
Online Shopping at Jons International Marketplace
In-store shopping at Jons International Marketplace has its pros, but sometimes it can be a stressful experience. You'd have to walk and stand for hours, search for items in the maze of products, and discover that certain necessities aren't on stock. If you want to avoid all those, try online shopping! Check out the Jons International Marketplace circular to find out if they have an online shop you can browse, shop, and check out items from!
Jons International Marketplace App
Shopping with store circulars is a great way to benefit from the latest apps. With smartphone capabilities, Jons International Marketplace circular is accessible. It gives shoppers up-to-date information on product availability, prices, and discounts. It is also quick and easy as there is no more flipping through pages of newspaper sections. Just open the Jons International Marketplace app and compare different deals instantly. Whether hunting for specific items or browsing for potential buys, the Jons International Marketplace app makes it easier to get the bang for your buck.
How EveryPayJoy Help you Save?
Have you heard of EveryPayJoy? It's a website packed with the latest, biggest, and most exclusive deals, discounts, and vouchers. A subscription to its Jons International Marketplace weekly ads is a great shopping hack as you are one of the first to get news on the week's biggest promos. Many of such offers are exclusive, so it's a great way to be ahead on your shopping game and to save money every week.
Besides subscribing to the weekly ads, you might also want to bookmark the website itself. In that way, you can easily access -- anytime, anywhere -- the Jons International Marketplace sales flyer, coupon database, and tips that EveryPayJoy posts. Each of these resources help you in making the most out of your shopping budget, and mold you to become a better and wiser shopper.
All the material on EveryPayJoy is dutifully organized. For instance, the vouchers in its coupon database are sorted by brand, so you can find the ones you need at the snap of a finger. They are also regularly updated, so you're sure that everything, from weekly ads to coupons, are the most recent available. Countdowns are also shown, so you know when the offer ends and schedule your shopping accordingly.
Disclaimer: Jons International Marketplace is a registered trademark of Jons International Marketplace and is not affiliated with our company. We are not affiliated with, endorsed by, or connected to Jons International Marketplace. Our use of any trademark belonging to another company is not done with the intent to confuse consumers but is rather incidental in promoting these companies and their coupons.