JCPenney Coupons, Deals & Promo Codes
Avoid putting back things on the shelf because you ran out of budget! The JCPenney weekly ad for this week keeps you posted on the most recent deals and discounts, so it's easier to track prices and maximize your budget. This one, in particular, covers 29 promos from 06/01/2023 to 06/04/2023.
Once the week ends, the weekly ad gets updated so you get access to a fresh, complete set of jaw-dropping discounts. Of course, you can sneak a peek by using the JCPenney ad previews, but the deals there are limited only. If you want to see the whole array, visit this site regularly so you'd have first access to offers you wouldn't want to miss.
To use these weekly ad specials, you can click on the arrows, plus, and minus buttons. The arrows get you from one collection to the other, so you can browse through all the deals in an organized manner. Meanwhile, the plus and minus buttons are for zooming in and out - if you want, you can use your scroller instead too.
Besides the JCPenney weekly ad, you can also visit the JCPenney coupon database. It has hundreds of vouchers from various brands and products. Click on the coupons to view details, see expiration dates, and then save them for near-future use!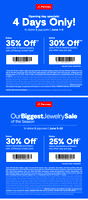 JCPenney
Extra 25% Off* | ONLINE CODE: MARRIAGE

Fast + FREE Same-Day Pickup


Hope & Wonder Point Foundation

With Your Pride Shop the Collection


JCPenney Portraits Get Coupon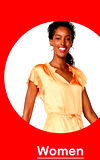 Fine & fashion watches
up to 50% OFF + Extra 15% OFF* with coupon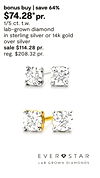 1/5 ct. t.w. lab-grown diamond in sterling silver or 14k gold over silver
save 64%


Fashion silver & fashion jewelry
up to 65% OFF + Extra 35% OFF* with JCPenney Credit Card & coupon

1 ct. lab-grown diamond; color G, clarity SI2 in 10k gold
save 71%

Gold & silver jewelry
up to 60% OFF + Extra 35% OFF* with JCPenney Credit Card & coupon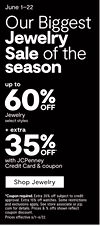 Shop Jewelry
up to 60% OFF + extra 35% OFF* with JCPenney Credit Card & coupon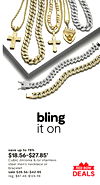 Cubic zirconia &/or stainless steel men's necklace or bracelet
save up to 78%




JCPenney Deals by Brands
Hardly anything else beats the quality of branded pieces but let's admit it - most of them have price tags that can rip your wallets. But that's about to change because with this JCPenney circular, you don't have to sacrifice quality anymore. It lets you get access to the top JCPenney deals by brand, a segment decked with big-discount vouchers and markdown items from 12 brands.
Specifically, it features promo deals from the following brands: Liz Claiborne, Diamond, St. John's Bay, Xersion. If your favorite brand, voucher, or product isn't here, don't worry; the JCPenney sales flyer often gets updated so you'd have more amazing deals from more brands!
JCPenney Weekly Ad & Preview
You don't need to leave your home to find the best promo deals. In fact, you don't even have to stand up! With JCPenney weekly ad, you only have to click, scroll, or zoom in to check out every promo deal of every collection for this week. You can also look into next week's offers through JCPenney ad previews.
How to save at JCPenney?
Saving money at JCPenney doesn't have to be complicated at all. With the proper knowledge, you can do it quickly and easily! This guide will provide all the necessary information to help you make informed decisions when shopping at JCPenney. Thus, you can save as much money as possible!
You will learn helpful tips, such as taking advantage of discounts and promotions and finding the best deals online. We will also discuss how you can maximize savings by monitoring prices and shopping for better deals. Finally, we will look at creative ways to save even more money at JCPenney, such as rewards programs, JCPenney coupons, cashback offers, and more.
JCPenney Digital Coupons
Shopping at JCPenney can be expensive, but there are plenty of ways to save money with the use of digital coupons. These coupons can provide discounts on anything from apparel to home goods, making shopping for those much-needed items a whole lot easier on the wallet.
To get the most out ofJCPenney coupons, it's essential to do your research and find the ones that are best suited for you. Start by signing up for any newsletters or loyalty programs offered by JCPenney. This informs you about upcoming sales and provides a wealth of coupons and promo codes to help you save.
Using digital coupons can help reduce your shopping bill cost at JCPenney. With just a little bit of research and preparation, you will be able to take advantage of incredible discounts explicitly tailored to your needs. So make sure to give it a try next time you shop. By following these simple steps and taking advantage of all available coupon options, shoppers can save significant amounts of money while shopping at JCPenney.
Deals of the Week
Saving money at JCPenney with the help of weekly specials and deals of the week is easy and convenient. By taking advantage of these weekly specials, customers can get discounts on everything from self-care products to food items. To ensure that customers can take full advantage of these deals, JCPenney weekly circular keeps their weekly specials up-to-date and highly visible. Customers can either check online or visit the store in person to find out what's available this week.
In addition to regularly checking what offers are available each week, customers should also consider signing up for a loyalty program if one is offered by JCPenney. This way, they will receive emails with exclusive member offers and notifications when weekly deals are added. Furthermore, the loyalty program may provide additional savings opportunities, such as percentage discounts or rewards points that you can use for future purchases.
By taking advantage of all the weekly specials and loyalty programs at JCPenney, shoppers will be sure to save money and have an enjoyable shopping experience every time they visit!
BOGOs
Saving money at JCPenney with BOGOs (Buy One Get One) offers is a great way to stretch your dollar further. This promotional offer can save you up to 50% off the regular price of an item if you take advantage of the deal. To get started, look for items at JCPenney that are marked with a BOGO 50% off label or sticker on the shelf. The deals are usually near the middle of the store. They might be at the end of an aisle or in another area that is easy to see.
When shopping, it is important to read any signs that tell you about the offer. The signs will tell you how many items you need to buy to get another item for free. For instance, if two items have been labeled as "buy one get one free," then you'll need to purchase two of them for the discount.
Additionally, it's always a good idea to double-check any buy-one-get-one promotions at checkout before leaving to ensure you get all applicable discounts and promotions. By using BOGO deals wisely, shoppers can maximize their savings by taking advantage of these wonderful offers available at JCPenney sales ad.
Reward Programs
Saving at JCPenney is easy with their generous reward programs and membership. Customers can begin by signing up for the membership, either online or in-store. Once they have signed up, they will receive an email confirmation and a card they can use while shopping to enjoy exclusive discounts, rewards, and deals. With every purchase, customers will shop and earn points, which they can use towards future purchases in the store.
Members of the rewards program also gain access to exclusive events and promotions unavailable to non-members. For example, members can take advantage of special sales during certain times of the year, getting even deeper discounts on select items. In addition, customers who use their cards to make purchases will frequently receive coupons and promotional codes.
The rewards program also offers customers a variety of additional benefits, such as free shipping on eligible orders, early access to new product releases, extended returns policies, and more. Moreover, members are eligible to join a loyalty program associated with JCPenney weekly circular.
With all these great incentives and benefits available through their rewards membership program, it is no wonder, so many customers choose JCPenney for their shopping needs.
Exclusive Online
Shopping at JCPenney can be a great way to find the perfect product for a reasonable price. One fantastic way to save when you shop through the JCPenney sales flyer is to take advantage of their Online Exclusive Offers. These offers are only available online and come with amazing discounts on some of their most popular items.
The customer must visit the store's website, browse sale items, and add them to their virtual cart. Online Exclusive Offers make it easy for customers to get the best deals without leaving home.
Leverage Free Shipping
Avoid exceeding your online shopping budget when you use the JCPenney ad! Not only does it feature the biggest online deals and discounts, you'll also find that it has the most exclusive free shipping offers, from specific products to vouchers. It's easy to use - flip through collections, earmark the ones you love, and follow instructions to make sure your product is being shipped for FREE!
Clearance
If you love the thrill of going through a mass of colors, forms, shapes, and sizes, clearance sales are the best place for you. These racks are filled with off-season, surplus, and other many, many items, often in a state of disarray. There's usually no organization, and if there is, that's usually gone after a blizzard of shoppers. But even so, shopping through clearance racks are one of the best, money-saving hacks. Prices are so reduced, some great items comet at 60% off.
To join in and be on time for the fun, watch out for announcements of clearance sales on JCPenney sales flyer. They are usually for a very limited time only, and you must be there right away. It's not a good idea to start shopping during the sales last few days as you won't have the good stuff anymore.
Price Matching
Price Matching is a great way to save money while shopping at JCPenney. It allows customers to compare prices and get the lowest cost for the same items they want. Here's how it works:
Before you shop, do some research and take note of which stores have lower prices for the products you're interested in buying. Ensure these prices are still active when you are ready to purchase.
Price matching isn't limited to just one item. By taking advantage of Price Match policies, customers can save time and money by receiving guaranteed low prices on their purchases from JCPenney sales flyer.
Cashback Program
Saving at JCPenney with the help of Cashback is an excellent way to maximize your savings. Cashback services allow customers to get back a percentage of their purchase as a cash reward, which you can use on future purchases or withdraw as cash.
In addition to being able to take advantage of regular discounts offered by JCPenney weekly ad, cashback services are an additional way to save money while shopping there. Depending on how much you shop at JCPenney, this could mean hundreds of dollars in savings each year!
Shop at Right Time
The best time to shop until you drop is when the most amazing deals are on! You get the most out of your money because prices are at their lowest, discounts are at their biggest, and coupons are plenty. Such days are limited per year, like Black Friday, back-to-school season, and more. So make sure to subscribe to the JCPenney ad previews to know when they are going to start!
Being the first to know when the biggest promos begin is crucial as you get access to the best items and won't be stuck with leftovers. So when the announcement is made through the preview, make sure to mark your calendars, save your coupons, and plan the best shopping spree!
Shopping at JCPenney
In-store Shopping
In-store shopping has advantages that online shoppers can't enjoy. For example, you can get the privilege of the JCPenney circular with all of the upcoming sales and discounts. Thus, you will have time to prepare for bargains ahead of time. With in-store shopping, customers have access to more thorough product details, as well as personal assistance from store representatives.
Additionally, shoppers can see and feel the products for quality assurance, touch and look at various features, and compare items for sale side-by-side. By comparing prices and features side-by-side in one place, customers can make wiser purchasing decisions.
Curbside Pickup
What if you can buy all your groceries just sitting down then get up once it's packed and ready? That doesn't just sound like a dream - it can actually happen when you avail of the curbside pickup order service at your local JCPenney! Through this service, you can choose everything you need online, place an order, and schedule the pickup at a time and location nearest to you. It's extra convenient, plus much more affordable than delivery, especially if you took advantage of applicable deals and promos featured in the JCPenney flyer!
Delivery at JCPenney
Time is money, and sometimes spending hours walking through grocery and store aisles can lead you to wasting a lot of money. Not only do you spend when you shop, you also sacrifice hours you could have been earning or relaxing. Thus, it's time for some change! Use the JCPenney weekly ad this week to check if your local JCPenney allows delivery. Once you got that clarified, start doing your groceries at home and having them delivered. You save so much time, plus you're less likely to get tempted by random items you see on store aisles.
Online Shopping at JCPenney
JCPenney flyer provides an easy and beneficial way to get your shopping done, with the added benefit of online shopping. Shopping from JCPenney is now easier than ever because you can browse items from the comfort of your living room. It gives you advantage of all the deals JCPenney offers.
When shopping online, you can compare JCPenney's prices to other stores and read user reviews on products. Furthermore, JCPenney customers can feel safe knowing that their transactions are secure and protected.
Mobile Digital App
JCPenney understands the need for convenience in the hectic modern lifestyle, and their helpful app provides just that. With the JCPenney app, shoppers can take advantage of their JCPenney flyer, which is updated weekly with new deals and discounts on everyday needs. The JCPenney app also offers an easy-to-use interface, personalized recommendations, and real-time notifications whenever favorite items go on sale. JCPenney app simplifies shopping and lets users know they are getting the best offers available.
How EveryPayJoy Help you Save?
Everypayjoy helps you save money in many different ways. It offers users access to JCPenney sales flyers and weekly ads, as well as exclusive deals and coupons. This allows shoppers to find the best deals and save money on everyday purchases. In addition, users can easily search through the extensive range of products available in-store sales flyers and JCPenney weekly ads, ensuring they get all the fantastic discounts and special offers.
The platform also offers several advantages over other online discount websites. Firstly, the simple design makes it easy for customers to quickly find what they need without wasting time. Secondly, Everypayjoy ensures that shoppers always get access to the most up-to-date deals and offers from retailers. It gives them an edge when it comes to maximizing their savings. Finally, Everypayjoy is free to use, so customers can start saving money immediately with no upfront costs or commitments.
Overall, Everypayjoy is a stunning way for shoppers to save money on everyday purchases while still getting quality products at an affordable price. Its user-friendly interface and wide range of discounts and coupons make it perfect for anyone looking to make their budget stretch further without sacrificing quality or convenience.
Disclaimer: JCPenney is a registered trademark of JCPenney and is not affiliated with our company. We are not affiliated with, endorsed by, or connected to JCPenney. Our use of any trademark belonging to another company is not done with the intent to confuse consumers but is rather incidental in promoting these companies and their coupons.