Hen House Coupons, Deals & Promo Codes
Are you in the mood for some window shopping but don't want to go to the mall? Here's what you can do instead - stay in your bed, take out your phone, then flip through 36 amazing promo deals.
Yes, you can effortlessly access so many fantastic offers if you use the Hen House weekly ad this week. It showcases the best discounts exclusive for 05/31/2023 to 06/06/2023. Product deals are organized by collection, so it's easier to find necessities and earmark favorites.
To course through the Hen House ad, you can use the arrows or "next" button to move across collections. It's like flipping through a voucher book, and you can even save a Hen House coupon you can use to save on near-future purchases.
As you click on or save the coupon, you'll get access to coupon details, like instructions on how to redeem or the period when the voucher is applicable. Make sure to read them carefully and take note of the expiration date - you wouldn't want to waste it, don't you?
Also, you can take your window shopping to the next level by getting a glimpse of next week and maybe even next, next week's deals! You can do so through the Hen House ad previews, which is as easy to use as the Hen House weekly ad.

- - Halo ice HALO - brownle 1 batter TOP cream novelties 100 selected varieties, 4-5ct. - - - - light ice cream POPS $5 19

100% NATURAL Hunt's Hunts tomato sauce 29oz. Tomato Sauce $229

HOLY PEPPERONI Screamin' Sicilian - - pizza singles selected varieties, 9.1-10oz. - I'M SINGLE - - $379

MILK-BONE Milk-Bone / dog snacks selected varieties, 24oz. Medium - - $419

V8 vegetable juice or Splash 2 selected varieties, 46oz. V8 Low Sodium - $329

Best Choice soda CLUB selected varieties, 12 SODA CANS 12pk/12oz. cans SELTZER 12 WATER CANS $379

Best Choice chopped green chiles Best Choice 4oz. GREEN CHILES CHOPPED NET WT 10 (113g) 99

P.F. Chang's entrées PF CHANG'S selected varieties, DAN DAN 10.25-11oz. NOODLES BY I $429

Brownberry Sandwich Thins THINS selected varieties, 12oz. THINS $399

DO Calories 15g Protein Star Kist StarKist premium chicken PREMIUM selected varieties, WHITE 2.6oz. pouch CHICKEN NO DRAINING $ 129

Palermo's PALERMO'S Thin Crust pizza THIN CRUST selected varieties, PEPPERONI PIZZA 14.5-16.9oz. $379

Hunt's Snack Pack pudding or gelatin 4pks. Snack selected varieties Chocolate pack REAL MILK $ 129

Best Choice cream cheese reg. or lite neufchatel, Best Choice 8oz. CREAM CHEESE - - NET WT plain 2/$4
Just Crack an Egg scramble kit selected varieties, 3oz. JUST CRACK an EGG - SCRAMBLE KIT PROTEIN PACKED 2/$4

Rustik Oven bread selected varieties, 16oz. Ruslik $429

33% MORE CHIPS Brownie Brittle BROWNIE selected varieties, BRITTLE 4-5oz. CHOCOLATE CHIP 2/$5

Daisy cottage cheese 2% or 4%, Daisy - 16oz. Low Fat COTTAGE CHEESE 2% $229

Bubbl'r sparkling water BUBBL'R selected varieties, water 6pk/12oz. cans twisted elix't - - - - - 2/$12

Rao's pasta sauce selected varieties, 24oz. RAO'S HOMEMADE - - MARINARA $749

Mountain Dew I Energy or Rockstar ROCKSTAR energy drinks ENERGY DRINK selected varieties, 4pk/16oz. cans ORIGINAL R 4 $499

Original Reddi Whip Reddi wip Reddi topping - wip 13oz. $599

Yakisoba Maruchan ramen selected varieties, Yakisoba 3.96-4.12oz. Spicy Chicken

Louisiana hot sauce 12oz. LOUISIANA - - $199

Sam Adams SAMUE - or Free State - ADAM SAMUEL Variety 12pks. BOSTON LAGE selected varieties, ADAMS 12oz. bottles SUMMER ALF 2/$29 CITRUS WHEAT ALE HH _BASE_PG4_053123

Lipton tea Lipton selected varieties, DIET GREEN TEA CITRUS 64oz. $199

- - 40 - Pearl Milling Pearl Milling Co. Company Buttermilk pancake mix selected varieties, COMPLETE - - - 32oz. $349

Jack Daniel's Country Cocktails 6pks. selected varieties, 12oz. bottles PUNCH JACK UNIVERSITY DANIEL'S 3/$21 - - - COLA

Pearl Milling Co. syrup selected varieties, 24oz. Pearl Milling Company Original - 2/$7

12 PALE ALE Boulevard 12 12pks. selected varieties, OUR ORIGIN 12oz. bottles or cans WHEAT - $1499 - -

24 12 Michelob Ultra 24pks. 12oz. bottles or cans 2.6 $2199 ULTRA 95 CARBS CALS

FRESH NEVER FROZEN BONELESS, SKINLESS CHICKEN BREASTS $399 lb. MP Ozark Mountain Poultry

GROUND FRESH FRESH Several Times Daily 80% LEAN GROUND BEEF $349 lb.

pick your size $13.99lb. BEEF KC STRIP STEAK boneless, 10oz. $9 HEREFORD BEEF CHOICE PREMIUM ea.

PORK LOIN BABY BACK RIBS sold in cry-o-vac $199 PRAIRIE lb. FRESH LIMIT 6, PLEASE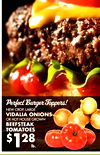 Perfect Burger Toppers! NEW CROP, LARGE VIDALIA ONIONS OR HOT HOUSE GROWN BEEFSTEAK TOMATOES
Related Brands to Hen House
Are you a fan of these brands: Nature Made, Our Brand, Pringles, Joseph Farms, Cascade, Ooni? If you are, you'll enjoy coursing through the top Hen House deals by brand of this Hen House circular. It is a segment featuring big discounts and valuable vouchers, all sorted by brand for your easy perusal. Click on the "view now" button to see them!
There are 6 brands included in this weekly Hen House sales ad. If you find some names missing from the list, that might be because they're yet to be included. But don't worrry - brand additions and voucher updates are done regularly, so we will soon cover all your favorite companies.
Here are the popular brands we found in our database:
Hen House Weekly Ad & Preview
Save time and money as you flip through Hen House weekly ad, where you can find all the most affordable deals, only for this week! So what are you waiting for? Click, scroll, and zoom in on each promo.
Also, you can get a headstart on next week's shopping with Hen House ad previews! The earlier you sneak a peek, the more you can budget and save!
How to save at Hen House?
Savvy shoppers know that the Hen House ad is the perfect option you should check when it comes to finding savings. With a wide selection of discounted items and frequent promotional sales, you can save big at Hen House. To ensure you get the best value for your budget, do careful shopping by researching prices and seeking coupons. Taking advantage of loyalty programs can also help you secure additional savings. If you are looking for unbeatable bargains on top-of-the-line items, start your shopping journey at Hen House today.
Coupons at Hen House
Saving money at Hen House with the help of digital coupons can be an easy, rewarding process. First and foremost, knowing how to find the right Hen House coupon for your needs is essential. Searching online and subscribing to coupon websites are great ways to locate coupons that can be used at Hen House. Additionally, many stores offer their own loyalty programs that frequently include discounts and special deals exclusive to members. Joining a loyalty program will also give you access to email notifications whenever new coupons become available so that you can take advantage of all savings opportunities.
When you have found the perfect coupon for your purchase, it is time to redeem them during checkout. Most retailers allow customers to apply digital coupons directly at the checkout page by entering a promotional code or clicking a link attached to the offer.If people have already signed up for an account or a loyalty program, their coupons might already be applied at checkout. If you need help with how the coupon should be redeemed, simply contact customer service for guidance on how best to take advantage of the offer.
Using digital coupons can be extremely beneficial when shopping at Hen House, as they provide even more discounts than what would typically be available without them. It is also important to remember that retailers often limit how many coupon codes you can use per transaction. Thus, read all instructions carefully before entering any promotional codes during checkout.
Deals of the Week
Looking for Hen House weekly specials? Don't look too far as it's right here at the Hen House weekly ad. It is a digital promo material that displays all the best deals and discounts right at the screen of your gadget. Thus, there's no need to head out to Hen House itself; you can stay in your bed, just browsing and looking for your favorites.
All products are organized by collection and you can zoom in on each one of them; thus, it's more effortless to look for specific items. All the offers are good for this week only, but once those expires, the site will be updated with the newest ad containing the freshest deals.
BOGOs
Do you love free stuff? If you do, all the more reason for you to stay updated with the biggest buy one get one or BOGO free deals! You can find them on our Hen House sales flyer, which features other BOGO deals, too, like BOGO 50% off, BOGO 20% off, and more. Flipping through those BOGO collections is real easy, so give it a try.
Reward Programs
Saving money while shopping at Hen House is easier than ever with the Reward program and membership opportunities. This program gives shoppers an opportunity to shop and earn rewards points that they can use for future purchases.
By signing up and being a member, customers can accumulate points with each purchase they make at the store. Shoppers can later redeem these points for discount codes, cash-back rewards, and more. With this level of savings potential, Reward members can save big when they shop through the Hen House ad, making their favorite products even more affordable.
Exclusive Online
Thanks to their great online exclusive offers, shopping with the Hen House weekly ad doesn't have to break the bank. With a few savvy tips, you can save big on your next purchase. Use the store website to browse their different promotions and sales, some of which are exclusive online.
Look for special discounts or clearance items only available online and save even more. Also, consider signing up for their email newsletter to access the latest promotions easily. Shopping with Hen House is made more accessible and affordable when you take advantage of their exclusive online offers!
Leverage Free Shipping
If you don't find joy in online shopping, that's likely because of the large shipping fees. But there's a great way to go around that, which is by taking advantage of free shipping deals and vouchers. Occassionaly, stores and brands put up certain products on a free shipping deal so that when you order them during the promo period, they'll be delivered to you for free. Besides such deals, there are also vouchers that waive off shipping fees if you meet certain terms or conditions.
Whichever way you get free shipping offers, they're a great way to save money on online purchases. They can be quite hard to catch because they're so limited and exclusive, but you can get a headstart by checking out the Hen House ad and ad previews. Along with other promo deals and discounts, these ads showcase fantastic free shipping deals you cannot resist.
Clearance
Shopping at Hen House just got a whole lot easier, thanks to the new clearance offers. Clearance offers allow shoppers to save on items that are no longer available or have been reduced in price due to overstocking. Thanks to these special discounts, shoppers can stock up on items like clothing and home furnishings for much less than full price.
To take advantage of clearance offers, shoppers should search for products that are listed as "clearance" and make sure to read any accompanying descriptions before making a purchase. With the power of clearance offers, savvy shoppers can maintain their budgets while still getting great deals from the Hen House ad.
Price Match at Hen House
Price matching on the Hen House weekly circular has become a great way to save money while still being able to shop where you want. Price matching is searching for the same product, or one similar to it, on another site at a lower price. Furthermore, you can ask the Hen House to match that price. It is so simple, just shop online and keep your eye out for better deals elsewhere.
Once you have found the item elsewhere more cheaply, tell Hen House, and they will match it. Of course, some restrictions do apply. However, with just a few minutes of research and looking around, shoppers can easily use this great tool and save a lot of money.
Cashback Program
Shopping with a Hen House ad can be a thrilling experience, but having the ability to save money while you do so makes it even more exciting. With Cash Back, customers can get even more value as they shop. By signing up for an account with Hen House, customers can start collecting points and vouchers to make purchases at marked-down prices.
Additionally, customers can accumulate cash-back rewards on certain items which are credited towards their next purchase. It has never been easier to save at Hen House with the added bonus of getting cash back.
Shop at Right Time
Shopping at the right time can be a great way to get great deals on items you need and want. For instance, if you are looking for a new TV, wait until Black Friday, when retailers offer some of the lowest prices of the year.
The same goes for back-to-school supplies. Wait until the big sales start in August and watch for mega sales online and in stores during big holidays like Thanksgiving and Christmas. Shopping smartly with the Hen House ad is easy. Just keep an eye out for these special offers and take advantage when they come around.
Shopping at Hen House
In-store Shopping
Have you been exceeding your shopping budget more and more often? Making a checklist and being firm on your budget are one of the few ways to avoid overspending, but here's another lesser-known hack: Hen House sales flyer. This flyer has everything you need, from deals to discounts, so you can save money and stick to your budget. It's accessible anytime, anywhere, so make sure you got it ready even before you head out to your local Hen House.
Curbside Pickup
Did you know many stores, including your local Hen House, provide curbside pickup? It's a service that allows you to order items in advance, and you can schedule the pickup at your preferred time and location. It's convenient, and much more affordable than door-to-door deliveries. You can even make it cheaper through promos and deals, which you can find on the Hen House flyer! The flyer is regularly updated, so check it out for more promos and info on curbside pickup services.
Delivery at Hen House
Time is money, and sometimes spending hours walking through grocery and store aisles can lead you to wasting a lot of money. Not only do you spend when you shop, you also sacrifice hours you could have been earning or relaxing. Thus, it's time for some change! Use the Hen House weekly ad this week to check if your local Hen House allows delivery. Once you got that clarified, start doing your groceries at home and having them delivered. You save so much time, plus you're less likely to get tempted by random items you see on store aisles.
Online Shopping at Hen House
Online shopping offers shoppers great convenience and flexibility. Customers can select the Hen House ad, make their selections, and have the items shipped right to their homes without ever having to leave their living rooms. Online shopping is more convenient and gives customers access to lower prices because of less overhead costs when selling online.
Shopping from home eliminates the temptation to make unplanned purchases, allowing shoppers to remain on budget. Additionally, shoppers can get a greater insight into their spending habits.
Mobile Digital App
Shopping with store circulars is a great way to benefit from the latest apps. With smartphone capabilities, Hen House circular is accessible. It gives shoppers up-to-date information on product availability, prices, and discounts. It is also quick and easy as there is no more flipping through pages of newspaper sections. Just open the Hen House app and compare different deals instantly. Whether hunting for specific items or browsing for potential buys, the Hen House app makes it easier to get the bang for your buck.
How EveryPayJoy Help you Save?
Everypayjoy is a great resource that helps you save money when shopping. It allows users to access Hen House sales flyer to find the best deals and coupons for their purchases. By subscribing to the website, Everypayjoy ensures that shoppers will never miss out on discounts or offers. The website also keeps all of its information, so users can always stay informed about the latest offers.
Everypayjoy makes it easy to save money by providing convenience and accessibility when shopping. All the store] weekly ads, coupons, and discounts are saved in one place, making it effortless to find what you are looking for without manually searching through different sources. Additionally, Everypayjoy simplifies the process of finding deals and specials regularly by informing you when new promotions become available.
Using Everypayjoy saves time and money because it eliminates the need for extensive research when looking for deals. Plus, every user can search content based on their interests, which can help them find even more specific items or discounts. With this level of convenience and accessibility, Everypayjoy helps make saving money easier than ever before!
Disclaimer: Hen House is a registered trademark of Hen House and is not affiliated with our company. We are not affiliated with, endorsed by, or connected to Hen House. Our use of any trademark belonging to another company is not done with the intent to confuse consumers but is rather incidental in promoting these companies and their coupons.