Harris Teeter Coupons, Deals & Promo Codes
The Harris Teeter ad, from 03/22/2023 to 03/28/2023, is full of incredible savings on a wide range of products and items. There are categories for all kinds of groceries and other things. Choose easily among frozen goods, deli, breakfast, cereal, pet supplies, pharmacy, produce, and many more.
You will see 21 astonishing deals that will help you find the items you need at the best prices available. The Harris Teeter weekly ad this week also includes a Harris Teeter coupon for additional savings, so you can save even more money when shopping at Harris Teeter.
Furthermore, the Harris Teeter Weekly Ad This Week has a plethora of great deals that customers won't want to miss out on! For those who prefer not to visit the Store, the Harris Teeter ad can also be found online, making it even easier for shoppers to see what kind of savings are available without leaving home. You can browse through different categories without leaving your house or office and take advantage of discounts whenever they are offered.
This is especially helpful when looking for something specific, as it allows customers access to all kinds of products, no matter where they live or work. Shoppers who want to maximize their savings when shopping at Harris Teeter should definitely keep an eye out for their favorite Harris Teeter coupon.
Coupons often provide additional offers such as a buy one get one free promotion or a percentage off orders over a certain amount. Thus, you can end up saving twice as much as they would have without them!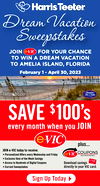 Dream Vacation Sweepstakes
JOIN e-VIC FOR YOUR CHANCE TO WIN A DREAM VACATION TO AMELIA ISLAND, FLORIDA

Fresh Foods Market
save big per lb. with your VIC card

Simple Truth
save big on 2 with your VIC card

Artisan Italian Round Bread
Save at least $2.50 each with your VIC card

Imported Aged Parmigiano Reggiano
Save big per lb. with your VIC card

Boar's Head
Save big per lb. with your VIC card

Farmers Market
save big on 2 with your VIC card

Fresh Express
Save big on 2 with your VIC card

Brighten Your Day Bouquet
save at least $1.00 each with your VIC card
Dave's Killer Bread
Save at least $1.00 each with your VIC card

Bolthouse Farms
Save big on 2 with your VIC card

Tulip Bunches
save at least $1.00 each with your VIC card

Nut Pods
save at least $1.00 each with your VIC card

Smuccies
save big with your VIC card

Wild Caught Maine Mahogany Clams
Save at least $2.00 each with your VIC card

Waterloo
Save big with your VIC card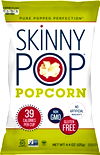 Skinny Pop
Save big on 2 with your VIC card

750 ml. Three Thieves Pinot Grigio or Castle Rock Cuvee Pinot Noir or 1.5 ltr. Frontera Cabernet-Merlot
$8.99

Coppola Paso Robles Cabernet or Elouan Pinot Noir
$16.99

Pepsi
Buy two get one free, Save big on 3 with your VIC card

Town House
Buy two get one free, Save big on 3 with your VIC card
Harris Teeter Deals by Brands
Why pay full when you can get it for less? With this online Harris Teeter circular, you can find the biggest discounts on branded items so you can save money even as you spend!
Such a perk is possible when you check out the top Harris Teeter deals by brand segment of this Harris Teeter sales flyer. This section features large discount collections from 12 brands, such as Clorox, Pillsbury.
To view those offers, click on the brand name, icon, or "view now" button. You'll be directed to a web page full of exclusive deals, which grows everyday so try to stay updated.
Harris Teeter Weekly Ad & Preview
Got only five minutes to scope out the best offers? Not a problem! With Harris Teeter weekly ad, you can blitz through the biggest promo collections by clicking on the arrow buttons. Zooming in on each item is quick and easy, too! It takes a few minutes to check out all of this week's deals, you might even have time left to check out Harris Teeter ad previews for future deals.
How to save at Harris Teeter?
Saving money at Harris Teeter doesn't have to be difficult! With the right approach and some savvy shopping strategies, you can easily save a few bucks every time you shop. After all, who doesn't want to stretch their budget a little bit further while still getting great products?
To help you save, here are some simple tips on how to get the most out of your shopping trips through the Harris Teeter weekly ad. You can easily find great deals that fit your budget by being mindful of when and what you buy at Harris Teeter.
Harris Teeter Digital Coupons
If you're an avid online shopper, you know coupons are ESSENTIAL. They bring down shopping price totals, eliminate shipping fees, and reduce individual product prices. But as great as they are, they're pretty elusive. Some platforms offer them on special occasions only or attach them with the stringiest terms and conditions.
Well, you don't have to be eluded anymore. Use this Harris Teeter coupon database to find digital vouchers to fit your every need. For instance, does that free shipping coupon not apply to you? Try this shop discount instead! There are so many options, you'll always find one or two to redeem everytime you're on an online shopping spree.
So what are you waiting for? Enjoy them all now!
Harris Teeter Weekly Specials
Looking for Harris Teeter weekly specials? Don't look too far as it's right here at the Harris Teeter weekly ad. It is a digital promo material that displays all the best deals and discounts right at the screen of your gadget. Thus, there's no need to head out to Harris Teeter itself; you can stay in your bed, just browsing and looking for your favorites.
All products are organized by collection and you can zoom in on each one of them; thus, it's more effortless to look for specific items. All the offers are good for this week only, but once those expires, the site will be updated with the newest ad containing the freshest deals.
Harris Teeter BOGO
Need to get more of one thing? Then take advantage of Harris Teeter BOGO or buy one get one deals! The offer varies per item; for instance, a BOGO 10% deal entitles you to 10% off on the 2nd item. The best of them all is the BOGO free, which allows you to get the 2nd item 100% off - such a steal, right?
To be updated on the most recent BOGO offers, regularly check out our Harris Teeter sales flyer. It features the most recent and exclusive deals and discounts, from BOGO promos to massive discounts.
Reward Programs
Saving at Harris Teeter with their loyalty rewards program is calming and convenient. With the help of this program, customers can access exclusive discounts and promotions that are only available to members. This allows them to get the best Harris Teeter sales ad on their purchases and save money in the process.
Members are eligible for additional discounts like coupon codes that may not be available in-store or online. They also get early access to sales events, making it unchallenging to find great deals even before they go on sale. Plus, when members make a purchase using their loyalty points, they can save even more money.
To maximize savings while shopping at Harris Teeter, members should take advantage of special offers and flash sales that are only available through the loyalty program. Additionally, they should keep track of their rewards points so they can redeem them quickly and conveniently in-store when they need to use them.
Overall, being a member of Harris Teeter's loyalty rewards program is an excellent way for customers to save money when shopping. With exclusive discounts, promotional offers, and other benefits, it is a perfect way for members to make their money stretch further when buying items from Harris Teeter.
Online Exclusive Offers
Thanks to their Online Exclusive Offers, shopping through the Harris Teeter weekly ad has never been easier. Using these offers, customers can receive discounts and special deals when shopping online. The easiest way to take advantage of these discounts is to sign up for an account on the store's website and opt-in to their promotional emails. That way, customers can be sure not to miss any updates on new savings opportunities. Just make sure to compare prices before jumping in. Take advantage of these great offers today and start saving money shopping at Harris Teeter.
Leverage Free Shipping
Shopping online can be a great way to save money, especially when you take advantage of free shipping at Harris Teeter. Not only can this help you avoid long lines in the store, but it will also give you a chance to pay no extra fees for shipping. Some stores may offer free promotional codes for a certain order size. Sign up for their newsletter to get notifications about these special offers throughout the year, and start saving on your orders today.
You can also follow them on social media where they often share deals, promotions, and other cool offers that may include free shipping. Taking advantage of these options should help you save big on every purchase and make your shopping experience even more enjoyable.
Clearance
Do you often find only bad, unlikeable pieces left in the clearance sale? That's because you're too late! To enjoy the clearance racks and find the best deals, you have to be as early as you can. Thus, always be on the lookout for clearance sale announcements on the Harris Teeter sales flyer. This online resource is regularly updated, so you're sure to hear of any upcoming sales and deals.
Price Matching
If you love keeping track of product prices at Harris Teeter, then the Harris Teeter weekly ad will be your best friend. It's frequently updated, so you're sure that the featured prices, deals, and discounts are accurate and the most recent. These make your price matching efforts more reliable, which is crucial for maximizing budgets and making the most savings. Also, it's effortless and quick to use, so you can easily find all the info you need.
Cashback Program
Learning how to save at Harris Teeter with the help of Cash Back can help you save money and create a budget plan to maximize your savings. Cash Back services give customers a percentage of their purchases through the Cash Back app or website. A small percentage goes back to your account each time you buy something.
This cycle makes it easier to stick within budget by knowing exactly how much money is going toward today's purchases. Thus, customers can explore all that Harris Teeter weekly circular has to offer without worrying about spending too much on their next purchase.
Shop at Right Time
Shopping at the right time for mega sales can be a great way to save money at Harris Teeter. In particular, mega sales, like Black Friday and Cyber Monday, allow shoppers to nab amazing deals on clothing and accessories. The key is to develop an action plan that takes advantage of these opportunities. You should start by researching upcoming mega sales at Harris Teeter weekly circular and find out what will be available for purchase.
Once you have this information, create a budget and stick to only purchasing items that are on sale or are within your budget. By planning ahead and taking advantage of discounts, you can stock up on all of your must-have items while sticking to your limits. With a bit of planning, you will save money every time there's a mega sale at Harris Teeter.
Shopping at Harris Teeter
Harris Teeter In-store Shopping
In-store shopping takes more effort than online shopping. You'd have to get to your local Harris Teeter, either by driving or public transport. Then, you'd have to find the items you need among aisles and aisles of product. Thus, you'd want to make the most out of your trip, right?
Here's one way to do so - use the Harris Teeter sales flyer. It has all the best in-store shopping deals, so you won't have to waste time comparing prices or looking for promos. You know what you'll get even before you get there, saving time, money, and effort.
Curbside Picku at Harris Teeter
Check out the latest Harris Teeter sales flyer! Not only does it contain the biggest deals and discounts, it also features great and convenient services you may not be familiar with, like curbside pickup! Such an offer allows you to make an order, have it delivered to a specific, nearby location, and pick up the package once it has arrived. Transportation fees are cheaper this way, plus you can pickup the item the soonest it's available and won't get delayed by delivery backlogs and other similar issues.
Delivery at Harris Teeter
Physically going to the store to buy items like furniture or appliances is a great decision as you can check the quality and features for yourself. But getting them home? That's when the hassle starts ... but not anymore! You can ask your local Harris Teeter if they offer a delivery service, and if they do, use that to get your purchases to your place without you getting all stressed and worked up. You can also look for delivery deals and promos on the Harris Teeter weekly ad this week so you can save on money.
Online Shopping at Harris Teeter
Are you spending too much time on the Net? You might as well make that productive by doing some shopping! Yes, you can get groceries, school items, fashion accessories, and other needs without even leaving your home. All your purchases are delivered, too, so all you really have to do is make a few taps and wait! So, what are you waiting for? Check the Harris Teeter circular and see if your local Harris Teeter has an online version!
Mobile Digital App
Harris Teeter app is a great way for shoppers to save money and time. By enabling customers to sign up, the Harris Teeter circular offers exclusive discounts, notifications about in-store events, and early access to sales. Shopping at Harris Teeter can be made easier as Harris Teeter app provides users with product information, nutritional info, helpful recipes, personalized shopping lists, and more. With the Harris Teeter app, shoppers will feel prepared and informed while browsing the products.
How EveryPayJoy Help you Save?
If you haven't subscribed to EveryPayJoy and its Harris Teeter weekly ads, you're missing out on a lot. Subscription allows you to receive the freshest deals and offers, from money-saving vouchers to huge discounts. Most of these are exclusive and limited, so there's a high chance you won't find them on your own or if you did, they might be expired already. To avoid such a waste, bookmark the website and subscribe!
Besides the weekly ads, the EveryPayJoy website also has hundreds of coupons you can use to save money on purchases from various brands. These coupons are easy to use and the database is regularly updated so you always get the latest offers. You can also earmark vouchers if you won't use them yet, but make sure to check expiration date.
Also, the benefits do not end there! EveryPayJoy also features tips and Harris Teeter sales flyers. All these provide valuable information you can use to be a better shopper!
Disclaimer: Harris Teeter is a registered trademark of Harris Teeter and is not affiliated with our company. We are not affiliated with, endorsed by, or connected to Harris Teeter. Our use of any trademark belonging to another company is not done with the intent to confuse consumers but is rather incidental in promoting these companies and their coupons.