Gristedes Coupons, Deals & Promo Codes
Find everything you need using the Gristedes weekly ad for this week. It contains 36 amazing deals, exclusive for 03/24/2023 to 03/30/2023 only. So don't miss out on such limited gimmicks!
To view these offers, click, scroll, and zoom in on the Gristedes ad. Clicking on the arrows or "next" button lets you browse through different collections, like grocery products, household appliances, school stuff, and fashion items. Such brilliant organization lets you find your necessities much faster! Meanwhile, scrolling allows you to zoom in, so you get a better view of the item, product details, and incredible markdowns.
You can also save a Gristedes coupon from the database! These coupons may be for a limited time only, so click on your screen to get a list of coupon details, which includes expiry dates and instructions for redeeming. They're a great shopping hack that lets you get more value for your money.
All these deals and coupons aren't just for this week too! Keep visiting to find more exclusive Gristedes weekly ads and Gristedes ad previews. The Gristedes ad previews gives you a glimpse of future promos, so you'd have a headstart with your shopping spree plans!
13 Pepperidge Farm Light Style Bread 16 oz. $439

6 Gorton's Fish Fillets or Sticks 6.3-11.4 oz. $8999

Häagen-Dazs Ice Cream 14 fl. oz. $649

6 Mrs. T's Pierogies 12.8-16 oz. $399

Outshine Fruit Bars 6 pk., 14.7 fl. oz. $679

Yogurt 5.3 oz. 2 Polly-O String Cheese 9-12 oz. $799

6 Amy's Organic Pizza 13-14 oz. $13999

1 Starbucks Iced Coffeefee 40-48 fl. oz. $939 P S C 9 $

5 Organic Valley Organic Milkk 64 fl. oz. $849 S I 4 $

Häagen-Dazs Ice Creamm Bars 3 pk., 9 fl. oz. $6499

6 Vanity Fair Napkins 40-100 ct. $429

DAIRY Fage Greek Yogurt 5.3 oz. Select Varieties $199

Planet Oat Oatmilk 52 fl. oz. $599 F G Y 5 S

Nounos Greek Yogurt 5.3 oz. $249

3 Wise Popcorn or Cheez Doodles 5-9.25 oz. 2/$7 for

5 Heckers Unbleachedhed Flour 5 lb. $629

5 Nabisco Snack Crackers 3.5-9.1 oz. $549

7 Solo Cups 3-18 oz., 24-150 ct. Solo Plates 15-20 ct. $689

9 Hershey's Baking Chips 8-12 oz. $459

9 4 Herr's Pretzels 12-16 oz. $379 Wise

4 Nabisco Chips Ahoy Cookies 7-13 oz. $579

3 Crisco Oil Vegetable, Corn or Canola, 40 fl. oz. $999

3 Frank's RedHot Sauce 12 fl. oz. $569

8 New England Coffee 10-12 oz. $1399

3 Doritos Snack Chips 6-9.25 oz. $499

11 Ben's Ready RiceRice 8.5-8.8 oz. $379

4 Clorox Disinfecting Wipes 75 ct. $799

4 Ortega Salsa 16 oz. $469

6 Ken's Salad Dressing 9 fl. oz. $349

6 Maxwell House Coffee Excluding Decaf 10.5-11.5 oz. $839

Imported Imported HassHass Avocados Avocados 2/$2/$44 forfor

Freirich Freirich Perfect for St. Patrick's Day! Perfect for St. Patrick's Day! Thin Cut Thin Cut Corned Beef Corned Beef $$889999 lb.lb.

Clementines 3 lb. Bag Imported $699

44 Black Beauty Plums Imported $299 lb.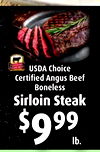 USDA Choice USDA Choice Boneless Boneless Certified Angus Beef Certified Angus Beef Sirloin Steak Sirloin Steak $$999999 lblb..
Related Brands to Gristedes
Have you been eyeing this certain brand at the mall lately, fervently hoping it'll announce some big sale? Well, you don't have to wait anymore! This Gristedes circular contains all the top Gristedes deals by brand. It's like a digital coupon book where you can flip through the biggest discounts and with everything organized by brand, exploring deals becomes much easier and convenient.
Although the actual offers are for a limited time only, this Gristedes sales flyer isn't - it gets updated regularly, so you need to keep an eye out for new promo deals or brand additions. Currently, it includes 6 brands, such as Kraft, Sparkle, Finish, Barilla, Weis, utz. If you're fave brand isn't there yet, don't worry; the list only keeps growing.
Here are the popular brands we found in our database:
Gristedes Weekly Ad & Preview
Find this week's biggest markdowns using Gristedes weekly ad. Click on the arrow buttons to walk through every promo collection, from household to school items! If something catches your eye, easily zoom in or use your scroller.
Also, with Gristedes ad previews, you don't have to wait for next week to discover future deals! All the best offers right in one place, for your ease and convenience.
How to save at Gristedes?
Saving money at Gristedes doesn't have to be a tricky endeavor. With the right approach and some savvy shopping strategies, you can easily save a few bucks every time you shop. Whether taking advantage of price cuts or stretching your food budget further with meal planning, there are plenty of ways to get more value for your purchases with Gristedes ads.
First and foremost, familiarize yourself with the Gristedes weekly ad. This is where you will find all the best deals! By following some simple tips on how to save at Gristedes, you will find yourself shopping smarter in no time.
Coupons at Gristedes
Shopping at Gristedes with Digital Coupons can help you save a lot of money! By taking advantage of the digital Gristedes coupons available, customers can stock up on all their favorite items while also keeping their budgets in check. Here are some tips to get the most out of your digital coupon shopping experience:
1. Start by searching for digital coupons online. There are websites and apps specifically for finding and using digital coupons. So, take advantage of these tools to make sure you have access to the best deals. Make sure to read the description for each coupon before using it, as some coupons may have restrictions or expiration dates.
2. Sign up for email alerts from Gristedes. Many stores offer discounts and coupon codes through their email lists. Thus, sign up and stay informed about upcoming sales and promotions. This way, you will always take advantage of a great deal.
3. Combine multiple coupons when possible. If you have numerous digital coupons from different sources (such as emails, store websites, and apps), see if you can combine them into one transaction. This could result in some significant savings. Make sure that the terms and conditions allow it before proceeding with the purchase.
Overall, shopping at Gristedes is always more fun when saving money is involved and digital coupons provide just that opportunity. So remember to take advantage of all those fabulous discounts offered through digital coupons.
Deals of the Week
Gristedes is a great place to shop when trying to save a few extra bucks. One of the best ways to save money is by taking advantage of Gristedes's weekly specials and deals. If you are looking for big savings, Gristedes offers multiple weekly specials that can be used at checkout. The Gristedes weekly circular provides discounts that will help you save dollars on the final bill.
In addition, Gristedes's weekly specials offer additional savings on specific items. This section of Gristedes's website is updated with promotional codes each week, so be sure to check in often. You won't be able to use the discounts after the expiration date. Thus, a regular checkup is essential. Moreover, double-check the prices to ensure that the store applies deals of the week on your bill.
Gristedes BOGO
"Spend more, save more" becomes true with the biggest and most exclusive BOGO or buy one get one deals! Find these BOGO offers on the Gristedes sales flyer, and you'll be entitled to a free or discounted second item. It's an opportunity to bulk buy for the future without ripping your wallet. Don't pass it up - future you will thank you!
Reward Programs
Do you have five extra minutes? Good, because you're about to hear and become part of the greatest shopping reward program: Gristedes membership. As a member, you get access to exclusive deals, discounts, amenities, and perks. Aside from those, you also earn a points everytime you shop! Let these points accumulate and you can spend them later or use them to save on future purchases (like setting aside money for rainy days!).
To become a member, find the guidelines and instructions in our Gristedes sales ad. Provide all needed information and voila! You're now a Gristedes member!
Online Exclusive Offers
Online shopping fans, like you, are there for the convenience, variety, and swiftness. But once you get access to online exclusive offers, the deal gets sealed - you won't be doing shopping any other way anymore.
But how do you even find such big offers? Easy - subscribe to Gristedes weekly circular. It features the biggest sales, discounts, and coupons, all at the tip of your fingers.
Free Shipping
Have you added to cart this amazing item but find the shipping fees to be unaffordable or exorbitant? Don't remove it from the cart yet!
What you can do instead is to check out the Gristedes ad! It showcases items with recent and limited free shipping deals, and you might find your product there. If not, there are also free shipping vouchers, which you can find on the ad or coupon database.
Find Clearance Items
Ever shopped during clearance sales? You should - it revolutionizes the way you make purchases. Clearance racks and lineups often hide the cheapest thrills, only accessible to those who are lucky or stay constantly updated through the Gristedes sales flyer. This flyer has announcements regarding clearance sales, and even sneaks in glimpses of what the rack has to offer. So, be sure to check it out so you won't miss out on the good stuff like everyone else.
Price Match at Gristedes
Price matching is a great way to save big at the Gristedes sales ad. This useful policy allows shoppers to adjust their purchase amount based on the prices of the same item at competing stores. Meaning you never have to worry about spending too much.
To use the price matching guarantee, simply bring the current price from a competitor and inform the Gristedes staff. If their product is substantially similar, they will match it, and you can save some money on your purchase. With price matching at Gristedes, rest assured that you wouldn't have to leave empty-handed due to inflated prices.
Cashback Program
Learning how to save at Gristedes with the help of Cash Back can help you save money and create a budget plan to maximize your savings. Cash Back services give customers a percentage of their purchases through the Cash Back app or website. A small percentage goes back to your account each time you buy something.
This cycle makes it easier to stick within budget by knowing exactly how much money is going toward today's purchases. Thus, customers can explore all that Gristedes weekly circular has to offer without worrying about spending too much on their next purchase.
Shop at Right Time
Is your kid going back to school? You'll have a lot of stuff to buy - clothes, bags, school supplies, shoes, and more. All these expenses could leave your bank empty, but not if you're shopping smart.
Shop at the right time with the Gristedes ad previews. These ads showcase back-to-school deals and promos way ahead of time, so you know when, where, how, and how much you can get them. It will surely help you stretch your budget, so make sure to subscribe!
Shopping at Gristedes
In-store Shopping
Is it time to stock on some groceries? Before you make that regular trip to your local Gristedes, add this to your routine: bookmark and check the Gristedes sales flyer before you leave. This promo material compiles money-saving discounts and deals, so you can make the most out of your budget and save as much as you can. It also tells you until when these promos are good for, and how you can avail them. It is a valuable resource for any pro-shopper, so don't pass on it!
Curbside Pickup
Shopping using curbside pickup is becoming increasingly popular these days due to its convenience, safety, and affordability. With the click of a button, shoppers can find the item they are looking for in the Gristedes ad, add it to their cart, pay online and schedule a pickup time.
This saves shoppers time and effort of going into the Gristedes. Stores will often attach a sales flyer with orders that include deals exclusive to online shoppers. This is an excellent way for shoppers to get even more value for their purchases by taking advantage of special promotions.
Delivery at Gristedes
Physically going to the store to buy items like furniture or appliances is a great decision as you can check the quality and features for yourself. But getting them home? That's when the hassle starts ... but not anymore! You can ask your local Gristedes if they offer a delivery service, and if they do, use that to get your purchases to your place without you getting all stressed and worked up. You can also look for delivery deals and promos on the Gristedes weekly ad this week so you can save on money.
Online Shopping
Shopping online can provide several benefits to consumers that traditional shopping may not. You can compare prices across retailers for the best deal on any item. Moreover, you can access the Gristedes circular to look at the current deals and discounts. Not only that, but by taking advantage of Gristedes's online shopping system, you will save time and money by avoiding long lines at check-out. In short, Gristedes's online shopping service is a handy tool for shoppers looking to save time and money.
Mobile Digital App
Get access to an online shop, exclusive deals, and other great perks by installing the Gristedes app! You can check your app store if the app is ready for downloading in your area. The Gristedes add may also feature the app, and clicking on it will direct you to a link that allows you to easily install it.
How EveryPayJoy Help you Save?
Have you heard of EveryPayJoy? It's a website packed with the latest, biggest, and most exclusive deals, discounts, and vouchers. A subscription to its Gristedes weekly ads is a great shopping hack as you are one of the first to get news on the week's biggest promos. Many of such offers are exclusive, so it's a great way to be ahead on your shopping game and to save money every week.
Besides subscribing to the weekly ads, you might also want to bookmark the website itself. In that way, you can easily access -- anytime, anywhere -- the Gristedes sales flyer, coupon database, and tips that EveryPayJoy posts. Each of these resources help you in making the most out of your shopping budget, and mold you to become a better and wiser shopper.
All the material on EveryPayJoy is dutifully organized. For instance, the vouchers in its coupon database are sorted by brand, so you can find the ones you need at the snap of a finger. They are also regularly updated, so you're sure that everything, from weekly ads to coupons, are the most recent available. Countdowns are also shown, so you know when the offer ends and schedule your shopping accordingly.
Disclaimer: Gristedes is a registered trademark of Gristedes and is not affiliated with our company. We are not affiliated with, endorsed by, or connected to Gristedes. Our use of any trademark belonging to another company is not done with the intent to confuse consumers but is rather incidental in promoting these companies and their coupons.