George's Market Coupons, Deals & Promo Codes
Reading the George's Market weekly ad this week is a great way to save time and money. If you are looking for great deals that are easy to access, with the George's Market ad, you can quickly and easily browse through all the in-store sales and specials. From discounts on groceries to savings on household items and personal care, there's something for everyone.
Reading through the George's Market ad can also help you find other offers such as coupons, special contests, bonus points, or rewards programs. You can even use a George's Market coupon to plan your weekly meal plan to get the most bang for your buck.
Right now, there are over 36 different deals running in the current George's Market weekly ad this week! The weekly ad starts on 03/24/2023 and ends on 03/30/2023. Before making any purchases, make sure to check out any available coupons for extra savings.
Overall, reading through the George's Market ads each week is a great way to stay informed about what's going on within their stores and find out about amazing deals before anyone else does! It is also important to note that some deals are only available for a limited time, so if you see something you like, take advantage of it sooner than later.
Thus, if you are looking to stretch your budget further while still enjoying a variety of products or services offered by George's Market, then taking a quick peek at their latest weekly ad could be beneficial for achieving that goal!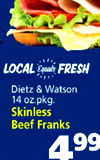 LOCAL Equals FRESH Dietz & Watson 14 oz.pkg. Skinless Beef Franks 499

Mozzarella Logs Theo's Feta Cheese Crumbles and Chunks FETA 6 oz. 399 Selected Varieties

1977 Jeorge Family Owned Since S IGA Your Local IGA Store Market at Dreshertown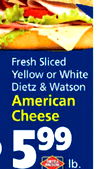 Fresh Sliced Yellow or White Dietz & Watson American Cheese 599 lb.

Fresh Sliced LOCAL Equals FRESH Dietz & Watson Barbecue Fresh Sliced Dietz & Watson Chicken Breast Imported 899 Tavern Ham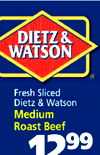 DIETZ & WATSON Fresh Sliced Dietz & Watson Medium Roast Beef 1299

22 oz. - Selected Varieties Olay 799 Body Wash............. 13.5 oz. - Selected Varieties
99¢ ea. Imported Haas Avocados & Mangoes

ORGANIC PRODUCE 249 lb. Crisp Organic Asparagus

199 lb. Greenhouse Grown Beefsteak Tomatoes

299 Bake, Fry or Mash 5 lb.bag Red or Gold Potatoes


Driscoll's Only the Finest Berries 299 Blackberries & Raspberries

YO Don't you just love it when t

Beefsteak Tomatoes Sweet Sunkist Cara Cara or Sunkist
Red or Gold Potatoes 8 oz. (Washed 3 times) Dole Dole 249

Belvita Breakfast Bars, Bites &Biscuits 7.04-12.2 oz. Toasted Chips, Crisps & Thins 7.1-8.1 oz. $ CRISP

Almond Milk... 399 Silk 59 oz. - Selected Varieties Tropicana

64 oz. - Selected Varieties Juice Cranberry Cocktail....... 379 IGA 16.9-17 oz.btl - Selected Varieties

Powerade Sports Drinks..... 28 oz.cans - Selected Varieties 99 Body Armor

Bubly 8 Pack Sparkling Water 15 5 oz - Selected Varieties Starbucks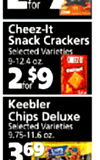 for Cheez-It Snack Crackers Selected Varieties 9-12.4 OZ. Keebler Chips Deluxe Selected Varieties 9.75-11.6 oz. 369 CHIPS

11.1-11.25 oz -Selected Varieties Irish Irish Spring Spring 329 3 Bar Bath Soap 29.6-30 OZ z - Selected Varieties

& Selected Varieties Coke 2 Liter 229 169 oz btks - Sel Varieties

Smartwater Water 199 12 oz.cans-Selected Varieties aa Pensi Cola

Pitted ripe Olives Goz -Sel. Varieties IGA Stuffed Spanish Sal Olives 199 575oz

Pure Maple Syrup 8oz 549 IGA Chocolate Syrup 24 oz. 249

16 oz - Selected Clorox Disinfecting - varieties - 499 Mist Refill -

Extra Virgin Olive Oil 16 oz. Pompeian Organic 699

Life Goods 20 20,000 Roll Bath Tissue 1599 a Life Goods 699 8 Roll Towels


199 lb. Imported Extra Large
2 for $6 5-12 oz. - Selected Varieties

ID. BREAKFAST IS BACK! 7-10 a.m.

FRESH SALAD BAR OPEN DAILY UNTIL 8 P.M. Family Owned Since 1977 S Year Local IGA Store Market at Dreshertown STORE HOURS: Visit Us At: Every day from www.georgesmarket.com See Our Weekly Circulars, Lunch & Dinner Menus and More! 7 am-9 pm 5% SENIOR CITIZE
Related Brands to George's Market
Have you been eyeing this certain brand at the mall lately, fervently hoping it'll announce some big sale? Well, you don't have to wait anymore! This George's Market circular contains all the top George's Market deals by brand. It's like a digital coupon book where you can flip through the biggest discounts and with everything organized by brand, exploring deals becomes much easier and convenient.
Although the actual offers are for a limited time only, this George's Market sales flyer isn't - it gets updated regularly, so you need to keep an eye out for new promo deals or brand additions. Currently, it includes 6 brands, such as Adams, LavAzza, Calidad, Linden Street, Head & Shoulders, Intex. If you're fave brand isn't there yet, don't worry; the list only keeps growing.
Here are the popular brands we found in our database:
George's Market Weekly Ad & Preview
Find this week's biggest markdowns using George's Market weekly ad. Click on the arrow buttons to walk through every promo collection, from household to school items! If something catches your eye, easily zoom in or use your scroller.
Also, with George's Market ad previews, you don't have to wait for next week to discover future deals! All the best offers right in one place, for your ease and convenience.
How to save at George's Market?
Shopping's never been more fun when you have access to the George's Market weekly circular. It has all the biggest and most recent deals, discounts, vouchers, and other irresistible offers. It's effortless, too, for whether you are home, on the road, at the office, or even inside George's Market, you can easily access the circular and flip through dozens of promo collections.
So what are you waiting for? Start browsing!
George's Market Digital Coupons
Did your coupons expire already? Don't fret over spoiled milk when you can top it up! With this George's Market coupon database, you have easy access to hundreds of new and exclusive vouchers. They entitle you to huge discounts, free shipping, and other exciting privileges you won't find with any other coupons.
This George's Market coupon database is regularly updated, so you're sure to choose only from the most recent and credible. To effectively use each coupon, make sure to click on it and read all the terms and conditions. Take note of important details like discount caps and expiration dates. Once your done perusing it, you can either redeem it immediately or save it for future shopping sprees.
Deals of the Week
Feeling low? Get a dose of cheap thrills using the George's Market weekly ad. It features collections of jaw-dropping discounts and deals, from grocery stuff to fashion pieces. You might even find that the stuff you've been ogling for months is included in the sale. Won't that be a great steal, right?
Exploring the weekly ad is effortless. You just use the arrow buttons to flip through offers and price markdowns. You can even zoom in or out if you like. Plus, it gets updated every week; thus, you're sure you're always up to speed with the biggest offers George's Market has.
George's Market BOGO
We all know that BOGO stands for 'buy one, get one' and refers to discounts where one item is free or half-price when you buy another. BOGO 50% off promotion offers great savings opportunities if you take advantage of them.
Here are some tips for getting the most out of BOGO free:
First, ensure you understand the terms and conditions of the George's Market ad. Sometimes there may be limits on which items qualify for the discount and how many discounts can be used in each purchase. Read all details carefully so you can take advantage of all your savings!
Second, compare prices between different stores to see who has the best deal on items eligible for BOGOs. Third, stock up on items with a BOGO offer available. You can stock items that don't go bad quickly or something you know you will use often enough to avoid wasting it (like toilet paper). This way, you can save money even after the offer ends.
Reward Programs
Are you curious about the George's Market reward program? It's easy to join and offers many perks and benefits. To give you a glimpse, here are some things you can get as a member of this program: earn points as you shop, exclusive discount offers, and seasonal deals and amenities. All these come at an affordable price, which is easily covered by all that you can enjoy.
If all those sound exciting, well you wouldn't want to delay being a member right? Find out how to be one through our George's Market sales ad. Registration takes only a few minutes.
Exclusive Online
Shopping at George's Market can be a great way to get the things you need while saving money. With the help of Online Exclusive Offers, you can save even more, no matter your budget. With the range of offers available, there is something for everyone. You can get astonishing discounts on clothes, housewares, and home appliance deals. You must visit George's Market weekly circular or the website and start shopping for great discounts. So what are you waiting for? Visit George's Market today and take advantage of all these incredible online offers!
Free Shipping
If you don't find joy in online shopping, that's likely because of the large shipping fees. But there's a great way to go around that, which is by taking advantage of free shipping deals and vouchers. Occassionaly, stores and brands put up certain products on a free shipping deal so that when you order them during the promo period, they'll be delivered to you for free. Besides such deals, there are also vouchers that waive off shipping fees if you meet certain terms or conditions.
Whichever way you get free shipping offers, they're a great way to save money on online purchases. They can be quite hard to catch because they're so limited and exclusive, but you can get a headstart by checking out the George's Market ad and ad previews. Along with other promo deals and discounts, these ads showcase fantastic free shipping deals you cannot resist.
Find Clearance Items
By taking advantage of the store's clearance section, you can really ramp up your savings. The clearance section is typically located in the back of the store or in a distinct section within the store. You can shop here for amazing discounts through the George's Market ad on overstock inventory and seasonal items that are no longer in style.
In order to maximize your savings from clearance items, always try on anything before buying. Sometimes clothes that look nice on the hanger won't fit quite as expected once you've tried them on. Additionally, check for any stains or minor damage that may not have been noticed when putting them out on display.
Even if these items have some imperfections, they are frequently discounted, so it might be worth the purchase at a reduced price, especially when the issue is minor!
Price Matching
Are you on a tight budget this week? Then you certainly have no room for unexpected price hikes and would greatly appreciate big discounts. Luckily for you, you can find both accurate prices and amazing deals on the George's Market weekly ad. This digital resource is frequently updated so it showcases only the most recent promos and prices. Take advantage of that by using it as a reference for your week's price matching efforts and apply the featured discounts and deals accordingly.
Cashback reward program
Now and then, George's Market would offer cashback promos or coupons. Availing these offers mean would you get back a certain portion of your purchase, either as cash or store credit. Fantastic, right? However, you'll have to meet the terms and conditions, so make sure you know of those before using your coupon. You can find the coupons, along with their terms and conditions, on the George's Market coupon database. Just scroll through the collections, find the voucher, click on it, and avail when you can, but make sure to do so before the expiration date.
Shop at Right Time
If you're making a big purchase this year, here's a hack -- get it on Black Friday! This pseudo-holiday doesn't just mark the beginning of Christmas shopping season, it's also the day when shops set the lowest prices and offer the biggest discounts. Thus, if you want to get something at its cheapest, this would be one of the best days to do so. If the price isn't slashed down, you're sure to get a deal or coupon you can avail. Find all those (and more) through George's Market ad previews.
Shopping at George's Market
George's Market In-store Shopping
In-store shopping has advantages that online shoppers can't enjoy. For example, you can get the privilege of the George's Market circular with all of the upcoming sales and discounts. Thus, you will have time to prepare for bargains ahead of time. With in-store shopping, customers have access to more thorough product details, as well as personal assistance from store representatives.
Additionally, shoppers can see and feel the products for quality assurance, touch and look at various features, and compare items for sale side-by-side. By comparing prices and features side-by-side in one place, customers can make wiser purchasing decisions.
Curbside Picku at George's Market
Curbside pickup offers a number of benefits for shoppers who find themselves busy and unable to make the time for shopping. With curbside pickup, shoppers can peruse George's Market sales flyer and place their order ahead of time. It allows them to pick up their order quickly when it is ready.
Moreover, shoppers can have the convenience of avoiding crowds at George's Market and enjoy a contactless checkout experience. By planning ahead with curbside pickup, shoppers are able to save time and energy while still getting all the items they need.
Delivery at George's Market
With the convenience of home delivery, shoppers can now become smarter consumers and make better use of the George's Market sales flyer. Some stores may offer special discounts for online orders, or customers may be able to find better deals online.
By shopping from home, customers are able to compare prices from multiple stores easily. It would be difficult if shoppers had to drive to each location and try to find the best price. Doing so also protects shoppers against impulse buying decisions, as they can take their time deciding which items they truly need and want.
Online Shopping at George's Market
Online shopping offers shoppers great convenience and flexibility. Customers can select the George's Market ad, make their selections, and have the items shipped right to their homes without ever having to leave their living rooms. Online shopping is more convenient and gives customers access to lower prices because of less overhead costs when selling online.
Shopping from home eliminates the temptation to make unplanned purchases, allowing shoppers to remain on budget. Additionally, shoppers can get a greater insight into their spending habits.
George's Market App
Have you seen a George's Market ad feature the George's Market app and wonder if it's worth it? It is - aside from the online shop being one click away, you are entitled to exclusive deals, discounts, and other promo offers. The perks are many, so be sure to check your app store and install it if it's up and available!
How EveryPayJoy Help you Save?
If you're a shopaholic, there are two things you must do: bookmark the EveryPayJoy website and subscribe to its George's Market weekly ads. They are the easiest ways to get and prolong that euphoric shopping high, as they allow you access to the best deals, discounts, coupons, and other promos at George's Market. The weekly ads are easy to flip through and item prices are highly accurate and recent. The ads also specify the days they are good for and are automatically updated right after the end of the week.
Besides the weekly ads, the website also has a coupon database! All the biggest vouchers, sorted by brand for your easy perusal. Like the weekly ads, expiration dates are also indicated, so you know when you can spend them. Great way to save money, right?
EveryPayJoy also posts articles that provide great shopping tips! These writeups provide valuable and exclusive information you can use to go under or maximize your budget. All these, and the ones above, come for free so don't waste the opportunity!
Disclaimer: George's Market is a registered trademark of George's Market and is not affiliated with our company. We are not affiliated with, endorsed by, or connected to George's Market. Our use of any trademark belonging to another company is not done with the intent to confuse consumers but is rather incidental in promoting these companies and their coupons.