Fresco Supermarket Coupons, Deals & Promo Codes
Do you find shopping trips to be too much of a hassle or expense? Turn that around by using the Fresco Supermarket weekly ad for this week to plan your purchases from 03/22/2023 to 03/28/2023. It showcases most recent and exclusive promo offers, efficiently categorized into collections for easy and quick browsing.
Besides planning this week's shopping, you can also prep for future purchases using the Fresco Supermarket ad previews. Like the weekly ad, it also feature discounts and deals but are all set for the next few weeks. Thus, you get a headstart on the shopping bonanza.
But why should you plan shopping even? Isn't that a spontaneous thing to do? Once you've gone on prepared shopping trips, you wouldn't turn back - everything goes much more efficiently, as you know where, what, and how much you're getting.
Plus, the Fresco Supermarket ad introduces you to mind-blowing promos and pricedrops. Why pay full prices when you can get them slashed, right? Besides the promo deals, you can also access a Fresco Supermarket coupon database containing easy-to-use vouchers, which lowers your total even more.
Using the Fresco Supermarket ad, previews, and coupon database is effortless. There are arrows or "next" buttoms you can click on to flip from one collection to another. Then, you can zoom in on items using the scroller. If you want to get more coupon details, click on the coupon itself!

SATURDAY & SUNDAY SABADO Y DOMINGO BIRRIA DE CHIVO CON TORTILLAS HECHAS A MANO DE 8AM-3PM

HECHAS S NIXTAMAL FRESCO TORTILLA DE MAÍZ PARA TAQUITOS2 LBS FRESCO CORN 59 TORTILLAS FOR 2 TAQUITOS, 2 LBS. ea.

16 CT. ea. TORTILLA DE MAÍZ MORADO PURPLE CORN FLOUR TORTILLAS, 40 ??. $ 329 ea.

HECHAS DE NIXTAMAL FRESCO FRESCO TOSTADA DE MAÍZ PARA TACO SHELL 16 PZ. FRESCO CORN 3 TACO SHELLS. 16 ??. ea.

CUSTARD MILK.8" PAN DE ELOTE $599 CORN BREAD

CON FRUTA CHOCOFLAN CUSTARD WITH FRUIT, 8"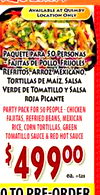 AVAILABLE AT QUIMBY LOCATION ONLY PAQUETE PARA 50 PERSONAS -FAJITAS DE POLLO FRIJOLES TORTILLAS DE MAÍZ, SALSA VERDE DE TOMATILLO Y SALSA ROJA PICANTE PARTY PACK FOR 50 PEOPLE-CHICKEN FAJITAS, REFRIED BEANS, MEXICAN RICE, CORN TORTILLAS, GREEN TOMATILLO S

TARTA DE FRUTA FRUIT TART

MIERCOLES TACOS CUALQUIER COMBINACION DE 2 CARNES TACO WEDNESDAY 4 TACOS ANY COMBINATION OF 2 MEATS ea. 66L3

- - PATRON F QUILA TRÓN VILA MI.

LERIA HECHAS DE NIXTAMAL DE MAÍZ $ 29 FRESCO CORN TOSTADA 3 16 CT. ea.

PAN PARA CAPIROTADA CAPIROTADA BREAD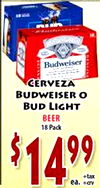 Budweiser - - - - - CERVEZA BUDWEISER o BUD LIGHT BEER 18 Pack 14 99 ea. +tax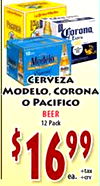 Corona CERVEZA MODELO, CORONA o PACIFICO BEER 12 Pack ea. +tax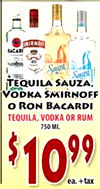 BACARI - Sauza TEQUILA SAUZA, VODKA SMIRNOFF o RON BACARDI TEQUILA, VODKA OR RUM 750 MI. 1099 +tax ea.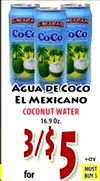 CoC CoCo oCo AGUA DE COCO EL MEXICANO COCONUT WATER 3/$ for 5 MUST BUY 3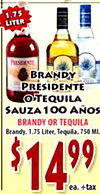 1.75 LITER BRANDY PRESIDENTE OTEQUILA SAUZA 100 AÑOS BRANDY OR TEQUILA Brandy, 1.75 Liter, Tequila, 750 ML 1499 +tax ea.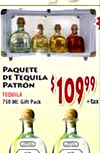 PAQUETE DE TEQUILA PATRÓN TEQUILA 750 MI. Gift Pack +tax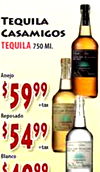 TEQUILA CASAMIGOS TEQUILA 750MI. Anejo $5999 +tax Regosado $5499 +tax Blanco
MATTER PAQUETE DE WHISKEY BUCHANAN'S MASTER WHISKEY 750 MI. Gift Pack 3999 ea. +tax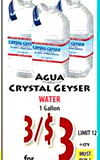 GEYSER ... AGUA CRYSTAL GEYSER WATER 1 Gallon 3/$ 3 LIMIT 12 MUST for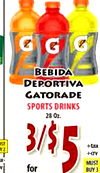 G G G BEBIDA DEPORTIVA GATORADE SPORTS DRINKS 28 Oz. IST Y2 3/$ 5 +tax MUST for BUY 3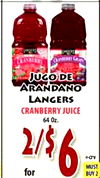 JUGO DE ARANDANO LANGERS CRANBERRY JUICE 64 Oz. 2/$ for 6 MUST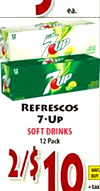 ea. 12 7up REFRESCOS SOFT DRINKS 12 Pack 2/$ 10 MUS BUY +tax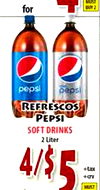 MUST for BUY2 pepsi pepsi REFRESCOS PEPSI SOFT DRINKS 2 Liter 4/$ 5 +tax MUST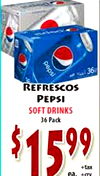 pepsi 36 REFRESCOS PEPSI SOFT DRINKS 36 Pack ea. +CTV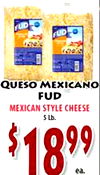 FUD FUD QUESO MEXICANO FUD MEXICAN STYLE CHEESE $ 1 899 ea.

HELADO MCCOLL'S ICE CREAM 1 Gallon 899 ea. GELATINA MARGARITAS GELATIN S 499

QUESO FRESCO CASERO EL MEXICANO 99 FRESH CHEESE 10 Oz. ea. MEXICAN MEXICANA - CREMA SOUR CREAM 99

PESCADO RAYADO STRIPPED BASS $ lb. 499

BISTEC DE BOLA BEEF TIP SIRLOIN STEAK $599 lb.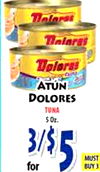 Dolores ATÚN DOLORES TUNA 5Oz. 3/$ 5 MUST for BUY3
CHAMORRO DE RES DEEC CHANK 399 ?

FAJITAS DE POLLO 2 49 CHICKEN FAJITAS W lb.
Related Brands to Fresco Supermarket
When finding top deals by the Fage, El Mexicano, Almay, Giant, White Castle, GREEN GIANT, customers can easily find great discounts on their favorite products. With the help of the Fresco Supermarket circular and Fresco Supermarket sales flyer, customers can quickly identify which brands offer the most deals and discounts. Dynamic parameters such as searchable categories and sorting filters make it easy for customers to sort through all the different brands that Fresco Supermarket offers.
Currently, there are 6 available in the store's catalog with a vast selection of products. Each brand offers unique deals and discounts; some may offer weekly or even monthly specials, while others have limited-time sales events.
Amongst this array of choices, customers can compare prices between different brands to get the prime value for their budget. This way, they can save even more money when purchasing items from their favorite brands!
Here are the popular brands we found in our database:




Fresco Supermarket Weekly Ad & Preview
Flip through Fresco Supermarket weekly ad and score the most incredible deals! Browse the collection by clicking on arrow buttons. Easily zoom in for a clearer view of each item using the scroller!
What's more – you can check out Fresco Supermarket ad previews for future dates! It's a great help in planning budgets.
How to save at Fresco Supermarket?
Shopping's never been more fun when you have access to the Fresco Supermarket weekly circular. It has all the biggest and most recent deals, discounts, vouchers, and other irresistible offers. It's effortless, too, for whether you are home, on the road, at the office, or even inside Fresco Supermarket, you can easily access the circular and flip through dozens of promo collections.
So what are you waiting for? Start browsing!
Coupons at Fresco Supermarket
Saving money at Fresco Supermarket with the help of digital coupons can be an easy, rewarding process. First and foremost, knowing how to find the right Fresco Supermarket coupon for your needs is essential. Searching online and subscribing to coupon websites are great ways to locate coupons that can be used at Fresco Supermarket. Additionally, many stores offer their own loyalty programs that frequently include discounts and special deals exclusive to members. Joining a loyalty program will also give you access to email notifications whenever new coupons become available so that you can take advantage of all savings opportunities.
When you have found the perfect coupon for your purchase, it is time to redeem them during checkout. Most retailers allow customers to apply digital coupons directly at the checkout page by entering a promotional code or clicking a link attached to the offer.If people have already signed up for an account or a loyalty program, their coupons might already be applied at checkout. If you need help with how the coupon should be redeemed, simply contact customer service for guidance on how best to take advantage of the offer.
Using digital coupons can be extremely beneficial when shopping at Fresco Supermarket, as they provide even more discounts than what would typically be available without them. It is also important to remember that retailers often limit how many coupon codes you can use per transaction. Thus, read all instructions carefully before entering any promotional codes during checkout.
Deals of the Week
Saving at Fresco Supermarket with the help of weekly specials and deals of the week is a great way to get the most out of your money. By taking advantage of these weekly offers, you can stock up on essential household supplies. There are several ways to take advantage of these deals.
First, be sure to check the store's website before shopping. This will allow you to see what kinds of products are on discount. The Weekly Specials/Deals section will also list any coupons available for additional savings. Be sure to read all product descriptions carefully to know which items qualify for the special price or coupon code.
Another way to maximize savings is by signing up for the store's email newsletter. Many retailers will send out exclusive weekly deals through this service, allowing customers to save even more on their purchases.
By taking advantage of Weekly Specials/Deals of the Fresco Supermarket weekly ad, you will get great deals on everything from groceries and apparel to electronics and housewares. Whether online or in-store, these specials are a great way to save money without sacrificing quality!
BOGOs
Get your shopping gals and guys ready because all of you are about to discover one of the greatest shopping hacks - this Fresco Supermarket sales flyer containing the most exclusive and recent BOGO or buy one get one deals, from BOGO free to BOGO discounts. This flyer is updated regularly, so before you go on shopping sprees, check it out so you don't miss on such amazing steals.
Reward Programs
Shopping at Fresco Supermarket is a great way to save money in more than one way. Their reward program and membership offer customers exclusive discounts, exclusive offers, and special deals. Members can get access to early sales during the holiday season and are eligible for additional discounts when they shop in-store or online.
The rewards program is easy to use. Simply log into your account on Fresco Supermarket's website or app and enter your payment information. Start earning points for every in-store and online purchase. You can redeem your rewards points when shopping in-store or online by selecting the option to pay with a rewards point balance at checkout.
Signing up for Fresco Supermarket's membership-based reward program is easy and incredibly rewarding. With exclusive benefits like discounted prices on all purchases and early access to sales before non-members,- it's a no-brainer way to save while shopping at Fresco Supermarket. Take advantage of this amazing opportunity today and never miss out on the next Fresco Supermarket ad.
Exclusive Online
Online shopping fans, like you, are there for the convenience, variety, and swiftness. But once you get access to online exclusive offers, the deal gets sealed - you won't be doing shopping any other way anymore.
But how do you even find such big offers? Easy - subscribe to Fresco Supermarket weekly circular. It features the biggest sales, discounts, and coupons, all at the tip of your fingers.
Leverage Free Shipping
If you don't find joy in online shopping, that's likely because of the large shipping fees. But there's a great way to go around that, which is by taking advantage of free shipping deals and vouchers. Occassionaly, stores and brands put up certain products on a free shipping deal so that when you order them during the promo period, they'll be delivered to you for free. Besides such deals, there are also vouchers that waive off shipping fees if you meet certain terms or conditions.
Whichever way you get free shipping offers, they're a great way to save money on online purchases. They can be quite hard to catch because they're so limited and exclusive, but you can get a headstart by checking out the Fresco Supermarket ad and ad previews. Along with other promo deals and discounts, these ads showcase fantastic free shipping deals you cannot resist.
Clearance
Shopping at Fresco Supermarket just got a whole lot easier, thanks to the new clearance offers. Clearance offers allow shoppers to save on items that are no longer available or have been reduced in price due to overstocking. Thanks to these special discounts, shoppers can stock up on items like clothing and home furnishings for much less than full price.
To take advantage of clearance offers, shoppers should search for products that are listed as "clearance" and make sure to read any accompanying descriptions before making a purchase. With the power of clearance offers, savvy shoppers can maintain their budgets while still getting great deals from the Fresco Supermarket ad.
Price Match at Fresco Supermarket
Price matching on the Fresco Supermarket weekly circular has become a great way to save money while still being able to shop where you want. Price matching is searching for the same product, or one similar to it, on another site at a lower price. Furthermore, you can ask the Fresco Supermarket to match that price. It is so simple, just shop online and keep your eye out for better deals elsewhere.
Once you have found the item elsewhere more cheaply, tell Fresco Supermarket, and they will match it. Of course, some restrictions do apply. However, with just a few minutes of research and looking around, shoppers can easily use this great tool and save a lot of money.
Cashback Program
What's a cashback? It's as straightforward as it sounds - you get money or cash back to you after you purchase a certain product. It's a one-of-a-kind deal, just like buy one get one, free shipping, and big discount promos. Like the other offers, you just have to meet the terms and conditions to avail! If you want to know more about it (and discover huge promos), then check out the Fresco Supermarket coupon database. It's got all the info you need (and more!).
Shop at Right Time
Want to go on a shopping spree at Fresco Supermarket? Plan it first! To do so, start by deciding on the "when"? Well there's no better moment to go shopping than when promos are at their peak. This happens a few times a year, such as during Black Friday, back to school, Christmas, and more. So make sure set the date for those days because they're the right time to shop til you drop.
Also, you'll need to set a budget. While you can put down a certain amount and go with it on the day itself, it's best to check out prices, deals, and discounts in advance. You can do that with Fresco Supermarket ad previews! They let you sneak a peek on what future promos Fresco Supermarket plans to launch, so planning that shopping spree is a breeze!
Shopping at Fresco Supermarket
Fresco Supermarket In-store Shopping
In-store shopping is the most classic way to shop. For some, it's even a ritual or a way to de-stress from a hectic week. Especially for shopaholics, nothing feels more comforting than walking along the newly-stocked aisles, assessing items, and checking out products.
If you're that kind of person, you'd think the experience would hardly get better. But it does, when you use the Fresco Supermarket sales flyer. It updates you on the latest deals and promos, so you're always informed of the most recent and best offers.
Curbside Pickup
If you live far from your local Fresco Supermarket, it can be frustrating to go there and find out that the product you need isn't on stock. To avoid such failed shopping trips, here's a simple hack: curbside pickup! Through this service, you can place an order in advance (check the Fresco Supermarket flyer to know how), schedule it for pickup at a time and location nearest to you, and get them when they're ready and convenient for you! In this way, you're sure you get what you need without the risk of wasting transport costs and effort!
Delivery
If you don't have time to do the groceries and shopping, don't fret! Instead, use the Fresco Supermarket weekly ad this week to see if your local Fresco Supermarket allows online shopping AND delivery. You can use those services to get everything you need with a few finger taps and clicks. Once you're done paying, you can just work on other things and wait for the package to arrive -- really convenient and time-saving.
Online Shopping
Are you spending too much time on the Net? You might as well make that productive by doing some shopping! Yes, you can get groceries, school items, fashion accessories, and other needs without even leaving your home. All your purchases are delivered, too, so all you really have to do is make a few taps and wait! So, what are you waiting for? Check the Fresco Supermarket circular and see if your local Fresco Supermarket has an online version!
Fresco Supermarket App
Fresco Supermarket app has helped make it easier to keep up with the Fresco Supermarket ads and specials. By downloading the app, shoppers can access Fresco Supermarket flyer before it's even posted in the Fresco Supermarket. This means shoppers can be sure they are getting the best deals, helping them save money on their purchases. With the Fresco Supermarket app, all of Fresco Supermarket's hottest items are only a touch away! Plus, Fresco Supermarket often offers exclusive discounts through the app, giving savvy shoppers an additional edge.
How EveryPayJoy Help you Save?
Want to find the weekly ads, deals, discounts, coupons, and sales flyers of ALL stores in ONE place? Sounds impossible but a website for that is up and running already. Check out open-access website called EveryPayJoy - it has all the promos you need, such as the Fresco Supermarket weekly ads, Fresco Supermarket sales flyers, brand coupons, and more. You don't even have to pay or get a subscription!
However, if you want to be notified of the latest deals, you can provide your email. Soon enough, you'll regularly receive news and updates regarding promos from various stores, especially your favorite ones. You'll also know when, where, and how to get those deals. Use those info wisely, and you'd enjoy shopping more and stick to budget better.
If that isn't enough, you can also visit the site's coupon database. Everything is sorted by brand, so if you were planning to make a big purchase at a certain store, check first if they have a coupon or two you can use. After all, you'd want to save as much as you can!
Disclaimer: Fresco Supermarket is a registered trademark of Fresco Supermarket and is not affiliated with our company. We are not affiliated with, endorsed by, or connected to Fresco Supermarket. Our use of any trademark belonging to another company is not done with the intent to confuse consumers but is rather incidental in promoting these companies and their coupons.