El Super Coupons, Deals & Promo Codes
Reading the El Super weekly ad this week is easy, and you can do it in a few simple steps. First, you must scroll through the Ad Preview above to see all the items available at discounted prices this week. Next, you can sort through the categories to find what you are looking for.
You will surprisingly find multiple categories, including self-care, pet supplies, deli, fresh meat, frozen foods, and many more. Lastly, you can check out the coupons associated with each item in the coupon database for additional savings.
Reading this El Super ad is crucial because it offers discounts on items that may not be available when purchasing them at the total price. Additionally, it can help customers save money by providing information on particular products that may have been on sale, but people may have missed when shopping usually. It also provides shoppers with information regarding sales and promotions they wouldn't have known about otherwise.
The store's weekly ad will continue from 03/22/2023 to 03/28/2023, so be sure to check back often to keep up with the latest available discounts and deals. You will get 36 spectacular deals to help you save even more money on your purchases.
The El Super coupon is one of the best ways to get extra savings when shopping at El Super. Coupons usually come with special deals such as free items or buy one get one free deals, which can help you save significantly on your purchase. Be sure to take advantage of these offers if they are available!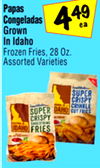 Grown In Idaho Frozen Fries
$4.49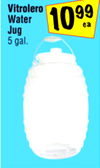 Vitrolero Water Jug
$10.99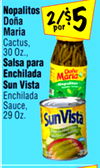 Tajin 5 Oz., Camaronazo Cocktail, 32 Oz.
2 por $5.0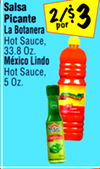 La Botanera Hot Sauce, 33.8 Oz. México Lindo Hot Sauce, 5 Oz.
2 por $3.0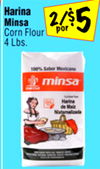 Sun Vista Beans 29-30 Oz., California Girl Sardines, 15 Oz
3 por $5.0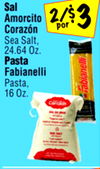 Corazón Sea Salt, 24.64 Oz., Fabianelli Pasta, 16 Oz.
2 por $3.0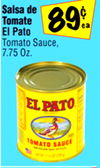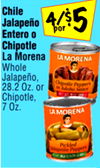 La Morena Whole Jalapeño, 28.2 Oz. or Chipotle, 7 Oz.
4 por $5.0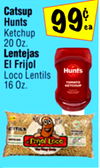 Hunts Ketchup, 20 Oz., Loco Lentils 16 Oz.
$0.99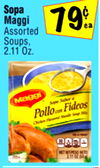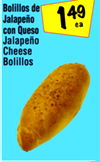 Jalapeño Cheese Bolillos
$1.49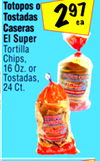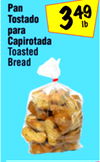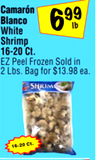 White Shrimp 16-20 Ct.
$6.99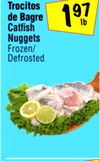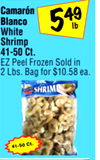 White Shrimp 41-50 Ct.
$5.49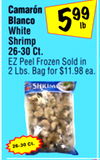 26-30 Ct. White Shrimp
$5.99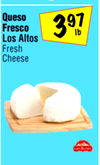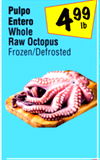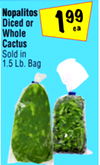 Diced or Whole Cactus
$1.99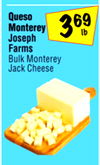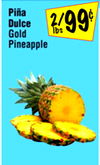 Budweiser, Bud Light, Coors Light, Tecate o Tecate Light 18 Pk., 12 Oz. Cans Sol 12 Pk., 11.2 Oz. Bottles Sol Chelada 12 Pk., 12 Oz. Cans
$15.99


Budweiser, Bud Light, Coors Light, Miller Lite, Tecate o Tecate Light
$10.99



Mexican Squash or Tomatillo
2/ $0.99



Fresh Boneless Pork Stew Meat or Cushion Meat
$1.99
El Super Deals by Brands
When it comes to El Super deals by brand, a range of options are available. With the El Super circular and El Super sales flyer, customers can stay updated with the latest deals and offers. The dynamic parameters between brands vary, depending on the 12 brands present in the El Super.
Look at our Nabisco, FUD, which features some of the biggest names in retail and offers fantastic deals. From clothing to home goods, electronics to beauty products, there is something for everyone here at El Super. Plus, with our exclusive discounts and special offers, you can save even more when shopping with us. We strive to bring you the best promos from every brand we feature so you never miss out on significant savings.
Whether seasonal specials or year-round promotions, take advantage of all our top offers and enjoy unbeatable prices on high-quality products from leading brands.
El Super Weekly Ad & Preview
Are you looking to plan your grocery shopping trip for the upcoming week? Look no further – with El Super Weekly Ad. You can get a sneak peek at the deals and discounts coming soon! With this handy guide on El Super ad, you can keep an eye out for new offers and discounts available each week to score some amazing deals at El Super.
How to save at El Super?
Do you ever wish that you could save more when shopping at El Super? If so, then you are in luck! With a few simple strategies and the right tips, anyone can save big and find awesome discounts. Learn how to shop smarter and get amazing deals exclusively from El Super weekly circular. All of the information on how to maximize your savings when shopping with El Super is here. Just read on to begin saving today.
El Super Digital Coupons
Want a wallet full of coupons? You can do better with this massive digital database of El Super coupons! Not only are they much, much more lightweight than a purse bursting with voucher stubs, they're also more updated and comprehensive. Indeed, this database aims to cover each and every digital voucher you can use El Super. Thus, it is regularly updated so you always get an influx of the freshest and most exclusive offers.
You can also click on each coupon to find pertinent details, such as terms, conditions, discount caps, and expiration dates. You can either save them for future purchases or redeem right away.
El Super Weekly Specials
When do you think stores have special deals? Monthly? Seasonal? Every anniversary? Well, what if you find out that they have them EVERY WEEK!
At El Super, you get frequent, big savings when you take advantage of the weekly specials or deals. They're the best way to maximize your regular shopping trips with minimal effort. To find these deals and stay updated, you can check out the El Super weekly ad.
This weekly ad showcases hundreds of product promos, organized into collections such as household items, fashion stuff, accessories, and more. Make sure to view it regularly as the ad is updated every week, with bonuses and promos getting bigger and better with every turn.
BOGOs
Savvy shoppers know the secret to saving money is to look for buy-one-get-one (BOGO) deals. At El Super ad, these BOGO offers can be found in many departments and offer an excellent way to get two items for the price of one.
Customers should familiarize themselves with the store's specials to take advantage of BOGO deals at El Super. You can do this by checking out the weekly circular or asking a customer service representative. BOGOs can often be found in multiple departments, such as Grocery, Shoes, Home Decor, and more. Customers should also note that some BOGOs are limited time only and are available for a few days or just one day.
Overall, finding great deals at El Super with the help of BOGOs is easy if you know what to look for and how best to use them. You can maximize your savings by combining different offers and promotions along with BOGO-free offers throughout the store. This way, you will get top-notch quality products at unbeatable prices.
Reward Programs
You can now shop at El Super and earn rewards with their reward program/membership. By becoming a member, you can save money when shopping for your favorite items and get exclusive offers, discounts, El Super coupons, and special promotions. Every purchase will earn you points which accumulate the more you shop, eventually leading to unbelievable savings.
Additionally, certain memberships even notify shoppers of upcoming sales so you can be sure to shop for your desired item at the best possible price. In conclusion, don't miss out on the chance to shop and earn rewards at El Super's Reward Program/Membership. It is an unbeatable deal.
Exclusive Online
Shopping at El Super doesn't have to break the bank. Fortunately, there are numerous discounts and bargains available if you know how to look. One great way is to take advantage of the Online Exclusive Offers on the store's website. By signing up for their loyalty program, shoppers receive exclusive coupons and deals that last all year long. With these offers available through the El Super weekly ad, shoppers can save big on a variety of products.
Leverage Free Shipping
Are you about to check out an item on your cart? Don't do that yet! Find out first if you can have it shipped for free through the El Super ad! It's a digital resource that features many promos, including free shipping deals and vouchers. Saves you a lot of money, so make sure to bookmark it for future purchases.
Clearance
Shopping at El Super doesn't have to mean breaking the bank. With the help of their clearance section, you can still buy quality items without succumbing to impulse buys. Clearance items offer a variety of products, from clothing to furniture and appliances, all at hugely discounted prices.
Shopping carefully in this section would ensure you get the best value for your money. Furthermore, don't forget about the El Super sales flyer, which further reduces the prices for a limited time. So if you are looking for ways to save money at El Super, take advantage of their clearance and sales.
Price Match at El Super
Price matching is a great way to save big at the El Super sales ad. This useful policy allows shoppers to adjust their purchase amount based on the prices of the same item at competing stores. Meaning you never have to worry about spending too much.
To use the price matching guarantee, simply bring the current price from a competitor and inform the El Super staff. If their product is substantially similar, they will match it, and you can save some money on your purchase. With price matching at El Super, rest assured that you wouldn't have to leave empty-handed due to inflated prices.
Cashback Program
Want a little something extra after your grand shopping spree? Then hold on to some El Super cashback coupons! Read their terms and conditions so you know when to use them. Each coupon entitles you to get a little something back after every qualified purchase, so you'll end up getting stuff for much less than they should. This impressive deal is quite rare, but when you have access to the El Super coupon database, they're easier to find anytime, anywhere.
Shop at Right Time
Shopping at El Super can be a great opportunity to snag some fantastic deals. One of the best ways to save at El Super weekly ad is to pay attention to the mega sales that happen periodically throughout the year. These sales offer fantastic discounts across all departments, allowing shoppers to save big.
To make sure you don't miss these savings opportunities, simply sign up for the store's email list and follow any pages on social media that they have created. Notifications will come directly to your news feed or inbox whenever a new sale launches so that you can take advantage of it right away. Shopping during one of these sales will help you stock up on essentials while keeping money in your pocket.
Shopping at El Super
El Super In-store Shopping
Heading out to your local El Super? Seems like you're forgetting something ...
You forgot to check out the latest El Super sales flyer! It's the greatest in-store shopping hack as you can use it to find deals, promos, and prices even before you've stepped out of your home. If you use it wisely, you can plan your shopping trip more efficiently, as you know where, when, and how to make the best purchases.
Curbside Picku at El Super
For those looking for ways to pick up items from El Super without having to enter the premises, the curbside pickup may be a great advantage. Shopping online has some great benefits! You can avoid long lines and save time. You might also find special offers that the store is running, as well as grab some even better deals from the El Super sales flyer. With curbside pickup, El Super customers can take advantage of offers without leaving their car or home.
Delivery at El Super
Why go to the local El Super, when the local El Super can come to you? More stores are offering delivery services, and of course, El Super isn't late to the trend. A delivery option is convenient for many who can't leave their home, or purchased items that are too difficult to transport. If you're interested, check out if you're local El Super is offering delivery through the El Super weekly ad this week. You'll also find there instructions and it may also direct you to credible delivery apps, like instacart. It's regularly updated, so you're sure that the info provided is accurate.
Online Shopping at El Super
If you're a prolific shopper, you should check if your local El Super has an online shop! This would make grocery and other shopping trips more effortless, and save you the time it takes to get to the store, wander aisles, and get home. Moreover, it can be money-saving, especially if you use the deals, discounts, vouchers, and other applicable promos featured on the El Super circular. Also, you might find items not on stock or available in-store, but are offered online!
Mobile Digital App
Have you seen a El Super ad showcasing El Super online store or app? If you did, that's a sign to visit your fave app store, see if the app's up for download, and install it right away! With the app on your phone, everything you need is one tap away, which will save you a lot of time, effort, and stress.
How EveryPayJoy Help you Save?
Everypayjoy is a great website to help you save money on everyday purchases. It provides access to the El Super sales flyer and exclusive deals so users can find the best prices and discounts available. With Everypayjoy, you will not miss any no savings opportunities.
The website has a simple design that helps users quickly find what they need without sacrificing quality or spending more than necessary. On top of providing deals and coupons for its users, Everypajoy also offers a vast selection of products, from clothing, frozen items, furniture, electronics, and more, in the sales flyer.
Additionally, using Everypayjoy means staying up-to-date with all the latest discounts and offers from your favorite stores. With [store[ weekly ads provided straight to your inbox, you can make sure that you always know when there are new opportunities for saving money on items that you need or want.
Overall, EverypayJoy is an excellent resource for savings on everyday purchases. There are always new ways to save with this website, whether coupons or weekly ads from popular stores. So, why not take advantage? You can quickly maximize your budget with just a few clicks and an eye out for those astonishing deals.
Disclaimer: El Super is a registered trademark of El Super and is not affiliated with our company. We are not affiliated with, endorsed by, or connected to El Super. Our use of any trademark belonging to another company is not done with the intent to confuse consumers but is rather incidental in promoting these companies and their coupons.