Cermak Fresh Market Coupons, Deals & Promo Codes
Being forced to go out of your shopping budget is a real kicker, especially when you're saving money. With prices increasing more often than before, these incidents get even more frequent.
Is there a way to stay updated with prices and promos without leaving your house? There is, and it's by using the Cermak Fresh Market weekly ad for this week. It's a digital circular that displays all the amazing pricedrops and discounts exclusive from 06/23/2021 to 06/29/2021.
You can treat the Cermak Fresh Market ad like the most recent catalog. Flip through pages of product collections using arrows or the "next" button. Once you come across some products you need to buy, zoom in using your scroller to view the prices, product info, and other details. As these prices are set for this week, your budget is more accurate than before!
If you're not doing shopping this week, you may be more interested in the Cermak Fresh Market ad previews. These previews show a limited number of promos and discounts for the next few weeks, so you can write your shopping list and set your budget ahead of time!
To further maximize your budget, get a voucher from the Cermak Fresh Market coupon database! When applied with the Cermak Fresh Market weekly ad discounts, you don't just prevent overspending - you might even get save more money than expected.
We cannot find Cermak Fresh Market coupons and deals in our database, here are the recommended deals for you:

Beef Boneless Chuck Roast
$7.99

U.S.D.A. Gov't. Inspected ANY SIZE PKG. Rib Eye Roll Steak Lomo De Res..............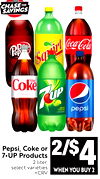 Pepsi, Coke or 7 • UP Products
2/ $4.0


U.S.D.A. CHOICE Premium Angus Choice Eye of Round Roast.....

SAUSAGE "Premium" Pork Sausage - - - Links PREMIUM SAUSAGE "Mild" or Maple or Patties $3.99 ea. "Mild", 12 oz. pkg.
Thin Sliced or Tenders
$6.99

Catelli Fresh Ground Veal 1 lb. average $6.99th

U.S.G.I. Midwestern Raised "All-Natural" Pork Baby Back Ribs Previously Frozen, 1 pc 299 lb.

U.S.D.A. CHOICE ???? HALAL Fresh 1 lb. average Ground Lamb $10.99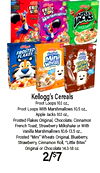 DOCE FRO FROOT APPLE JACKS FROSTED FLAKES Mini Wheats - little bites Kellogg's Cereals Froot Loops 10.1 oz. Froot Loops With Marshmallows 10.5 oz. Apple Jacks 10J oz., Frosted Flakes Original, Chocolate, Cinnamon French Toast, Strawberry Milkshake or With

13/15 ct. Colossal 16/20 ct. Extra Jumbo 21/30 ct. Jumbo or 41/50 ct.
BUY 1 GET 1 FREE EQUAL OR LESSER VALUE

Branding Iron Ranch Seasoned Carne Asada
$9.99

all natural all natural BUTTERBALL - "All-Natural" 85% Ground oz. pkg. Lean Turkey $3.99 SMILIA ea. 16 Lean 93% Ground pkg. Turkey $4.59 ea. 16 oz.

Little Journey Safety Gate
$29.99

Angelo's signature Marinated Chicken Cutlets Mediterannean Herb & Spices, Rosemary & Herbs or Garlic & Parmesan ........


U.S.D.A. Grade "A" Fresh Poultry Chicken "Pinwheels"


Wild Ahi Tuna Steaks
$7.99

SWAGGERTYS FARM PREMIUM SWAGGERTYS FARM SWAGGERTYS PREMIUM FARM SAUSAGE "Premium" Pork Sausage Hot Rolls oz. NET WT pkg... 14.00 $3.99 Mill ea. or "Mild", 16

FAMILY Bob Evans SIZE Bob Evans FAMILY Original SIZE Macaroni & Cheese Bob Evans "Family Size" - Mashed Potatoes or Macaroni & Original, 28-32 Cheese oz. pkg........ $4.99 ea.

U.S.D.A. ANY SIZE PKG. Gov't. Inspected 85% Lean Ground Burger Patties $5.49 lb. 85% Lean Ground Chuck

Foster Farms Fresh Chicken Drumsticks, Thighs, Leg Quarters or Picnic Pack

U.S.D.A. CHOICE Premium Angus Choice Top Sirloin Steak....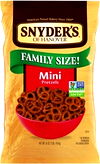 U.S.D.A. CHOICE ???? HALAL Fresh


CHOICE Premium Angus Choice Beef Skirt Steak Arrachera, Untrimmed 899 lb. Choice Trimmed Beef Skirt Steak, $10.99 lb.

CARANDO CARANDO SICILIAN Italian-Style Meatballs Abruzzese, Sicilian ea. or Rustica, 16 oz. pkg........

Grass Run Farms 85% Lean Ground Beef
$7.99

U.S.D.A. CHOICE Premium Angus Choice FAMILY PACK "Thin-Sliced" "Braccioli" Sandwich Steaks $4.99 lb

Zoa or Bang Energy Drink
2/ $4.0
Related Brands to Cermak Fresh Market
Shopping at Cermak Fresh Market with their sales flyer and circular is a great way to find unlimited deals on top brands. With over 6 different brands, shoppers can be sure they are getting a fantastic selection of products. You will find 6 reputable brands in Sunnyside Farms, Talenti, Maseca, Eridanous, SPORTS AFIELD, Revlon that will make sure that you get what you need at excellent prices.
Shopping with the Cermak Fresh Market sales flyer is different. When looking for top deals, you must check out all the brands available to find the best value for your budget. No matter what type of product you are looking for, there's something for everyone at Cermak Fresh Market circular.
With dynamic parameters and regular updates on the latest discounts and deals, customers can take advantage of unbeatable prices on quality items from top brands. Additionally, shoppers have access to detailed product features, so they know what they're buying before making their purchase.
Here are the popular brands we found in our database:
Cermak Fresh Market Weekly Ad & Preview
Are you looking for the best deals and savings on your favorite items? Look no further than Cermak Fresh Market ad! Our Cermak Fresh Market weekly ad is full of amazing discounts and offers so that you can get the most out of your shopping experience. We make sure to update our feed frequently and keep it up to date with all the latest sales and deals. So what are you waiting for? Head to Cermak Fresh Market webpage or click next and browse the extensive list of discounted items.
How to save at Cermak Fresh Market?
Shopping at Cermak Fresh Market doesn't have to cost a fortune. There are plenty of ways to save without sacrificing the products and services you need. Whether taking advantage of limited-time deals, using Cermak Fresh Market coupons, or signing up for rewards programs, getting the most out of shopping at Cermak Fresh Market is easy with a few simple strategies. With a bit of effort, you will be able to maximize your savings and stay within budget every time.
Cermak Fresh Market Digital Coupons
Shopping at Cermak Fresh Market with Digital Coupons can help you save a lot of money! By taking advantage of the digital Cermak Fresh Market coupons available, customers can stock up on all their favorite items while also keeping their budgets in check. Here are some tips to get the most out of your digital coupon shopping experience:
1. Start by searching for digital coupons online. There are websites and apps specifically for finding and using digital coupons. So, take advantage of these tools to make sure you have access to the best deals. Make sure to read the description for each coupon before using it, as some coupons may have restrictions or expiration dates.
2. Sign up for email alerts from Cermak Fresh Market. Many stores offer discounts and coupon codes through their email lists. Thus, sign up and stay informed about upcoming sales and promotions. This way, you will always take advantage of a great deal.
3. Combine multiple coupons when possible. If you have numerous digital coupons from different sources (such as emails, store websites, and apps), see if you can combine them into one transaction. This could result in some significant savings. Make sure that the terms and conditions allow it before proceeding with the purchase.
Overall, shopping at Cermak Fresh Market is always more fun when saving money is involved and digital coupons provide just that opportunity. So remember to take advantage of all those fabulous discounts offered through digital coupons.
Cermak Fresh Market Weekly Specials
The Internet is full of amazing treasures and one you shouldn't miss is this Cermak Fresh Market weekly ad! While you might think it's a catalog full of temptations, once you take advantage of it, you realized it's a practical resource you can use to compare prices, find discounted items, and discover terrific deals. Thus, one of the best ways to maximize your budget.
Moreover, it doesn't take much time or effort to use. You just have to click on buttons or icons. Products are organized by collection, so if you know what you're looking for, finding it is quicker. But there's also joy in just idly flipping through the collections - you find unexpected and exclusive deals you would've missed out on if you just skipped pages.
Cermak Fresh Market BOGO
Are you about to stock up on some items? Before buying them in lots, check out the Cermak Fresh Market sales flyer first! The flyer lets you peek into future promos, and you might find fantastic offers like buy one get one or BOGO deals. These deals let you get an item for free or at a discounter price - a money-saving hack for bulk buyers like you!
So, what are you waiting for? Check out the ad preview, find those deals, make your budget, and be ready to grab them all soon.
Membership Program
Do you want to shop, earn, and save? While all those three don't seem to go along often, you can have them all if you're part of the Cermak Fresh Market reward program. That's because membership to the program gives you access to exclusive deals AND grants you points when you reach a certain amount everytime you shop. The points you earn can be used for future purchases, so you can save even more!
To learn more about the reward program, check out the Cermak Fresh Market sales ad. You'll also find there the instructions for membership application.
Exclusive Online
Online shopping fans, like you, are there for the convenience, variety, and swiftness. But once you get access to online exclusive offers, the deal gets sealed - you won't be doing shopping any other way anymore.
But how do you even find such big offers? Easy - subscribe to Cermak Fresh Market weekly circular. It features the biggest sales, discounts, and coupons, all at the tip of your fingers.
Free Shipping
Splurge all you want online because there are no shipping fees to stop you. That's right, you can buy online with free shipping fees and that's possible if you regularly check the Cermak Fresh Market ad! You can find there all the most exclusive and biggest free shipping deals and vouchers for you to enjoy. Follow the detailed instructions on redeeming the deal or voucher to enjoy this perk.
Find Clearance Items
Avid shoppers know clearance sales are practically treasure troves. So many great pieces at very low prices. But there's a trick to a successful treasure hunt - be there to find the amazing items first. If you're late to the party, chances are the good stuff are all taken already.
To help you be on time for clearance sales, maybe even early, watch out for announcements or teasers on the Cermak Fresh Market sales flyer. Make sure to mark the first day and be there to open the doors and have your fill.
Price Matching
Price Matching is a great way to save money while shopping at Cermak Fresh Market. It allows customers to compare prices and get the lowest cost for the same items they want. Here's how it works:
Before you shop, do some research and take note of which stores have lower prices for the products you're interested in buying. Ensure these prices are still active when you are ready to purchase.
Price matching isn't limited to just one item. By taking advantage of Price Match policies, customers can save time and money by receiving guaranteed low prices on their purchases from Cermak Fresh Market sales flyer.
Cashback Program
Losing money after you spend is the norm, but why don't you turn the tables now and then by using Cermak Fresh Market cashback coupons. When you use those vouchers, you get some money back after paying for your purchase, so while you gain and save some! You can then spend that little something more on something fun, necessary, or just keep it for future rainy days.
If you're interested in finding some cashback coupons, try digging into the Cermak Fresh Market coupon database. It's the biggest collection of vouchers that allow cashbacks, discounts, and more!
Shop at Right Time
Shopping for the things you need can easily become expensive. However, with a little bit of planning and foresight, it is possible to save money at Cermak Fresh Market by shopping at the right time. Black Friday, Back to School, and Mega Sales are great times to plan your shopping trip to Cermak Fresh Market.
Taking advantage of these special days/events will go a long way in helping you get the items you need without breaking your budget. Thus, if it is time for you to shop around the Cermak Fresh Market ad, keep an eye out when these special savings events take place so that you can save big.
Shopping at Cermak Fresh Market
Cermak Fresh Market In-store Shopping
In-store shopping is the most classic way to shop. For some, it's even a ritual or a way to de-stress from a hectic week. Especially for shopaholics, nothing feels more comforting than walking along the newly-stocked aisles, assessing items, and checking out products.
If you're that kind of person, you'd think the experience would hardly get better. But it does, when you use the Cermak Fresh Market sales flyer. It updates you on the latest deals and promos, so you're always informed of the most recent and best offers.
Curbside Picku at Cermak Fresh Market
If you live far from your local Cermak Fresh Market, it can be frustrating to go there and find out that the product you need isn't on stock. To avoid such failed shopping trips, here's a simple hack: curbside pickup! Through this service, you can place an order in advance (check the Cermak Fresh Market flyer to know how), schedule it for pickup at a time and location nearest to you, and get them when they're ready and convenient for you! In this way, you're sure you get what you need without the risk of wasting transport costs and effort!
Delivery at Cermak Fresh Market
Shopping online using delivery services can be beneficial, especially when one has limited time to visit the Cermak Fresh Market. With ads and Cermak Fresh Market sales flyer easily available online, shoppers can quickly and efficiently compare prices. Furthermore, you can enjoy exclusive discounts for new customers that may not be offered in-store.
Delivery services can help busy people. They can spend their time on other things. They don't have to wait in line or carry shopping bags. Delivery can even provide access to items that are not available nearby, opening up the opportunity for a wider selection of products and brands to choose from.
Online Shopping
Online shopping offers shoppers the most convenient and varied shopping experiences imaginable. Consumers can easily research Cermak Fresh Market ad online and compare prices across multiple retailers. Now customers can just log onto the web and view real-time pricing information from every store at once.
Additionally, online shoppers are typically able to purchase items at deeper discounts than those offered through traditional retail outlets. By shopping online, consumers have the power to get their hands on items that would otherwise be out of reach due to physical location.
Cermak Fresh Market App
Her are two shopping tips: check your fave app store and see if the Cermak Fresh Market app is already availble AND subscribe to the Cermak Fresh Market ad. The app allows you to buy things wherever and whenever, in the most effortless way possible. Meanwhile, an ad subscription makes sure you don't miss out on the biggest and most exclusive deals and promos.
How EveryPayJoy Help you Save?
If you want to find the latest promo updates from Cermak Fresh Market, you should subscribe to the Cermak Fresh Market weekly ads! It features many discounted products, huge deals, and other irresistible offers. Subscription is easy as you only have to open the EveryPayJoy website, provide your email to the subscription box, and all the fresh news comes through automatically and regularly.
Also, while you're at the EveryPayJoy site, make sure to bookmark it. It's a fantastic shopping resource that is full of coupons, articles, and Cermak Fresh Market sales flyers. All are organized diligently, so you can easily find coupons from certain brands or access offers from a certain store. Plus, you won't have to worry about outdated deals - all the offers and promos are updated regularly, plus you can easily see the expiration dates for both the weekly ads and the coupons.
Moreover, you don't really need a specific agenda to use the EveryPayJoy site. You don't even have to pay! You can flip through collections and materials idly and if you find something you like, availing the offer is really easy.
Disclaimer: Cermak Fresh Market is a registered trademark of Cermak Fresh Market and is not affiliated with our company. We are not affiliated with, endorsed by, or connected to Cermak Fresh Market. Our use of any trademark belonging to another company is not done with the intent to confuse consumers but is rather incidental in promoting these companies and their coupons.