Carniceria La Guadalajara Coupons, Deals & Promo Codes
Do you find shopping trips to be too much of a hassle or expense? Turn that around by using the Carniceria La Guadalajara weekly ad for this week to plan your purchases from 05/31/2023 to 06/06/2023. It showcases most recent and exclusive promo offers, efficiently categorized into collections for easy and quick browsing.
Besides planning this week's shopping, you can also prep for future purchases using the Carniceria La Guadalajara ad previews. Like the weekly ad, it also feature discounts and deals but are all set for the next few weeks. Thus, you get a headstart on the shopping bonanza.
But why should you plan shopping even? Isn't that a spontaneous thing to do? Once you've gone on prepared shopping trips, you wouldn't turn back - everything goes much more efficiently, as you know where, what, and how much you're getting.
Plus, the Carniceria La Guadalajara ad introduces you to mind-blowing promos and pricedrops. Why pay full prices when you can get them slashed, right? Besides the promo deals, you can also access a Carniceria La Guadalajara coupon database containing easy-to-use vouchers, which lowers your total even more.
Using the Carniceria La Guadalajara ad, previews, and coupon database is effortless. There are arrows or "next" buttoms you can click on to flip from one collection to another. Then, you can zoom in on items using the scroller. If you want to get more coupon details, click on the coupon itself!
SOPAS LA MODERNA PASTAS ZA MODERNA SALE ZA MODERNA - $ 3 PZ 199

FRIJOL PINTO DE LA OLLA PINTO EL MEX BEANS 40oz EL MEXICANO JOLES DE LA OLLA PINTO BEANS SALE 59 FRIJOLES DE LA OLLA PINTO BEANS 4 EA

Campesino Campesino SALE CREMA MEXICANA CAMPESINO SOUR CREAM 3 59 EA

Campesino SALE CUAJADA REGULAR O PICOSA 4 99 CAMPESINO EA

SALE CHICHARRON PRENSADO 4 99 EA

SALE PATITA DE RES BEEF FEET LB
CAFE LEGAL COFFEE 200g Legal CAFE SOLUBLE SALE EA

WHITE HOMINY EL MEX EL MEXICANO EL MEXICANO Mexicano SALE EA

SALE MENUDO REGULAR 2 79 LB

NESQUIK CHOCOLATE Nestle Nesquik NUEVO SALE Chocolate 4 99 EA

CARNATION CLAVEL MILK Nestle Carnation 100% Leche evaporado SALE 3 PZ $5

Campesino - - SALE CHORIZO SALVADOREÑO 5 79 EA

Campesino SALE QUESO CREMOSO CAMPESINO 4 59 CREAMY CHEESE EA

ACEITE 123 VEGETABLE OIL etable O getable oz 2 SALE 2 PZ $7

Campesino SALE JAMON COCIDO CAMPESINO COOKED HAM 3 99 EA

SALSA DE TOMATE EL MEXICANO EL MEXICAM TOMATO SAUCE SALE $ 3 PZ

PLATANOS BANANAS SALE 2 $ LB 1
KUII JUGOS GRANDE 16-oz ZA SALE 3 PZ $9

JARRITOS SODAS 1-1/2 LITROS ARRITOS JARRITOS SALE TAMARIND adidas - 3 PZ $4

PIÑAS PINEAPPLES SALE 3 59 EA

AGUACATE GRANDE MEXICANO LARGE MEXICAN AVOCADO SALE 2 PZ $3


SANDIAS WATERMELON SALE 4 99 PZ

JALAPEÑOS PEPPERS SALE 89 LB c

NOPALES TENDER CACTUS SALE 89 LB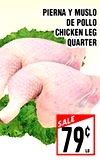 PIERNA Y MUSLO DE POLLO CHICKEN LEG QUARTER SALE 79c. LB

PEPINOS CUCUMBERS SALE $ 2 PZ 1

CAMARON GRANDE SIN CABEZA LARGE SHRIMP WITHOUT HEAD SALE 699 LB

FAJITAS DE RES BEEF FAJITAS SALE 499 LB



TROCITOS DE PUERCO PORK MEAT BITS 2 19 LB

PIERNA Y MUSLO DE POLLO CHICKEN LEG QUARTER 69 LB ?

KUII JUGOS GRANDE 16-oz 3 PZX 9
Related Brands to Carniceria La Guadalajara
Is there a branded item you've been saving up for lately but still can quite get the amount? Well, all is not lost and you won't have to wait any longer. You can take advantage of this top Carniceria La Guadalajara deals by brand from Carniceria La Guadalajara circular.
All the biggest deals and amazing coupons found in one place, truly a great hack to save money and bring down prices. Everything is organized by brand to make browsing easier. There are 6 brands features in this Carniceria La Guadalajara sales flyer, including Essentia, Revlon, Ragu, Intex, Litehouse, Herbal Essences. The list grows by the day, so make sure to stay updated.
Here are the popular brands we found in our database:
Carniceria La Guadalajara Weekly Ad & Preview
Take advantage of this easy-to-use, all-in-one Carniceria La Guadalajara weekly ad! With just a few arrow buttons and zoom in feature, you can course through collections of jaw-dropping price steals
Plus, Carniceria La Guadalajara ad previews lets you stay tuned on the season's next hottest deals! Click on a preview, get a glimpse of the future, and plan that shopping spree.
How to save at Carniceria La Guadalajara?
Savvy shoppers know that the Carniceria La Guadalajara ad is the perfect option you should check when it comes to finding savings. With a wide selection of discounted items and frequent promotional sales, you can save big at Carniceria La Guadalajara. To ensure you get the best value for your budget, do careful shopping by researching prices and seeking coupons. Taking advantage of loyalty programs can also help you secure additional savings. If you are looking for unbeatable bargains on top-of-the-line items, start your shopping journey at Carniceria La Guadalajara today.
Carniceria La Guadalajara Digital Coupons
Unlocking greater savings at Carniceria La Guadalajara is now a breeze with Digital Coupons. Carniceria La Guadalajara coupons are a great way to get discounts on various products or services from your favorite online stores. Using digital coupons, you can save up to 50% or more on many items. You can find discounts on clothing, electronics, home goods and furniture, beauty products, and more with a Carniceria La Guadalajara coupon.
The best part about using digital coupons is that they don't require clipping or printing. All you have to do is enter the coupon code to purchase to receive the discount. It is a convenient way to save money without having to go through the hassle of cutting out physical coupons from newspapers and magazines.
There are various ways to find digital coupons for Carniceria La Guadalajara. Many websites offer exclusive promotional codes that you can use to shop online. You can also subscribe to email newsletters that alert you when new deals become available.
When using digital coupons at Carniceria La Guadalajara, read all the details associated with each offer before entering the code to know what kind of discount it offers and how long it will be valid for. Furthermore, a few stores might restrict the number of digital coupons you can use per purchase. Hence, it is essential to read these conditions to avoid exceeding any limits set by the seller. So if you want an easy way to save big bucks on your purchases, then make sure you take advantage of this convenient option.
Deals of the Week
When do you think stores have special deals? Monthly? Seasonal? Every anniversary? Well, what if you find out that they have them EVERY WEEK!
At Carniceria La Guadalajara, you get frequent, big savings when you take advantage of the weekly specials or deals. They're the best way to maximize your regular shopping trips with minimal effort. To find these deals and stay updated, you can check out the Carniceria La Guadalajara weekly ad.
This weekly ad showcases hundreds of product promos, organized into collections such as household items, fashion stuff, accessories, and more. Make sure to view it regularly as the ad is updated every week, with bonuses and promos getting bigger and better with every turn.
BOGOs
Are you about to stock up on some items? Before buying them in lots, check out the Carniceria La Guadalajara sales flyer first! The flyer lets you peek into future promos, and you might find fantastic offers like buy one get one or BOGO deals. These deals let you get an item for free or at a discounter price - a money-saving hack for bulk buyers like you!
So, what are you waiting for? Check out the ad preview, find those deals, make your budget, and be ready to grab them all soon.
Membership Program
Another great way to save is by signing up for newsletters or loyalty rewards programs that offer exclusive savings or special discounts.
By signing up for Carniceria La Guadalajara's loyalty program or email list, shoppers can be among the first to hear about upcoming sales and existing discounts that they may not know about.
With a paid or non-paid membership, customers can access exclusive discounts and promotions in the store. For example, members are eligible for special coupon codes providing additional savings that may not be available in-store or online. It is also easy to keep track of rewards points with the program, allowing shoppers to redeem their points quickly and conveniently in-store.
Additionally, members benefit from promotions like free shipping and early access to sales events or new products. No matter what purchase you make from the Carniceria La Guadalajara ad, the Reward program makes it easier to save money while enjoying the shopping experience.
Online Exclusive Offers
Do you feel like there's little difference between online and physical shopping? Well, you might be doing it wrong. Expert online shoppers know that the digital world is where you can find the cheapest thrills, biggest discounts, and most fantastic deals. If you want to be in on the secret, check out the Carniceria La Guadalajara weekly circular! It's where the find all these fantastic and updated promos, and you shouldn't miss out on those, too!
Leverage Free Shipping
Shopping at Carniceria La Guadalajara can be a budget-minded shopper's dream. You can save even more if you know how to take advantage of their great free shipping option! Always make sure to check the website for any special deals that offer complimentary shipping. These are usually timed offers and change often. Setting up an account with the store will also give you opportunities to score free delivery when you buy certain items or enter specific codes during checkout.
If you want the guaranteed free shipment option, spend the extra few dollars and purchase a premium membership. Premium memberships and large purchases offen offer free express delivery. Taking advantage of this great perk of the Carniceria La Guadalajara weekly ad just might get you some extra money back in your wallet.
Find Clearance Items
Expert shoppers know to always check out clearance sales. It has some of the cheapest but best quality products many people just miss out on. But if you find these sales to often elude you, you can stay updated through the Carniceria La Guadalajara sales flyer. Announcements of the most recent and future clearance sales (and other promos) are done through the flyer, so make sure to subscribe.
Price Match at Carniceria La Guadalajara
Heading out to Carniceria La Guadalajara? Don't go there without checking the Carniceria La Guadalajara weekly ad first! This ad has all the most recent product prices, deals, and discounts. You can use such info to match prices and plan your purchases better so you can avoid going over budget and maybe even make some savings! Browsing the ad takes only a few minutes but leads to so much savings, it's worth the time.
Cashback reward program
Get your money back - literally - through cashback promos! If you buy a specific product or reach a certain total in one purchase, you'll be entitled to cash returns, as long as you have cashback coupons or the promos or store is having the promo. Offers are quite limited so be the first to find them on the Carniceria La Guadalajara coupon database. It's a digital resource that showcases all the biggest vouchers you can use to get deals and discounts, including exlusive cashback offers. Subscribe now!
Shop at Right Time
Shopping at the right time for mega sales can be a great way to save money at Carniceria La Guadalajara. In particular, mega sales, like Black Friday and Cyber Monday, allow shoppers to nab amazing deals on clothing and accessories. The key is to develop an action plan that takes advantage of these opportunities. You should start by researching upcoming mega sales at Carniceria La Guadalajara weekly circular and find out what will be available for purchase.
Once you have this information, create a budget and stick to only purchasing items that are on sale or are within your budget. By planning ahead and taking advantage of discounts, you can stock up on all of your must-have items while sticking to your limits. With a bit of planning, you will save money every time there's a mega sale at Carniceria La Guadalajara.
Shopping at Carniceria La Guadalajara
Carniceria La Guadalajara In-store Shopping
Despite all the perks of digital stores, in-store shopping never gets old. You get to walk across fully-stocked aisles, feel the product, and see everything for yourself. If you're buying electronics or certain items, you can have them tested to ensure quality. Certain stalls also offer free samples or trials, especially if they're new. All these and more ensure that physical shops are here to stay.
To make the most out of your in-store shopping experience, use the Carniceria La Guadalajara sales flyer. You can find here some of the latest prices and deals, which are extremely helpful in maximizing your budget.
Curbside Pickup
Curbside pickup has become an increasingly popular way for shoppers to get their goods without leaving their homes. This simple service offers convenience, comfort, and safety all in one. Shopping curbside means not having to face the hustle and bustle of the store while searching for what you need.
It is all at your fingertips, just a phone call or click away. Additionally, you do not have to wait in checkout lines to get benefits from Carniceria La Guadalajara ad. Instead, curbside services quickly hand off bags with your purchases. During this era of social distancing, curbside pickups are especially alluring to those who want to minimize contact with others.
Delivery
Once you've tried delivery services from Carniceria La Guadalajara, you'll be coming back for more. It's so convenient, easy, and time-saving, and although there is an extra cost, you can usually find deals or discounts on the Carniceria La Guadalajara weekly ad this week to make it more affordable. However, not all local Carniceria La Guadalajara branches have this perk, so before anything else, try checking online or calling the store to see if they offer delivery. If they do, let the fun begin!
Online Shopping
Online shopping has revolutionized the way we shop. Shopping online is convenient and comes with a plethora of benefits. With just a few clicks, you can access the Carniceria La Guadalajara circular from the comfort of your home. Thus, you do not have to make an extra trip to the store.
Shopping online also allows shoppers to compare prices between multiple stores quickly, giving them even more ways to save. Online retailers often offer special sales and exclusive discounts that you won't find in stores.
Carniceria La Guadalajara App
Have the whole Carniceria La Guadalajara within your reach when you install the Carniceria La Guadalajara app! Visit your app store to see if it's up for download, and if it is, have it installed immediately! If it's not yet ready, you can also subscribe to the Carniceria La Guadalajara ad so you're easily updated of the app's release in your area.
How EveryPayJoy Help you Save?
Everypayjoy is a great resource for saving money on your shopping trips. Not only does it provide deals and coupons to save money, but it also provides access to the Carniceria La Guadalajara sales flyer and Carniceria La Guadalajara weekly ads. This means that you can keep up with the latest store deals and discounts without going out of your way to finding them.
One of the main reasons why Everypayjoy is so popular is because it makes it easy for shoppers to find the best prices available. By subscribing to their website, shoppers can stay updated on the current store sales flyers and weekly ads. This way, they never have to worry about missing a great deal or discount.
Another reason Everypayjoy is so useful is that it allows shoppers to compare prices between different stores easily. This helps them ensure they get the best deal possible every time they shop. In conclusion, Everypayjoy can assist you in finding the best deals when shopping online or in stores. You can compare prices and find new promotions and discounts from your favorite retailers.
Disclaimer: Carniceria La Guadalajara is a registered trademark of Carniceria La Guadalajara and is not affiliated with our company. We are not affiliated with, endorsed by, or connected to Carniceria La Guadalajara. Our use of any trademark belonging to another company is not done with the intent to confuse consumers but is rather incidental in promoting these companies and their coupons.