Bell's Market Coupons, Deals & Promo Codes
The Bell's Market ad, from 03/17/2023 to 03/23/2023, is full of incredible savings on a wide range of products and items. There are categories for all kinds of groceries and other things. Choose easily among frozen goods, deli, breakfast, cereal, pet supplies, pharmacy, produce, and many more.
You will see 36 astonishing deals that will help you find the items you need at the best prices available. The Bell's Market weekly ad this week also includes a Bell's Market coupon for additional savings, so you can save even more money when shopping at Bell's Market.
Furthermore, the Bell's Market Weekly Ad This Week has a plethora of great deals that customers won't want to miss out on! For those who prefer not to visit the Store, the Bell's Market ad can also be found online, making it even easier for shoppers to see what kind of savings are available without leaving home. You can browse through different categories without leaving your house or office and take advantage of discounts whenever they are offered.
This is especially helpful when looking for something specific, as it allows customers access to all kinds of products, no matter where they live or work. Shoppers who want to maximize their savings when shopping at Bell's Market should definitely keep an eye out for their favorite Bell's Market coupon.
Coupons often provide additional offers such as a buy one get one free promotion or a percentage off orders over a certain amount. Thus, you can end up saving twice as much as they would have without them!

4 RACHAEL RAY WET DOG FOOD 8 OZ $229 EA

RACHAEL RAY DOG TREATS & SOUP BONES 3-6.3 OZ $299 EA

9 RACHAEL RAY DOG FOOD 12-14 LB $2399 EA

LIFE GOODS DESIGNER CUPS 7 OZ 80 CT $399 EA

XTRA 2X LIQUID DETERGENT 67.5 FZ $399 EA

LIFE GOODS WHITE NAPKINS 500CT $499 EA

INFLATION INFLATION BU BU$$TER TER SALESALE AJAX DISH LIQUID 28 FZ $299 EA

9 A REYNOLDS REGULAR & HEAVY DUTY FOIL 130-200SF $999 EA

PETS HEFTY VALUE PACK SLIDER FREEZER OR STORAGE BAGS 12-40 CT $499 EA

INFLATION INFLATION BU BU$$TER TER SALESALE GOOD SENSE TRASH & TALL KITCHEN BAGS 10-25 CT 2/$3

TIDE SIMPLY LIQUID DETERGENT 115-128 FZ $1199 EA HOU

1.6 0Z 99¢ EA INFLATION INFLATION BU BU$$TER TER SALESALE

4 EA KARUMS SWEET CHEESE SNACK WITH NUTS, CHOCOLATE, VANILLA OR COCONUT, 1.6 0Z 99¢ EA

3 NEXT WAVE MUSSELS IN SPICY SAUCE OR TOMATO & GARLIC SAUCE, 16 OZ USEHOLD & P $629 EA

PETS ATHENS PHYLLO SHELLS 1.9 OZ $499 EA

4 GOLDEN BLINTZES BLUEBERRY, CHEESE OR POTATO, 13 OZ $499 HO EA

5 NESTLE ICE CREAM BARS, CONES AND SANDWICHES 18-37.5 OZ $799 EA

HAAGEN DAZ ICE CREAM 14 OZ $399 EA

INFLATION INFLATION BU BU$$TER TER SALESALE WAFFLES 24 CT, 23.2-29.6 OZ $499 EA

FROZEN HANOVER VEGETABLES VALUE PACK 28-48OZ $349 EA

BIRDS EYE STEAMFRESH VEGETABLES 10-10.8 OZ 2/$4

OVENS HOMEMADE GREEK COOKIES KOURABIETHES WITH ALMOND $699 PKG

INFLATION INFLATION BU BU$$TER TER SALESALE PIEROGIES 12.84-16 OZ 2/$5

"KIFFLES" FRUIT ROLL AN EASTERN EUROPEAN TREAT... FLAKY LIGHT SWEET DOUGH HUGS THE HEAVENLY FRUIT FILLING ZEN $649 PKG

INFLATION INFLATION BU BU$$TER TER SALESALE JUST MADE... FRESH! APRICOT ROGALAH $499 PKG

CRANBERRY ORANGE WALNUT CAKE $449 FROZ EA

Lyula Kebab Tender beef and lamb kebabs covered with delicious sweet sauce. $699 LB

4 Beef Dolma Stuffed vine leaves with ground beef and rice. $649 LB

Eggplant Stuffed with Mushroom Stuffed griled eggplant with chopped creamy mushroom & herbs LB $499

4 Ukrainskiy Borsh Ukrainian soup made of fresh cabbage, beets, pork, carrots, onions, and potatoes. $499 LB

INFLATION INFLATION B B FRESH GRADE A CHICKEN DRUMSTICKS FAMILY PACK 69¢ LB

BUBU$$TER TER SALESALE SUNSHINE SNACKS PITTED DATES 24 OZ $399 EA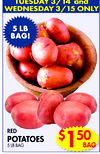 TUESDAY 3/14 and WEDNESDAY 3/15 ONLY 5 LB BAG! BAG H IN STORE DAILY RED POTATOES 5 LB BAG $150

69 WOW! OLZA PRINCE POLO ORIGINAL OR HAZELNUT $599 EA

6 OZ WHILE SUPPLIES LAST! YOUR CHOICE! STRAWBERRIES 1 LB OR RASPBERRIES 6 OZ $199 EA 1 LB!
Related Brands to Bell's Market
Have you been eyeing this certain brand at the mall lately, fervently hoping it'll announce some big sale? Well, you don't have to wait anymore! This Bell's Market circular contains all the top Bell's Market deals by brand. It's like a digital coupon book where you can flip through the biggest discounts and with everything organized by brand, exploring deals becomes much easier and convenient.
Although the actual offers are for a limited time only, this Bell's Market sales flyer isn't - it gets updated regularly, so you need to keep an eye out for new promo deals or brand additions. Currently, it includes 6 brands, such as Linden Street, General Mills, Russell Athletic, Almay, Heat Holders, Manischewitz. If you're fave brand isn't there yet, don't worry; the list only keeps growing.
Here are the popular brands we found in our database:
Bell's Market Weekly Ad & Preview
Flip through Bell's Market weekly ad and score the most incredible deals! Browse the collection by clicking on arrow buttons. Easily zoom in for a clearer view of each item using the scroller!
What's more – you can check out Bell's Market ad previews for future dates! It's a great help in planning budgets.
How to save at Bell's Market?
Are you tired of spending a fortune every time you shop at Bell's Market? If so, it is time to learn some tricks that can help you save. With the right approach, you can ensure that your shopping experience at Bell's Market doesn't put a significant dent in your budget. You can find multiple ways to save money in the Bell's Market sales ad. Read on, and discover the innovative strategies to get the most bang for your buck!
Coupons at Bell's Market
If you're an avid online shopper, you know coupons are ESSENTIAL. They bring down shopping price totals, eliminate shipping fees, and reduce individual product prices. But as great as they are, they're pretty elusive. Some platforms offer them on special occasions only or attach them with the stringiest terms and conditions.
Well, you don't have to be eluded anymore. Use this Bell's Market coupon database to find digital vouchers to fit your every need. For instance, does that free shipping coupon not apply to you? Try this shop discount instead! There are so many options, you'll always find one or two to redeem everytime you're on an online shopping spree.
So what are you waiting for? Enjoy them all now!
Deals of the Week
Looking for Bell's Market weekly specials? Don't look too far as it's right here at the Bell's Market weekly ad. It is a digital promo material that displays all the best deals and discounts right at the screen of your gadget. Thus, there's no need to head out to Bell's Market itself; you can stay in your bed, just browsing and looking for your favorites.
All products are organized by collection and you can zoom in on each one of them; thus, it's more effortless to look for specific items. All the offers are good for this week only, but once those expires, the site will be updated with the newest ad containing the freshest deals.
BOGOs
Do you love free stuff? If you do, all the more reason for you to stay updated with the biggest buy one get one or BOGO free deals! You can find them on our Bell's Market sales flyer, which features other BOGO deals, too, like BOGO 50% off, BOGO 20% off, and more. Flipping through those BOGO collections is real easy, so give it a try.
Membership Program
Did you know Bell's Market has a reward program? If you didn't, now you do and you should be a part of it. Members of the program are entitlted to the most exclusive deals and earn hundreds of points just by shopping. All these points can be used for future shopping trips, for even bigger savings.
So, what are you wating for? Find the registration details in our Bell's Market sales ad!
Exclusive Online
Do you feel like there's little difference between online and physical shopping? Well, you might be doing it wrong. Expert online shoppers know that the digital world is where you can find the cheapest thrills, biggest discounts, and most fantastic deals. If you want to be in on the secret, check out the Bell's Market weekly circular! It's where the find all these fantastic and updated promos, and you shouldn't miss out on those, too!
Free Shipping
Here's a sound online shopping advice you can follow - don't check out anything without making sure you aren't missing any discounts or free shipping deals! After all, you wouldn't want to pass on the chance to save money, right?
To find those free shipping offers, use the Bell's Market ad. You can flip through it anytime, anywhere to find fantastic promos you can use to waive online shipping charges or slash down prices.
Find Clearance Items
Find yourself always late when it comes to clearance sales? Find announcements about such offers (and more) through the Bell's Market sales flyer and ad previews. These digital resources often sneak in peeks of such big deals, so make sure to be updated. Once you find specific dates, make sure to block the day out and hit the racks ahead of everyone else.
Price Matching
The best way to make a budget is to know the prices even before you're at the store. But is that even possible? It is if you're an avid shopper at Bell's Market because there is the Bell's Market weekly ad you can use to check prices. The ad is updated every week, so you're sure the listed prices are reliable and recent. You can use it for other price matching needs, too, like compare brand prices, evaluate price hikes, and more.
Cashback reward program
Saving money at Bell's Market can be easy if you know where to look! Cash Back is a great way to get the most out of every shopping trip. Simply shop online by keeping in mind the Bell's Market sales ad, and use the cash back apps, sites, or affiliated credit cards to earn money on items you already buy. Cash Back rewards will vary depending on which program you are using.
Thus, do your research to find the one that offers the highest percentage of returns. Once you identify the best rewards provider for you, start tracking your purchases and watch your savings rise quickly.
Shop at Right Time
If you're making a big purchase this year, here's a hack -- get it on Black Friday! This pseudo-holiday doesn't just mark the beginning of Christmas shopping season, it's also the day when shops set the lowest prices and offer the biggest discounts. Thus, if you want to get something at its cheapest, this would be one of the best days to do so. If the price isn't slashed down, you're sure to get a deal or coupon you can avail. Find all those (and more) through Bell's Market ad previews.
Shopping at Bell's Market
In-store Shopping
In-store shopping can be an advantageous experience during busy times of the year, such as holidays and seasonal sales. Many shoppers find that in-store shopping helps them make informed decisions when purchasing items. Additionally, shoppers can benefit from reading the Bell's Market circular to find the best deals for each item.
Reading store circulars can help you figure out which stores have sales on certain products. You can also find out what products are being offered at a discount from one store to another. Shoppers can stretch their dollar even further by taking advantage of store circulars!
Curbside Pickup
Did you know many stores, including your local Bell's Market, provide curbside pickup? It's a service that allows you to order items in advance, and you can schedule the pickup at your preferred time and location. It's convenient, and much more affordable than door-to-door deliveries. You can even make it cheaper through promos and deals, which you can find on the Bell's Market flyer! The flyer is regularly updated, so check it out for more promos and info on curbside pickup services.
Delivery
Time is money, and sometimes spending hours walking through grocery and store aisles can lead you to wasting a lot of money. Not only do you spend when you shop, you also sacrifice hours you could have been earning or relaxing. Thus, it's time for some change! Use the Bell's Market weekly ad this week to check if your local Bell's Market allows delivery. Once you got that clarified, start doing your groceries at home and having them delivered. You save so much time, plus you're less likely to get tempted by random items you see on store aisles.
Online Shopping at Bell's Market
Online shopping offers shoppers great convenience and flexibility. Customers can select the Bell's Market ad, make their selections, and have the items shipped right to their homes without ever having to leave their living rooms. Online shopping is more convenient and gives customers access to lower prices because of less overhead costs when selling online.
Shopping from home eliminates the temptation to make unplanned purchases, allowing shoppers to remain on budget. Additionally, shoppers can get a greater insight into their spending habits.
Bell's Market App
Bell's Market app has helped make it easier to keep up with the Bell's Market ads and specials. By downloading the app, shoppers can access Bell's Market flyer before it's even posted in the Bell's Market. This means shoppers can be sure they are getting the best deals, helping them save money on their purchases. With the Bell's Market app, all of Bell's Market's hottest items are only a touch away! Plus, Bell's Market often offers exclusive discounts through the app, giving savvy shoppers an additional edge.
How EveryPayJoy Help you Save?
Everypayjoy helps you save money in many different ways. It offers users access to Bell's Market sales flyers and weekly ads, as well as exclusive deals and coupons. This allows shoppers to find the best deals and save money on everyday purchases. In addition, users can easily search through the extensive range of products available in-store sales flyers and Bell's Market weekly ads, ensuring they get all the fantastic discounts and special offers.
The platform also offers several advantages over other online discount websites. Firstly, the simple design makes it easy for customers to quickly find what they need without wasting time. Secondly, Everypayjoy ensures that shoppers always get access to the most up-to-date deals and offers from retailers. It gives them an edge when it comes to maximizing their savings. Finally, Everypayjoy is free to use, so customers can start saving money immediately with no upfront costs or commitments.
Overall, Everypayjoy is a stunning way for shoppers to save money on everyday purchases while still getting quality products at an affordable price. Its user-friendly interface and wide range of discounts and coupons make it perfect for anyone looking to make their budget stretch further without sacrificing quality or convenience.
Disclaimer: Bell's Market is a registered trademark of Bell's Market and is not affiliated with our company. We are not affiliated with, endorsed by, or connected to Bell's Market. Our use of any trademark belonging to another company is not done with the intent to confuse consumers but is rather incidental in promoting these companies and their coupons.