Bel Air Coupons, Deals & Promo Codes
Reading the Bel Air weekly ad this week is as effortless as a few clicks. Reading this Bel Air ad is well worth your time if you want to save money on groceries. The Bel Air grocery store offers great deals that you won't find anywhere else, so checking out the ad each week pays off.
You may save on items such as fresh produce, meats, dairy products, snacks, baking goods, beverages, and more. You can choose the category of your choice and avoid impulse purchases that can add up over time.
The current Bel Air ad begins on 03/22/2023 and ends on 03/28/2023. Throughout this period, 29 deals and different offers will be available for customers.
Not only does the Bel Air weekly ad this week list these amazing deals for customers, but it also provides coupon codes for online shoppers who are looking for additional savings. You can use Bel Air coupon at the checkout to further save your money.
No matter what kind of shopper you are, reading through the newest edition of the Bel Air ad will provide plenty of ways to save money while stocking up on your favorite items. So, make sure you do not miss the chance because once the sale is over, you won't be able to get the discount until the next sale.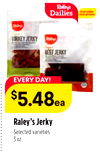 Raley's Jerky
EVERY DAY! $5.48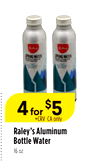 Raley's Aluminum Bottle Water
4 for $5.0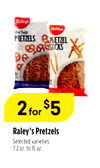 Raley's Pretzels
2 for $5.0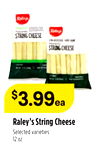 Raley's String Cheese
$3.99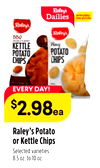 Raley's Potato or Kettle Chips
EVERY DAY! $2.98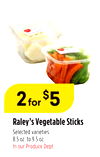 Raley's Vegetable Sticks
2 for $5.0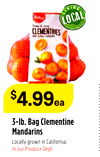 3-lb. Bag Clementine Mandarins
$4.99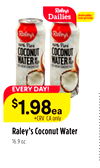 Raley's Coconut Water
EVERY DAY! $1.98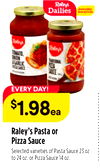 Raley's Pasta or Pizza Sauce
EVERY DAY! $1.98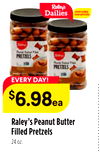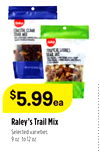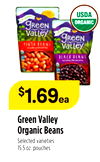 Green Valley Organic Beans
$1.69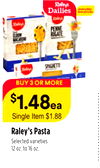 Raley's Pasta
BUY 3 OR MORE $1.48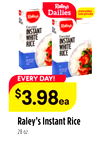 Raley's Instant Rice
EVERY DAY $3.98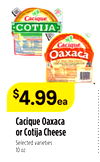 Cacique Oaxaca or Cotija Cheese
$4.99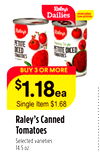 Raley's Canned Tomatoes
BUY 3 OR MORE $1.18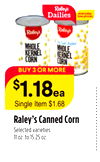 Raley's Canned Corn
BUY 3 OR MORE $1.18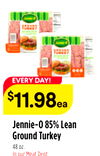 Jennie-O 85% Lean Ground Turkey
EVERY DAY! $11.98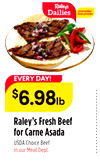 Raley's Fresh Beef for Carne Asada
EVERY DAY! $6.98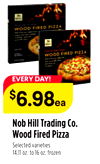 Nob Hill Trading Co. Wood Fired Pizza
EVERY DAY! $6.98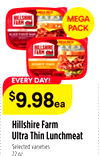 Hillshire Farm Ultra Thin Lunchmeat
EVERY DAY! $9.98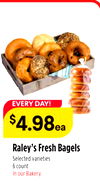 Raley's Fresh Bagels
EVERY DAY! $4.98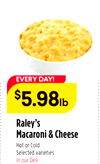 Raley's Macaroni & Cheese
EVERY DAY! $5.98

Raley's London Broil
$2.97

Foster Farms Fresh Whole Fryer Chicken
$1.27


Raley's Fresh 93% Lean Ground Beef
$3.97


Dungeness Crab Sections
$6.97
Bel Air Deals by Brands
Most store catalogs are sorted by type, like household items or fashion products. While that's neat, it can be a hassle to peruse through a thousand items just to look for this one brand that you want.
Well, here's the answer to your dilemma: a Bel Air circular featuring a top Bel Air deals by brand segment. All the best discounts from 4 brands, sorted for your convenience and easy verification.
Some brands you will encounter in this Bel Air sales flyer are Nabisco, Simply, Atkins. Now and then, the list gets updated so visit it as often as you can to avoid missing out on juicy offers.
Bel Air Weekly Ad & Preview
Shopping on a budget with us just got easier! With weekly ads delivered weekly, you can now keep up with all the latest deals and find out when new products arrive. Just glance at our Bel Air weekly ad page to get the best value. Whether it is a weekly special Bel Air ad or competitive discounts, you will find the goods that fit your budget. Don't delay - visit the next page now to enjoy the convenience of great savings!
How to save at Bel Air?
Are you tired of spending a fortune every time you shop at Bel Air? If so, it is time to learn some tricks that can help you save. With the right approach, you can ensure that your shopping experience at Bel Air doesn't put a significant dent in your budget. You can find multiple ways to save money in the Bel Air sales ad. Read on, and discover the innovative strategies to get the most bang for your buck!
Coupons at Bel Air
Coupons are an underrated shopping hack. When used correctly, they can save you a lot of money, especially over the long term. But many find them frivolous, elusive, and a hassle to carry around and use. But this Bel Air coupon database is here to change the game.
This database gathers the most recent and exclusive vouchers in one digital resource so you won't have the hassle of carrying or losing them. To avail the coupons, open the database, scroll through, and find the ones you need. Click on them individually to find terms and conditions, expiration dates, and instructions on how to save or redeem them.
Deals of the Week
The Internet is full of amazing treasures and one you shouldn't miss is this Bel Air weekly ad! While you might think it's a catalog full of temptations, once you take advantage of it, you realized it's a practical resource you can use to compare prices, find discounted items, and discover terrific deals. Thus, one of the best ways to maximize your budget.
Moreover, it doesn't take much time or effort to use. You just have to click on buttons or icons. Products are organized by collection, so if you know what you're looking for, finding it is quicker. But there's also joy in just idly flipping through the collections - you find unexpected and exclusive deals you would've missed out on if you just skipped pages.
BOGOs
Want to get more at half a price? You might even get it for free! With the buy one get one or BOGO deals, you can purchase the second item at a discounted price or have it for free. Offer varies per store and product, so stay updated, check out the Bel Air sales flyer and ad previews. These shopping resources showcases the best, most recent, and even future promo offers you don't want to miss.
Reward Programs
Shopping at Bel Air, with its Reward Program and membership, can help you save money while getting the items you need. With the Reward Program, customers can shop and earn points with every purchase. Furthermore, you can use those points to get discounts on future purchases. The program also offers exclusive deals and members-only savings, so don't forget to check in frequently for potential savings opportunities.
Membership with Bel Air weekly circular also has its advantages. Members also get early access to sales and other promotional events, allowing them to take advantage of great deals before anyone else. Additionally, members benefit from free shipping on orders over a certain dollar amount and priority customer service.
Online Exclusive Offers
Online shopping is taking everyone by a storm, and for good reason! It's easy, accessible, and convenient - all good things for people living in a busy world. Besides all those, there are the amazing deals and discounts that gets everyone on a hook. These offers vary per product and brand, from great steals like buy one get one free to splendid markdowns, like 50% off on an item. You can find them all on the Bel Air weekly circular, so check it out!
Free Shipping
Avoid exceeding your online shopping budget when you use the Bel Air ad! Not only does it feature the biggest online deals and discounts, you'll also find that it has the most exclusive free shipping offers, from specific products to vouchers. It's easy to use - flip through collections, earmark the ones you love, and follow instructions to make sure your product is being shipped for FREE!
Clearance
In case you want to save as much as you can on your grocery bill with the help of Bel Air ad? Look no further than the store's clearance section! Clearance items are often significantly marked down in price, so you can save lots of money.
Additionally, since these items are on clearance, it is a great chance to buy higher-end items for less. The excitement of finding something fantastic and unique at a fraction of the cost can be quite motivating! Take the time to browse through the store's clearance section and experience how much money one can save. You might find some hidden gem you have been searching for!
Price Match at Bel Air
If you love keeping track of product prices at Bel Air, then the Bel Air weekly ad will be your best friend. It's frequently updated, so you're sure that the featured prices, deals, and discounts are accurate and the most recent. These make your price matching efforts more reliable, which is crucial for maximizing budgets and making the most savings. Also, it's effortless and quick to use, so you can easily find all the info you need.
Cashback Program
Get your money back - literally - through cashback promos! If you buy a specific product or reach a certain total in one purchase, you'll be entitled to cash returns, as long as you have cashback coupons or the promos or store is having the promo. Offers are quite limited so be the first to find them on the Bel Air coupon database. It's a digital resource that showcases all the biggest vouchers you can use to get deals and discounts, including exlusive cashback offers. Subscribe now!
Shop at Right Time
Shopping at Bel Air can seem expensive, but with the help of shopping at the right time, it can be a much more affordable experience. When making purchases from Bel Air weekly ad, timing your trip is key!
For instance, Black Friday shopping is essential for getting some of the best deals that this Bel Air offers, especially during the holiday season. Back to School, sales are also great. There are always discounts and special offers for various school supplies, making this an ideal time to save money. Mega Sales are also worth looking into. These usually offer extra discounts and lower prices on some of the biggest and most expensive products this store has to offer. Knowing when to shop allows you to save money when visiting Bel Air.
Shopping at Bel Air
In-store Shopping
In-store shopping is becoming increasingly popular again due to its many benefits for shoppers. One of the most appealing benefits of shopping at a physical store is the ability to access Bel Air circular and other specials. Many stores will post their sales, promotions, and discounts on signs within the store, so customers can immediately take advantage of savings.
Additionally, shoppers can directly touch, feel, and explore products before purchasing them. It is better than you rely solely on photographs or 3D displays online. In-store shopping offers greater convenience if you know what you're looking for.
Curbside Pickup
Curbside pickup offers a number of benefits for shoppers who find themselves busy and unable to make the time for shopping. With curbside pickup, shoppers can peruse Bel Air sales flyer and place their order ahead of time. It allows them to pick up their order quickly when it is ready.
Moreover, shoppers can have the convenience of avoiding crowds at Bel Air and enjoy a contactless checkout experience. By planning ahead with curbside pickup, shoppers are able to save time and energy while still getting all the items they need.
Delivery
These days, whether you did your shopping in-store or online, most shops offer delivery options. Such a service allows you to buy stuff without setting foot at the store or having bulk and large purchases transported to your place without much hassle. Whichever purpose you need it for, you must check first whether your local Bel Air does offer delivery. If they do, you can the check the Bel Air weekly ad this week to see if they have delivery vouchers, discounts, and deals. Avail any that are applicable so you can save on the fees!
Online Shopping at Bel Air
If you're don't want to go out but need to shop to de-stress, here's a great alternative: online shopping. With a few taps on your screen, you can browse collections, add to cart, check out, and opt for delivery! Online shops are the trend right now, and to make sure your local Bel Air has one, check out the Bel Air circular. It will surely link to the shop; plus, it features great deals and discounts you can use.
Bel Air App
Is the Bel Air app installed on your phone? If it isn't, you should visit your app store and see if it's up for download. Once you got the app up and ready, you should also consider subscribing to Bel Air ad services, so you won't miss out on big-time sales, deals, discounts, vouchers, and other amazing promos.
How EveryPayJoy Help you Save?
Everypayjoy is a website that helps you save money on everyday purchases by providing access to Bel Air sales flyers, weekly ads, and exclusive deals and coupons. This makes it easy for shoppers to find the best prices, discounts, and special offers. Whether you are looking for items in electronics, furniture, clothing, groceries, or other categories, there are plenty of ways to save money with Everypayjoy.
The savings don't stop with Bel Air sales flyers. Everypayjoy also has Bel Air weekly ads from hundreds of stores around the country. These ads typically feature significant discounts and deals that help consumers save big on their favorite products. Furthermore, since these ads change frequently, shoppers can stay up-to-date with new deals and promotions every week.
EverypayJoy also gives users access to exclusive coupons & promo codes to use at checkout when shopping online or in-store. You can use coupons for anything from groceries to home goods.
With its variety of options available, users can enjoy discounts on a wide range of products while staying up-to-date with the latest deals and promotions. Furthermore, its simple design makes it user-friendly as well as time-efficient. These features are helping shoppers get back more of their hard-earned money in no time at all!
Disclaimer: Bel Air is a registered trademark of Bel Air and is not affiliated with our company. We are not affiliated with, endorsed by, or connected to Bel Air. Our use of any trademark belonging to another company is not done with the intent to confuse consumers but is rather incidental in promoting these companies and their coupons.